Ultimate Guide for NFT App Marketing Strategy in 2022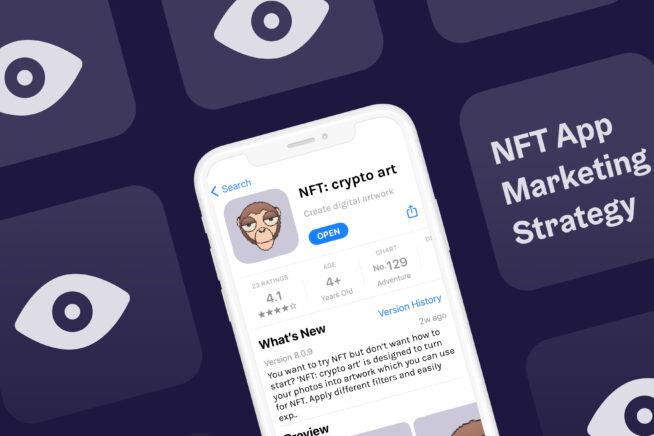 This is a guest post by Kevin White, an independent content marketing writer.
As the popularity of non-fungible tokens (NFTs) apps continues to grow, so does the need for effective NFT app marketing and promotion. With so many NFTs available on the market, it can be challenging to stand out from the crowd. However, with the right marketing strategy, your NFT app can attract the attention of potential users and become a success. 
This article will teach you how to develop an app marketing strategy for the NFT apps and find the most effective ways to promote NFT apps. Let's dive deeper!
Why do NFT apps need an app marketing strategy?
If a particular industry has a very high number of companies offering similar services, this will lead to more competitive intensity. No doubts that crypto and NFT apps are now at their top of popularity. Therefore, here are some reasons why NFT apps need an app marketing strategy:
The NFT market is still relatively new and unknown. It means there is less of a reputation to go off of compared to more established markets. NFT apps need to use more of their budget to create awareness and build a community around their product.
NFT apps need to generate trust and credibility with users to succeed. You can connect with more potential customers by developing a marketing strategy for your NFT app and creating stronger bonds. In turn, this can lead to more app downloads and increased revenue.
Without a solid strategy for NFT marketing and promotion, businesses risk losing out to competitors who are better able to reach and engage potential users.
How to develop an app marketing strategy for NFT apps?
Let's be honest, NFT apps differ from most apps available in app stores. Moreover, the target audience has different needs and mindsets. Therefore, you need to be more specific in your marketing strategy to find the right way of communication. Here are five essential steps to developing a marketing strategy for the NFT apps.
Target the right audience and research the NFT market
It's essential to research your target audience before starting a campaign. To build close relationships with the people most likely to be interested in your NFT app, you need to find how and where to communicate with them.
The research should include understanding your target audience's needs and pain points. It will help you tailor your NFT app and offer solutions to those needs and problems other apps in the category cannot address.
Researching the NFT target audience is a critical step in creating content that resonates with your audience. There's no one-size-fits-all approach, but there are some personalities and emotions infused in communication that people respond to most.
Discover what visual designs your potential user is likely to respond positively to. Such patterns are worth being included in your NFT app UX.
Explore the paid-ad platforms your target audience is most active on. For example, if they are most active on Facebook and Instagram, then engage with them and carry ads on those channels.
To understand your competition, look through the top 5 to 10 NFT app competitors and examine features such as the number of downloads, average rating, reviews, strengths, weaknesses, etc. App Radar's all-in-one user acquisition tool might help you to save time with competitor research.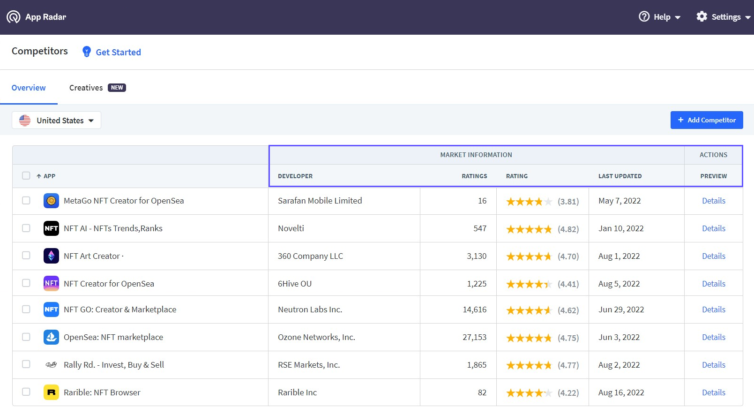 Find out what is working and what is not for each competitor, and compile the information into an actionable list of features you can implement in your marketing campaigns to achieve higher visibility in the market.
Set marketing goals & objectives for your NFT app
The app marketing goal is a measurable aim that provides a roadmap for your marketing efforts and helps to keep you on track. The most effective way to achieve your goal is to have a clear plan and execute it successfully. The following are some examples of such goals:
To increase user engagement with the app by 10% within the next 3 months.
To decrease the number of app crashes by 20% within the next 6 months.
Marketing objectives are the specific goals that a company hopes to achieve with its marketing campaigns. These objectives may be:
To increase brand awareness.
To boost sales during a slow period.
Define app marketing approaches for NFT
A well-defined marketing funnel means having a clear strategy for acquiring users, keeping them engaged, and ultimately converting them into paying customers. There are three stages: awareness, acquisition, and retention.
The awareness stage is when potential users become aware of your app. It can be done through organic effort, non-paid activities, and paid activities (ads).
The acquisition stage is when users take the desired action, such as downloading your app.
The retention stage is when users keep using your app. This stage is crucial because it shows that your app offers value to your users.
The app marketing strategy you choose will play a significant role in how successful your NFT product promotion will be. At the same time, the approach you choose will depend on your marketing objectives.
Schedule NFT app marketing activities
NFT app marketing efforts should be strategically planned and organized. It will provide you with a bird's-eye view of what you're working on. Use a calendar to include your prospecting, customer development, marketing tactic implementation, and success measurement activities. It will enable you to build a marketing execution roadmap that will help you prioritize your work.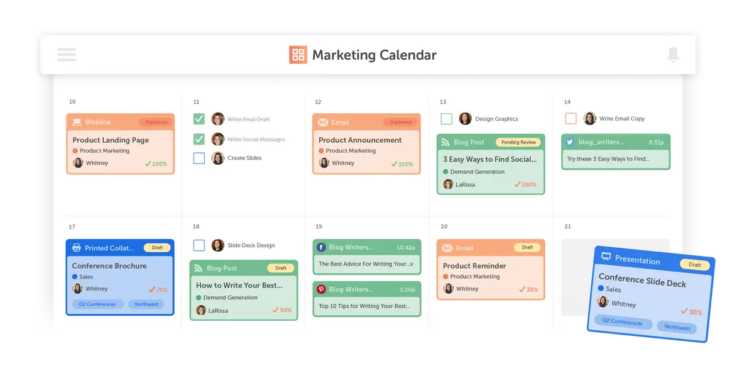 Measure results of selected NFT app marketing strategies
If you are planning a digital marketing campaign, you want to be sure that you see the results. Otherwise, you'll waste your money. With App Radar tools for app store optimization, you can get user acquisition insights, measure app performance, and increase organic downloads in App Store and Google Play. By knowing which metrics to look at (e.g., retention rate, monthly active users (MAUs), churn rate, ROI, etc.), you can better estimate campaign effectiveness and whether or not the returns will be worth it.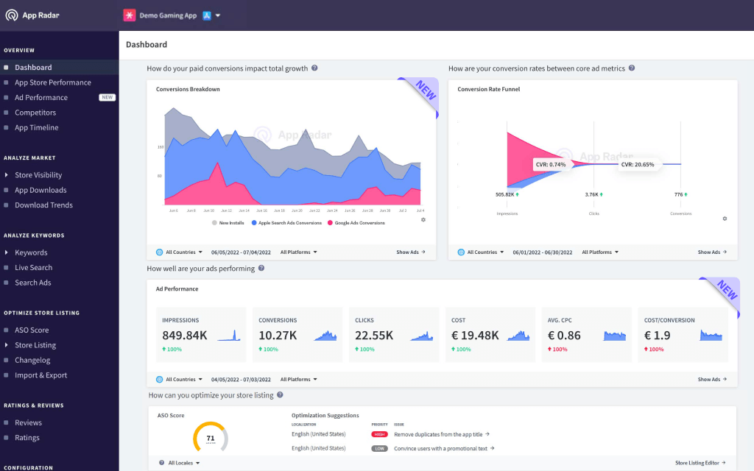 Five most effective ways to promote NFT apps
Now, as you are convinced about the importance of marketing strategy for NFT apps, let's go deeper into the most effective ways to promote your NFT app. Remember that you might need to try different approaches to find the most effective way to encourage your target audience. In some cases, you would need to use them all. In others, one or two promotion approaches will be enough.
1. Crypto influencer marketing
It is worth paying attention to prominent influencers within the NFT industry to further your position in the eyes of an interested audience. By sending them a link to your landing page with a short and honest pitch, you can get backlinks and genuine reviews, placing you in a stronger position to present your NFT app as a credible, professional entity.
While there are other outlets to reach users, connecting with influencers provides better ROI potential. However, it would be best if you focused on finding influencers who share authentic content relevant to the NFT industry and your target audience.
2. Content marketing
NFT apps are widely used by both blockchain enthusiasts and businesses seeking to leverage the power of blockchain. As more people migrate to digital asset-based applications, content that educates people on this topic will attract new leads and build trust.
The main task of a content marketer is to create engaging content and find NFT sources where it is possible not only to publish educational content related to the NFT industry but also to get accepted in the whitelist to show off your expertise and trustworthiness. To this end, you can use the SE Ranking backlink analyzer that will provide you with the relevant sources your competitors used to get links and earn traffic.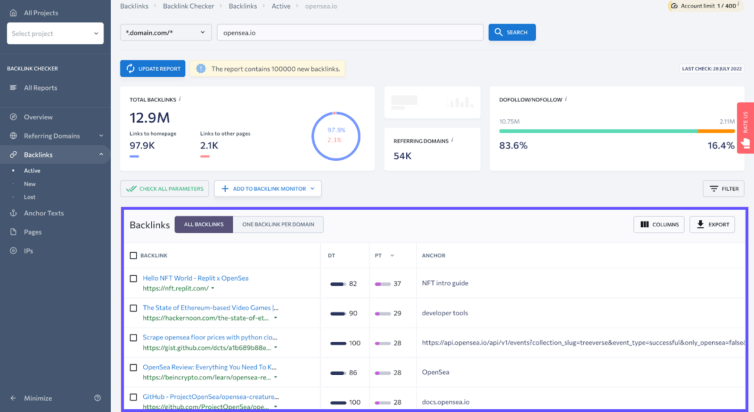 To make content marketing truly effective, start thinking from the perspective of your users. Answering customers' questions and needs is a great way to attract users and become a trusted brand source in the NFT industry. Instead of pushing the target audience to download your NFT app without any explanations, tell users how they can benefit from it without overwhelming them with much information.
3. NFT community marketing
As the owner of a blockchain-based app, you want your NFT app's downloads to spike shortly after being launched. To achieve this, you should start communicating with your community on social media, as it's undeniable that creating a community around your product results in a snowball effect of conversions, brand loyalty, and growth.
Twitter, Telegram, and Reddit are social media platforms that can help you connect with your target audience due to the large amount of traffic they receive daily. Start by setting up an account and posting a link to your NFT app in the Google Play Store or Apple App Store.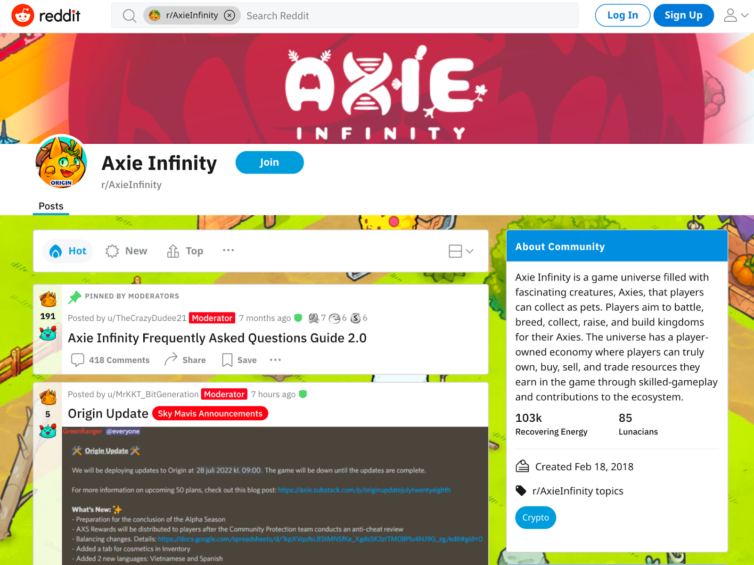 Let your users easily spread and share content if you want your app to go viral. Integrating social media into your app marketing strategy is the first step toward gaining visibility for an NFT application and gaining loyal users that contribute to the growth of your community.
4. App Store Optimization for NFT Apps
Most prospective users will first encounter your NFT app on the product page. It's also a crucial part of App Store Optimization (ASO), which is all about increasing the visibility of your app by optimizing the metadata elements such as:
product description,
app icons,
screenshots,
app ratings,
user reviews, etc.
Just like how a website needs to be optimized for search engines, an app needs to be optimized for the Apple App Store or Google Play Store. ASO will help you to increase organic search visibility, draw in more users and convert them into leads, and ultimately boost revenue with the app sales.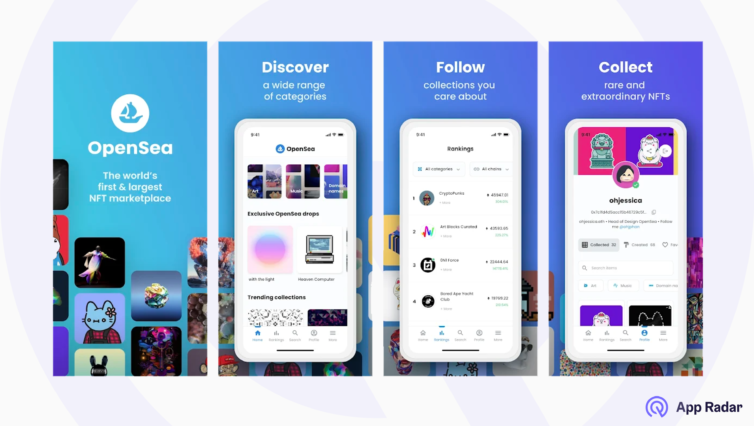 When you create an NFT app and research keywords relevant to your application, start with figuring out what keywords apply to each of the following sets:
Problem – Feature – Action – User – Location.
The Problem keyword is a phrase that should be used to describe the problems the user faces that your app can solve.
The Feature Keyword is a qualifier of the app's USP that explains what the product does, what problems it solves for people, and how it solves those problems.
The User Keyword gives you an all-in-one overview of the target users of your app. For example, if you sell an app to business clients. Your User Keyword would read Professional.
The Action Keyword is a single line of text that describes the action your user will take after using your app.
Location Keywords are terms your users use to find apps in particular places or contexts.
5. Email Marketing for NFT apps
If you've got an NFT app and want people to use it, exchange their crypto-collectibles, and generate revenue, then it's important to keep in touch with those users. One way to do this is by keeping them on your mailing list, so they regularly receive updates and promotional offers via email. By implementing email marketing, you are providing an avenue for new users to discover you, existing users to stay engaged and updated, and an opportunity to gain traction among owners of unique items your app was built to serve.
Get started with NFT app marketing
As NFTs become more popular, the number of NFT apps launched to coincide with the hype is growing steadily. With so many apps on the market, it's becoming harder and harder to stand out from the crowd. However, developing an NFT app marketing strategy will help you differentiate yourself from your competitors, reach your target audience, and generate trust and credibility by creating solid relationships with your users. Develop the right marketing strategy using the tips mentioned above, and your NFT app will become a success!
---
About the author: Kevin White is a freelance blogger. He's got experience in writing quality pieces on various topics and collaborating with well-known brands.
Stay up-to-date with the most popular apps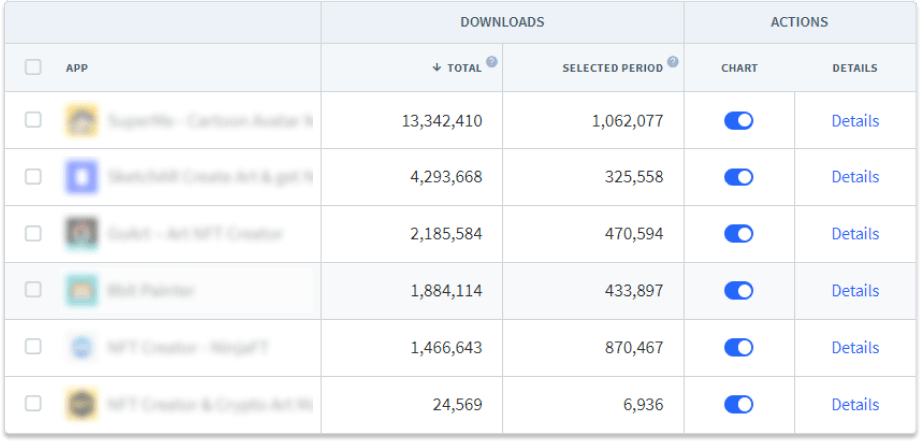 Find out which app users prefer more. Check out NFT apps downloads with App Radar.
Create a Free Account