Mobile app growth: how to combine ASO & Paid Acquisition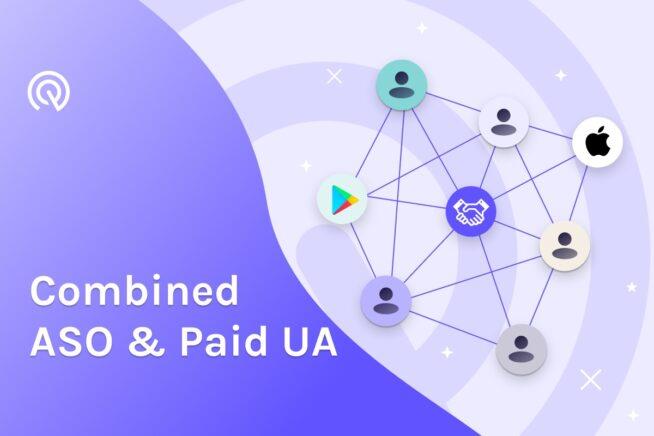 When it comes to mobile apps, simply having a fantastic product isn't enough. You need a winning marketing strategy to go alongside to boost your app's success and build a solid customer base to secure lasting growth. Here we'll go through the importance of blending ASO and paid user acquisition to support mobile app growth.
What is ASO
ASO or App Store Optimization is a way to increase the opportunity for downloads and user engagement for your app directly through the app store itself.
Much like SEO, ASO works by improving the visibility of your app, ensuring it ranks higher against its competitors within a search function on platforms such as the App Store and Google Play Store. With 70% of mobile users finding apps through app store search functions, it's clear to see why ASO is so important in securing growth.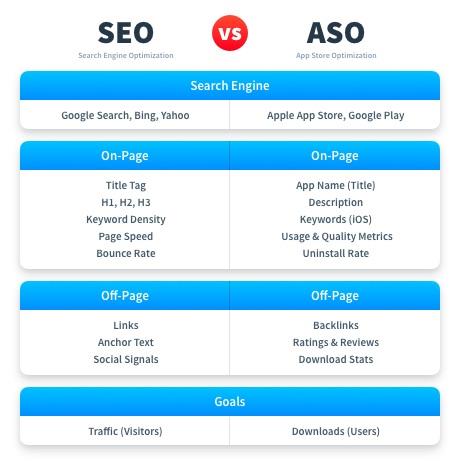 ASO can be applied on mobile app stores on both iOS and Android and is a great way to make your app discoverable to the millions of potential customers out there.
For ASO to be successful, understanding what your prospective customers are searching for is paramount. It will also enable you to tailor elements such as your app's description and visuals to rank higher in the app store's search results, presenting itself as the more trusted and relevant choice.
What is paid user acquisition
As the name suggests, paid user acquisition is a paid advertising method to generate traffic and attract customers to your app.
Paid user acquisition has the potential to bring in a huge return on investment through highly targeted advertising focused on a relevant customer base. It can also be tailored toward new and first-time users and re-targeting return customers to support consistent growth.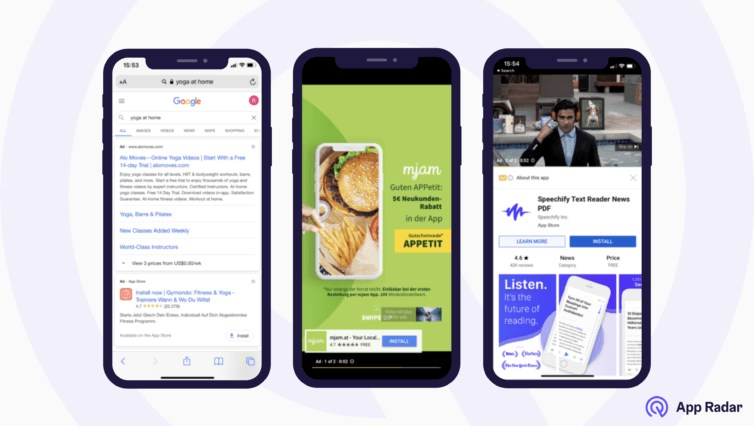 For paid user acquisition to work well, you need to understand where exactly your users are coming from to choose the right channel to place your advertising. You can do it through utilising Google App Campaigns, Facebook, or experimenting with growing platforms to reach your intended audience.
Tip: start your paid user acquisition by running ads in native channels like Google Play Store and Apple App Store. Your potential users are already in the app stores looking to download an app, so it's higher search intent. Increase the chances of your app's downloads by showing them your app ad.
Another key advantage of paid user acquisition is the ability to successfully build brand awareness. Moreover, with paid user acquisition, you increase visibility through product placement outside of the app store, building your app's reputation as the customer's choice.
Why should you combine ASO with Paid acquisition
Like most industries, maximizing on a combination of both organic and paid acquisition is key in developing a loyal and diverse customer base.
You want prospective customers to be able to find your app with ease and attract the most relevant users that will stay engaged and continue to generate revenue. You need to remember that people will land on your app store product page no matter what you do. That's why you need a solid ASO foundation to maintain a stream of high-quality users across various channels. At the same time, paid user acquisition will help you boost the power of your app, which will lead to better keyword rankings and more organic installs.
Using a multi-faceted approach will enable you to strike the perfect balance in conversions while consistently driving traffic and engagement.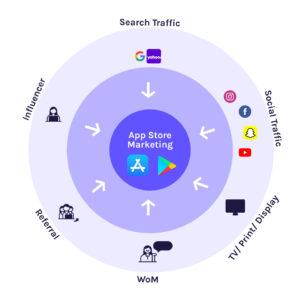 5 steps to combine ASO & Paid acquisition
ASO and paid user acquisition go hand-in-hand, and blending both elements is essential for securing installs and growing your app's presence. Let us walk you through the 5 steps of the growth framework.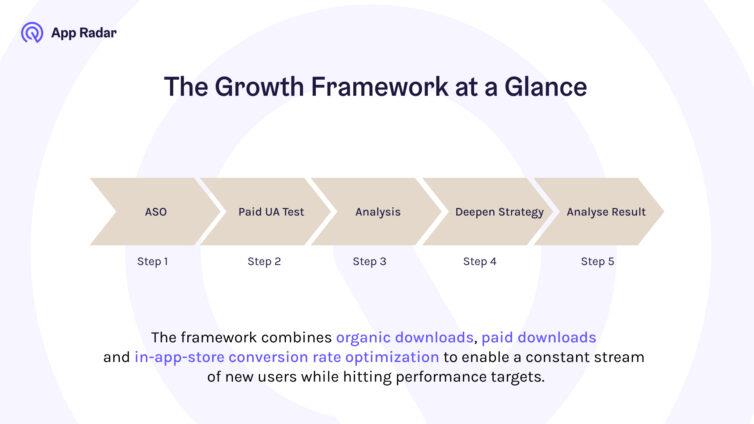 Step 1: Start with App Store Optimization
When developing your strategy to boost your mobile app growth, you want to start with optimization.
Before directing prospective customers to your app through advertising, your app will need to have strong visibility and stand out from its competitors. This will mean carefully selecting and implementing keywords that are firmly rooted in your customer's journey and then reflecting this in your app's title and description. You also want to choose sharp visuals to showcase your best features and encourage ratings and reviews with your users to boost your ranking further and strengthen your brand identity.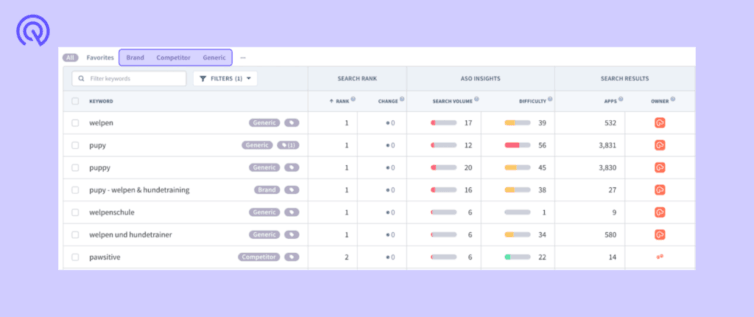 Creating solid foundations with slick ASO will maximize your investment through paid user acquisition and set you on the right path for securing growth.
Step 2: Level up with Paid UA
Once you're happy you've optimized your app successfully, it's time to level up with paid acquisition to really boost growth. Here is your opportunity to attract your key target audience to download your app and maintain a steady stream of active, high-quality users.
The beauty of paid user acquisition is that driving installs and user engagement will also have a ripple effect on your rankings and, therefore, organic installs; a win-win.
Adding paid user acquisition into your strategy will help you get your app in front of a larger audience and take your growth to the next level.
Step 3: Be Data-driven with Comparative Analysis
When developing your strategy, get an overview of the performance of your channels. Identify which channel is the most efficient based on average CPI and the total amount of installs. When analysing the data, pay attention to the following points:
Compare your channels and identify winning keyword and messaging strategies.
As a part of ASO, identify for which keywords are your store listing ranking well
As a part of Search Ads, identify which keywords are bringing in downloads
As a part of paid user acquisition, find out which messages convert the best
The data will tell you the real story of your app's performance and enable you to utilize the insights to inform your marketing activities in the future.
It will also involve continuous testing to understand better the strengths and weaknesses of your strategy, your messaging and the platforms you're utilizing so you can successfully adapt in line with trends.
Listening to reviews is also a great way to understand your users and their needs better, so you can develop your strategy to maintain engagement and attract new customers.
Never Miss an App Store Review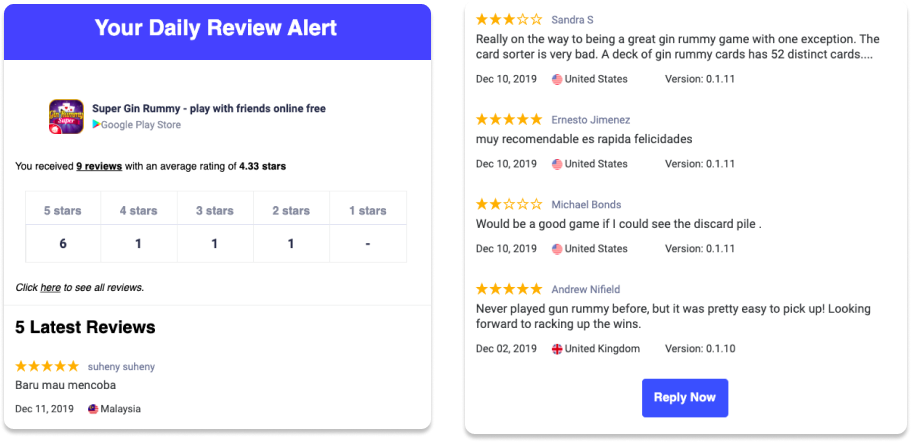 Get notified every time your app gets a new user review.
Create a Free Account
Step 4: Deepen Your App Marketing Strategy
Marketing strategies need to be flexible. Keeping your finger on the pulse of how your strategy performs is essential in ensuring long-term and consistent success. Stay up to date on the latest trends, what is and isn't working well amongst your competitors, and what do your current and prospective customers want. Collecting and analyzing data on your ASO and paid acquisition performance will help you evolve alongside your customers.
Don't be afraid to adjust your creatives, change the keyword density, focus investment on best-performing channels, and test new opportunities in the market.
Step 5: Analyze Results
With all of the above in place, the final step is to make sure you analyze your campaign results. Knowledge is power, so understanding and reflecting on your results will equip you with the know-how to keep taking your strategy forward and maximizing growth opportunities. The better you understand your performance and your target audience, the greater your capacity for success.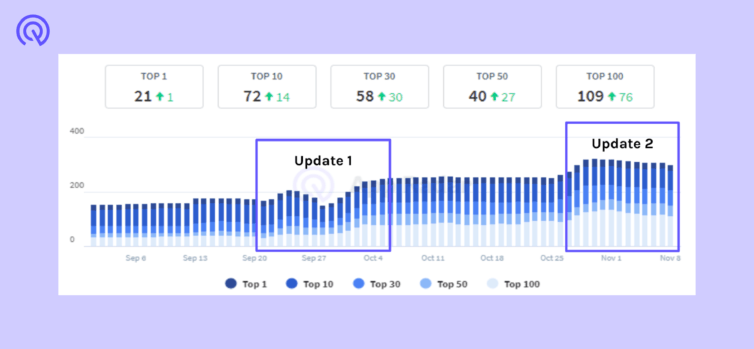 Final words
Combining ASO and paid user acquisition is a delicate balancing act in creating and sustaining mobile app growth. Both elements play a significant role in taking your app's success to the next level and generating consistent revenue.
When taking your strategy forward, don't underestimate the importance of ASO as the bread and butter of your campaign, and use your insights carefully to target your intended audience through paid acquisition precisely.
Be bold in your approach and don't shy away from changing direction in the way the data is pointing.