NFT is becoming more and more popular around the world. One of the most valuable NFTs is worth about $91.8 million. So, let us uncover what this mystery term means and how you can start creating NFT today by using your mobile phone.
Before going into details, check out these interesting facts about the NFT ecosystem:
23% of millennials in the US collect NFTs
Men are three times more likely than women to be NFT collectors
The top five countries with the biggest NFT adoption are in Asia
The number of NFT art sales surpassed 1.5 million in a single month in 2021
An NFT meme sold for $4 million
What is NFT
NFT is an abbreviation for Non-Fungible Token. In other words, NFTs are digital assets that are publicly verifiable intellectual properties. For example, NFT could be a digital file such as a photo, image, 3D-visual model, video, audio, collection card, or game skin. To understand the whole concept of NFT, you need to know a couple of related terms:
Non-Fungible Token means that digital assets are not interchangeable, and it represents unique assets owned by a specific person. In comparison, Fungible Tokens are interchangeable and can be divided into smaller units to form the same value. For example, a €100 bill is fungible because you can exchange it for two €50 bills or ten €10 bills, and you still have a value of €100. In contrast, the Mona Lisa painting is non-fungible as it is a unique piece. All other copies of Mona Lisa paintings don't have the same value as they are not authentic as the original piece.
Token refers to a digital certificate stored on a secure distributed database (blockchain). It means that each token contains distinguishable information, such as who is the digital asset owner and who the seller is. Moreover, the token's historical data can't be deleted or changed, making your NFT originality secure. For example, the famous NFT- HUMAN ONE by Beeple will always have a coded history of who is the original seller (in this case, Beeple) and the history of all people who buy it and then resell it. It will secure your painting's originality.
Blockchain is a distributed database shared among the nodes of a computer network. Since blockchain is decentralized, it runs on contestants of 1000nds of computers simultaneously and is constantly updated and verified. It means that the network immediately notices if there are any errors in a block. The new blocks are frequently being added and encrypted, so you can't go back and change anything in previous blocks. That's why blockchain is considered to be a secure database. Moreover, blockchain is also public and permissionless, which means everybody can access it.
So, now that you know all the necessary terminology, let's sum up the main principles of NFTs:
NFTs (Non-Fungible Tokens) are digital assets running on a blockchain.
NFTs are not interchangeable, and each of them represents a unique asset owned by a specific person.
Each NFT contains distinguishable information (who owns it and who sold it), making digital assets easily verifiable. As a result, you always know which piece of art is original on the blockchain.
How does NFT work and how you can benefit from it?
NFT works like any other unique physic good: the artist creates a piece of art, then finds a gallery to showcase it, and after that, a collector will see it and buy it. The same applies to the digital world, but with a more secure transaction. In other words, the main selling point of NFT is that a digital asset is unique and can't be forged.
To understand how you can benefit from NFT, you need to define yourself to a specific target group:
Seller (artist, art studio)
Buyer (collector, gamer)
Marketplace
As a seller, you first need to create a digital asset and then find an NFT marketplace where you can sell it. As an artist who puts their art in the NFT marketplace, you can set the fixed percentage of sales. It means that whenever your digital art is resold, you will get a 10% of the purchase price.
As a buyer, you are looking for a unique piece of art on different NFT marketplaces. Once you find it, you buy it and your name will be encrypted into this digital piece of art forever. Besides the satisfaction of owning a unique piece of art, you can also resell it at a higher price and, as a result, make a profit.
As a marketplace, you create a marketplace based on blockchain technology and allow the exchange of NFTs between sellers and buyers. For your service, you charge a certain percentage.
8 best apps to create NFT art
If you're still doubting the power of NFT, it's time for you to try it out by yourself. All that you need is your phone and big curiosity. We have collected the 8 best apps that you can use on your mobile phone to create crypto art.
NFT Creator
NFT creator! is a simple app for iOS to turn your pictures into crypto art. This app has a variety of filters, fonts, and backgrounds that you can use to create a unique piece of art. Moreover, you can export your crypto art directly to certain NFT marketplaces.
Available on: Apple App Store
Price: 3 days trial, then $3.99 per Week OR $49.99 per Year
NFT GO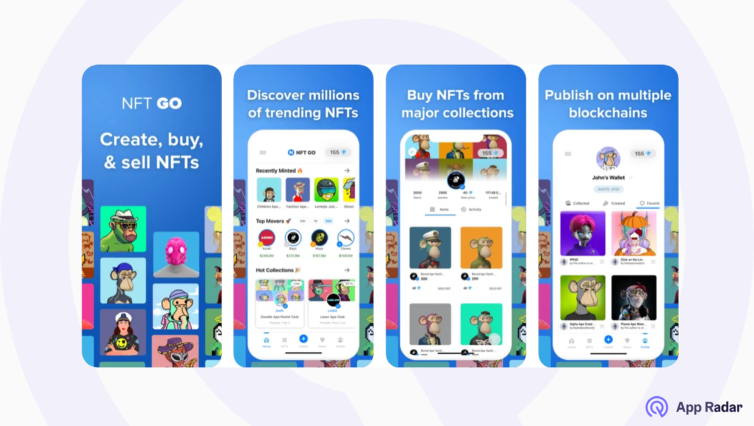 NFT GO allows users to create, buy, and sell NFTs directly from their mobile phones. NFT GO has seen incredible growth over the past few months, and is second only to OpenSea in mobile install volume and user activity. It is all-in-one app that covers the different needs of the NFT community. The best part of this app is that users don't even need to have any crypto in order to buy NFTs. NFT GO lets users pay with native in-app purchases, and they take care of the complex crypto transactions in the backend. Moreover, users can not only create NFT, but also transfer it to different NFT marketspaces or sell it on NFT GO own marketplace. This app supports the Ethereum and Polygon networks, with more blockchains added soon.
Available on: Apple App Store
Price: Free (In-app purchases)
SketchAR
SketchAR is a popular app for transforming your artwork into NFTs. This app supports AR, AI and different canvases that will help you to create an awesome crypto art. SketchAR community encourages creators by choosing a 'Creator of the Week'. Once your artwork is the best of the week, it's automatically turned into NFT, and the user gets a PRO account.
Available on: Apple App Store, Google Play Store, Huawei AppGallery, Samsung Galaxy Store
Price: 1-Month Subscription – $14.99 / Month
1-Year Subscription with a 3-Day trial – $69.99 / Year
1-Year Special Offer Subscription – $44.99 / Year
GoArt
GoArt app is based on powerful AI-Intelligence technology. With this app, you can apply different artistic styles to your photos and turn them into beautiful artwork. User has access to various filters like Impressionism, Van Gogh, or Sketches. Moreover, artworks can be easily downloaded in a high resolution and printed out.
Available on: Google Play Store, Mac App Store
Price: Free trial (In-app purchases start at $1.99)
NinjaFT
NinjaFT is an app for NFT beginners. It is a unique app that combines a tool to create NFT and a marketplace to sell digital artwork. Moreover, with this app, you can mint and buy NFT collectables. Explore NinjaFT and find your way to benefit from this app.
Available on: Apple App Store, Google Play Store
Price: Limited Free (In-app purchases start at €8.49)
SuperMe
SuperMe is an app that is not really developed for creating NFT. However, here you can make cartoon avatars. SuperMe is a popular app that you can use to create your personal avatars and share them with friends. Once you download your creative avatar, you can use it as an NFT.
Available on: Apple App Store, Google Play Store
Price: Limited Free (In-ap purchases are available)
Dream by WOMBO
Dream by WOMBO app is an AI-powered painting tool. This app is also not specialized in creating NFTs, but it is a great tool to create digital artwork that you can use for NFTs. The biggest advantage of this app is that it has simple UX, and it's free to use.
Available on: Apple App Store, Google Play Store
Price: Free
8bit Painter
One of the most popular NFT styles is pixelated artwork. With 8bit Painter app, you can turn your photos and images into stylish pixelated artwork. This app is fun for personal usage and useful for NFT creation.
Available on: Apple App Store, Google Play Store
Price: Limited Free (In-ap purchases are available)
Ready to start with NFT
As you can see, NFT is easier than it might sound. NFT community is getting bigger every day, which means people see the real value of digital art. Whether it is a culture of ownership or a new trend, everyone can try it out and decide if they can benefit from it.
If you see yourself as a creator, use the apps mentioned above to create your digital artwork. You can check out which app is the most popular among users, simply compare the download rates of any NFT app with App Radar tool. Once you are done with your artwork, showcase your NFT on the marketplace. The most popular NFT marketplaces are OpenSea and Rarible. Those are the platforms where sellers and buyers meet and interact. Explore the potential of the crypto world with the best apps!
Stay up-to-date with the most popular apps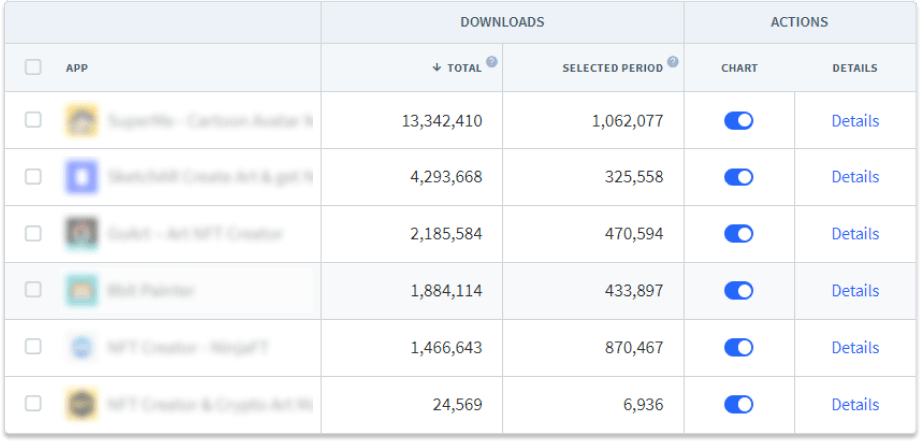 Find out which app users prefer more. Check out NFT apps downloads with App Radar.
Create a Free Account