2020 was a year of fast learnings for app marketers. As people around the world had to self-isolate and supermarket shelves ran out of toilet paper, apps became essential tools for staying up to date and in contact with society. People turned to apps to focus on mental and physical health, stay productive, interact with brands, do their shopping, and stay entertained.
So how do we continue navigating through the future unpredictability? Here's our prediction of app trends to help you decide what to focus on in 2021. This post covers the following topics:
Trending categories in app stores
Marketing and branding for apps in 2021
App trends 2021: "Super Apps", social commerce and app profitability
Trends in app analytics, attribution, tracking
Trends for mobile app advertising
How will users search for apps in 2021?
App marketer as a Superhuman
Disclaimer: We won't be looking into chatbots, user-generated content (UGC), influencer marketing, omnichannel marketing, nor the importance of ratings and reviews as these are acknowledged from previous years. Let's try to focus on newer ideas!
Trending categories in app stores 2021
Increasing app usage and emerging options to build apps without a single line of code are massively encouraging the competition on the mobile landscape. At the same time, the coronavirus pandemic brought changes in consumer habits that will most likely also stay after social-distancing is over. Hence we believe the following app types to continue flourishing.
The rise of "at-home" category apps
According to App Annie, app users will be spending on "at-home" categories such as education, streaming, shopping, up to 1.3 trillion hours on Android apps in 2021. E-commerce has been booming as people use their mobile devices to shop in a lock-down environment. Consumers have got used to not walking into a store and making a purchase anymore but rather using their mobile devices for that. Grocery shopping apps alone saw a 200% increase in the US during February and March.
Additionally, an increase in mobile payment options has been giving a boost to consumers' mobile experience. Although Apple Pay has been around since 2014, Google Pay since 2015 and Facebook Pay since the end of November 2019, these big players have been adding new countries in their operations list rather slowly. For example, Austria was introduced to Apple Pay and Google Pay only during 2020.
So as people have gotten used to virtual fitness classes, video conferences, and grocery delivery as well as mobile payments, we'd expect this trend to continue.
Apps with video streaming and live events will continue booming
As people had to stay home alone this year quite a lot, video chats and online events had a significant boost in their growth. We believe apps making use of this will continue to grow even more in 2021. Therefore creative content, event, and advertising ideas for socializing, building connections, and sharing experiences should be at the center of every app marketers plans. Besides already existing live streaming platforms, new opportunities have opened up, for example, with LinkedIn Virtual Events.
Funny fact: By now, Tinder has added video chats between matches. The feature is called Face to Face, so now you can have literally an online date!
Mobile gaming isn't stopping but growing even more
Gaming apps have been for years the most popular category among active apps in app stores. In 2021, we expect the wider rollout of 5G to enable smartphones to provide experiences that were previously only available on Console or PC. This, as well as the new habits learned from social-distancing, will lead to continuous growth for (hybrid) mobile game genres as well as for multiplayer games.
Marketing and branding for apps 2021
In general, the importance of defined brand values and sticking to them was challenging for most businesses during the coronavirus pandemic. In times of uncertainty, consumers become more sensitive and ask for compassion and empathy as well as clear values. In the United States, additional political conversations added to the branding challenges, with many companies losing their audiences' trust as people no longer identified themselves with the brand.
App branding 2021: Showing empathy and doing good
As a result of the current worldwide health challenge, there's a natural demand for brands to do good. And (app) businesses who are able to show it will gain a lot more brand awareness. Hence, as an app marketer, you should first make sure your brand values match your audience and communicate them correctly. And secondly, try to push your organization to take meaningful actions on social issues (that's not just branding but simply being a good citizen!).
Not too late to get a share of audio marketing
Podcasting has exploded in recent years. It's not too late to get on the train and create your own. Or, as an app marketer, if you have the budget, you can make use of the increasing amount of advertising and sponsorship opportunities for podcasts targeting your audience.
Extra tip: add the podcast App Marketing by App Masters to your playlist.
Pushing even harder on video communication
There seems to be no end to video marketing growth. Not only are more marketing channels integrating video, but also new ways of using it are constantly being added, like live story features and AR filters. Staying authentic and "close" with your app users will continue being important, no matter if you choose live videos and stories on IGTV, TikTok, Snapchat, Instagram, LinkedIn, or Facebook for it.
Also, the rollout of 5G will enable app marketers to provide engaging experiences that might have been so far unavailable due to bandwidth and speed limitations. So we do believe richer creative usage to emerge because of faster load times, opening up new ideas for app marketing.
Additionally, there is increasing usage of one-to-one videos that we'd expect to become more trendy in 2021. Personalized video messages are getting more popular for B2B and B2C, for building relationships, and for mobile ad personalization.
More and better AR (augmented reality)
As already mentioned last year, AR still has space to innovate. The concept of "try before you buy" has been growing in ecommerce. But the true importance of AR for app marketing lies in engagement - AR has the potential to increase your app engagement rate significantly. Interactive content can add value in many ways, from something as simple as a loan calculator for your financial product to quizzes to find the perfect wine pairing for dinner.
It's not without a reason that major brands are investing in start-ups that work on innovations to try on makeup, hairstyles, clothing, and jewelry inside apps. Furthermore, Facebook is supposed to bring its AR glasses to the market in 2021, and Apple's AR glasses are supposed to follow in 2022. So you might want to get your creative hat on to be one of the first ones using this for app marketing and advertising.
App marketing learnings from adopting to uncertainty in 2020
Staying flexible to act fast on market demands.
Fitness app Down Dog offers yoga and HIIT classes to thousands of users. During the first wave of COVID-19, the brand was providing free access to its suite of apps. With a focus on France, Italy, and Spain needing help, the company quickly translated its content for those markets and achieved more than 400,000 people downloading their app.
Focusing on helpfulness during self-isolation.
Nextdoor, a neighboring app that helps communities stay connected and share information, saw an 80% month-over-month increase in daily engagement.
At the same time, many countries had governmental organizations launching COVID-19 apps to notify their people about potential infection. Surrounded by many discussions around costs and effectiveness, the apps for Austria, Estonia, and Germany do not however seem to be as widely used and well-rated as wished.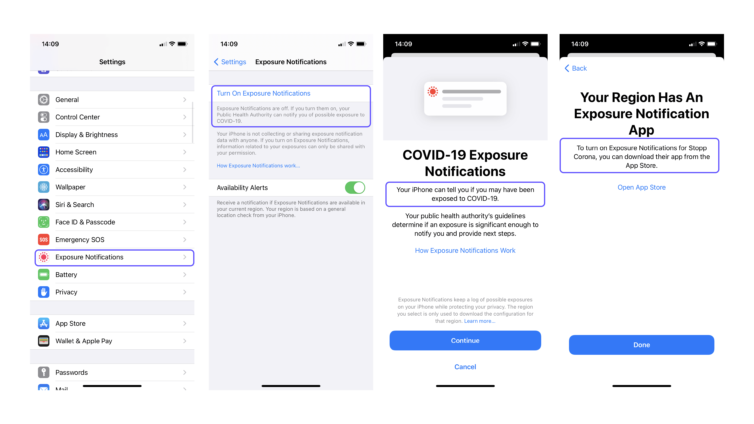 App trends 2021: "Super Apps", social commerce and app profitability
Moving UA outside of app stores as app stores show their power
In 2020, we witnessed the growing power of iOS and Android app store owners on the user acquisition of apps. Google announced to remove all third party cookies on Chrome by 2022, redesigned Google Pay and made its Play Console more user-friendly for app developers. Apple made App Store Connect look prettier as well, played around with IDFA as well as got into a fight with Epic Games due to its commission rates.
To illustrate the latter, when we compare the fees of a payment provider like Stripe and an app store like Apple, the commission difference is 3% against 30%. So it's obvious that app user acquisition outside of the app store, for example, on a website, is a significantly more profitable way to go. A difference that can make or break your app business. It was already in 2015 when Spotify was asking its users to stop paying through Apple's App Store. And although they remained listed on app stores, they focus on pushing its app users to start the Spotify monthly subscription on their website.
Funny fact: here's a rather interesting timeline about the conflicts between Spotify and Apple App Store.
Rise of social media commerce
In a lock-down environment, people didn't spend increasingly more time only shopping online but also on social media. Whereas mobile commerce is nothing new, social commerce has been slowly evolving. But it is getting progressively easier as the big players have been jumping on it during 2020: Facebook Shops (May 2020), Instagram Shop Tab (Nov 2020), TikTok partnering with Shopify (Oct 2020). Also, the messaging app WhatsApp includes a shopping button.
All these big platforms come with already existing marketing and community-building opportunities but also with shoppable ads, which will continue boosting social commerce in 2021. We'd also expect others like Snap to join the club to provide its creators with more opportunities to make revenue. Monetization opportunities will be the main reason users will stick with one app or go with the other.
Growth of Super Apps aka "one-app-fits-all" model
This trend is mostly coming from Asian countries. In Europe and the US, consumers might be more up to using one app for social media, the second one for messaging, the third one for money transfers, the fourth one for ordering food, the fifth one for getting a ride, etc. In China, the typical consumer uses one multipurpose app - such as WeChat - that offers it all.
These kinds of "super apps" are defining the app user experience. The seamless experience doesn't only create higher app engagement but also optimizes the app publisher's marketing and sales costs. According to Morgan Stanley research, these super apps are likely to dominate also in the rest of Southeast Asia, with expected to create a $23 billion revenue opportunity for a one-app-fits-all model by 2025.
Trends in app analytics, tracking, attribution
App marketing in 2021 will continue to include data collection, monitoring, analyzing, and reporting. And, hopefully, become automated along the way. As an app marketer, you need to consider users' entire experience from inspiration to actual purchase. Understanding this is based on gathering data for analytics, which means tracking your app users.
However, people like to be less and less tracked. Especially in 2020, privacy protection has been a hot topic. From the governmental side, GDPR for the European Union as well as in the US California Consumer Privacy Act of 2018 went into effect. For app stores, Apple introduced its IDFA. Also, TikTok and Facebook faced many accusations, security reviews, and bans, but nevertheless kept their growth.
Trend in app analytics: moving away from user-level tracking
Standards and regulations like IDFA and GDPR lower the amount of user data we have access to. These data collection changes pressure app marketers to analyze data differently and come up with new ways to get needed answers.
"One tool to rule them all"
As marketers, we continuously strive to improve our understanding of the path that our app users are taking to improve user engagement from one side and from the other side, increasing our app user acquisition. This means trying our best to integrate all marketing platforms we're using into one seamless experience. Therefore, we expect that various app marketing tools will also focus in 2021 on bringing as much data together as possible so that app marketers can have one source of truth.
Namely, seeing that your app installs are down is one thing. But understanding why they are down so you can actually act on it, is the key. Is there a correlation with the app crash rate or with the recent app store update you did? Have you dropped in your main keyword rankings, or maybe your competitor got an advantage by being featured in the app store? These questions can be easier visualized and answered when you have various data sources brought together into one app marketing dashboard.
App Radar Dashboard helps you understand your app store performance and impact factors on one page --> try it for FREE.
Make sure to have a clear and transparent privacy policy
People continuously want to know how your app collects their data and how their data will be used. So as an app marketer, it's important to stay transparent and explain what data you store about your app users and how they can delete their data.
Random fact: as the United States witnessed a 50% increase in mobile banking in 2020, the FBI saw a need to release a warning about mobile bank fraud.
Trends for mobile app advertising
If wanting to increase impressions and clicks for your app store listing, app marketers cannot get around paid user acquisition, that is, running ads on various channels. And the pressure to meet your app marketing KPIs like ROAS and CPA will also not leave us in 2021. Although, as more businesses are taking advantage of mobile app advertising, optimizing ROAS is also getting harder.
Better ads, more ads, higher ad engagement
Mobile ad engagement rose during the first wave of the corona pandemic by 15%. As consumers engage more with the ads, the effectiveness of in-app ads and app store ads, such as Apple Search Ads and Google UAC, remains. The increased engagement and more time spent on mobile devices bring more money to mobile advertising. For example, ad-selling platforms like Amazon have more traffic, so they also sell more ads.
Additionally, as ads evolve, location-focused ad spending is forecasted to grow. The same applies to in-game advertising, which is the usual move for game developers to keep their game free of charge.
More automation - mobile programmatic advertising gets big
Programmatic advertising is an automated way for app marketers to buy and optimize digital ad campaigns. In its basis, it gives you higher-level insights about your budget spending. It increases your targeting potential thanks to bringing together the performance of various ads on multiple devices and channels into one analysis.
Instead of looking at where each app user comes from, you'll be able to analyze how your media budget distribution impacts your overall app user acquisition. It sounds like a dream come true, doesn't it? We'd also expect this trend to create new businesses offering innovative solutions for app marketers, such as Kayzen.
Trends for searching apps in 2021
Understanding your app users' search methods is highly relevant for your app marketing, including keyword strategy for content creation (SEO & ASO). As an app marketer, you should consider 3 search methods for your app users:
written (typing in the search field)
spoken (voice search via Alexa, speech to text searching assistants)
visual (scanning images)
So do you know how users will search for your app in 2021? For example, the searches on mobile devices for "best right now" (e.g. "best running apps right now") have increased two times in the last few years. Also, because of COVID-19, searching for local suppliers to support the local ecosystem has increased.
To do a proper keyword search on app stores, use an ASO tool where you can track keyword search volumes, difficulty, and rankings for yourself and competitors. Start 7-day FREE trial.
How relevant is voice search for apps?
More and more people are using voice for their shopping lists and making their purchases. In the US, by now, one-third of the nation uses voice search. As examples of voice search benefits are Domino's Pizza letting you order as you speak from your sofa and PayPal users talking with Siri to send money to friends.
The main challenge for app marketers is that the search terms people use in typing and speaking are different. If focusing on content writing for voice search, marketers need to target the conversational style of the speaker, also by using long-tail keywords.
Furthermore, considering the spread of coronavirus, smartphones can be seen as one of the main bacteria sources. How often do you clean your mobile phone? One could estimate that people will be trying to touch their phones less frequently and hence use the voice search instead.
How important is visual search for apps?
Visual search is based on image recognition and getting more popular year by year. When a user does a visual search, he or she looks for a product with a photo or screenshot, instead of using keywords like for written or voice search. Visual search engines are, for example, Google Images (launched 2001), Pinterest Lens (2017), Bing Visual Search (2017), and Google Lens (2017).
Brands like Asos and Amazon are continuously experimenting with visual search on their apps. The more image recognition technology evolves, the more we expect brands and advertisers to find new ways for mobile marketing and advertising focusing on visual search.
App Marketer as a Superhuman
To summarize this overview of app trends in 2021, let's ask the most relevant question for ourselves as app marketers: what will be the role of an app marketer in 2021? The fact is, the job is continuously getting more data-driven, and the responsibility areas and expectations on us are growing.
As Thomas Petit discussed in his App Promotion Summit 2020 talk, an app UA manager is expected to be, at the same time, a creative storyteller and data analyst. He/she needs to be planning and executing omnichannel and cross-functional, as well as doing organic and paid UA both.
And let's also add to the above interpersonal skills like excitement to test, being good at managing stress, adapting to uncertainty, and deciding/acting fast. The responsibility is moving from "just" marketing to app growth.
To conclude, successful app marketers in 2021 will excel in:
Organic and paid app user acquisition (incl. app store optimization and advertising)
Building brand awareness as well as referral machines
App onboarding as well as app monetization
And it's up to us to perceive it either as a challenge or opportunity!
To kick off 2021 successfully, it would be a good idea to start with an audit of your app marketing first. This way, you can mark the status quo, take the learnings of 2020, and set the path to growth for 2021. Get on a free call to discuss.