case study
From App Launch to Top 10 in 6 Months: how language learning app scaled User Acquisition through UGC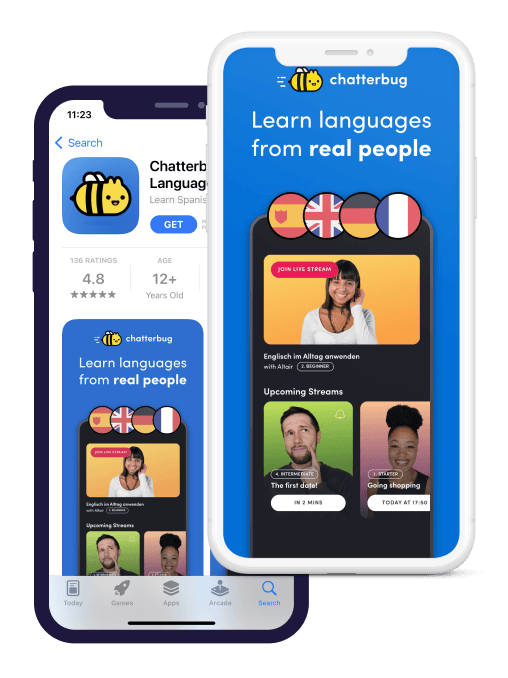 In 2021, together with App Radar, Chatterbug launched a new language learning app on Google Play Store and Apple App Store. The app's concept provides users with opportunities to learn languages via live streams. The main goal of Chatterbug was to get to the top 10 in one of the most competitive environments - the educational category. Let's have a look at how our UA team helped Chatterbug to get +311% of signup increases in only 6 months, increasing retention rate by 20% after 1 month, and what role of User Generated Content played in acquisition strategy.
Gaining visibility in a highly competitive app category
The major challenge for Chatterbug was a highly competitive industry and tough time frames. In other words, App Radar's UA team had to compete with well-known and leading app players in the educational category. The main competitors have been active in the market for more than 7 years, and many have substantial marketing budgets. We had to develop a strategy to position Chatterbug as a cutting-edge app based on their innovative technology.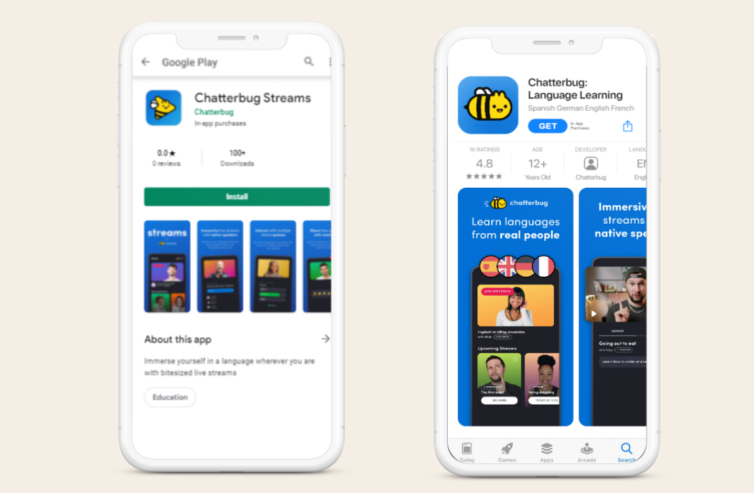 How to succeed with app User Acquisition supported by a robust ASO strategy in a highly competitive niche
App Stores: Apple App Store, Google Play Store
Platforms: Apple Search Ads, Google Ads, Facebook Ads, TikTok Ads, Snapchat Ads
Markets: US, UK, DACH region, FR, ES, MX
Services: User Acquisition, Creative A/B testing, ASO
As a part of the Full-Service ASO and ASA partnership, our senior app store marketing experts started identifying the app's critical factors. It allowed us to differentiate Chatterbug from the competitors. As a next step, our team created a successful strategy that was based on the following 4 pillars: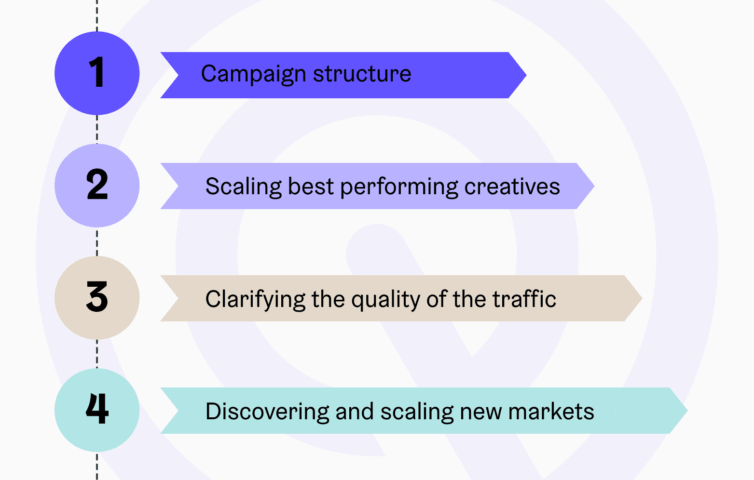 1. Campaign Structure
To create a successful campaign structure, we needed to clearly understand users' needs. Therefore, App Radar experts started with identifying what Chatterbug's target audience was looking for in apps for learning languages. Based on the analysis, our team created a channel-specific communication guidelines. App creatives and messages were also adapted to the requirements of every communication channel and specific target groups.
The developed campaign's structure allowed us to control the costs and, more importantly, see each audience's quality. This was a key factor to scale the campaigns, since the structure gave us data that allowed us to discover new audiences to be tested in different markets. In other words, our team could scale the UA activity because we continuously had new possibilities to grow in our core markets.
2. Scaling best-performing creatives and channels
In such a competitive category like education, one of the major challenges is standing out with ad creatives, as the users are bombarded with various ads. Therefore, our app marketing experts had to use different approaches to create well-performing ads.
In the first step, we hypothesized what creatives and USPs could work best for this specific audience. As a next step, we had to intensively A/B test what works the best: colors, USPs, styles of creatives, etc. Our team tested over 60 ad sets and creatives in 8 markets to determine the winning variations.
At the same time, our team discovered an interesting insight from analyzing the users' needs. Since Chatterbug has a specific learning methodology based on live streams, our experts decided to promote the app by presenting it with the same people who were teaching in the live streams. In this case, User Generated Content (UGC) was the key to finding the right way of creating proper messages for our target audience. Therefore, we based most of our assets on influencers.
Collaborating with influencers was not easy since the resources were limited. However, due to the continuous weekly analysis and conducting A/B testing across all the channels, we found the successful way to advertise the app in every channel with the correct message.
Interestingly, highly 'polished' ads were performing worse than user-generated content. That's why one of the main pillars of the creative strategy was focusing on user-generated content produced by influencers. However, it is important to highlight that different influencers performed better in different markets. Nevertheless, funny topics and stories, personal experiences and convincing users that this feeling of embarrassment when you speak a different language is normal, were key elements in all Chatterbug's ads.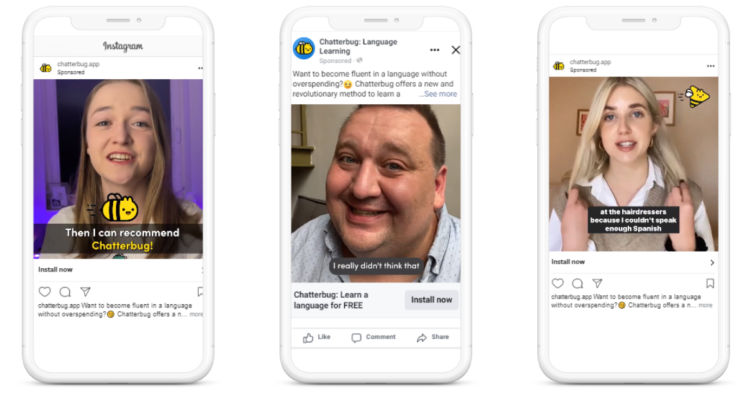 3. Clarifying the quality of the traffic with Mobile Measurement Partner implementation
Since Chatterbug was never before available on a mobile app, we supported them by implementing the Mobile Measurement Partner (MMP). It was a key point in this partnership stage, as we had to measure if the campaigns were achieving the results that Chatterbug was looking for.
After connecting all channels and facing the challenge of the new SKAD limitations, we could track all the activities from our campaigns. Moreover, our UA team was able to eliminate the Fraud Traffic and follow a continuous and updated performance from the users coming from our paid campaigns.
This accurate data from the campaigns gave us the possibility to analyze which campaigns, audiences and creatives were bringing the most value to the Chatterbug app on each step of the user funnel. From CPI to CPA down to ROAS and retention metrics, we could easily understand how to reallocate our resources to grow faster.
In this case, the implementation of the MMP was crucial for this partnership, as it provided us with the most accurate campaigns' results.
4. Scaling the ads and discovering potential markets.
The adapted channel-specific communication and the continuous analysis gave our team enough insights to understand which audience brought the most value to Chatterbug. In other words, we found out which user's type has good engagement and retention, and at the same time has cheaper CPI.
Once we detected that one audience performed better than another, we ran A/B tests with the same type of audience in different channels and countries where our ASO rankings were good enough. The possibilities of scaling the organic installs in those countries were higher because we could align with the ASO side to select the exact keywords that had more potential. Reallocating the budget to the best channels and testing different campaign setups in those channels allowed us to scale our campaigns drastically in a very short period of time.
At the same time, we build a strict and automatic system to pause or reduce all the campaigns, audiences or creatives that were wasting our limited resources. When your goal is to enter the top 10 in a highly competitive category in less than 1 year, every single euro should be invested in the most intelligent way. Moreover, in this case, your growth strategy should include the control of bad-performing campaigns.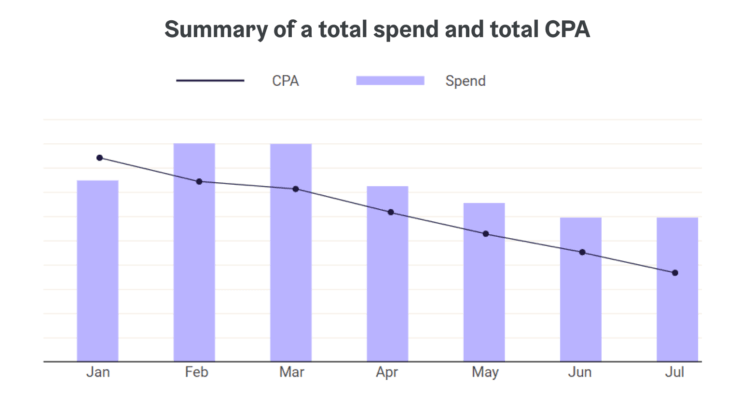 Reducing CPA by 50% over 6 months
This customized strategy immediately brought impact, getting more than 100.000 signups per month and a decrease in the CPA by over 20% during the 1st month. It is something that we could repeat until reaching a total decrease of -50% compared to the previous period. App Radar's campaign performances allowed Chatterbug to start investing a higher monthly budget to scale the numbers as the KPIs and monthly goals were consistently achieved.
+311%
of signup increases in 6 months
+20%
retention rate after 1 month
-41%
CPI decreased in 6 months.
The successful results in the campaigns also helped to drastically increase Chatterbug's organic rankings, getting more than 650 ranked keywords with high search traffic and more than 3700 ranked keywords in total.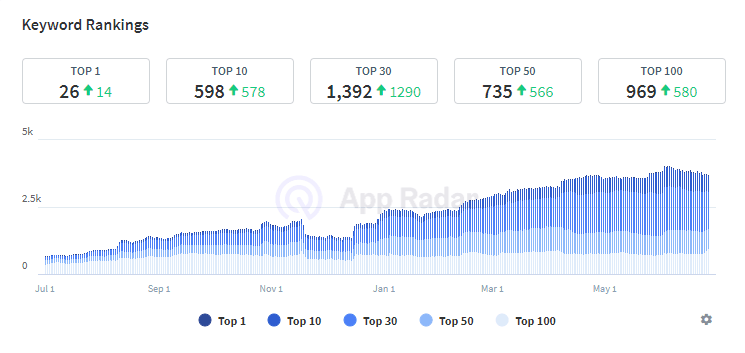 App Radar helped us so much getting up to speed with our mobile app marketing efforts: attribution, paid channels and ASO. I'm impressed by their passion, skills and that the collaboration really felt like they were part of our growth team.