App marketing industry has undergone some important changes during 2021. Google Play Store became tougher in terms of listing optimization. iOS 15 has brought some major updates for app marketers. Certainly, all current changes in the app marketing industry will influence the work of app marketers in 2022. For that reason, knowing what trends to expect in the app marketing industry is essential.
Therefore, App Radar's app marketing team has prepared the top 6 app trends that you need to know about:
Important Google Play Store updates
iOS15 opportunities in 2022
Huawei AppGallery increases its market share in Europe
Changes in mobile user acquisition
5G technology & mobile gaming development
Reshaping Mobile Commerce
Trending Google Play Store Updates in 2022
As you might already have heard, in 2021 Google has released a series of updates that significantly impacts the app marketers' work. On the one hand, it seems that Google would like to level up the quality of apps in Google Play Store and to make the platform more attractive for running ads. On the other hand, Google's new rules can be beneficial for first adapters. Therefore, in order to adjust your app to the new Google updates, keep an eye on the following Google trends in 2022.
Google Play Store Policy Change for App Store Optimization
The latest Google Policy Update started to get enforced as of the 29th of September 2021. The new Google guideline has already impacted the way of App Store Optimization. Some apps have been punished for not following the new Google regulations. Whereas in contrast, some app developers keep ignoring new rules and are not being penalized for that.
Nevertheless, we can predict that in the upcoming year, Google will take its penalization measurements more seriously:
Assets that don't meet our guidelines may be ineligible for promotion and recommendation on major Google Play surfaces like Apps and Games home.

- Bert de Weerd and Tingmui Li, Google Play
Therefore, if you haven't yet optimized your app metadata according to the new Google Policy update, then we strongly recommend doing so. The main things to keep in mind in 2022 regarding your app store metadata:
The app title has to be up to 30 characters
Popular keywords such as "best, "free", "top", "new" and CTAs such as "download now" are forbidden in metadata and creatives
Google Play Store Ratings and Reviews Update
Another major change from Google that took place in 2021 but will have a major impact on app marketing in 2022 is a new Play Store Ratings and Reviews update:
From November 2021, users on phones will start to see ratings specific to their registered country. Early in 2022 users on other form-factors such as tablets, Chromebooks, and wearables will start to see ratings specific to the device that they're on.

- Tom Grinsted, Scott Lin, and Tat Yang Koh, Product Managers at Google Play
Starting from November 2021, Google Play Store phone users are able to see only ratings and reviews from their regions. In other words, if your device is registered for Germany, you will be able to see only reviews and ratings from users that also have Germany as the selected region.
Google stands that these measures will improve users' and developers' experience in Google Play Store. It means that from now on, ratings and reviews from one area will not negatively or positively impact another area. For instance, users from Germany will not see the impact on ratings based on a bug fix in the US. And from the beginning of 2022, users will be able to understand how specific apps perform on their devices.
Google understands that such changes might have serious consequences for some of the app developers. Therefore, they've promised to reach out to developers whose apps can expect to see changes in the rating of more than 0.2 stars. So, make sure to check regular notifications in your Google Play Console and make adjustments to your app store strategy.
Google Cuts Service Fees in 2022
In the latest Android Developer Blog post, Sameer Samat, a Vice President Product Management at Google, has announced breaking news for app developers. From 1st January 2022, Google will cut its service fee for subscription-based apps from 30% to 15%, starting from day one. As Google says, the subscription businesses face specific challenges in UA and retention. After close work with developers from different app categories, they decided to ''decrease the service fee for all subscriptions on Google Play from 30% to 15%, starting from day one''.
Moreover, Google will introduce changes in service fees in the Media Experience program too.
Ebooks and on-demand music streaming services, where content costs account for the majority of sales, will now be eligible for a service fee as low as 10%.

- Sameer Samat, Vice President & Product Management at Google
These changes will definitely please developers with subscription-based apps, ebooks and on-demand music streaming services apps. For other app developers, it might be also good food for thought to adjust their business models to the new fees regulation.
Google Play's New Safety Section
Starting from Q1 2022, the privacy description will be visible for each app in Google Play Store. Google's new user data policy is aiming to provide more transparency to all app users in the Play Store. In other words, users will be informed how and what exact data is collected by the app. This summary of the data policy will be visible in the app's store listing page.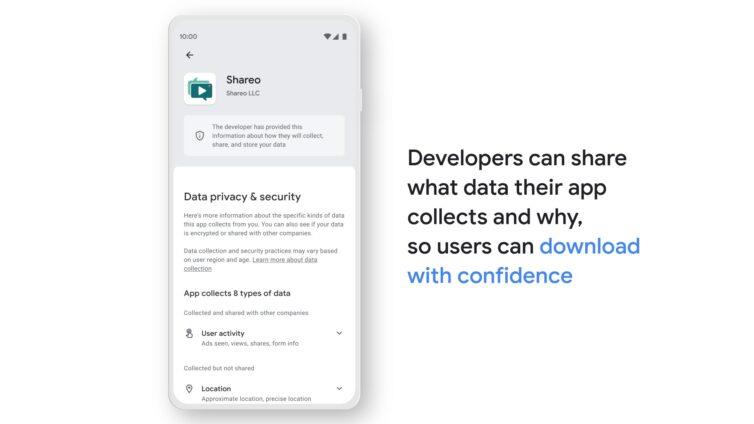 For app developers, this new safety section could be beneficial as well as harmful at the same time. On the one hand, developers who will provide data policy description in an accurate and optimized way might attract more users and gain more trust. On the other hand, those apps who used to share the users data with third parties might get a drop in user acquisition.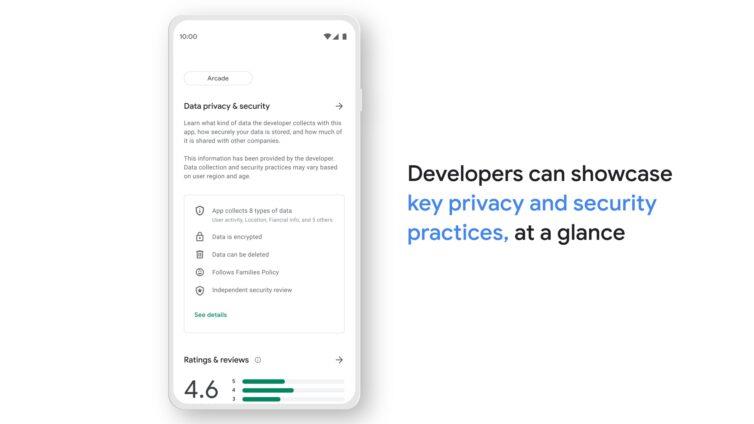 Google also highlights that without an approved safety section, any new app submission or update will be rejected. So make sure to review how your app collects, protects and shares user data. Be ready to prepare the showcase of your app's key privacy policy. That also means providing accurate information that covers every datapoint you collect (including location, contacts, personal information (e.g., name, email address), financial information and other).
Alternative Billing System for South Korea
As a response to 'Anti-Google law' in South Korea, Google decided to enable an alternative billing system for users in South Korea. App developers will be able to add an alternative in-app billing system for their app users in South Korea. As a result, users will be able to choose which billing system they would like to use during the checkout process alongside Google's own.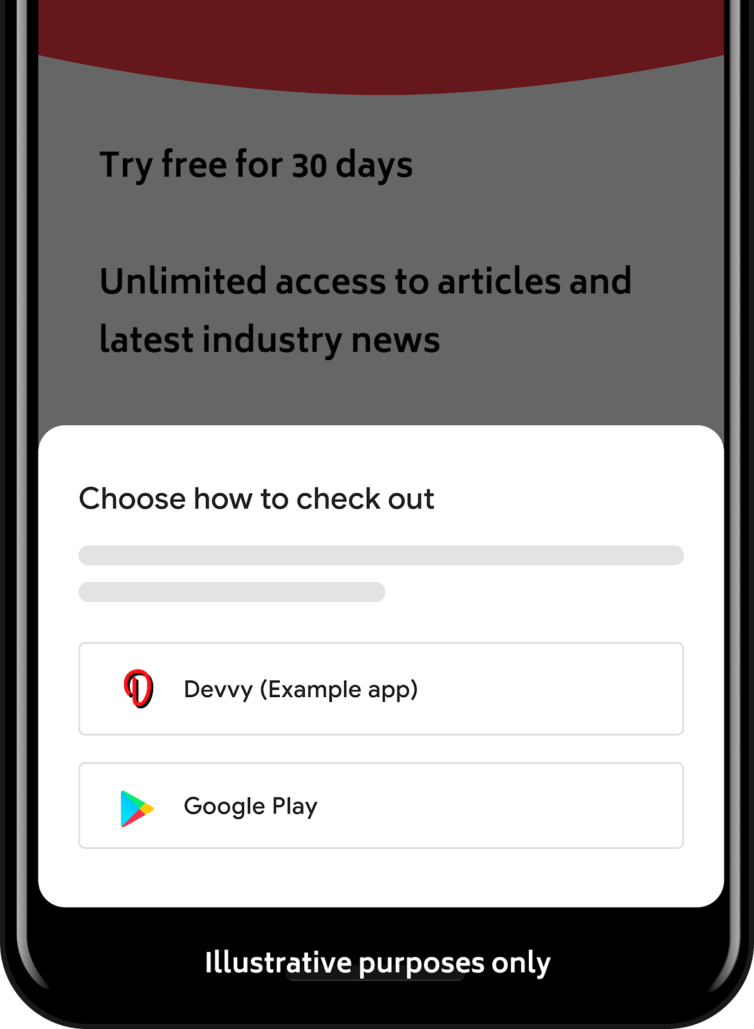 Apple App Store Trends 2022
One of the biggest news of 2021 was the release of iOS 15. Along with that, three new features were added to the Apple App Store:
in-app events
product page optimization
custom product pages.
All meant to further optimize the way app marketers are doing user acquisition within the Apple App Store. The new features are opening up a new era for App Store Optimization and paid UA in 2022. We definitely see a big potential there, so let's dive into them!
What are In-App Events & How App Marketers Can Benefit from it
In-app events are timely events within iOS apps - such as competitions, movie premieres, live-streamed experiences, and more. These events appear across the App Store as event cards that include images or video, the event name, and a short description. In-app events enable you to engage your existing user base as well as attract new users. The relevance highly depends on the category. One good use case example is games. For example, an in-app event that focuses on a special character that is available only in a certain time period could be very likely to drive downloads.
We strongly believe that app marketers will actively use this feature in 2022. There are 3 main reasons why to use in-app events:
Reach new users
Keep current users informed and engaged
Reconnect with previous users
By tracking in-app events, you have a detailed overview of post-install activities inside your app.
Read more how to use Apple In-App Events (IAEs) to increase your organic visibility.
A/B Testing in the Apple App Store
Product Page Optimization finally brings native A/B testing to the Apple App Store. Now you can test up to 3 different product page treatments against your original product page. Moreover, app marketers can select the traffic split and localizations (out of the ones your app is localized for), and get an estimation of the test duration in App Store Connect.
It still remains to be seen how this feature will evolve and how much app marketers actually get out of it to improve conversion rates with it. But what is clear now, this new feature in App Store Connect will be actively used by app marketers in 2022. So, if you still didn't try to test your screenshots, icons, and videos - now is the right time!
Apple is offering new features for app developers and marketers like Custom Store Pages and A/B testing to give them better possibilities to optimize their user acquisition strategies.

- Thomas Kriebernegg, Managing Director of App Radar
What to Expect from Apple Custom Product Pages
Custom Product Pages help you customize messaging within your campaigns. For the first time ever, you can create up to 35 additional App Store Product pages with different promotional texts, screenshots, and app previews. Each product page will receive a unique URL that can be used within your UA campaigns to drive specific audiences. 
This is big news for the mobile UA world! Early next year, Apple Search Ads will support Custom Product Pages as well. This means you will be able to create ad variants that are the most appealing for different keyword groups. However, it is still unclear when and how different ad networks will support the custom App Store URLs as a campaign destination though. Nevertheless, custom product pages have a massive potential for mobile practitioners in 2022.
Apple's Mandatory Account Deletion
Another important thing to know in 2022 is that Apple is going to provide users better control of their personal data. Starting from January 31st, 2022, all Apple users will have possibilities of data deletion from within the apps. This option definitely gives users more rights and control over their personal data.
For app developers, it means that they would need to review the data collection process in their apps. Moreover, we strongly recommend that app owners provide a clear and accurate explanation of what user's data they collect. The more transparent your data collection policy is, the lower are the chances that your app will get penalized by Apple.
SKAdNetwork 3.0 as a Challenge for Advertisers
The savior apps against privacy and cyber theft are predicted to be the trendsetters in the upcoming year 2022. Along with iOS15, Apple has introduced SKAdNetwork 3.0 that will allow devices to send postbacks to multiple ad networks. SKAdNetwork 3.0 has generated recommendations for the prevention of personal data theft and intervention in the cyber privacy of the users. It will display outstanding connection speed. This technology enables high-security rates and an increased amount of connections. After the arrival of iOS 15, Apple is all set to release the ad privacy policy avoiding bad ROAS images. We expect that SKAdNetwork 3.0 will appear as a challenge in 2022 for mobile app advertisers. However, understanding Apple's conversion mechanisms will help app advertisers to navigate challenges.
Apple search ads will further rise as a mobile marketing channel for apps in 2022. The reason for that is the IDFA changes, not sharing user IDs anymore with other ad networks in the way they did before.

- Thomas Kriebernegg, Managing Director of App Radar
Huawei AppGallery will Increase its Market Share in Europe
In 2021, Huawei AppGallery had over 530 million active users. And these numbers are increasing tremendously. Certainly Huawei has high ambitions not only to increase the number of users but also to enter the new markets. Therefore, we believe that in 2022 we will observe the 'battle' between major app marketplaces in Europe.
One of the most interesting things in 2022, especially in Europe, will be how much Huawei will be able to challenge Google Play in the market of providing Android apps.

- Thomas Kriebernegg, Managing Director of App Radar
Huawei Mobile Service Core
High competition between main app marketplaces will bring a lot of benefits to the app developers and app users. For example, Huawei AppGallery has already introduced to app developers and publishers partnering access to Huawei Mobile Service Core. HMS Core, based on Huawei devices and the Android platform, is a mobile service framework that opens up a variety of service capabilities to app developers. It will help developers to bring more innovative gaming experience and level up app game development.
Huawei Removes 32-bit Apps from AppGallery in 2022
Huawei aims to increase the quality of the available apps in its app marketplace. Therefore, starting from February 1st, 2022, new or updated apps on AppGallery must contain 64-bit versions. Moreover, starting from September 1st, 2022, AppGallery will stop supporting 32-bit apps.
Huawei Developer Alliance states that these measures will improve app performance experience in AppGallery. In other words, the reason for approaching 64-bit apps is simply to provide better app performance for Huawei users as 32-bit apps use more power on devices. However, we believe that this is Huawei's first step to start competing on a user base with global giants such as the iOS platform. In comparison, iOS switched to 64-bit apps in 2017, and Google Play completed its switching process in 2021.
Interested in launching your app in Huawei AppGallery? Check out Huawei AppGallery screenshot sizes and guidelines.
Mobile User Acquisition in 2022
As we saw in 2021, the best formula to increase app user acquisition is to use both organic and paid UA strategies. This ongoing trend will continue to be important in 2022. We strongly believe that becoming omnipresent will bring more users to your app. However, user engagement and retention have to be a priority in order to increase the company's revenue. It would be important in 2022 to rethink your acquiring channels and find the most suitable for your apps.
Organic User Acquisition 2022
App Store Optimization will still be one of the most important things to do for your organic UA. Optimized metadata and store listing should follow new Google Play Store rules and Apple App Store guidelines. Otherwise, your app has a high chance of being punished by app stores.
We expect that in 2022 all app marketplaces, but especially Google Play Store, will be stricter with app developers. In other words, app stores are aiming to increase the quality of their app database in order to be more attractive to advertisers. Therefore, apps will be more carefully analyzed before getting approvals for new updates.
However, we also suggest app marketers take a closer look at the potential of organic UA from Social Media channels. To be present on channels like Facebook and Instagram, is definitely a good idea. Yet considering other channels will bring more opportunities for the organic UA strategy.
Paid UA
As we already mentioned, omnipresent will be a priority for app marketers in 2022. Since the topic of data privacy is tremendously growing, it will negatively impact tracking and analysing of app ads. Therefore, we believe that the main focus should be on creating high-quality content for ads and targeting the right users on the right channels. You need to remember that user engagement and retention are a priority in an app marketing world in 2022. No matter how many millions of users you have, if they are not making your revenue then it is not the right users for your app.
App advertisers will need to run ads on various channels to be on top of mind for their ideal target audience. Becoming omnipresent is key focus for all app marketers.

- Thomas Kriebernegg, Managing Director of App Radar
We also expect that app marketers will spend more money on ads in 2022 in order to experiment with channels and find the most profitable ones. Therefore, we suggest carefully planning the ad budget for 2022. Be aware that different app marketplaces have different fees, hence, stay updated with app stores fees!
As you might already know, more and more app marketers are trying to promote their apps with Social Media ads. So far we heard mostly positive reviews about involving social media into app paid UA strategy. This makes us believe that in 2022 it is going to be one of the major app marketing focuses in terms of paid UA. Therefore, we recommend testing out ads on different social channels. From our point of view, TikTok will be ongoingly one of the most trending and beneficial social media platforms in 2022. App marketers that already tried TikTok app marketing strategies expect acquiring even more new users in 2022.
5G Technology and Mobile Gaming Development 2022
The invention of 5G technology has already affected the top trends of the app market in 2021. Advanced voice and video streaming is not a very new invention nowadays. However, in 2022 it is expected to become a top trend in the mobile app development industry.
Certainly, there are many potential benefits of using streaming technology. For instance, streaming app Shudder is able to generate greater revenue in the European market. Apps such as Hotstar, Netflix, and Amazon streaming have also introduced seamless performances over the year 2021. Stats show their consumer usage is up to 80% in the UK and US.
From our point of view, 5G development will bring 3 main changes to mobile app marketing in 2022:
Mobile-based cloud gaming services and AR games will have significant development
The streaming quality of videos will be increased
Upload and download speeds on mobile apps will be much faster
As a result of 5G development, we believe that the mobile gaming industry will rise and shine. According to Newzoo, there will be more than 3.07 billion mobile gamers across the globe by the end of 2023. Certainly the mobile gaming revenue will also tremendously increase.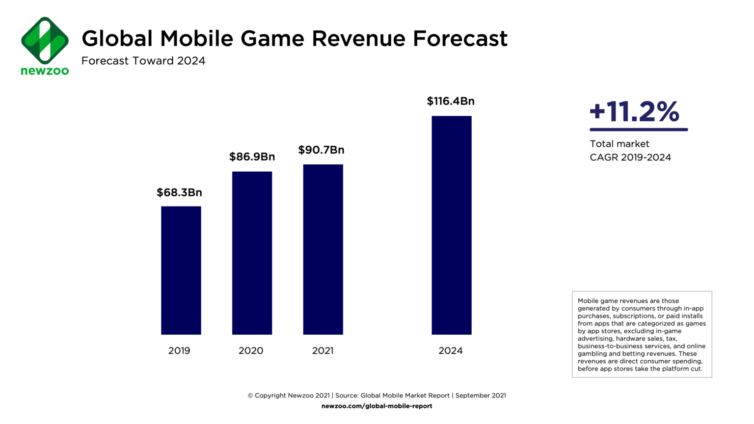 Tips: Sign up for a free course at Google Play Academy for a better understanding of the game business.
Mobile Commerce as a Trend for 2022
2022 is going to be a fortunate year for money chasers. According to App Annie, mobile commerce is the new face of trends to be considered in the mobile app marketing industry for 2022. Many people want to boost their revenues through the help of mobile apps. At the same time, big retailers have created apps for their brands.
Mobile commerce leads to potential benefits in raising the money for your business. Its functionality can be considered as a significant benefit for increasing your revenues and sales. Shopping apps and trading apps will carry mobile apps marketing trends to other paradigms. Mobile marketers are waiting to spread the mobile marketing apps around the world.
Learn about the successful growth of the best fintech app unicorns.
Summary of App Marketing Trends 2022
No doubt that 2022 will bring a lot of new challenges and opportunities for app marketers and developers! What we definitely have to admit, is that Google Play Store and Apple App Store are ongoingly unpredictable in their new rules and policies. The year 2021 has shown that one app store release can significantly impact app marketers' work. However, we stay excited about the upcoming year.
To conclude all the above, successful strategies for app marketers in 2022 will be:
Following actual App Store Optimization guidelines
Trying out new app marketplaces, like Huawei AppGallery
Using organic and paid app UA and expanding acquiring channels
Providing clear and accurate data collection description. Privacy first!
Using 5G technologies for improving the app functionality
In order to stay up to date with industry trends, we also recommend attending professional events in 2022. Check out the full list of 42 app marketing and developers conferences in 2022.
To kick off 2022 successfully, it would be a good idea to start with an audit of your app marketing first. This way, you can mark the status quo, take the learnings of 2021, and set the path to growth for 2022. Get on a free call to discuss.