Also known as: iOS App Subtitle, Subtitle, App Store Subtitle, App Subtitle
The Apple App Store got a redesigned at the release of iOS 11. At WWDC 2017, Apple announced, new metadata fields coming with the new layout. One of them is the iOS-specific subtitle, which gives app developers place for 30 characters of text.
In general, every element of an app store product page has the power to drive downloads. At the same time, keywords placed in some specific fields are also considered crucial for the search algorithm in Apple App Store. So, here is what you have to know about the app title's little sister: the subtitle.
Where the Subtitle is Displayed
The subtitle is like an addition to the app title. It will be located underneath the "normal" app title throughout the App Store on all devices running iOS 11.
What makes the subtitle important, is not only it's influence on keyword rankings, but that it is showed always together with the title. That means, your subtitle is displayed to the user in the following places:
Your app store product page
When your app got featured in the Games or Apps tab
In search results
When your app is displayed in top charts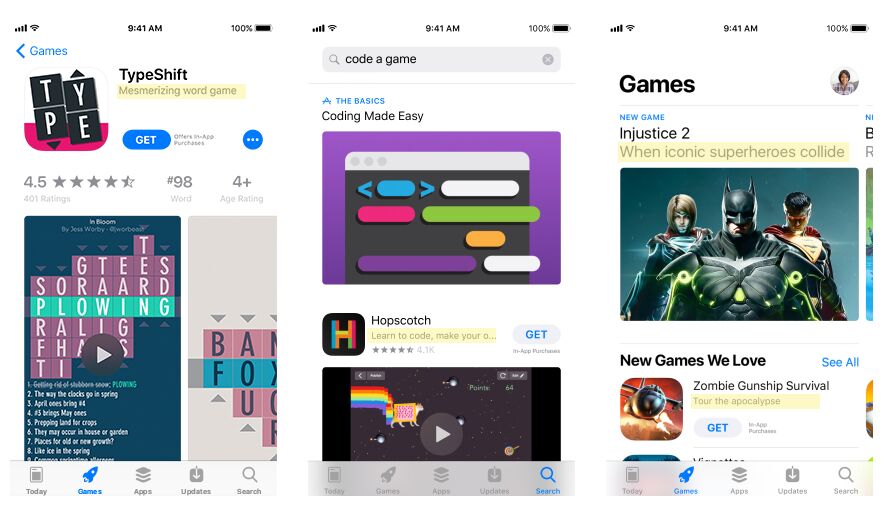 The Subtitle And the ASO Ranking Algorithm
So far, the subtitle is not yet displayed to the user. However, it is already available in App Store Connect (iTunes Connect). First ASO experiments have shown, that the subtitle already influences keyword search ranks. That means, Apple already indexes keywords, used in the subtitle.
Before you are getting euphoric, now, we have to show you hard reality: Even though the subtitle fields gets indexed by Apple, this does not mean, you have a lot more space for keywords, now. Experiments of various ASO experts have shown, that you have to be careful when using the subtitle field for keywords.
See this Tweet by Osman F. Kucukerdem.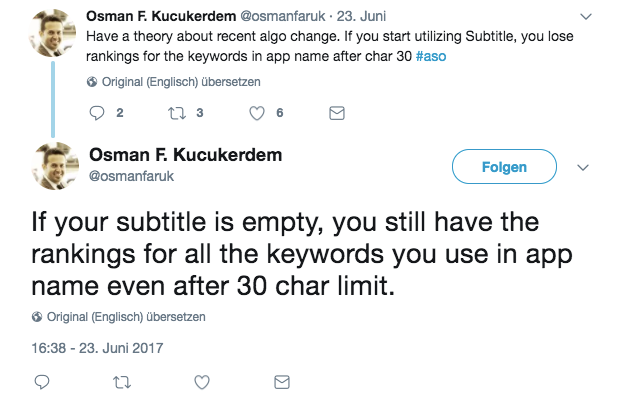 Hence, you have to take a decision, when preparing for your next ASO update:
Make use of the subtitle, and only use 30 characters for the app title;
Apply the full app title and subtitle area, however, be aware, that keywords at the end of your title will lose rank.
Even though we do not know the exact ranking strength of particular app store metadata elements, first analyses have shown, that keywords in the subtitle weight more than the keyword field. However, subtitle keywords might still rank weaker than keywords in the app title field.
How to Write a Great Subtitle
When designing your app store metadata, you should not only focus on fitting the ASO ranking algorithm. Thus, if you are planning to prepare a subtitle for your apps, here are some tips to create a best-practice subtitle that fits both, the algorithm and users' perception.
Keep it clear and short
The subtitle is limited to 30 characters only. So, put your message in a nutshell. Make sure, not to use duplicated words or synonyms in title and subtitle.
Tell what your app is about
The iOS subtitle is an addition to your app title and brand name. Use it to highlight what your app is about and what the user can do with it. Describe your app in a way, that resonates with your audience.
Apply relevant keywords
Even Apple recommends avoiding generic descriptions like "world's best app" but to consider this field to point out features or typical use cases instead. As the subtitle can affect your keyword rankings, consequently make it part of your keyword strategy.
Localize the subtitle
Like we have already recommended, the localization of your app store metadata is crucial in order to let users abroad find and understand your app even though, they are not using English search terms. This advice especially applies to the app title and subtitle!
Try different subtitle version
As the subtitle has potential to become a download-driving element of your app store appearance, it is recommendable to test different versions of it. You can update an app's subtitle when submitting a new version of your app.
See also
Grow Your Apps with Less Effort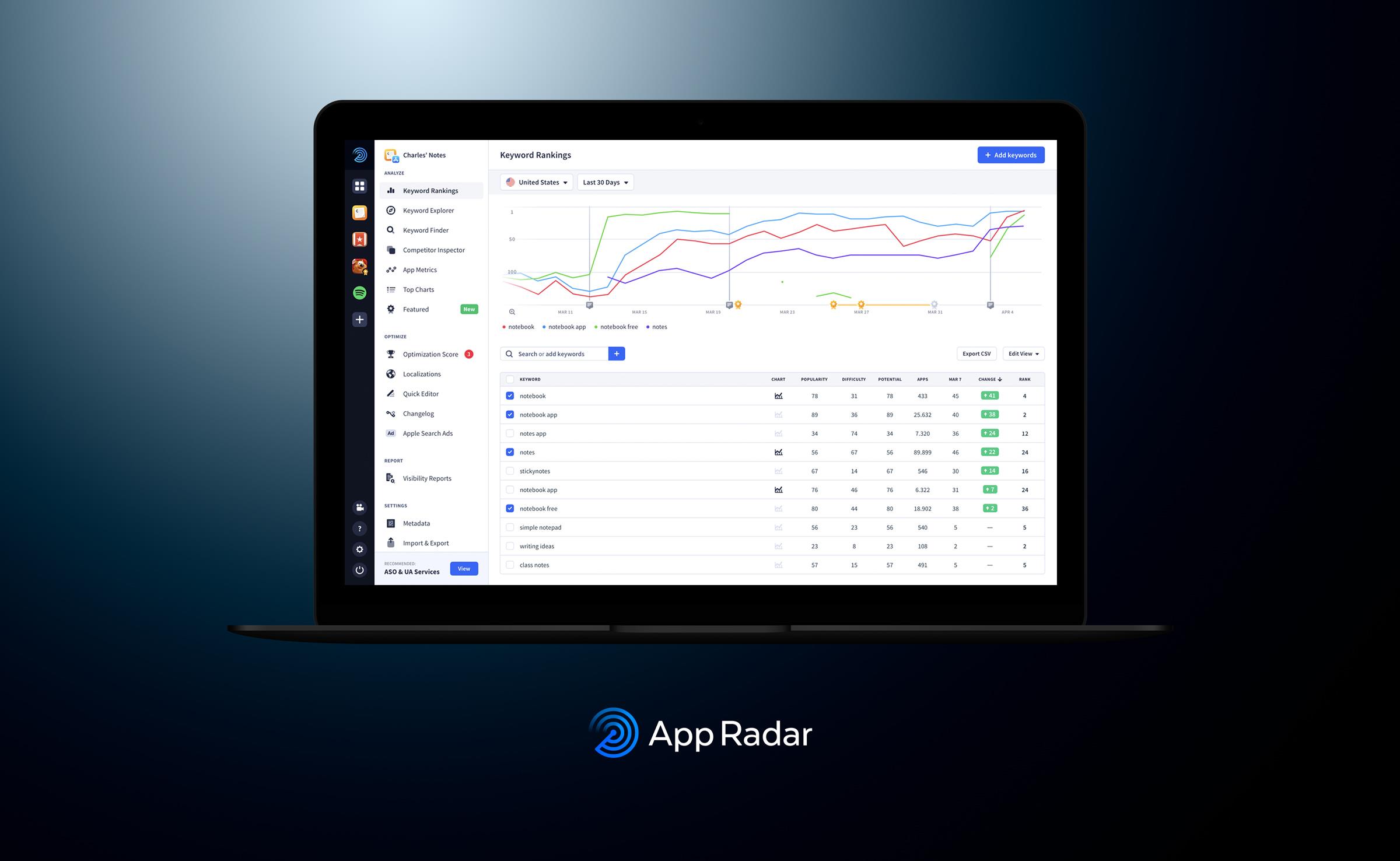 Find new keywords. Optimize all localizations. Spy on competitors. Track ASO changes.
Create a Free Account