Also known as: App Store Analytics, iOS App Store Analytics, App Analytics, App Store Connect (iTunes Connect), App Store Download Statistics
What is App Analytics?
Apple App Analytics is an analytical platform within App Store Connect (iTunes Connect)(the set of tools for managing content sold on Apple's iTunes Store, iBooks Store, and the App Store).
Analytics and statistics are demonstrated by means of various graphs and charts over different timespans. It gives essential insights on users engagement rate, marketing campaigns performance, and monetization results.
How to access App Store Analytics
App Store developers get a full range of Apple analytical data on the basis of annual 99 USD membership fee. Apple Developer Enterprise Program is 299 USD each year.
A key factor to accessing all metrics and insights is having at least one approved version of an app. It's worth keeping in mind that deleted apps are not displayed on the dashboard.
Gaining admittance is a matter of a few clicks. All it takes is logging into your App Store Connect (iTunes Connect) account, click App Analytics icon on the front page, and enjoy profound data.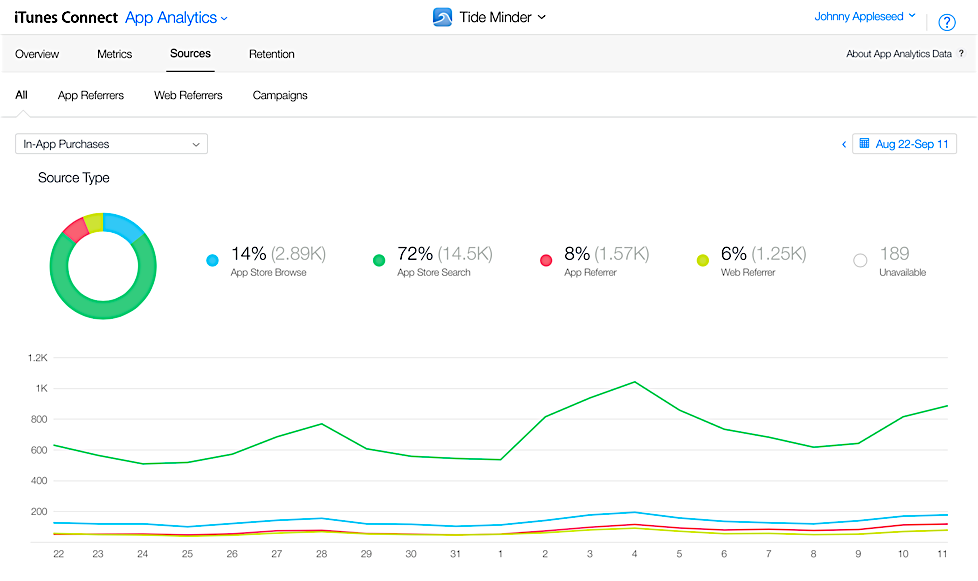 Apple's App Analytics features
App Store Impressions – the number of times your icon was shown in the Store. This metric includes all possible app's icon views from search results, Featured, Top Charts to App Store product page;
User engagement – data on sessions amount, retention, and active Apple IDs; this way you find out how often a user opens your app and the amount of time he or she uses it.
Apple TV Data – the number of users drawn by your ads campaigns that installed the same app on their Apple TV;
Marketing campaigns performance – the results of your marketing activities based on unique links for each ads campaign;
App Store Product page – an estimate of your product page converting power: a correlation of installs and product pageviews.
Paying users – analytics on behavioral patterns of paying customers;
App crashes – the amount of daily app's crashes sorted by iOS and app version;
Segments by download date – date of a user's first download of your app, this metric is provided exclusively by Apple;
App Store Sources – the amount of customers who discover your app via different channels (App Store browse, App Store search, and Web Referrer);
App Referrers – the number of users who discover your app from a link within another app.
Web Referrer – number of users who come from other online sources such as blogs and websites and link to your app page.
Apple App Analytics significance
Every publisher should realize that profound analytics is an inseparable part of every success story. App Analytics favours finding out the most impactful and effective user acquisition channels, clears up what kind of marketing campaigns enables impressions increase, triggers app's store page views, and boosts installs. It also assists in measuring an impact of keyword changes.
Can customers see App Analytics Data?
The insights from iOS app store analytics is not public and can only be viewed by owner (developer).
Did you know? You can measure your app's performance) and gain insights into your Android, iOS & tvOS apps with ASO tools like App Radar. Read more about How to measure your performance automatically.
App Store Analytics isn't an odd unnecessary pack of data, it's a must for any app progress and prosperity.
See also
Check out your App Analytics
App Radar provides the data & metrics you need to reach your app growth goals. Create a Free Account