12 Best Practices for Your Push Marketing Strategy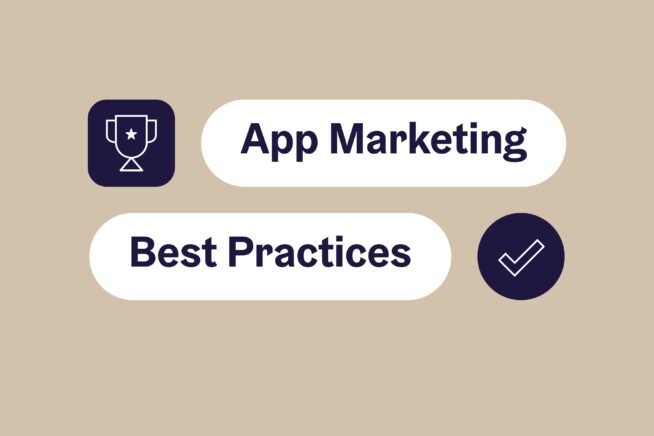 When the first iPhone hit the market, it transformed the humble mobile from a messaging and calling device to a multi-use tool that few can part with. Our phones can now do many things (like emailing, posting to social media and taking photos). Touching nearly every part of our lives. Therein lies the power and potential for marketers - and a big part of this involves push marketing.
What are push notifications?
Push notifications are messages that pop-up on a user's mobile device when they subscribe to them via an app. They offer a relatively quick and easy way to encourage consumers to engage with your brand and remain at the forefront of their minds. When used well, they can offer a great boost to your customer engagement and sales.
In fact, consumers are more open to push notifications now than in 2015. Which is likely because the quality of push notifications has improved - 52% of survey respondents stated that notifications have become better.
Push notifications can be used to promote various actions that you want your customers to perform, such as visiting a social media channel, re-engaging with your website or reconsidering an abandoned basket. This makes them a versatile marketing tool for every business, from e-commerce stores and brick-and-mortar retailers to restaurants and conferences. But push notifications are only effective when you use them in the right way.
1. Make sure your notifications provide value
When a user opts into push notifications, they're trusting the brand not to overstep with irrelevant messaging. Each notification needs to provide value to the recipient. This might be exclusive access, new information or updates. If your push notifications are spammy and ill-timed (more on this later) you risk your users turning off notifications or removing your app completely.
Travel is one sector that does particularly well for push notifications - 78% of users opt into communications from travel brands. Timely updates about an upcoming trip are a good incentive for people to enable notifications. Delta Airlines, for instance, uses push notifications to give updates on baggage, delays and boarding times.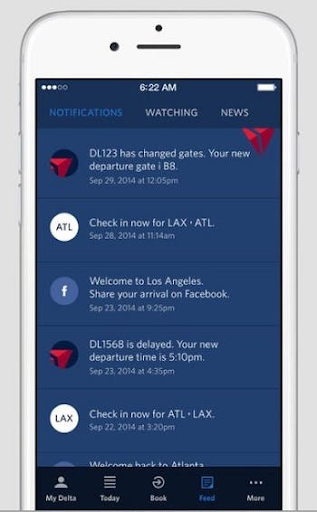 Providing value in your messaging starts with identifying your customers' unique needs. If your notifications don't provide value, don't bother sending them.
Consider how your customers interact with your business normally and the context of their engagements. Once you understand their usual behaviour, you can identify the moments of need when a push notification will be useful. For Delta, this is at key points in a customer's journey with them. For a retailer, it might be at the point-of-sale, delivery and returns.
Ensure you differentiate your messaging from other marketing channels. Too often, they are used as another version of email. This doesn't take advantage of their timeliness and attention-grabbing format.
2. Move beyond re-engagement
Push notifications aren't just a way to re-engage with lost or inactive customers either. They can be a critical part of your customer experience, a way to improve brand reputation and build loyalty.
Push marketing works well when notifications actively engage someone with a topic that they really care about.
Maternity app 'The Bump' offers resources for expectant mothers to monitor their pregnancy week-by-week. Part of this involves the app sending weekly updates about the size of the baby (in simple terms) and what to expect in the coming weeks. Of course, people are more likely to engage with status updates about their unborn child than irrelevant messages from a store they barely shop at.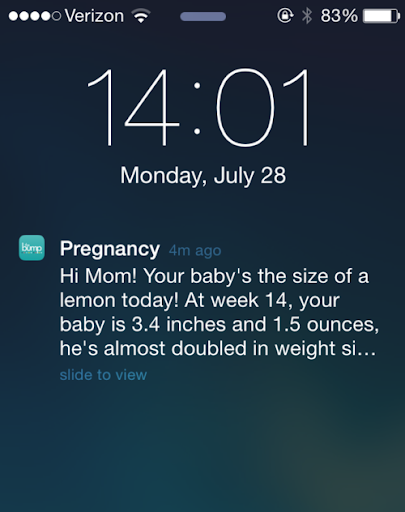 Because push notifications are disruptive to a user's day, sending ill-thought-out messages (or too many) can quickly annoy. Make sure you never send generic communications that can be done via email or social media. Don't be too pushy with sales or advertising new products. Plus, if your content has already appeared in a blog, your newsletter or on social media, then it's probably not appropriate for a push notification.
3. Stoke up FOMO (fear of missing out)
Flash sales and limited time offers are well-suited to push marketing because they are exclusive and time-driven. Push notifications interrupt the day, so they better be worth the interruption! Plus, if people think that someone is getting a better deal because they have enabled notifications, they'll be more likely to sign-up.
4. Personalisation is key
Personalisation is crucial in providing value through your notifications. The great thing about push marketing is that it is easy to segment your audiences in various ways. Audiences can be divvied up based on their demographic data, historical behaviour and previous interactions with your brand.
A clothing brand, for example, will likely want to send targeted messages to different segments based on what customers have browsed and purchased in the past. A cinema chain may send a reminder of an upcoming show that a customer has purchased tickets for.
Personalisation really does pay too. 54% of users convert from a well-targeted push notification compared to just 15% who received generic push marketing. Therefore, your messages should always contain something personal, even if it's just an update that their favourite product is back in stock.
Of course, to achieve this you'll need to delve into your data. Take a look at your customers' in-app behaviours or any information you can glean from your CRM (customer relationship management) system. Remember, in today's post-GDPR age, to get permission for any use of customer data.
Your messages should always contain something personal, even if it's just an update that their favourite product is back in stock.

5. Location, location, location
Push marketing and geo-targeting are a perfect match. Geo-targeting offers a way to grab a customer's attention when they are in a specific location. A restaurant may promote a special menu to passers-by. Meanwhile, a retailer could promote a discount when an old customer walks by their store.
Including your customer's name and mentioning the area that they're currently in will get their attention, however, there is a thin line to tread between personal and creepy. Foursquare understands this, promoting local attractions to people based on their current location.

6. Think about your messaging and voice
Striking the right tone can make-or-break your notifications. Make sure you stay on-brand but feel free to have some fun with your messages. Weather app Sunshine gives personalised forecasts based on areas and things that users like doing. Its messages could be a simple (and boring) "It'll be cold today" but instead it ties into larger events like World Smile Day.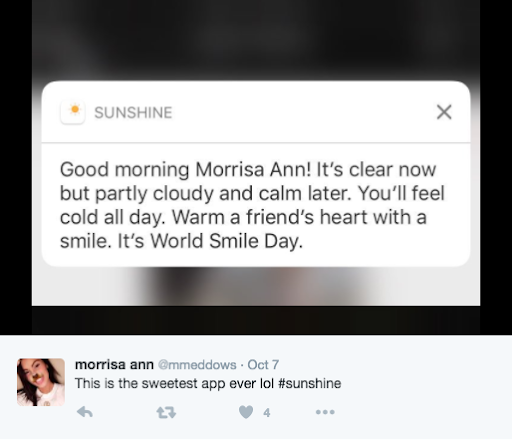 Including images can also boost your push marketing. An analysis of five million push messages discovered that embedded images obtain a 56% higher open rate than text-only.
7. Give your customers control
Your customers should feel in control of what notifications they receive. Let them pick from a variety of options - that way they can decide what works for them and will be more likely to opt-in.
Let your customers know what to expect from your notifications. It might be that you'll only send messages during a set time (like when customers are travelling with you or attending your events). You may wish to send them daily updates. Whatever your push marketing plan it, keep your customers involved. Finally, offer a simple way for them to opt out of notifications at a later date.
8. Have a content plan
Speaking of which, develop a content calendar. Push marketing works best when it's pre-planned. Of course, there is room for spontaneous moments but these should be interspersed between regular, planned communications.
9. Timing is crucial
Sending messages at the wrong time is a surefire way to lose users. Test your timings to discover what works best for your business. Monday mornings may work best for a company targeting commuters, whilst mid-afternoon on a Wednesday may work for messages aimed at stay-at-home parents.
Sending messages at the wrong time is a surefire way to lose users.
That said, most push notifications should fall within 'safe hours'. Times when people aren't busy doing other things (like sleeping) or moments that might appear pushy. Generally speaking, you might want to avoid after-dinner hours and very early in the morning when people are getting ready for work.
10. Sync with your other marketing
Consider your other marketing channels when using push notifications as they can tie in well with other communications. Push marketing works wonders with abandoned baskets, for instance. French retailer La Redoute uses push notifications to remind customers of items that they had left in their online baskets. Each notification is personalised and removes barriers-to-sale by directly linking the customer back to the checkout page. This campaign had a click-through rate that was 3 times higher than La Redoute's classic mobile ads.
11. Make sure you're measuring results
Measuring results allows you to assess how well your push marketing campaign is performing. One way of tracking this is through key performance indicators (KPIs) that link back to your overall business goals. A percentage uplift in sales, for example, or an increase in website visitors.
Information on user engagement, when they respond, what messages convert and when people unsubscribe can also provide valuable insights
12. Always be improving
Mobile and push marketing is constantly evolving, so your campaign must keep up. Use your KPIs and data to inform future campaigns. Stay updated with new technology and trends that you can use in your push marketing. Gathering feedback from users can also provide improvement inspiration.
Use your KPIs and data to inform future campaigns.

Push marketing is here to stay
Just like our phones, push marketing is not going to die down. It's a unique marketing channel that's suited to many brands. So there's little excuse not to experiment with it. However, ensure all communications remain personal, arrive at a suitable time and don't cross the 'creepiness line'. Following these few best practices will guarantee your push marketing - and brand - gets enough screentime.
Author: Izaak Crook of App Institute, Content Marketing Manager and a Digital Marketing enthusiast from Nottingham with an interest in Social Media, SEO and pretty much everything digital.