Modifications & familiar Keywords
App-Indexing
Keyword Meaning
In 2015 Google announced that in the search engines of a mobile browser, the results would also include apps. This simply means that, Google indexes apps just like websites. If any content of your app is relevant for that search, it will appear for the user in Google search results. This is actually great news for app developers as people have been accessing the internet more frequently through mobile devices rather than on computers.
How to Index Your App
It might seem the most difficult and complicated part, but in fact, it is not. You just need to provide Google the information that relates your app to your website. If the person has the app that appears in the search results, the option of opening it will be there at the results. If the website and the app have the same content, the app will appear as a deep link in the search result.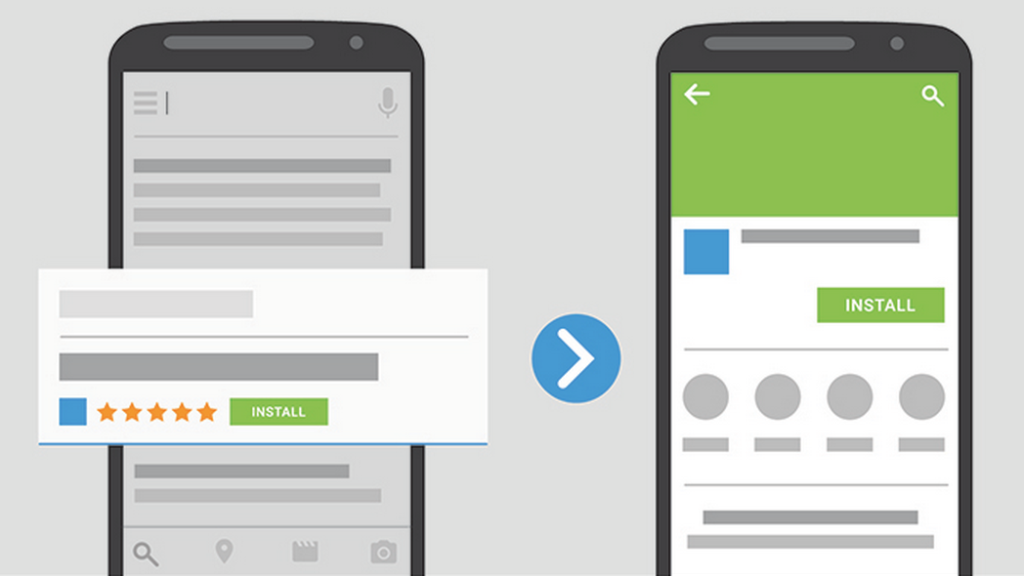 A deep link is when you redirect the person straight to the section of your website that the user was looking for, instead of landing in your homepage first. For apps, it is the same. The user will go straight to the app listing of Apple App Store or Google Play Store, if the app isn't already installed on the mobile device. If one has the app installed, the user will be directed into the app.
To make this possible, Google has to discover and understand your app. On iOS, you will do that through Universal links, also known as HTTP links that have a single URL. It is used to open both a specific website and the corresponding app page. On Google Play, you will have to enable the API for Android. The important thing is that you map your website with the corresponding app screens. You will do that by referencing the app URL in your XML sitemaps or in the HTML markup of your web pages. Do not forget to opt in your app for indexing. To have more information how to make Google bot crawls through your app, check on Google's website.
Why App Indexing is Important
Google has also a ranking factor for Android and iOS users, even if your app is or is not installed on the phone. If you allow Google to index your app, this will be used as a signal in the ranking, just like your web content. You will be even more present in search results. If you have a counting steps app and someone search for "counting steps" on Google, your app might be in the results even before the webpages results. See the example: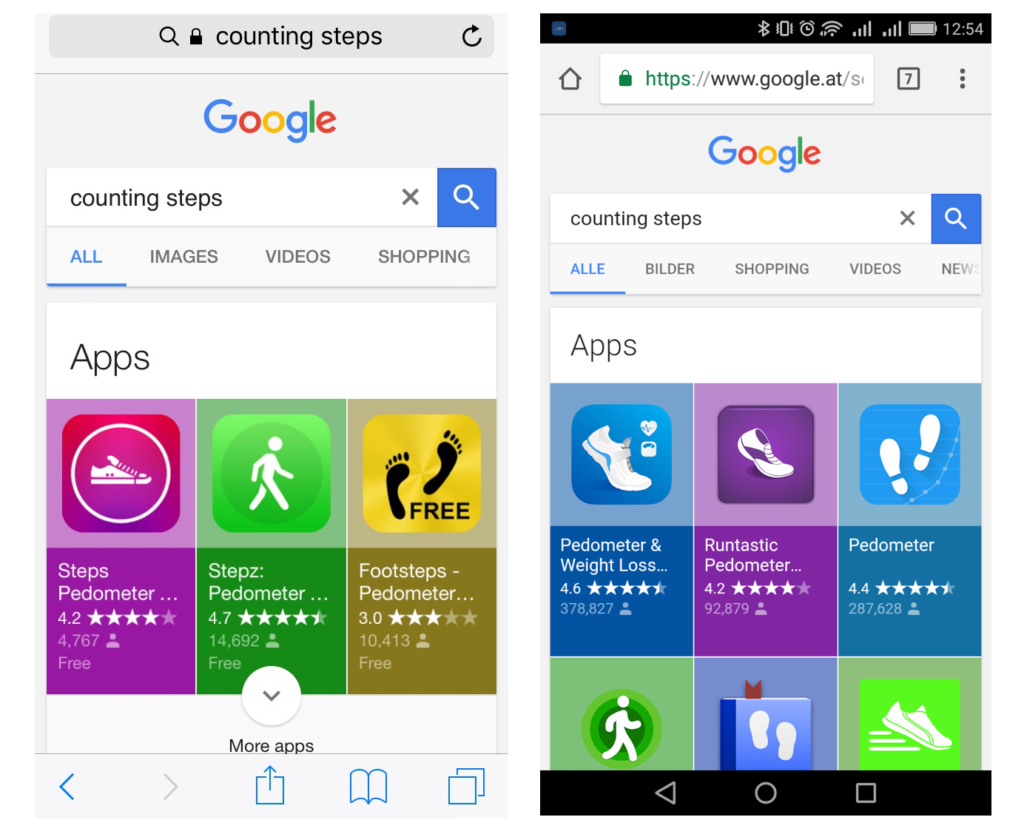 When indexing your app, you are going to:
Boost your conversion rates: you are going to bring traffic to your app page, which will convince him easier and faster to download it.
Increase retention rates: the potential user will go straight to the relevant page of your app. This might increase the number of active users to your app.
Increase credibility: being an app shown in the browser research engine can indicate credibility.
Find your potential user: this is another possible way to bring your potential user to you in an affordable way.
App Indexing will help a lot to boost your app, but do not forget the App Store Optimization. Most of the apps are still downloaded via app stores, which means you must optimize and keep always up to date to make your app high on the rank of the app stores search results. We know that is not an easy task, but with App Radar, you can easily manage your keywords and track where you are located within the app store rank. Click here to check more about App Radar.
See also
App Store Optimization
App Description
App Store Product Page
Grow Your Apps with Less Effort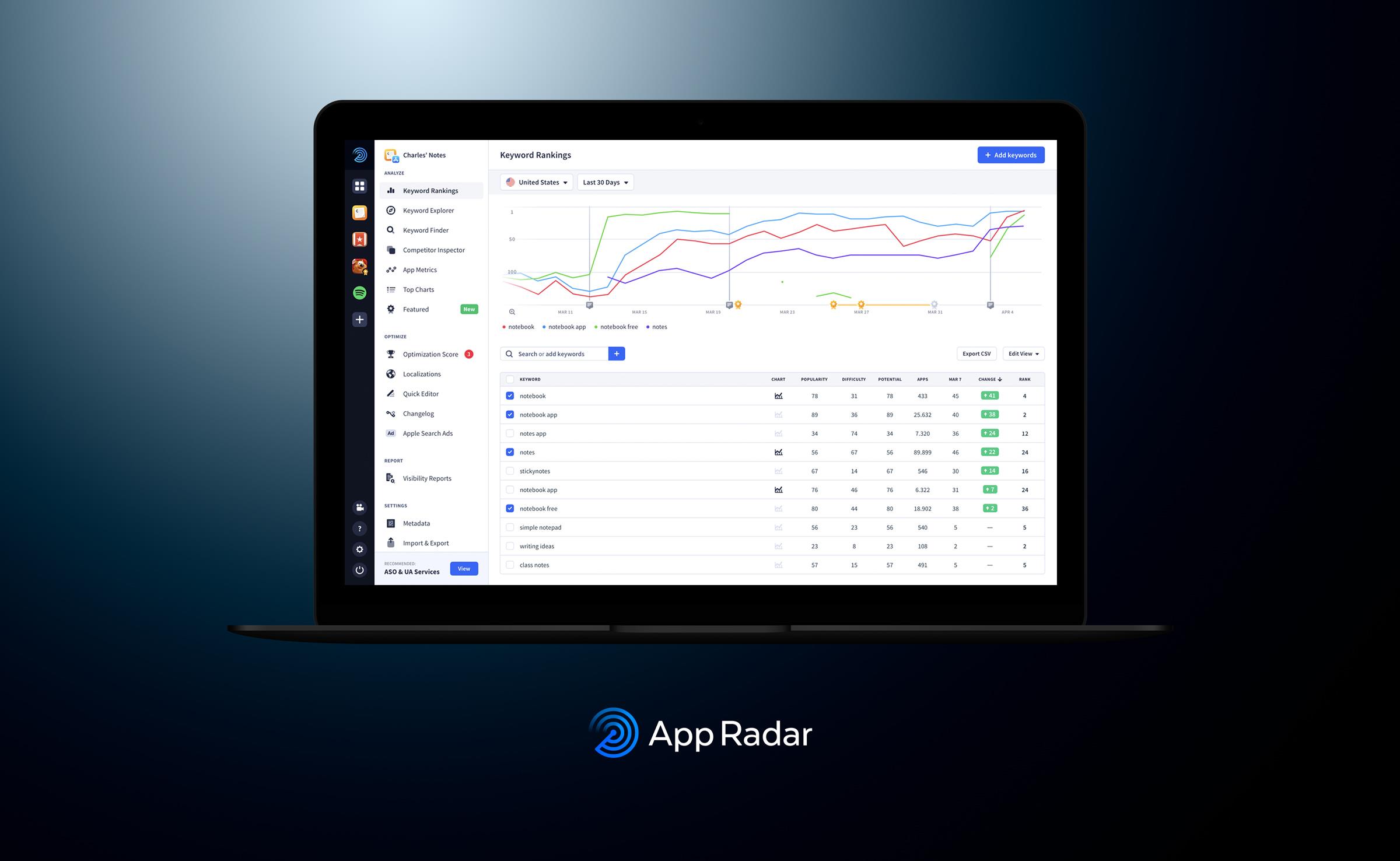 Find new keywords. Optimize all localizations. Spy on competitors. Track ASO changes.
Create a Free Account