App Ratings and Reviews Optimization
How to get app competitor insights with app review analysis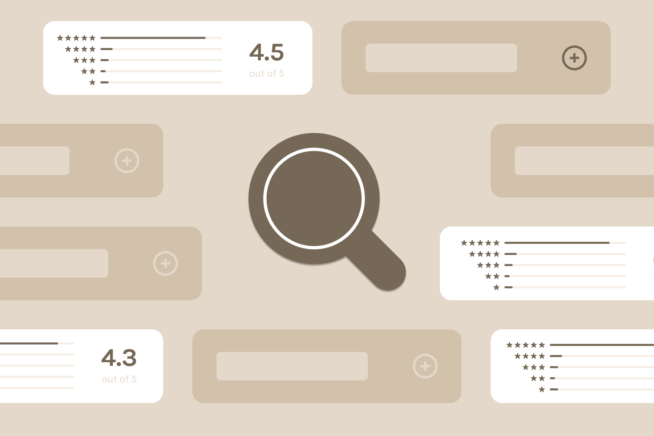 In a highly competitive app industry, staying ahead is crucial to your mobile app's success. One effective way to gain insights into the competition and improve your app is through conducting competitor analysis of app reviews.
Although it might sound like a lot of work, we'll reveal a quick and efficient approach for gaining valuable insights from your app competitors' reviews in this article.
Let's dive in and explore why analyzing competitors' app reviews is important and how to conduct it with a couple of clicks.
What is app reviews competitor analysis?
If you do app review management, you know that users share important information in their feedback. Whether positive or negative reviews, it is a great way for app marketers to identify issues with the app, what should be improved, and which features users like the most.
When you do a competitor app review analysis, you look at what users say about your competitors' apps in the same store and share markets. The idea is to figure out where your competition's strengths and weaknesses lie so that you can improve your app.
Why is competitor app analysis of reviews important?
Most app marketers tend to focus on quantitative data when conducting competitor analysis, leaving behind the valuable insights that can be gained from analyzing app reviews. It's understandable since going through many reviews takes up much time.
But don't disregard the importance of app ratings and reviews just yet! We'll delve deeper into this topic later in our article - for now, let's acknowledge that analyzing your competitor's app reviews should not be underestimated, as it is an essential part of any app competitor analysis.
There are several major reasons why app marketers and developers should conduct competitor app analysis of reviews:
Gain insights into the competition: by analyzing the reviews of competing apps, you can gain valuable insights into what users like and dislike about those apps. This information can help you identify areas where your app falls short and needs improvement.
Identify trends and patterns: You can identify trends and patterns in user feedback while analyzing competitors' app reviews. It can help you understand what users are looking for in an app and how your app can meet those needs.
Benchmark against the competition: by comparing your app to the competition, you can identify areas where your app is doing well and needs improvement. Insights like this can help you set benchmarks for your app and create a roadmap for future improvements.
Stay ahead of the app competition: by regularly analyzing competitor app reviews, you can uncover valuable information that will help you to stay ahead of the competition and continue to improve your app. In other words, it is like spying on your competitors and using insights to attract and retain more users.
5 Steps to conduct competitor app analysis of reviews
Now that we've discussed why analyzing app reviews is an essential part of any competitor research, let's look at 5 essential steps that you need to follow during competitor analysis of app reviews:
Identify your app's competitors - start your analysis by identifying the top apps similar to yours in terms of functionality, features, and target audience.
Collect and analyze reviews - collect app reviews for each competitor app and analyze them for common themes, patterns, and trends. This step might take you hours of manual work to collect app reviews; therefore, in the next section, we will show you how App Radar can help you to automate this process.
Identify strengths and weaknesses - look for repeating topics and patterns in the reviews to identify the strengths and weaknesses of the competing apps. For example, you may find that users consistently praise one app for its ease of use while another app receives complaints about its user interface.
Position your app against competitors - use the insights from the analysis to benchmark your app against the competition. Identify areas where your app is doing well compared to competitors, and analyze areas where it needs improvement.
Plan and implement improvements - based on the insights gained, plan and implement improvements to your app to address the areas where it falls short compared to the competition. For example, suppose users consistently complain about the user interface of a competing app. In that case, you can focus on improving your app's user interface and showcase it in your store listing screenshots.
Monitoring your competitors as the industry evolves and improves consistently is important. This means you should establish repeatable steps that align with your app marketing strategy, ensuring you stay ahead of the game!
How to efficiently conduct competitor app analysis of reviews
Have you ever wondered how long it would take to sift through all the app reviews of your competitors? As we did in the past, it takes days of manual work and hours to identify patterns.
We know this struggle firsthand, so App Radar has introduced an AI-powered solution - App Review Summaries feature!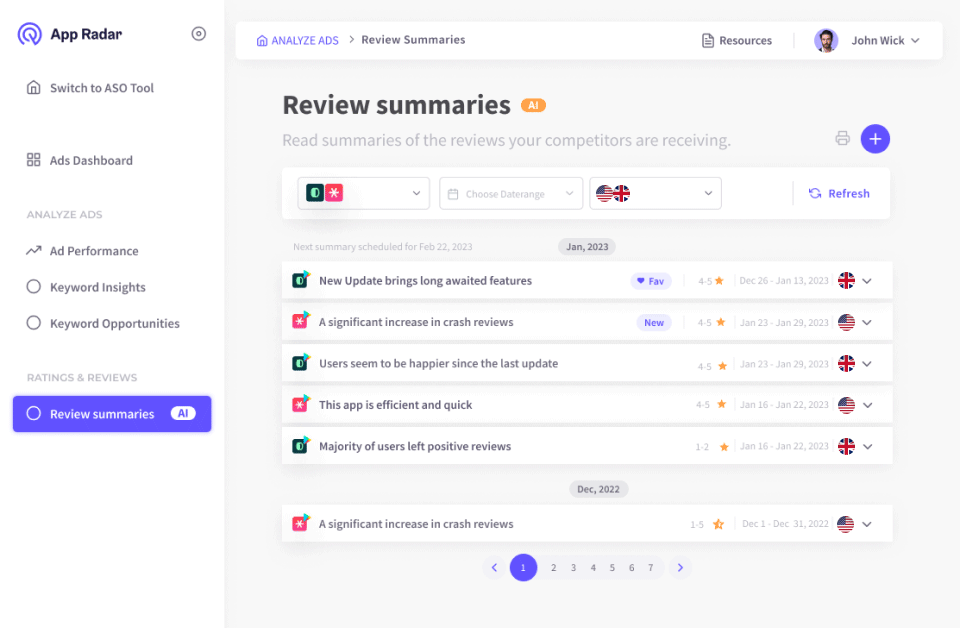 Save time reading tons of reviews word by word. Get weekly or monthly reports per any app on a global scale.
Try it out
All you need to do for app competitor reviews analysis is to set up your filter in the AI App Review Summaries feature with a few clicks:
Select a competitor app for analysis
Select a target country
Choose the data range of analysis (up to 90 days back)
Decide what ratings you want to analyze: only positive, negative, or all ratings
Click 'create a summary'
The AI-based system will go through all app reviews on a selected date and market. As a result, you get a summary of already analyzed reviews and highlighted patterns and trends. Moreover, you can schedule your app review analysis for any day you need to do reporting.
A step-by-step guide to analyzing competitor's app reviews with App Radar
So, let's check it out in action! Open AI Review Summaries in App Radar and click on 'Create Summary.'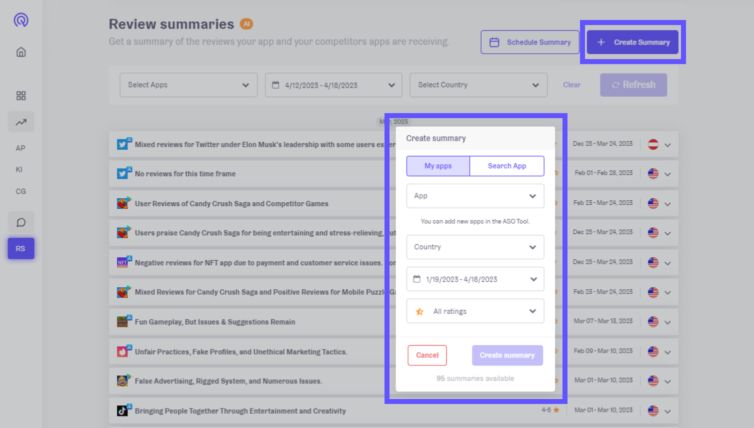 You can select your app review analysis or search for a competitor app by typing its name.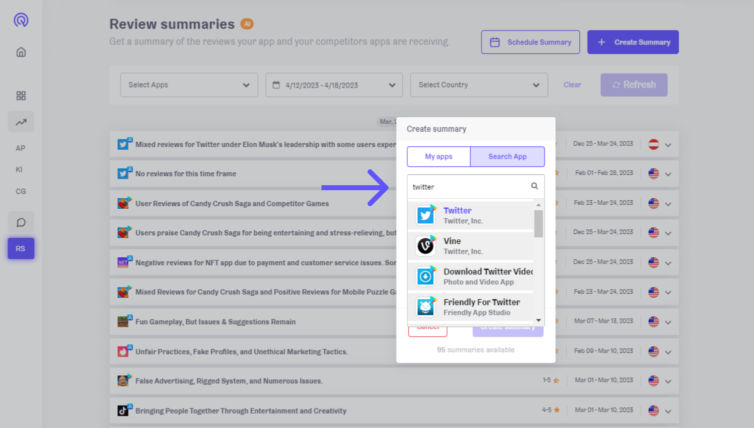 Select a country for app review analysis. Also, no worries about the language barrier! AI App Review Summaries will analyze app reviews in the original languages and provide you with an English summary. So, no need to translate localized app reviews.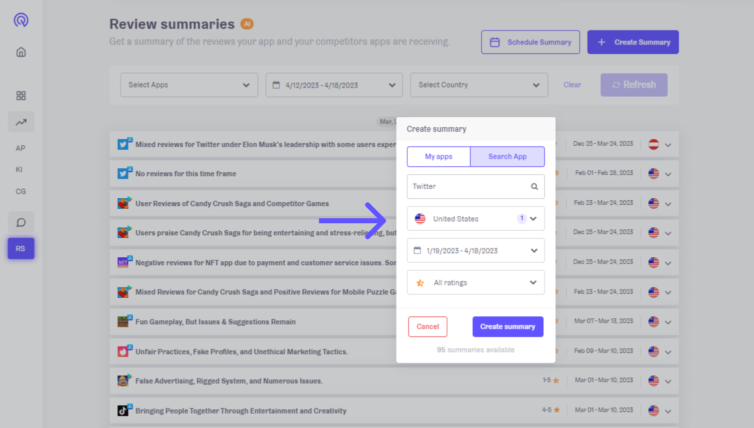 Choose the time frame you want to analyze app reviews. Remember that the data range goes up to 90 days back.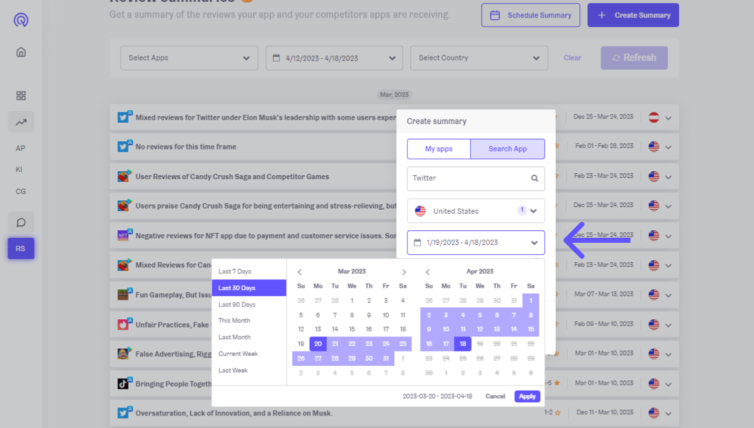 Almost there! As the last set-up, you need to decide if you want to get insights about all ratings, only positive (4–5 stars) or only negative reviews (1-2 stars). That's it. Click 'Create summary,' and App Radar's AI will do its magic.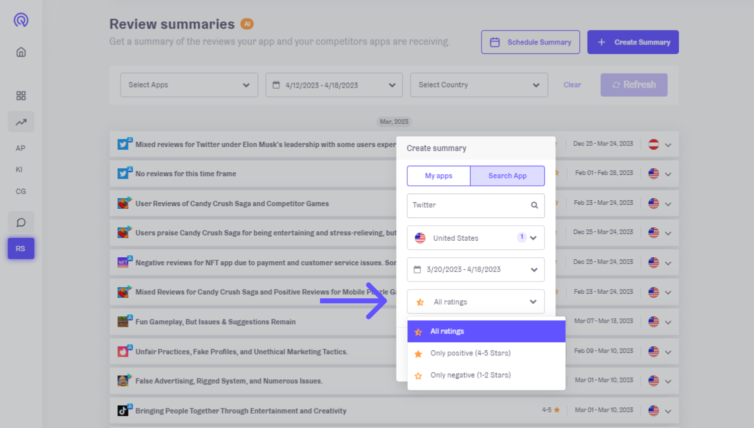 AI App Review Summaries generate an overview of analyzed users' reviews and highlight the Top 5 most appreciated features and the Top 5 most requested improvements. You can also see in the summary how many reviews were analyzed.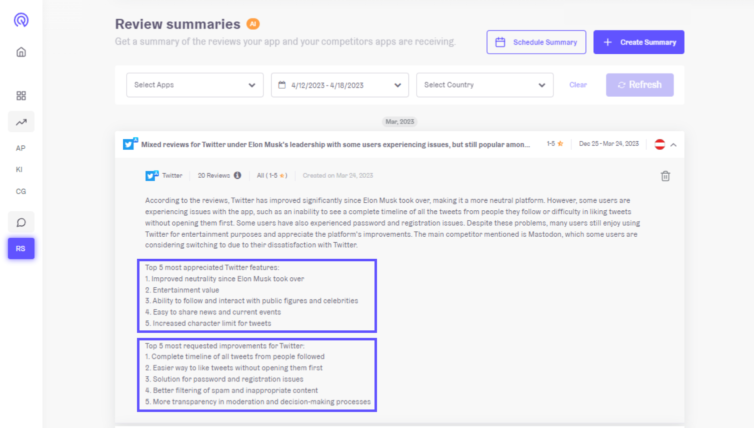 If you want to save some extra time, try scheduling a summary of your competitor's app weekly or monthly. This way, you can complete everything important - the analysis will come straight to you! Plus, with this information, it'll be easier for you and your team to adjust your marketing and app rating and review strategy accordingly.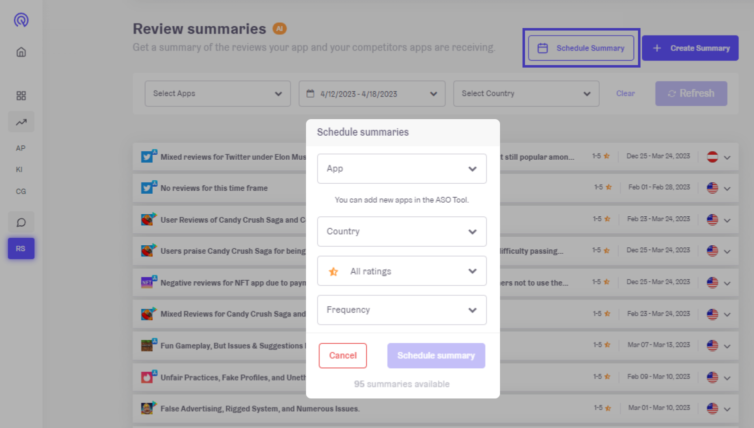 It's crucial to remember that having advanced technologies on board will give you a significant advantage over other app players in the highly competitive world of apps. Therefore, App Radar is here to help you increase your productivity and automate time-consuming tasks.
Key takeaways
Conducting a competitor analysis of app reviews is essential for staying ahead of the competition. By analyzing the reviews of your competitors, you can gain valuable insights into their strengths and weaknesses and use this information to improve your app.
With AI-powered tools like App Radar, you can automate this process and get summarized app reviews with top highlighted appreciated features of competitors and top improvements.
Also, remember, while analyzing the reviews of your competitors is important, it's equally important to pay attention to your own app's reviews. Listening to your users and implementing changes based on their feedback is key to keeping your app competitive and satisfying your users' needs.
Speed up your app store review managment with AI-powered App Radar
Sign up for a free trial today and get powerful insights to help you level up your app in Google Play and Apple App Store.
Learn more