The Ultimate Guide for App Store Screenshots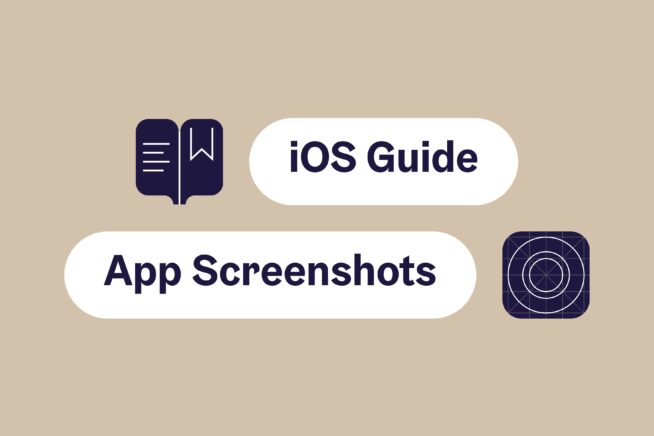 Your keyword strategy, downloads or engagement rate are the basis to get your app ranked good in app stores. However, convincing visitors on your app page is an even tricky part of getting users. You could spend thousands of dollars in driving visitors to your store listing but if they don't like what they see there, you won't get any downloads.
Thus, specific elements like the app icon, preview videos, and screenshots, are crucial factors for app downloads. As people tend to gain information out of images, the screenshot gallery is the most important element on your app page.
In this blog post, we provide you with a comprehensive guide for creating awesome app store screenshots.
Step 1: Mind the difference between Google Play & App Store layout
Screenshots have different significance in leading app stores. App stores differentiate each other in their distinct structure. Even though elements on app pages are basically the same in both, Google Play Store and Apple App Store, they don't necessarily have the same significance to users.
Store maven released an interesting study pointing out that users in both leading stores show significant differences in behavior. Google Play visitors are 40 % more likely to show decisive behavior. This means Android users tend to decide more quickly on downloading an app or not compared to iOS users.
But why is it like that? This effect comes down to different layouts. Google Play Store app pages show a very prominent Feature Graphic on the top while as the screenshots are only visible beneath the fold. As you can see in the graphic below, the screenshot gallery in the Apple App Store is a more outstanding element than in Android store listings. This leads to iOS users being more likely to interact with your image gallery.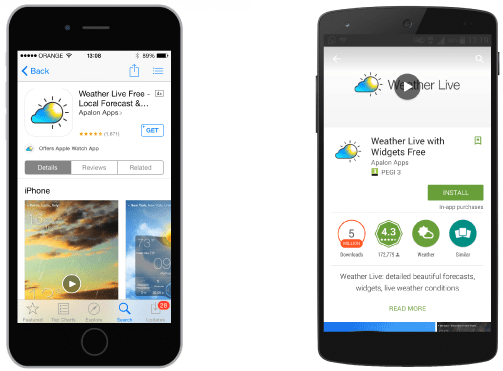 What should you consider now? As Android users are 27% less likely to interact with your screenshots, you should make sure, that the first two images are as convincing as possible.
Even though this tip applies to iOS apps too, it is even more important in Google Play Store.
Dive Deeper:
App Store Ranking Factors: App Store vs. Google Play
Differences in iOS & Android ASO You Need to Know (Google Play vs. App Store)
Step 2: Find the right screenshot order (Build a convincing storyline)
Now as you know the importance of great screenshots, you should think about what to show your visitors. Screenshots illustrate a virtual walk-through of your app. They must convince visitors to download it. What's even more important than what you show is in which order you show it.
Finding the right order of your screenshots is crucial. A very common approach to arranging screenshots is the order of how you use it. However, it does not mean, you must show the usage of your app step by step. Screenshots should tell a story but don't necessarily have to follow a logical order.
As an app or game developer, you are focused on how your app is working. When creating screenshots, however, it is more important to think about how to convince the viewer at first sight. So, here is a rule that always applies: Put your most important screenshots first. Keep in mind, that you only have a few seconds to get a viewer's interest.
This might sound a bit abstract. So here is a good example:

Ueberchord shows how to do it. The first two screenshots, which are visible without interaction really stand out. They invested in great graphic effects, however, show what the app is about at first glance. The rest of the screenshots gives further information about functionality and use cases.
Step 3: Design your screenshots (Attract users with outstanding imagery)
I just told you it is crucial in which order you show screenshots. Now let's think about how to present your app. There are many design approaches and what's the best way always depends on your app.
There are between 6 and 8 steps a customer usually passes through before they download an app. The most important point to consider however is to attract them effectively. Your screenshot gallery is a major sales tool- so, also treat it like that.
There are several ways how to design screenshots. In the following, we categorized 3 common types of app store screenshot designs.
Basic screenshots
The easiest screenshot approach is to take real snapshots directly out of your app. Such kind of screenshots can make sense if you just want to concentrate on what your app looks like and how it works. This simple way of screenshot design is only recommendable if your interface is very easy to use or if your features are already commonly known.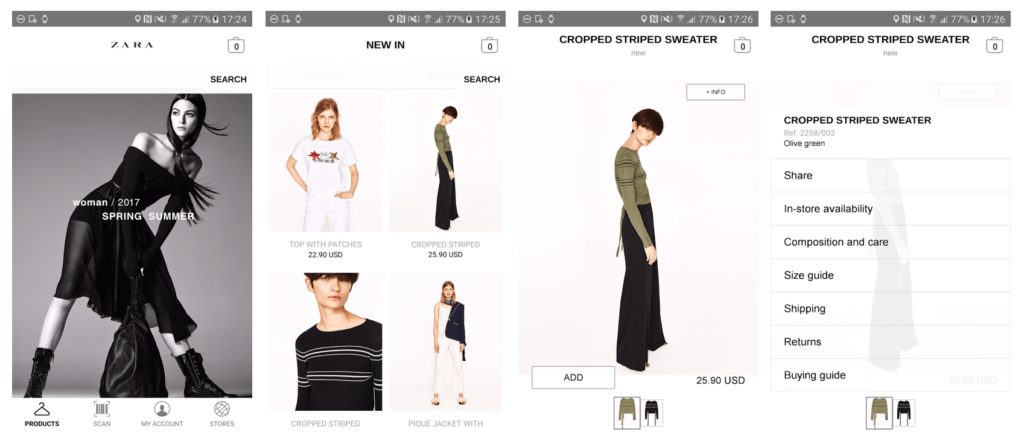 The screenshots of Zara show, that sometimes it doesn't take a lot of effort. However, these straight-forward screenshots only work, as it is easy to understand what Zara does. (online shopping)
Feeling-oriented screenshots
A more advanced screenshot design is the way of combining app screenshots with images, mockups, and graphics. Many app owners thereby use set the app into context by using images of people or outdoor settings. This is a very effective way to attract users, as it addresses human's subliminal emotions.

Tinder shows how to use the app, however, addresses user's emotions by humanizing the screenshots. They show a happy use case, however, explain the features clearly.
Artistic screenshot
The most sophisticated approach is to use your screenshot gallery not for screenshots in their initial meaning, but as a sales platform. This kind of screenshots includes artistic images and illustrations (not really app screenshots). Often used for games, they give users insights into the game story or show the main character.

The screenshots of Angry Birds for example, do not focus on explaining features but point out the game's specials and characters. The screenshots include extensive graphics but also show possible game scenarios.
Step 4: Think of an international audience (Localize screenshots!)
Localization is a hot topic in App Store Optimization. Localizing your keywords for different markets and languages is necessary to ensure your app is found by users abroad. But you must not forget about the variety of languages and cultures when you offer your app to the international app market.
Hence, you should not only translate descriptions, title, and keywords but also adapt your screenshots. If you have a simple screenshot design, it is not a bad thing to translate the copy on your screenshots. But if you won't miss out on extra app installs, you should take your screenshot localization to the next level. This means you adapt your imagery not only to a language but to the culture.
Google Maps brings app store screenshot localization almost to perfection. The design puts the app into context and shows different use cases. But their screenshots are not only well designed but adapted to language, culture, and country. Google Maps even go so far as to localize the map location and shows matching famous sights in the background. They have different screenshots for almost every app store localization.
Dive Deeper:
What is App Localization?
How to Localize Your App and Reach a Global Audience
Top App Localization Challenges and How To Tackle Them
Step 6: Test your screenshots
Following all these steps, you must keep in mind: It all comes down to your users. You can design incredibly fancy screenshots but in the end, they should attract users. The best way to learn more about your user's taste is to do A/B tests.
If you are not already using an A/B testing service, you should start now. By analyzing click rates, views and conversions for your variations, you can understand what works best for you. So, already think about creating more than one variant of screenshots to test them against each other. Iterate this process a couple of times to better know your users and increase conversion rate.
Addition: App Screenshot Tools 2020
We've put together a list of available app screenshot and mock up tools in 2020 that help you with refurbishing your app screenshots. Let us know your experience with app store screenshots on Twitter (appradar_com) or Facebook (appradar)!