As app marketers, we gather, measure and analyze various data points. The goal is to improve the performance based on data insights that we can rely on. That requires asking the right questions, focusing on the right metrics, and naturally having the right tools to dig into the data.
Why to use app analytics tools
App analytics tools are here to help you in gaining a good understanding of how your users engage with your app and how the app journey can be optimized to reach your goals. From one side you want to measure and analyze the user behavior, from the other side you need to track the success of your marketing efforts and ad spend. Questions that the tools will help you to answer:
What are my app's most popular features?
Who are my power users and inactive users?
What are my upgrade rates and why are they up or down?
What are the drivers of engagement and long-term retention?
Which of my marketing channels is making the most impact?
So using app analytics tools will assist you in increasing ROI by gaining a better understanding of your app customers; in creating data-driven strategies with learning from past successes and failures; in identifying, segmenting and targeting your audiences with customized strategies to provide them with what they want or need; and in determining which acquisition channels are really working for you.
Mobile app analytics tools to consider in 2023
There are many free and paid analytics tools available. We researched about the following 18 tools to get you started faster, should you be interested in diving deeper into your app data.
Firebase by Google
Firebase by Google is a mobile app analytics tool meant for Android and iOS platforms both. It doesn't only focus on analyzing your app, it also provides the infrastructure to build it. It offers solutions for building "serverless" apps, monitoring their performance ("Crashlytics") and increasing user engagement (A/B testing, messaging). It has many integrations like Google Ads, Data Studio, Slack and Jira. It's used for example by Lyft, Trivago and Duolingo.
Features: Ads Tracking, Ads Revenue, Crash reporting, In-app Analytics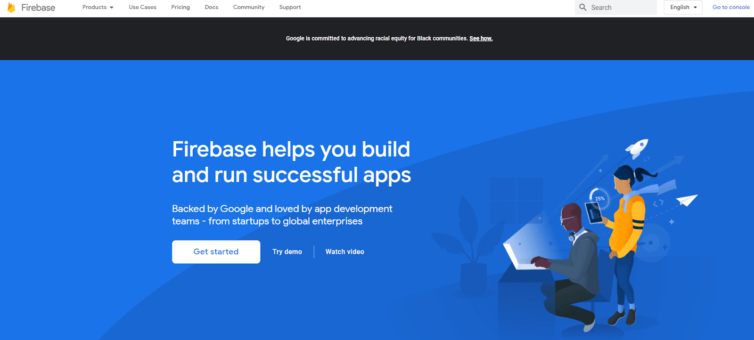 App Analytics by Apple
Apple App Analytics is a free tool to understand your iOS app (store) analytics. You can track app store performance, app engagement and usage, marketing campaigns, subscriptions, sales trends and more. Available in App Store Connect, it's included with Apple Developer Program membership and requires no technical implementation.
Features: App Analytics, Sales and Trends, Payments and Financial Reports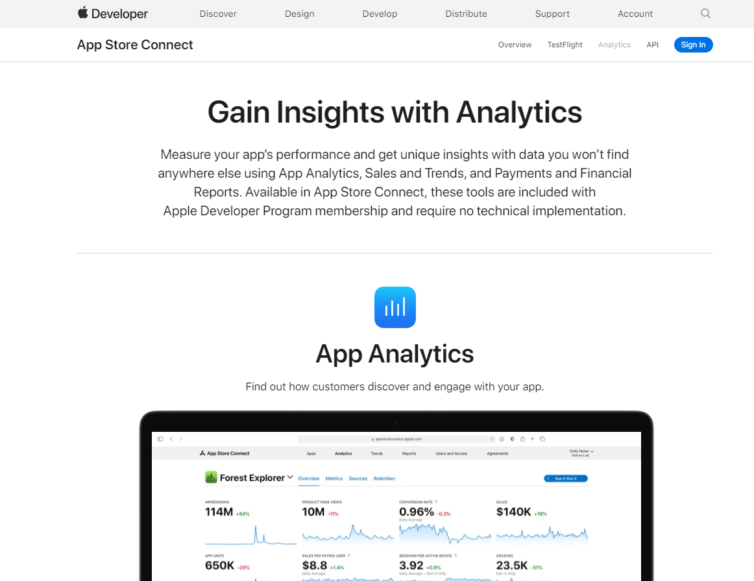 App Radar
App Radar is an app marketing platform with paid as well as free plans to track and analyze app store and mobile ads data. The free account provides ratings, rankings, reviews, charts, and app details, while the paid plans add ASO recommendations, direct app store updates, app download estimates, and Google App Campaigns and Apple Search Ads analyses. App Radar has AI-powered features to help app marketers and developers to automate their workloads and provide cutting-edge solutions.
Features: Market Intelligence, Keyword Intelligence, ASO Workflow, Ratings & Reviews Management, App Store Performance Tracking, Ad Performance Tracking.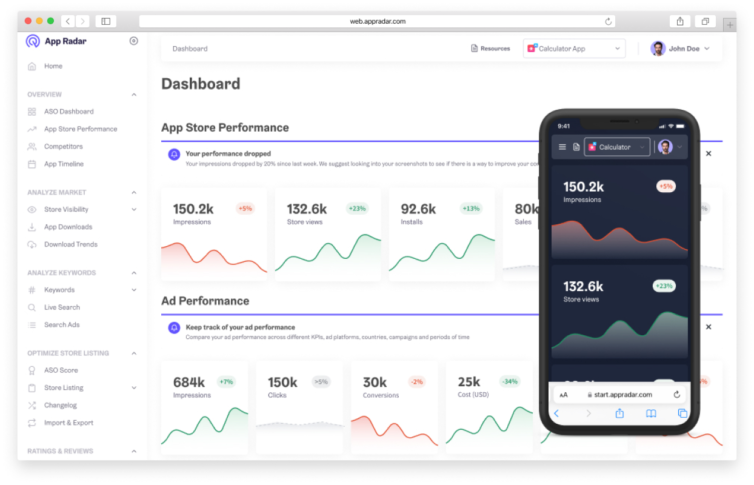 Adjust
Adjust is a global app analytics platform that supports you in understanding your users and their intent, and in making intelligent marketing and product decisions that boost conversion, retention and lifetime value. It gathers the entire app marketing data under one simplified interface. You can analyse market trends, cohorts, track in-app activities and users lifetime value (LTV). It also offers Fraud Protection Suit to prevent your app from malicious activities and works in platforms such as Cordova, Android, iOS and Windows.
Features: Event tracking, Cohort analysis, Real-time data, Audience Segmentation, Ad tracking, Adjust Dashboard, CSV Export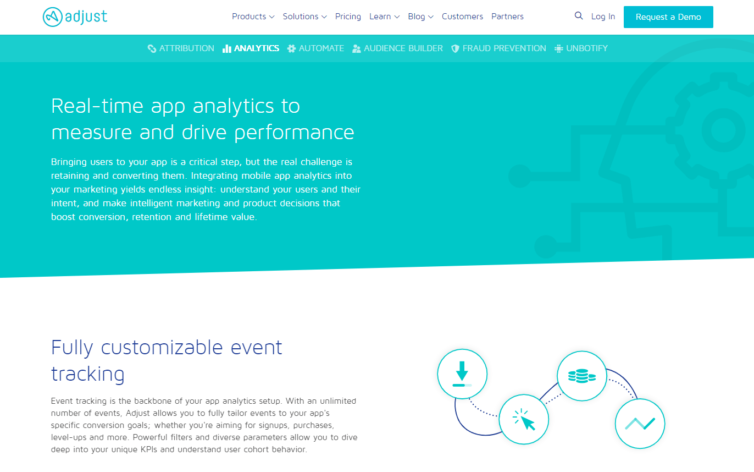 AppsFlyer
AppsFlyer is a mobile analytics and attribution platform. It provides insights on various in-app activity, app engagement and ad spend based on media sources. Additionally it offers Fraud Protection as well as Deep Linking. It's used e.g. by Nike, TikTok, ebay, Pinterest.
Features: LTV and ROI reporting, Rich In-App Events, Ad Revenue Attribution, Impressions & Cost Reporting, Omni-Channel Measurement, Uninstall Attribution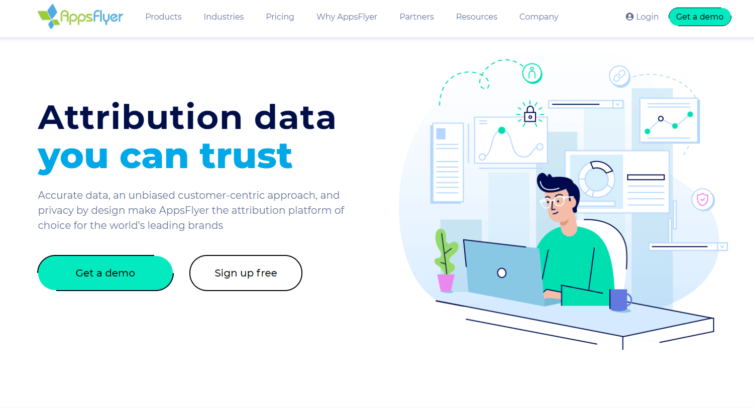 GameAnalytics
GameAnalytics is a free analytics tool focusing on gaming apps. It offers both specific game optimization, but also a portfolio overview to gain clarity across all games. It also offers features to monetize the app to generate revenue through affiliate marketing.
Features: Error reporting, Dashboards, Mobile App, Dedicated Events, Multi-dimensional filtering, Standard Metrics Tracking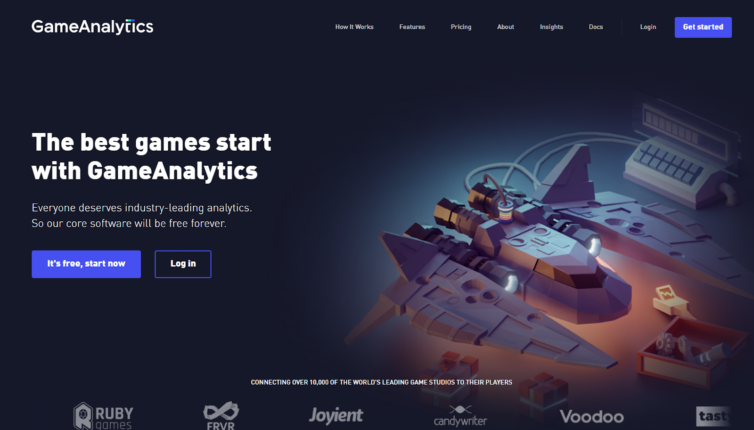 AppMetrica
AppMetrica is a free and unlimited tool focusing on seamless end-to-end app analytics and marketing solution so you can analyze your app's statistics in one place. It includes device-specific data, offer granular cohort analysis and has the option to look into the historical data of individual users to take close-up view and create customer profiles.
Features: Product Analytics, Install Attribution, Push Campaigns, Crash and Error Reporting, API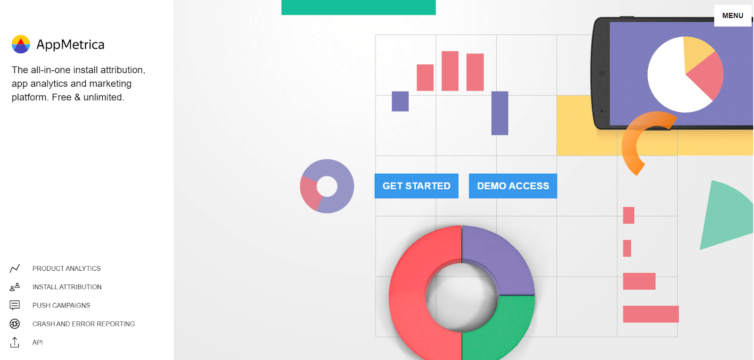 Localytics
Localytics is a mobile app marketing and analytics software. It helps you to deliver personalized onboarding, offers, messaging and content to increase the user engagement. For example, it lets you target audiences based on interests such as travel, business, lifestyle, or retail. It also allows you to examine critical problems in your app like poor conversions, low retention, bounce rates. It's used e.g. by Comcast, GoPro, Verizon.
Features: A/B Testing, Audience Segmentation, App CRM, Attribute Tracking, Funnel Tracking and Reporting, Uninstall Tracking, Custom Dashboards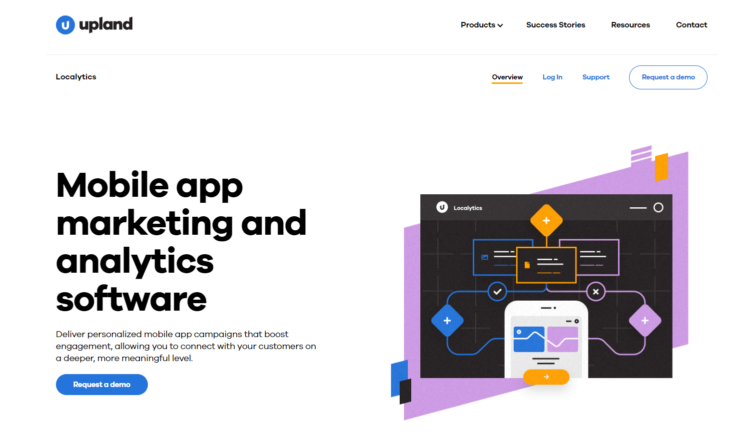 Flurry
Flurry is a free mobile analytics tool that was launched already in 2008 as the world's first iOS and Android analytics solution. It allows you to track installs, sessions, and run on-demand analysis for funnels. You can identify bugs within your app using crash reports. It's used e.g. by McDonalds, Rovio, Samsung, Ubisoft.
Features: Funnel and Event Tracking, Crash reporting and analysis, Raw data export, User Segmentation amd Journeys, Funnel and Audience Analysis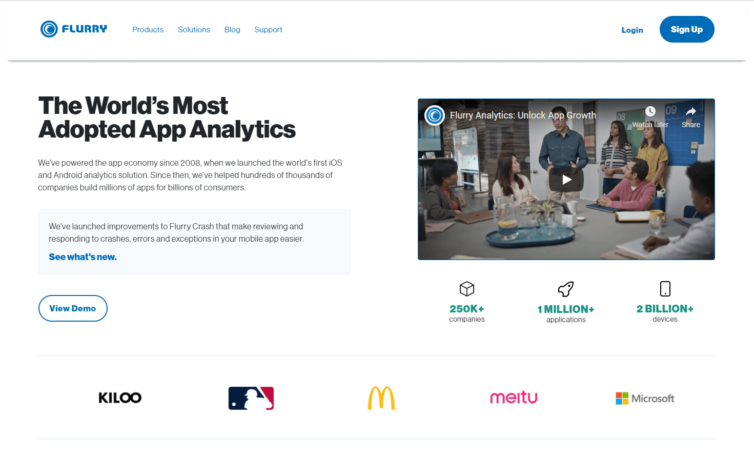 Kochava
Kochava offers next to other solutions also free app analytics. It focuses on deep linking, campaign measurement and attribution so that you can analyze and optimize your campaigns. It offers more than 4,500 networks, DSPs and other platforms to be integrated with.
Features: Global Fraud Blocklist, Detailed Reports, Real-Time Analytics, A/B/n Testing, Smart Session Tracking, Track Owned Media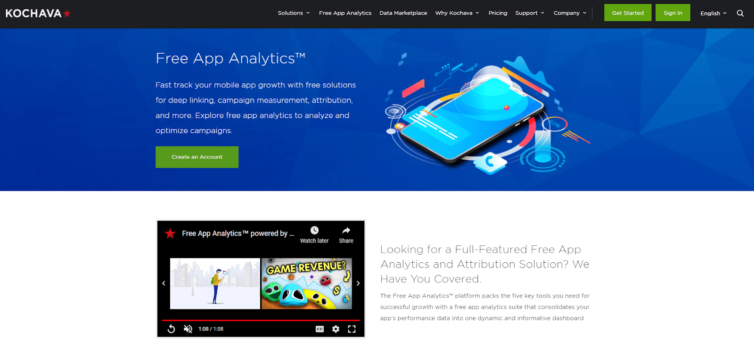 UXCam
UXcam is the market leader in app experience analytics, empowering mobile teams with fast, contextual and high-fidelity insights. It lets you conduct a deep analysis of the user journey as you watch how your users navigate through your app. You can also use heatmaps to see the most and least used elements. It's used e.g. by Virgin Mobile, Vodafone, delivery.com.
Features: Session recording, User analytics, Heatmap and Screen analytics, Funnel and Event Analytics, Issue Analytics, 3rd Party Integrations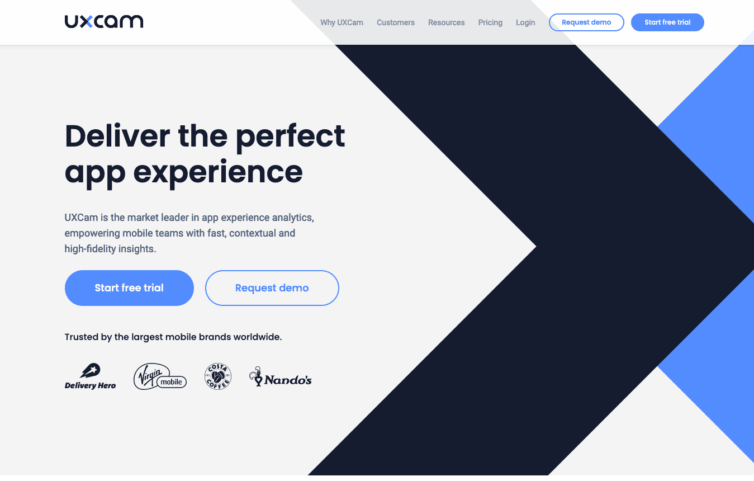 Product analytics tools to consider for mobile apps
Singular
Singular is an analytics and attribution platform including mobile attribution as a separate focus point. It helps you to get the overall understanding of the impact of your marketing and also includes fraud prevention as well as combining attribution with cost aggregation. Singular is used e.g. by Doordash, LinkedIn, Airbnb.
Features: Mobile Attribution, Marketing ETL, Cost Aggregation, Marketing Analytics, Ad Monetization, Fraud Prevention, Creative Analytics, SKAdNetwork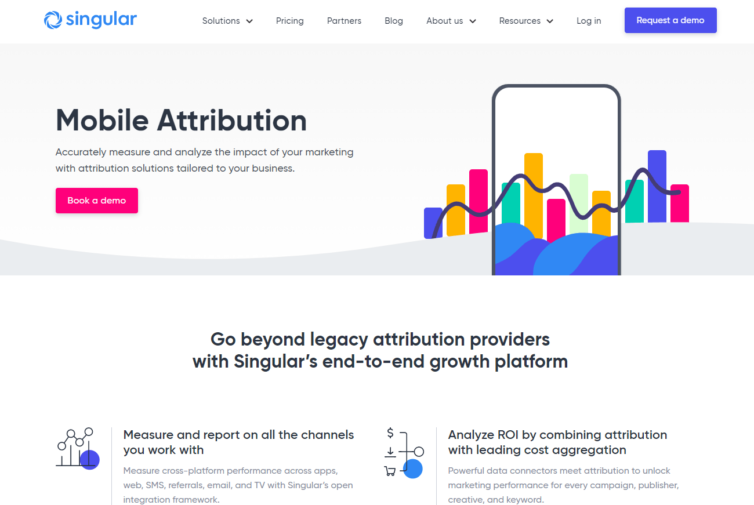 Segment
Segment is a customer data platform that also fits the needs of app businesses. It integrates with other analytics tools, like AppsFlyer or Google AdWords, Facebook Ads and Stripe to combine data from different sources. It separates between solutions for Marketing, Product and Engineering and is used e.g. by Houseparty, Instacart, Betterment.
Features: Functions, Warehouses, Privacy, GDPR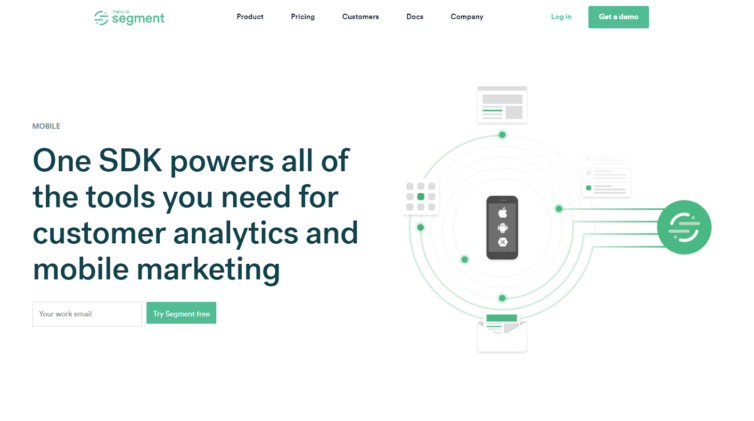 Smartlook
Smartlook offers an analytics platform for websites and iOS & Android mobile apps, providing a comprehensive understanding of customer interactions from the user's viewpoint. For example, you can gain user insights by analyzing video recordings, auto-tracked events and heatmaps, and creating conversion funnels to optimize your digital presence. With Smartlook solutions, product managers, marketers, UX designers, and developers have better-informed decisions for improving user engagement.
Features: Session Recordings, Heatmaps, Events, Funnels, Crash Reports, Mobile User Behavior.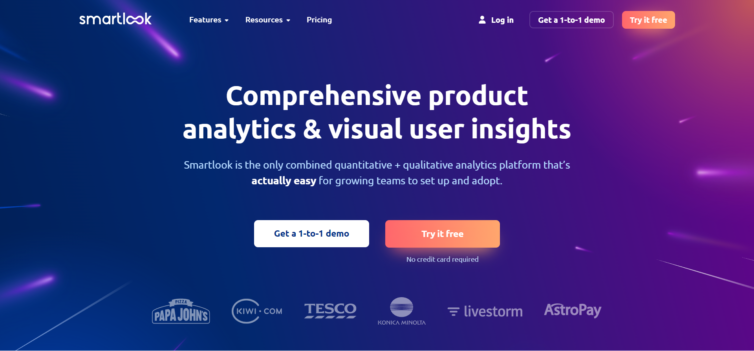 CleverTap
CleverTap combines real-time customer insights, a segmentation engine and engagement tools into one intelligent marketing platform. It offers solutions for travel & transportation, FinTech, Ecommerce, Food tech, Media & Entertainment. It's used e.g. by Disney+ hotstar, Boost, SonyLIV, Movii, Carousell.
Features: Behavioral Analytics, Messaging Channels, Product Experiences, Lifecycle Optimization, Campaign Optimization, Orchestration, Segmentation, Individualization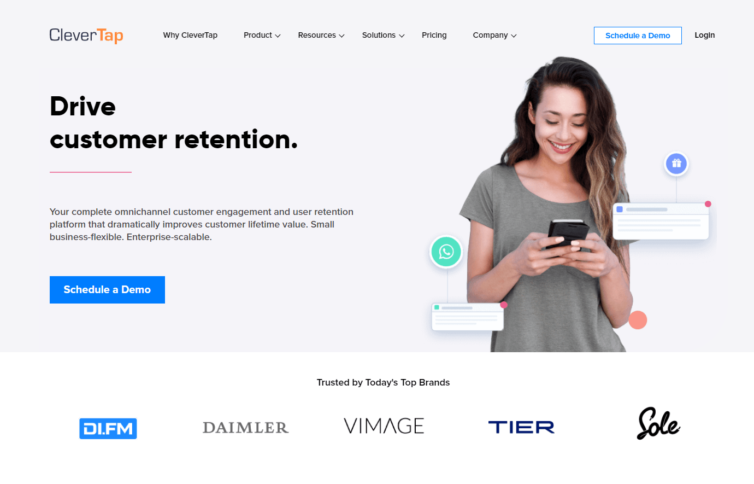 Countly
Countly is a product analytics tool that offers separate solutions for mobile app analytics and marketing as well as for web, desktop and IoT analytics. You can track real-time metrics like active users, time spent in-app, and user location by integrating their SDK into your app. It also offers a Plugin Marketplace for User Profiles, Advanced Segmentation, Behavioral Cohorts, Automated Push, Remote Configuration, A/B Testing, Crash Analytics.
Features: Revenue Analytics, Retroactive Funnels, Countly Drill (advanced segmentation), Push notifications with deep linking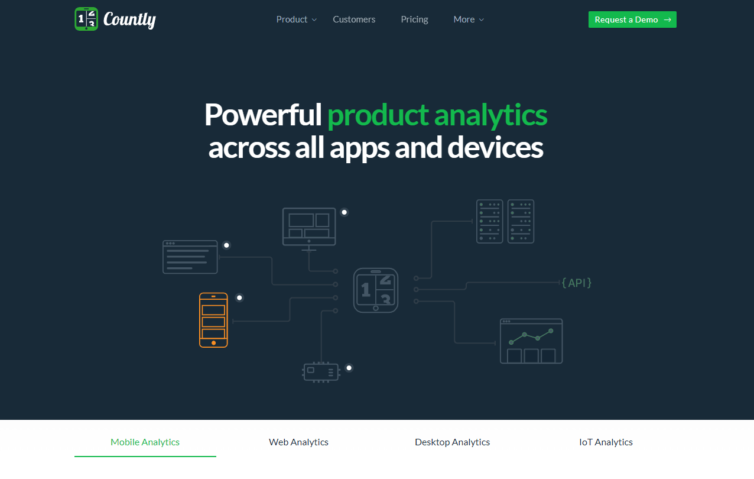 Mixpanel
Mixpanel is a product analytics tool that focuses on bringing together a range of data points. It helps you to find answers to questions like which features are the most popular ones, who are your power users, and what kind of user behavior leads to long-term retention. It is codeless, meaning there is no code required to track app metrics. Companies using Mixpanel are for example Uber, Skyscanner, Rakuten Viber.
Features: Data integrations and management, interactive reports, team dashboards and reports, group analytics, scalable infrastructure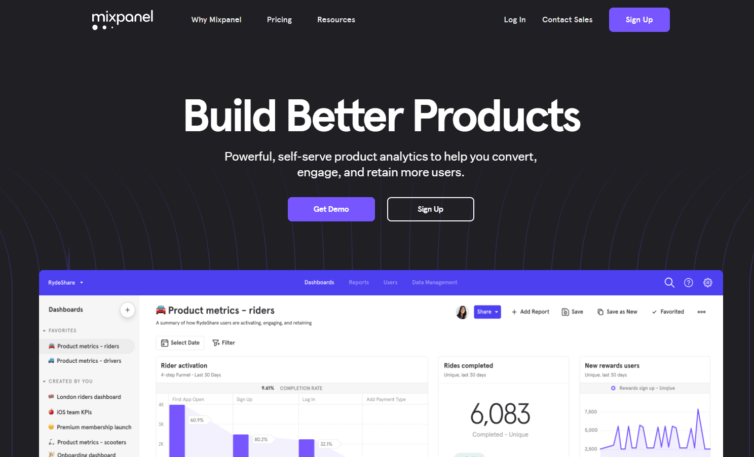 Leanplum
Leanplum is a multi-channel app customer engagement platform that focuses on building long-term relationships. From one side it helps you to engage with your customers at the right time on the right channel through specific campaigns. From the other side you can optimize your campaigns by A/B testing them and analysing the data.
Features: A/B Testing, Camping Orchestration, Engagement Channels, Push Notifications, Profiles & Audiences, Reporting & Analytics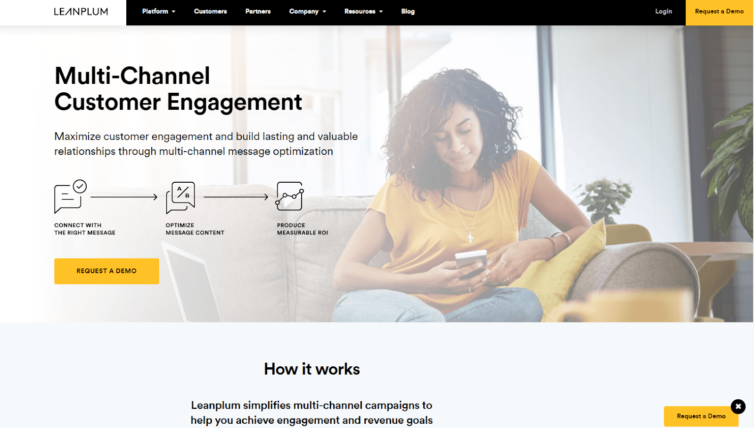 Upsight
Upsight is an enterprise-focused analytics tool providing an omnichannel solution to analyse and monitor your user experience. The tool also offers automation of marketing campaigns, ad optimization and push messaging.
Features: Custom Dashboards, DataMine, Metric Explorer, Interesting Segment Finder, Personalized Metrics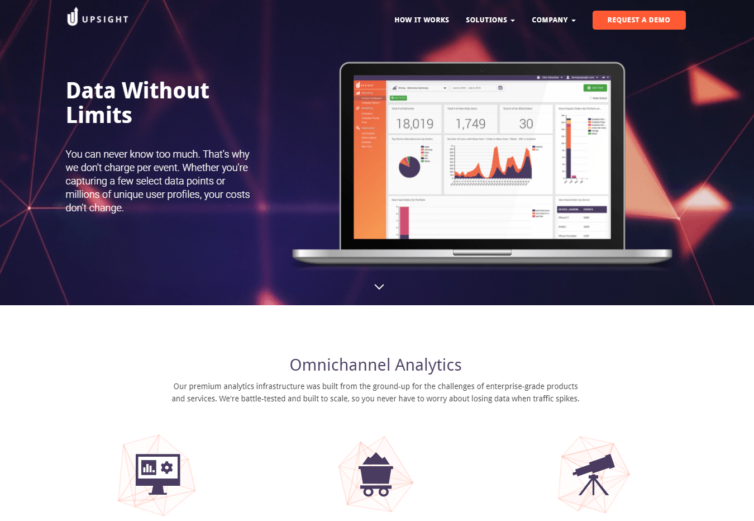 Which app analytics tool to choose?
Selecting the right analytics tool depends on what type of app you have, which metrics you want to measure and on your available budget as well. For instance, if you have a gaming app, choose an analytics tool which features are dedicated on gaming experience. You can also use a combination of tools to match specific needs such as using App Radar for researching the market and tracking app store performance together with Adjust for mobile ad fraud and attribution.