No secret that keywords are the milestone of the App Store Optimization, as your keyword strategy will have a great impact on letting your app stand out amongst 2 million apps available on the App Store and 3,3 million apps available in the Google Play Store.
According to Apple, 65 % of app downloads are generated via Apple App Store Search. This shows how crucial it is to make sure your app is visible in relevant search results. For well-optimized apps, this number could be even higher.
Great App Store Search rankings will help you leverage organic user acquisition.
READ MORE:Keyword Search Optimization » How to Improve App Store Rankings

How does App Radar help you with establishing a winning keyword strategy?
App Radar has everything to help you develop a strategy that will empower and facilitate your keyword research process!
Let's go through main points on keyword search optimization!
Researching Possible Search Terms: App Radar Provides you with AI-based Keyword Suggestions
As a first step, you commonly start by setting up a collection of search terms, you think people might use to search for apps and mobile games like yours. But where to look for inspiration?
Usually, this is one of the most intensive tasks in App Store Optimization workflows. Fortunately, App Radar has some useful features to help you.
Get Keyword Suggestions Relevant for your App Without Any Manual Research
With App Radar, you do not have to manually research for possible keywords, since you can use App Radar's Keyword Suggestions Feature.
Based on the AI, App Radar provides you with suggestions of search terms based on what your app is about. This way you can save your time spent on the brainstorming and manual researching!
See also: Here are Some more Tips on How to improve App Store Search Rankings
Which keywords are your app ranking for?
Check out keyword rankings on App Radar
Create a Free Account
Keyword Analysis: Keep an Overview of Your Keyword Rankings
After you have a list of keywords you need to build your metadata, you have to be aware that not all keywords might work for your app. With App Radar, you can track how your app ranks for a specific keyword and how popular it is in the app store search so that you can make 100% working decisions.
For this, you can also look up your statistics within the online dashboard or even get it delivered to your inbox or slack channel.
But how to make sure that you track all the keywords, your app ranks for?
To shed the light on the Keyword Mystery, App Radar has released a new feature Keyword Explorer.
With Keyword Explorer, you find out all the keywords that you rank for, even if you don't track them yet. Why is it important? Now, when you have the list with all keywords that your app currently ranks for in front of you, it is easier to decide which keywords work better for your app store listings.
New Feature: Explore your Top Ranking Keywords without Any Manual Research
In one interface, you can investigate the popularity, your current ranking for the specific keyword and decide straight away whether you want to add it to your Keyword Rankings list.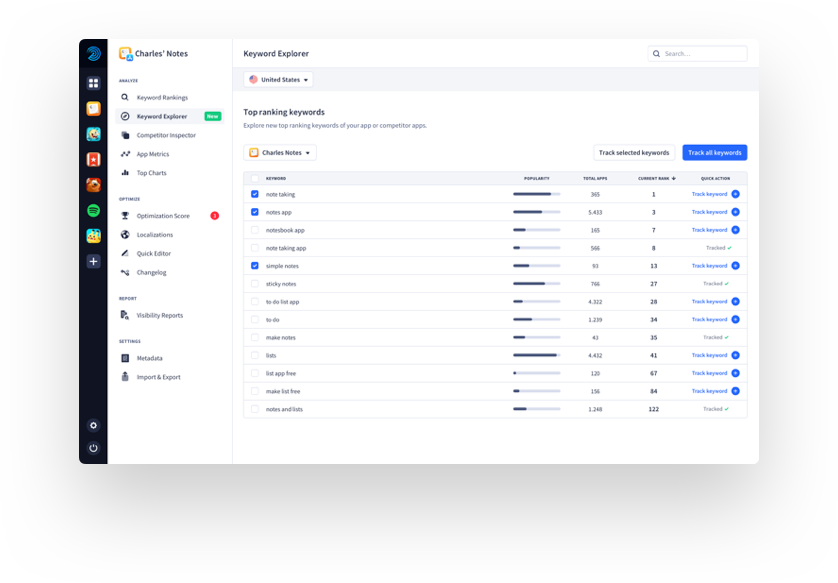 Keyword Explorer displays all the keywords in the selected country that your app ranks for today. So now, you can gain a better understanding of where your downloads come from and check your app ranking keywords for a specific country.
How to access the new Keyword Explorer?
You can access the Keyword Explorer feature in your App Radar dashboard. This feature is available for any App Radar account.
Grow Your Apps with Less Effort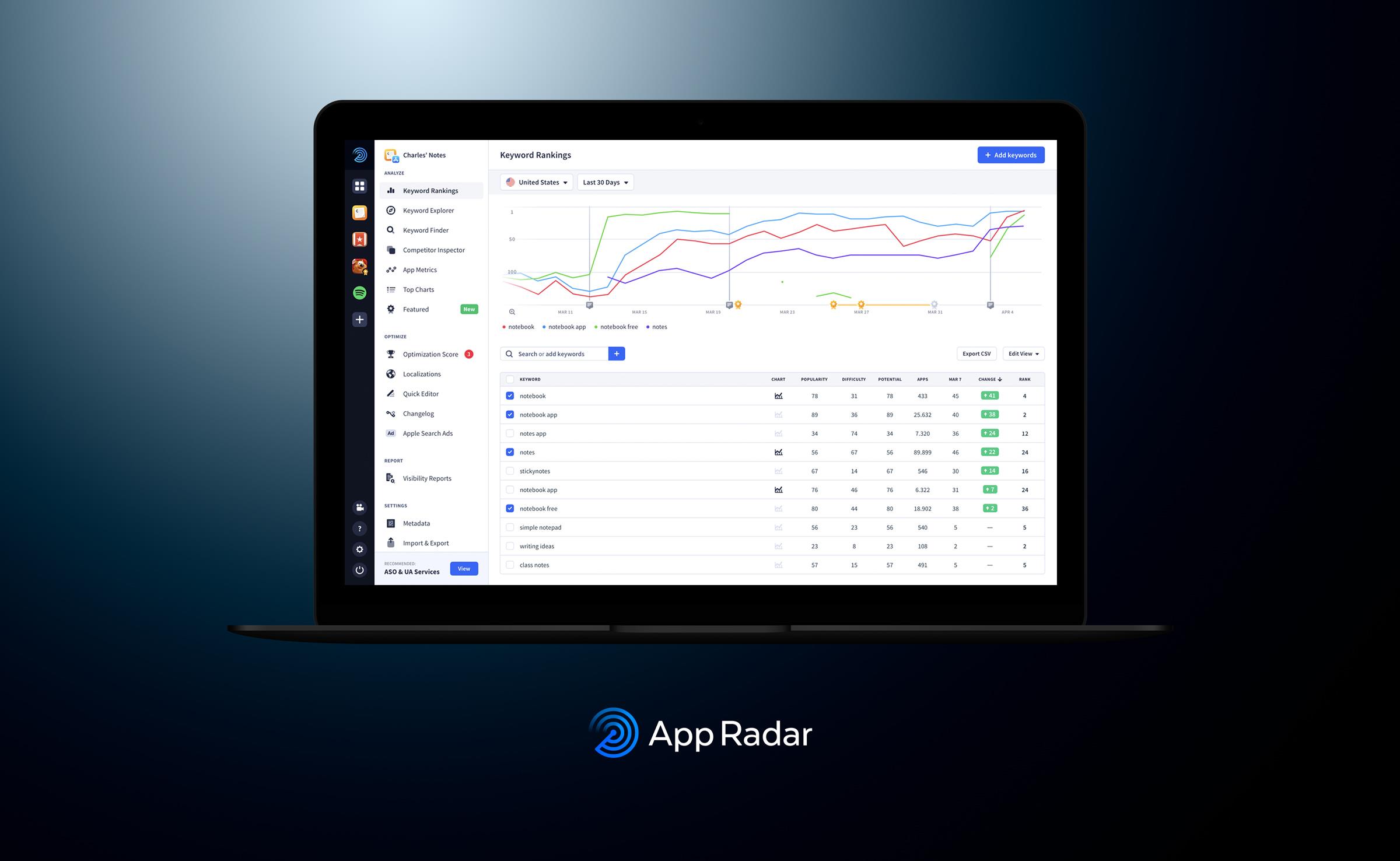 Find new keywords. Optimize all localizations. Spy on competitors. Track ASO changes.
Create a Free Account