How to Find App Keywords for ASO with App Radar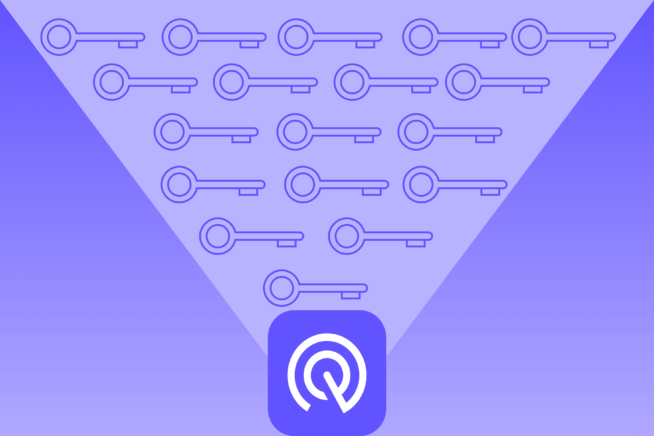 It's no secret that app keywords are crucial to the App Store Optimization (ASO) process. Your keyword strategy will have a large impact on if people can find your app or not. ASO is frequently called the SEO for apps. And exactly like how SEO allows websites to be found by people searching on the internet, ASO enables apps to be found by people searching in the app stores.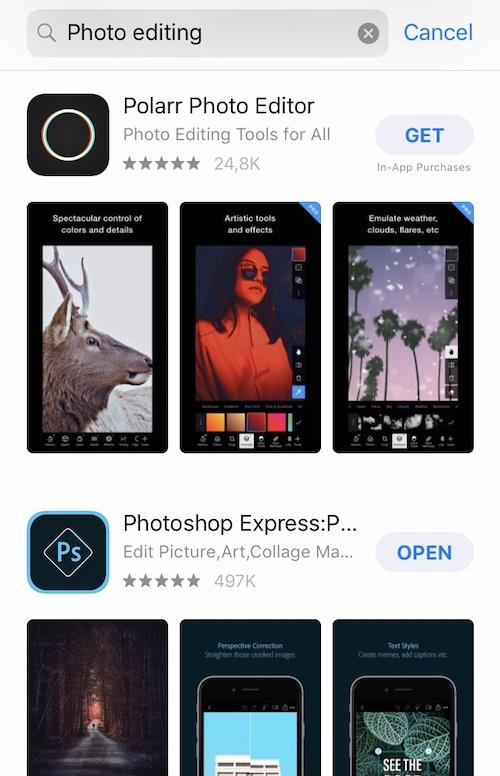 Without implementing a purposeful app keyword strategy, your app would disappear quickly disappear into the abyss of the 5 million and counting apps available worldwide.
According to Apple, "65 % of app downloads occur directly after a search on the App Store", meaning the majority of all app installs come from people searching in the App Store. So it's crucial to make sure your app shows up in every relevant app store search result.
How do you actually show up in the search results? This is where keyword strategy and ASO come in. When you implement the right keywords into your app's metadata (an ASO process), your app will start ranking for those keywords. Then when someone searches for that keyword in the app stores, your app will be shown to them in the search results.
Now, I know that sounds quite simple. However, ASO is not as easy as it sounds. That's why keyword research and coming up with a strategic approach to implementing keywords is needed.
65 % of app downloads occur directly after a search on the App Store

Apple
READ MORE: App Store Rankings: Apple App Store vs. Google Play
Find App Keywords with App Radar
App Radar is the industry leading ASO Tool. Our platform is powered by AI to help you grow your apps and increase app store visibility faster than ever. Our AI gives you keyword, competitor, and ASO recommendations that you can apply quickly and simply.
Let's move on to see exactly how you can leverage our ASO Tool to get more organic app installs from App Store and Google Play.
Step 1: App Keyword Research
As a first step, app developers and marketers usually start by setting up a collection of search terms that people use to find apps in the app stores. Following suit, you should think of terms people might use to search for your mobile apps. This can be your brand name, app name, and main app functionalities.
That's great and all but I know what you're wondering. Where can you actually find good keyword inspiration?
Keyword research is one of the most time intensive tasks in the ASO workflow. Fortunately, App Radar has several useful features to help you.
Get Auto-Suggested Keywords Directly from App Store and Google Play
With App Radar, you do not have to do any manual research to find good app keywords.
Our Keyword Auto-Suggest feature gives you auto-suggested keywords directly from the 2 major app stores: App Store and Google Play. What are auto-suggested keywords? These are the search recommendations you get once you type a few letters or a term in the search bar. See the image below.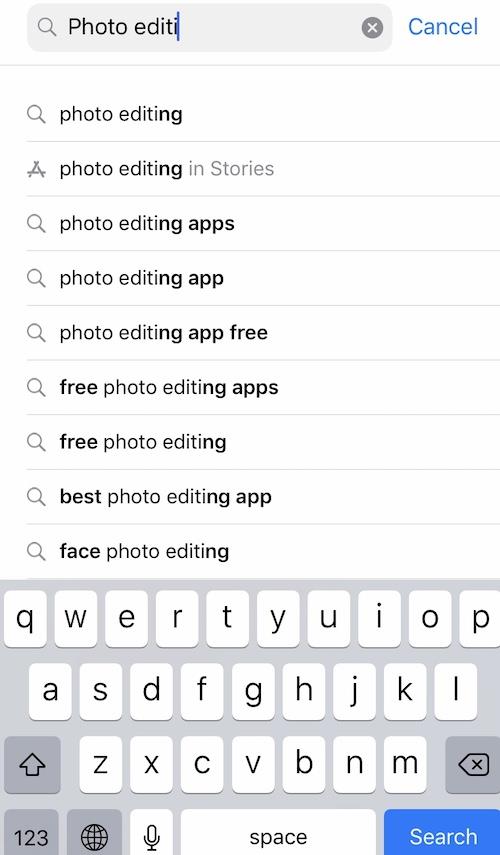 Obtaining keywords and keyword inspiration from app store auto-suggestions is practical because you automatically get a sense of what other keywords the app store algorithms think are relevant to the one you just searched.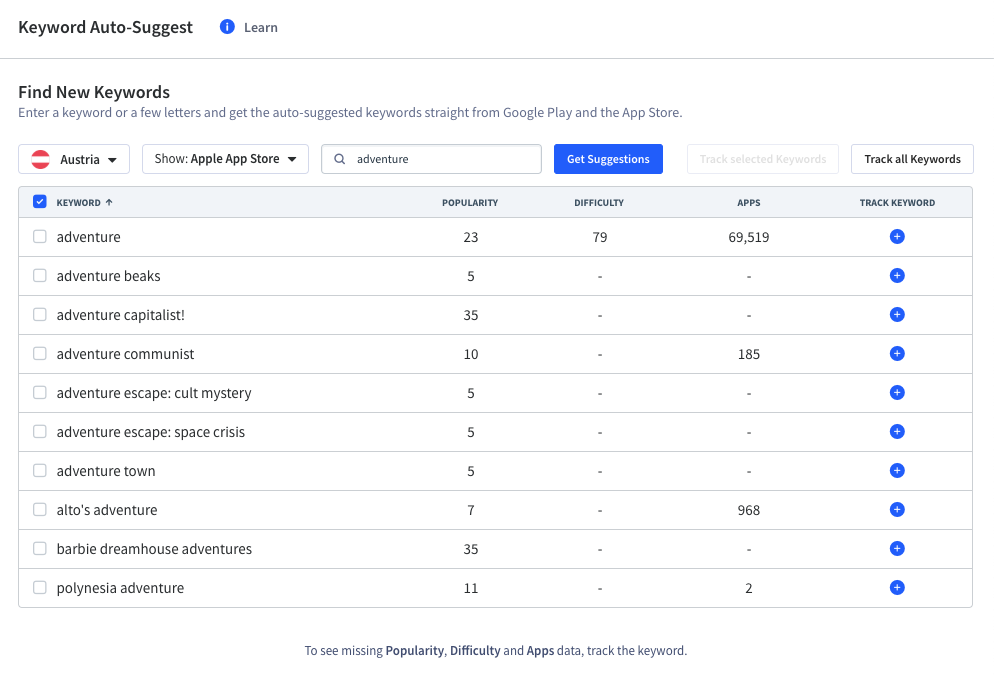 See above how we typed in "adventure" into the App Radar Keyword Auto-Suggest feature. We selected Austria for country and Apple App Store for platform. Then we got several keyword auto-suggestions, as well as their popularity. The higher the popularity value is, the more that specific term is searched.
By starting with auto-suggested app keyword you already have a good base of potential keywords and you didn't do any manual work at all.
Try our Keyword Auto-Suggest Feature
Available for all App Radar Members
Create a Free Account
Get AI-Recommended App Keywords
Our ASO Tool is AI-powered to make your life easier, a lot easier. We have a special feature called Keyword AI-Recommendations. This feature is a huge time saver for anyone working with ASO. Our AI automatically detects relevant keywords for your app that are viable to increase app store rank and app growth.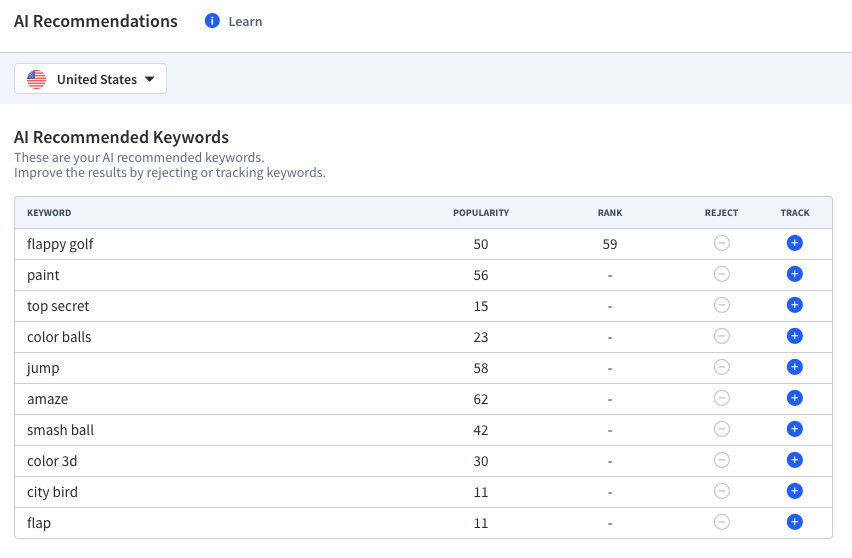 See above that our AI-Recommendations have automatically given some suggestions for the US. You can train our AI to give you better suggestions by rejecting irrelevant keywords. The AI also gets better whenever you track a keyword deemed relevant to your app. Once you track a keyword in App Radar you'll be able to watch your app store rank for the keyword overtime.
See Which App Keywords Your Competitors Rank For
App Radar allows you to spy on your competitors. With the Competitor Rankings Feature you'll be able to see which app keywords they rank for in the app stores.
This is a great source of keyword inspiration because you get to know which search terms people are using to find your competitors, which search terms the app stores think are relevant for your competitors, and also which search terms your competitors think fit their brand and app features.
When you implement a good strategy, you'll be able to outrank your competitors on the higher popularity generic keywords and thus, get your app in front of a much larger audience.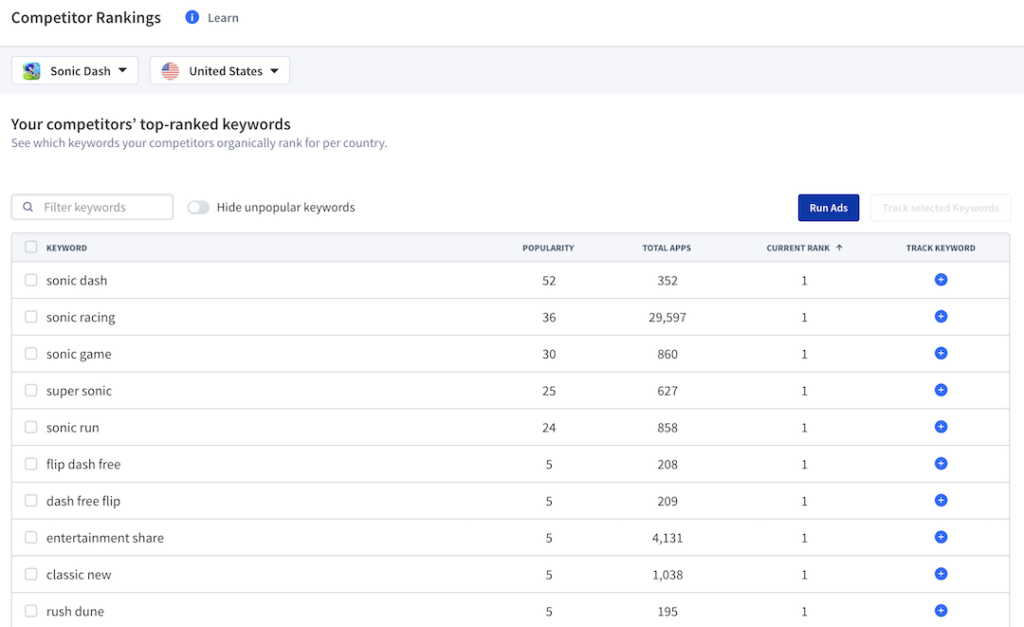 As you can see in the image above, we've selected Sonic Dash as a competitor app and US as our App Store storefront. Now we can add any of their top-ranked keywords to our keyword list and start ranking for these.
Step 2: Keyword Analysis
After you have a list of keywords you need to choose which ones to implement in your app's metadata. Be aware that not all keywords might give you good results. This depends on several factors including the popularity, difficulty, and relevancy. With App Radar, all of these factors and also see how your app store rank changes over time for each keyword.
See Which App Keywords You're Already Ranking For
If your app is published in Google Play and the App Stores, you may already be ranking for keywords you were unaware of before. You can easily identify your current top-ranked keywords with the Keyword Rankings feature in App Radar.
When you have a list with all keywords that your app currently ranks for in front of you, it is easier to decide which keywords work better for your app store listings.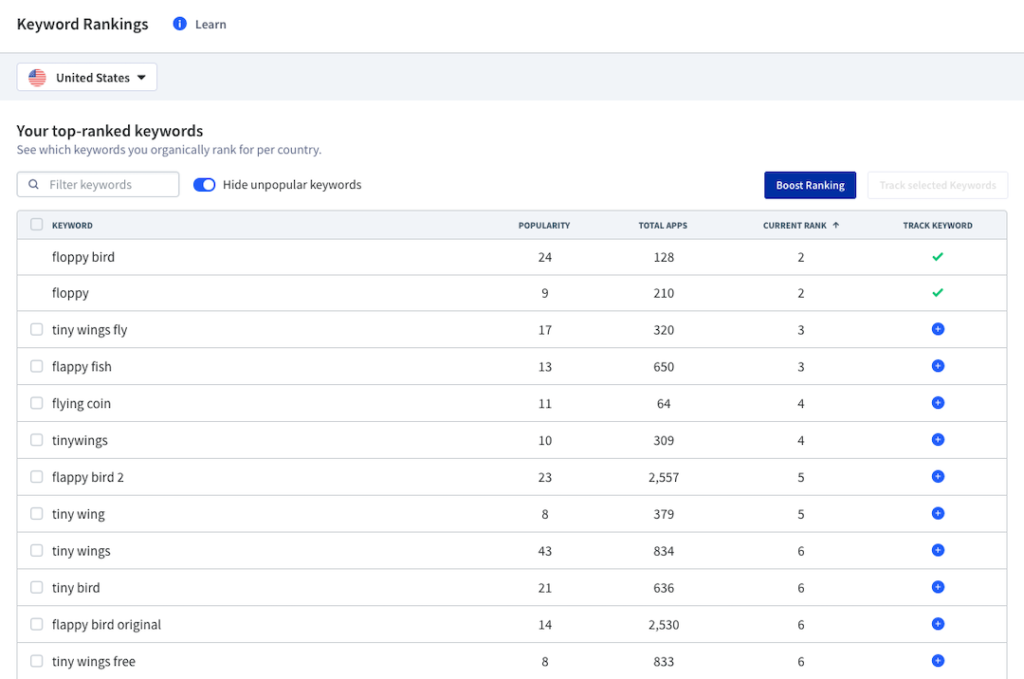 Track Your App Store Rank for Your App Keywords
Our Keyword Tracking feature enables you to track your app store rank for keywords you have in your app's metadata and also for those that you don't have currently implemented in the metadata.
Tracking your app store rank for app keywords is crucial in your ASO process. ASO is continuous and must be done in repeating cycles throughout the entire lifetime of your app. That's because things change, trends come and go, and also the app store algorithm gets updated.
If you're a new app, you'll especially need to make frequent ASO updates. In the beginning you may only rank for lower popularity keywords, those with low search volume. However as you raise in rank, you'll be able to start using higher popularity keywords. Think of it as a positive feedback loop. The more keywords you rank for, the more power you'll have to get that #1 position for more popular and thus, difficult to rank for app keywords.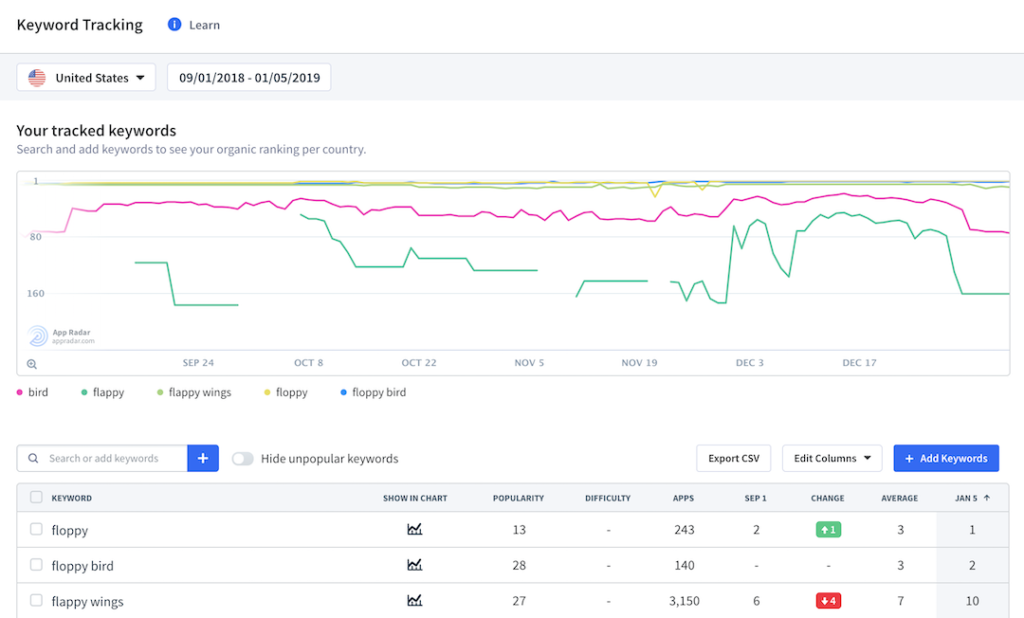 In addition, you can make metadata changes to your app store listing in App Radar and push the changes directly to App Store Connect and Google Play. This is going to save you hours of manual work, especially if you're dealing with more than 1 localization.
Once you make ASO updates, you'll be able to see them in the chart shown above, which enables you to visually identify the ASO updates that increase app store rank and also app installs.
Ready to grow your apps and reach a larger mobile audience? Create a free App Radar account.
Grow Your Apps with Less Effort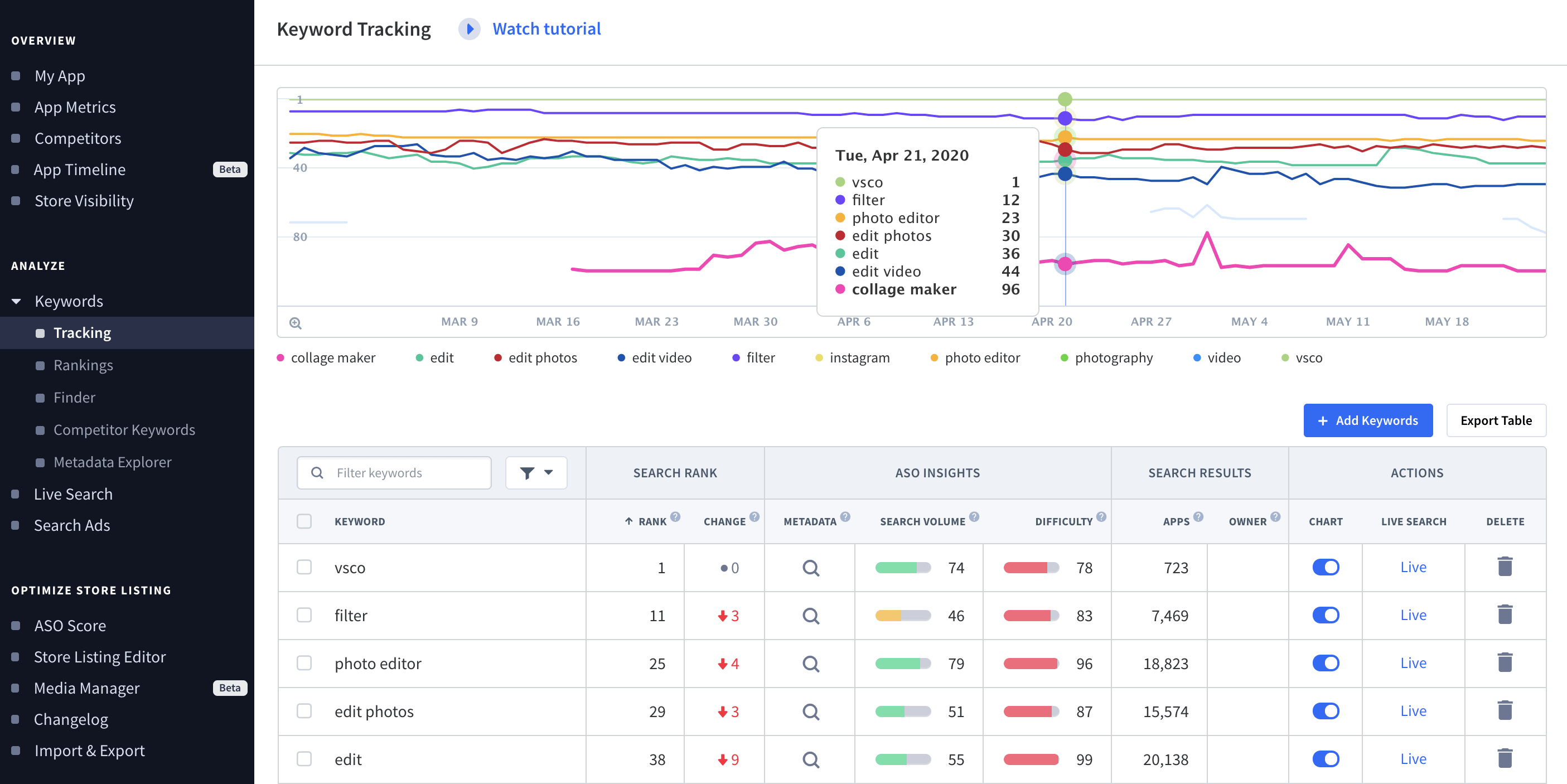 Find new keywords. Optimize all localizations. Spy on competitors. Track ASO changes.
Create a Free Account