6 Common Apple Search Ads Mistakes to Avoid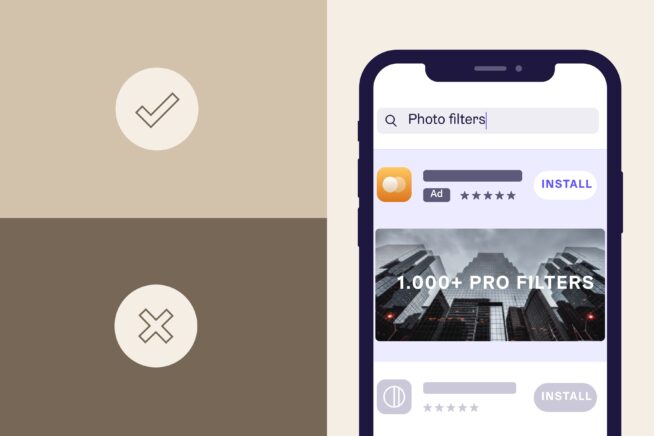 Apple Search Ads is one of the best paid user acquisition channels you can utilize for app marketing and growth. But the platform is relatively new when compared to other channels and thus, can be confusing or misleading. So that you're off to a good start, we've laid out the most common mistakes made by Apple Search Ad beginners. Avoid these and you'll be one step ahead of the rest.
Don't Make these Common Apple Search Ads Mistakes
Mistake #1: You Chose to run Basic rather than Advanced Apple Search Ad Campaigns
There are two types of Apple Search Ad campaigns available to you: Basic and Advanced.
The very first mistake that you can make is choosing Basic over Advanced.
Basic may sound enticing, especially if you're a beginner in this field. Apple tells you that its Basic platform will run the ads automatically for you based on your app's metadata. You only have to set a budget, and then Apple does the rest. Don't be fooled by these alluring promises. The only thing that Basic is giving you is lack of control. And when you're dealing with paid UA, lack of control is one of the worst things to encounter.
You won't be able to choose the keywords you want to run ads on. You won't be able to change the bids for the ads. These are two critical factors when it comes to managing a successful Search Ads campaign.
Luckily, you have Apple Search Ads Advanced available for you too. The Advanced platform puts you in complete control. You'll be able to set up campaigns for any keywords you like, decide to set them as Exact Match or Broad Match (we'll get into this later), and adjust the bids on your keywords when you need to.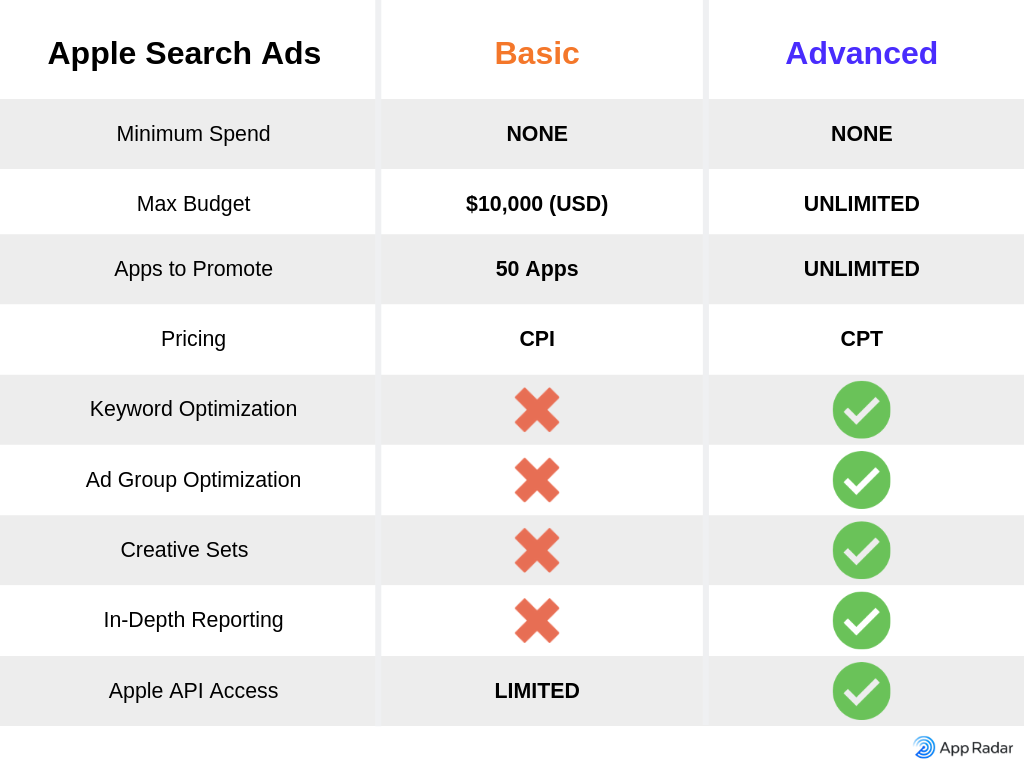 Additionally, you'll get better insights and more reporting with the Advanced platform, allowing you to make well-informed decisions about your campaign and how you should proceed.
Dive Deeper: Apple Search Ads Basic vs. Advanced, What's the Difference?
In conclusion, Apple Search Ads Advanced equips you with plenty more tools than the Basic version does, ensuring that you have full control over the progress of your paid UA campaign. By choosing Apple Search Ads Advanced, your ROAS will be better, and you'll get your money's worth.
Mistake #2: You didn't do any prior keyword research nor did you execute proper ASO
Before running any paid UA campaign, you must do research. In this case, it's imperative to carry out keyword research.
Apple will only enter bids on keywords that are relevant to your app. The safest bet is to run Search Ads on the keywords you already have in your app's metadata. This will increase your ad impressions.
That also means you must have had done keyword research and implemented these keywords into your app's metadata. In other words, you've executed a proper ASO strategy.
Keyword research can be done in several ways:
Use an ASO tool, such as App Radar, to find relevant keywords that have high popularity (search volume) and implement these in your app's metadata. Then bid on these keywords in your Search Ads campaigns
Check out what keywords your competitors are ranking organically for in the App Store and bid on these keywords. You can use App Radar's Competitor Rankings feature to find this out.
Get auto-suggested keywords from the App Store by typing in a few relevant keywords in the search bar. You can also get auto-suggested keywords from the App Store in App Radar.
Find out what keywords your competitors are running ads on and bid on these keywords in your Search Ads campaigns. You can do this with App Radar's Search Ads Inspector feature.
Conversion Rate Optimization for your Apple Search Ads Strategy
ASO also involves Conversion Rate Optimization (CRO), optimizing your app's listing page to maximize conversions from impressions to page view and then page view to install.
Your creative assets have a significant impact on conversion as many App Store visitors will decide to install an app based on their first impressions.
Your app icon, app screenshots, and app preview video (iOS), and feature graphic (Google Play) should all be designed to compel your target audience to install your app. Show off the best features of your app in these creative sets and make sure your app icon is recognizable and representative of your brand.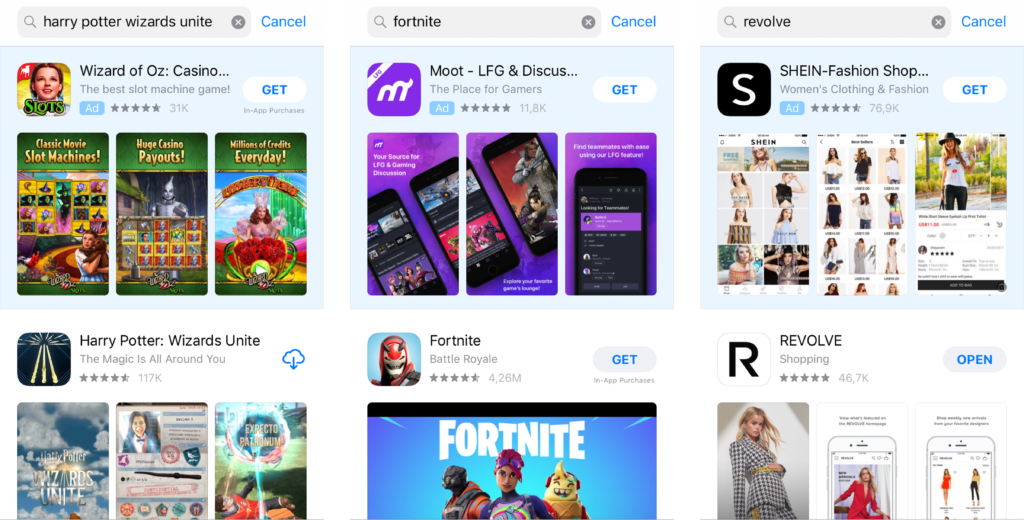 Apple Search Ads uses your current App Store listing elements to run your ads. You won't be able to change anything about your ad listing unless you change it in your organic store listing. So your store listing has to not only convert for organic search impressions but ad impressions as well.
Here's a quick hack that you can use to optimize your app screenshots. Apple Search Ads allows the use of Creative Sets. You can group 3 screenshots for each Creative Set and activate them for your ad groups. If you create your screenshots so that they can be arranged in various combinations of 3s then you'll be able to use Apple Search Ads Creative Sets to A/B test your screenshots and see which visuals App Store visitors respond best to.
The only catch is they have to be in order. So if you have your app screenshots as ABCDEFGH you can make sets that looks like ABC, BCD, CDE, and so on. But you can't make sets like AGD, EDH, or DAG.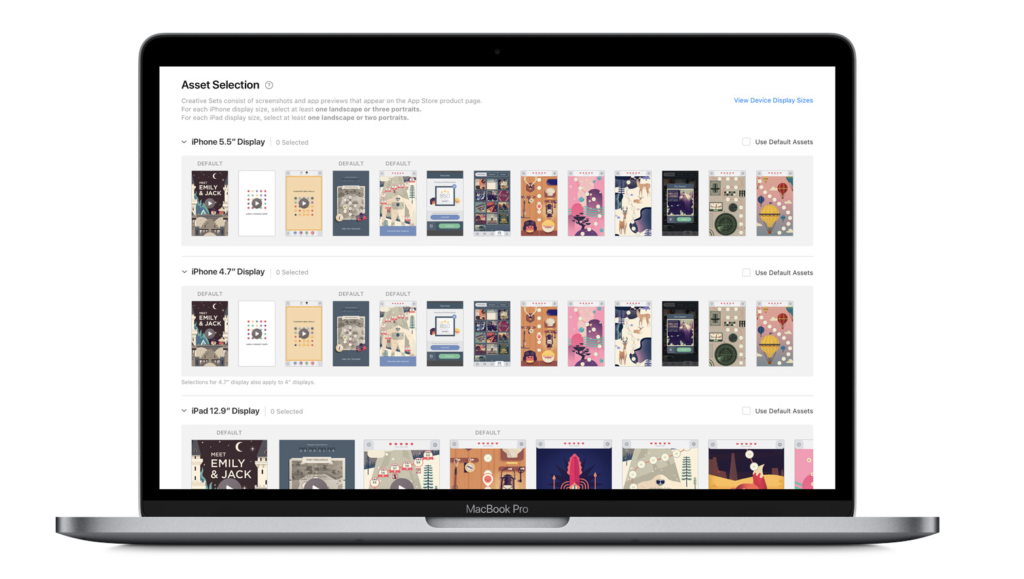 Mistake #3: You've left Search Match activated for all your Campaigns
By default, Apple activates Search Match for all Apple Search Ads campaigns. Search Match takes your app's metadata and runs ads on any keyword that Apple thinks is relevant to your app.
Having Search Match turned on is excellent for a Discovery Campaign, with which you can find new keywords to add to your Exact Match set of keywords.
Here's one of the most common Apple Search Ads mistakes. It is terrible for your ad campaign measurement when you have Search Match turned on for all your campaigns. You can no longer isolate which keywords are bringing in the best traffic, and you'll also be losing money because Apple may be placing bids on duplicate keywords.
What you want to do is set up your campaigns so that you can easily measure which campaign and which keywords are bringing you the best ROAS.
There are three types of primary Apple Search Ad campaigns you should run. These are Generic, Brand, and Competitor campaign.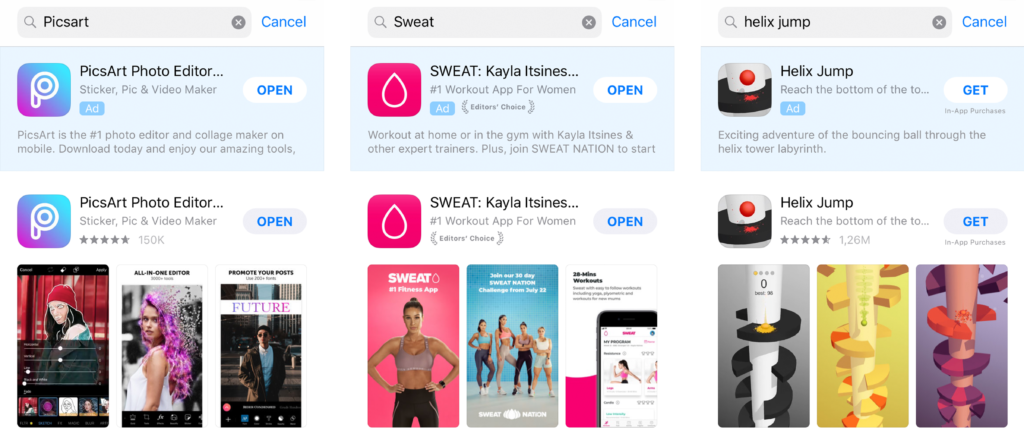 For Brand and Competitor campaigns, you'll want to use Exact Match keywords. These are formatted in brackets like so, "[exact match]." For Generic campaigns, you'll want to use Exact Match and Broad Match keywords. Broad Match keywords are formatted without brackets like so, "broad match." Turn off Search Match for all of these campaigns.
Then there is one more type of campaign you should run, a Discovery Campaign. Here is where you'll turn on Search Match to let Apple find new and lucrative keywords for you.
Dive Deeper: Apple Search Ads: How to Optimize Keywords
Mistake #4: You haven't implemented any Negative Keywords
With all of these Search and Broad Match campaigns running, how are you going to make sure that Apple doesn't end up placing ads on a keyword you're already bidding for in Exact Match?
Now you'll need Negative Keywords. They're essential to optimizing your ROAS. You don't want to be duplicating any keywords in your Apple Search Ad campaigns. That's because if you are, then you are basically competing against yourself and thus, unnecessarily raising the CPT.
To avoid duplicate keywords, you need to put any Exact Match keywords your using as Negative Keywords in your Broad and Search Match campaigns. They explicitly tell Apple to not run any ads on these keywords when it comes upon them in the Broad and Search Match campaigns.

Also, as stated above, Search Match allows you to find new keywords that you will then move into your Exact Match set. Follow the same mindset.
Every Exact Match keyword needs to be set as a Negative Keyword for your Broad and Search Match campaigns. Once you identify a high performing keyword that Apple has found via Search Match, pause that keyword, add it as an Exact Match to your Generic campaign, and add it as a Negative Keyword to all your Broad and Search Match campaigns.
Now you've ensured that you are not in a bidding war with yourself and maximizing both your budget and the number of ad impressions.
Mistake #5 You've set up your Apple Search Ads campaign and haven't adjusted any bids
When you set up an Apple Search Ads campaign, you'll be asked to set a budget for the entire campaign. You won't be able to adjust the budget after you've set it, but you will be able to adjust CPT for an ad group and specific keywords. On top of that, you'll be able to pause ad groups and particular keywords.
Instead of letting your Search Ads run wild, be vigilant, and be ready to act fast. Not doing so would be a great Apple Search Ads mistake.
Here are a few cases where you should take action.
The CPT or CPA for a specific keyword is way too high.
If a keyword is costing you too much, meaning your ROAS is terrible, and you are losing money rather than making a profit, pause that keyword entirely. The keyword no longer serves your goal. It's only draining your ad budget.
The CPT or CPA for a specific keyword is a little too high
If a keyword is costing you more than expected but is not a sky-high amount, then lower the CPT to try to bring costs down. Wait a few days to see if the CPT will level out.
The CPT or CPA is low, and you're getting a good ROAS
When a keyword is performing well, increase the CPT bid on that keyword. By increasing your bid, you'll get a larger share of ad impressions. Your Share of Voice (SOV) will then rise, and you're on your way to becoming the major ad impressions shareholder.
Your target audience is only present in the App Store during specific times, for example, only on weekends or only during weekdays.
You can optimize your ad spend here by pausing entire campaigns when your target audience traffic in the App Store is the lowest. This way, your ads are not showing when your target audience isn't available, and as a result, you'll decrease your CPT. In addition, your SOV. The more taps and installs your get for a specific keyword, the more Apple will see your app is relevant to that keyword and thus, increase your impressions for that keyword.
Mistake #6: You're not using a mobile measurement partner
A mobile measurement partner (MMP) enables you to track where your users are coming from. You will be able to see exactly which campaigns and sources brought in which types of users. In addition, MMPs are attribution tools, and they'll tag each user so that you can follow the user's actions within your app. That means you can now directly connect in-app actions, such as in-app purchases, with the source from where the user came.
Not using an MMP is one of the biggest Apple Search Ads mistakes.
Having this information, allows you to pinpoint further which type of users and also which paid and organic UA channels are funneling in not only the best ROIs but also the best users, those with the best LTV.
There are multiple MMPs that you can use. We recommend platforms such as AppsFlyer, Branch.io, or Adjust.

When is the right time to start integrating an MMP?
If you're only running 1 or a couple of UA campaigns, then it's not worth much to pay for and immediately integrate an MMP. They become instrumental once you start running multiple campaigns across multiple channels. Think, Facebook Ads, Instagram Ads, Google Ads, etc. Once your running app install campaigns in this large of scope, then it's without a doubt, time for an MMP.
Get Insights on Apple Search Ads

See which keywords competitors are placing App Store ads on. View your share of ad impressions. Make sure you're always the top bidder.
Create a Free Account