Apple Search Ads
How to analyze and optimize Apple Search Ads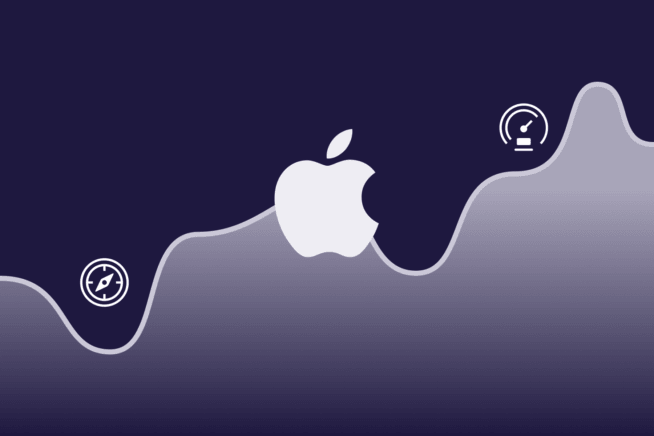 Apple Search Ads is a powerful tool for your app growth. If you already set up Apple Ads Advanced and run your campaigns, it's time to go through the performance results. Identification of the weak parts of your campaign, in time, might give you more opportunities to optimize it and scale the performance. In this article, we will cover the main performance metrics of Apple Ads and give actionable insights on how to optimize your ad campaigns.
Apple Search Ads reporting metrics
To monitor your Apple Ads campaigns performance, you will need to go to the Ads dashboard and select ad group to see a more specific performance. Moreover, in Search Ads account allows you to look at your data from different performance dashboards:
Campaigns dashboards
Charts dashboards
Custom reports

Depending on the selected dashboard you can see the following metrics that Apple provides to Search Ads accounts:
Average cost-per-acquisition (CPA) is total spend divided by the number of installs (downloads) received within a period.
Average cost-per-thousand-impressions (CPM) is the average amount you pay per one thousand ad impressions on the App Store.
Average cost-per-tap (CPT) is the average amount you've paid for a tap on your ad.
Average Daily Spend is the average amount spent each day.
The conversion rate (CR) is the total number of installs received within a period divided by total number of taps within the same period.
Dimensions are an element of your Apple Search Ads campaign that can be included in a custom report.
Impression Share is the share of impressions your ad(s) received from the total impressions served on the same search terms or keywords, in the same countries and regions.
Impressions are the number of times your ad appeared on the App Store within the reporting time period.
Installs are the total number of conversions from new downloads and redownloads resulting from an ad within the reporting period. Apple Search Ads installs are attributed within a 30-day tap-through window.
Match Source identifies whether your impression was the result of Search Match or a bidded keyword.
New Downloads represent app downloads from new users who have never before downloaded your app.
Rank shows how your app ranks in terms of impression share compared to other apps in the same countries and regions. Rank is displayed as numbers from 1 to 5 or >5, with 1 being the highest rank. This metric is only available in predefined Impression Share reports and on the Recommendations page.
Redownloads occur when a user downloads your app, deletes it, and downloads the same app again following a tap on an ad on the App Store, or downloads the same app on an additional device.
Search Popularity is the popularity of a keyword, based on App Store searches. Search popularity is displayed as numbers from 1 to 5, with 5 being the most popular.
Search Terms are keywords and phrases that people have used to find the particular type of app they're looking for.
Spend is the sum of the cost of each customer tap on your ad over the period of time set for your reporting.
Taps are the number of times your ad was tapped by users within the reporting time period.
Tap-through rate (TTR) is the number of times your ad was tapped by customers divided by the total impressions your ad received.
With such a wide range of metrics, you can get a comprehensive overview of your ads performance. However, try to focus on the most important KPIs and therefore identify which step in the paid UA funnel needs improvements.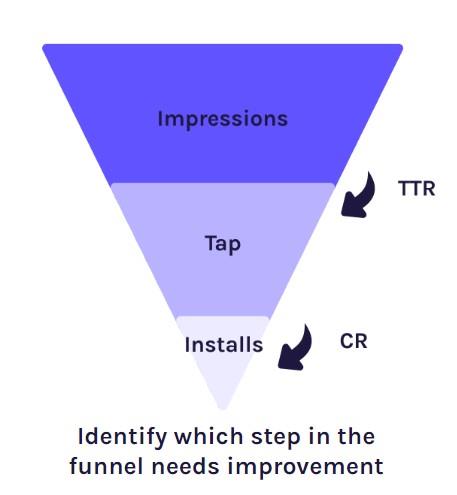 How to optimize Apple Search Ads
Apple Search Ads Advanced campaigns provide you with a transparent way of controlling your ads. Therefore, you can monitor and optimize your campaigns anytime. Depending on the results that you get from your campaigns, you might need to focus on different stages of your paid user acquisition funnel. However, here are the essential points that should be considered during the optimization process of your Apple Ads.
ASO is essential for App Store Advertising
Before you start running ads on any advertising channel, make sure your app store listing is well-optimized. Always remember, that your product page information will be the last decision point for users in the paid UA funnel if you focus on installs. It might be a pity to lose the potential users in the last stage of the funnel and waste money on ads that are not convertible. Therefore, analyze your ad performing metrics and if conversion is low, update your store listing with more convincing messages and creatives.
Create a list of winning keywords
Compared to other advertising channels, keywords play one of the most important roles in promoting your app on Apple App Store. With Apple Search Ads Intelligence, you can easily create a list of keywords for different campaign types. However, keep an eye on how your selected keywords perform. You might need to increase or decrease bids on some keywords, or relocate some of them to another type of campaign.
Optimize your Apple Ads bids strategy
While analyzing keywords performance, you might identify keywords that bring more or fewer impressions to your ads. You don't need always to remove bad-performing keywords, instead decrease bids on them and increase bids on the better-performing keywords. Also, don't increase bids significantly, try to do it step by step. Remember that your main goal is to find the optimal bids, and you will need some time to monitor the results of different bids.
Keep a clear structure of your Apple campaign
Apple Search Ads have 4 different types of campaigns that have different purposes:
Brand Campaigns focus specifically on your app or company name, and might have a purpose of brand protection.
Category Campaigns focus on non-branded keywords to help your ad appear when customers search for what your app does or the category it is in, for example, fitness.
Competitor Campaigns help people find you when they're searching for your direct competitors and apps similar to yours.
Discovery Campaigns help you find new or alternative keywords that you're not already utilizing as well as help you reach a wider audience.
By differentiating your campaigns, you will have more management control of them and can easily identify the weak and strong points of your campaigns. So, if you still didn't structure your campaigns, make sure to organize them as soon as possible.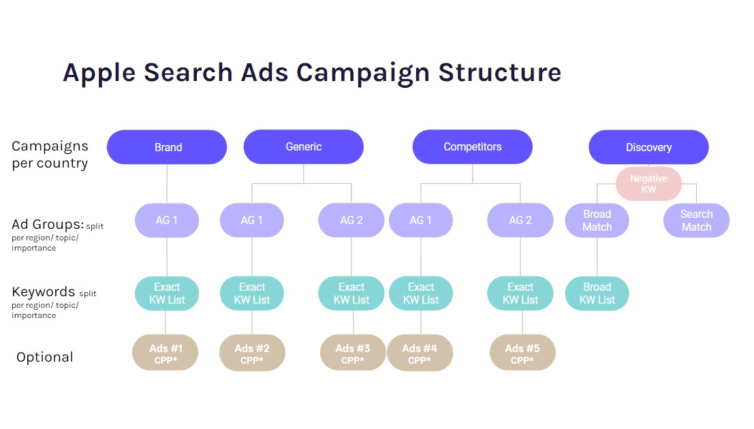 Best practices for Apple Search Ads Campaigns optimization
By analyzing the report metrics, you can identify where in the funnel you have the weakest performance. Once you identify the issue, you will ask yourself 'How can I optimize it?'. Let's take a look at a couple of possible scenarios and find the best solution.
#1 I don't get impressions from my Apple Search Ads campaigns
The first thing which you would need to check in this situation is your targeted keywords. You could simply select not relevant enough keywords for your app Use App Radar tool to research more ASO and ASA keywords, and then target them in your campaigns. Remember, that increasing bids on keywords that are not relevant will not help here. Apple stands for providing optimal user experience. Therefore, no matter how much you increase your bids, your ads will most likely not be shown to users due to irrelevancy. Remember, that the algorithm decides based on a combination of relevancy and bid who gets the spot on top of the search results.
At the same time, the lower impressions might be the reason for the low cost-per-tap. In other words, your competitors bid higher on the same keywords, and they win the auction. Try to increase your CPT incrementally (20% as an orientation) and monitor the results.
#2 How much should I increase bids?
This is a quite common challenge for app marketers who want to optimize or scale their campaigns, but don't know how to increase bids. It might seem that you can simply increase your bid and get an insane amount of impressions. However, be careful with spending your budget in such a way as impressions don't mean people went through the whole funnel and converted to users.
So, what we recommend is to increase bids step by step. As an orientation, try to have about a 20% increase in CPT.  The most important thing here is to carefully monitor your activity. If bid increasing doesn't help to increase impressions of your ads, go a step back and check your targeted keywords and creative assets on the product page and custom product pages. If you see an increase in impressions, but those impressions don't result in tabs then check the relevancy. If TTR is good, but your conversion rate from tabs to installs is low, then you should definitely work on improving your app store listing. Just remember that if something is not convincing Apple users to download your app at the last step of your conversion funnel.
#3 How to decrease CPA & increase CR?
The beauty and complications of Apple Search Ads are in your full control of ads. In this particular case, when you want to decrease cost-per-acquisition and increase conversion rate, you need to use all your creativity and analytics. We would suggest you to analyze first how your targeted keywords perform. Identify well-performing keywords and increase bids on them. At the same time, decrease bids for bad-performing keywords. In this case, You are still aligned with your budget, but your bidding strategy is optimized based on ads performance.
Remember: well-performing and bad-performing keywords might have different meanings. For instance, it could be the ones that bring installs at an affordable price or keywords that moved your organic ranking, and you want to push them further. Bas performing keywords could be keywords that get impressions but do not result in installs.
To increase conversion rate (CR), you need to optimize your creatives set in app store listing and on custom product pages. Always remember that App Store Optimization is fundamental for user acquisition, no matter how you would like to acquire new users: in an organic or paid way. Therefore, if your CR is low, review your product page and custom product pages.
Also, different apps have different success metrics. If your tap-trough rate (TTR) is below the benchmark in your category on the App Store, to improve it, you might want to take advantage of iOS 15 new feature — ad variations using custom product pages.
Summary
Apple Search Ads campaigns show the performance results of your ads transparently. Moreover, as with Advanced campaigns, you have full control of your ads, you can optimize your campaigns anytime. Remember that ASO goes first, ASA goes second. Keep in mind a clear structure of your campaigns and constantly research keywords for your campaigns. Optimize your app store listing before starting running ads as in the majority of cases low conversion rate is the result of a bad-optimized store listing and not convincing creatives or irrelevant keywords. Also, be creative and play around with keyword bids. Increase bids for well-performing keywords and decrease for bad-performing keywords. You can save your time with researching keywords difficulty and search volume by using App Radar's all-in-one app marketing tool.
Boost your organic & paid mobile user acquisition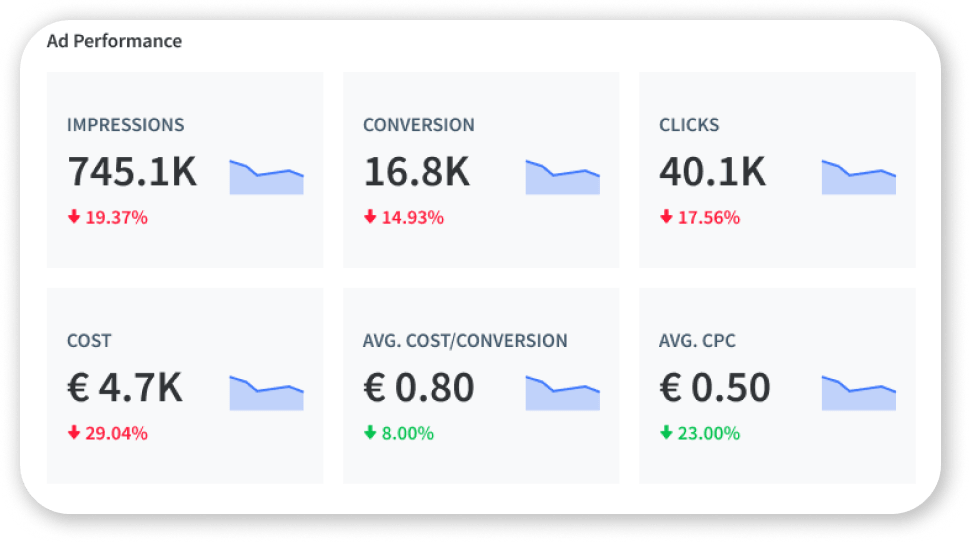 Connect your Ad network accounts to App Radar and keep track of your important ad metrics.
Start Free Trial