In December 2017, about a year after Apple Search Ads launched, Apple went ahead with a few renovations. They renamed the main PPC channel, Apple Search Ads Advanced and introduced a lite version, Apple Search Ads Basic.
So what's the difference between Apple Search Ads Basic and Advanced?
skip to:
What is Apple Search Ads Basic

Apple Search Ads Basic comes exactly as it sounds, basic. It's supposed to help indie and smaller app developers get more installs with less investment of time.

First, ASA Basic runs on a cost-per-install (CPI) model. This essentially sets a cost-per-acquisition (CPA) goal for your Search Ads campaign. A benefit no doubt, since you end up only paying for the users you acquire. Second, it truly is targeted towards smaller developers. It limits you to a $10,000 USD campaign spend per app per month and the promotion of 50 apps.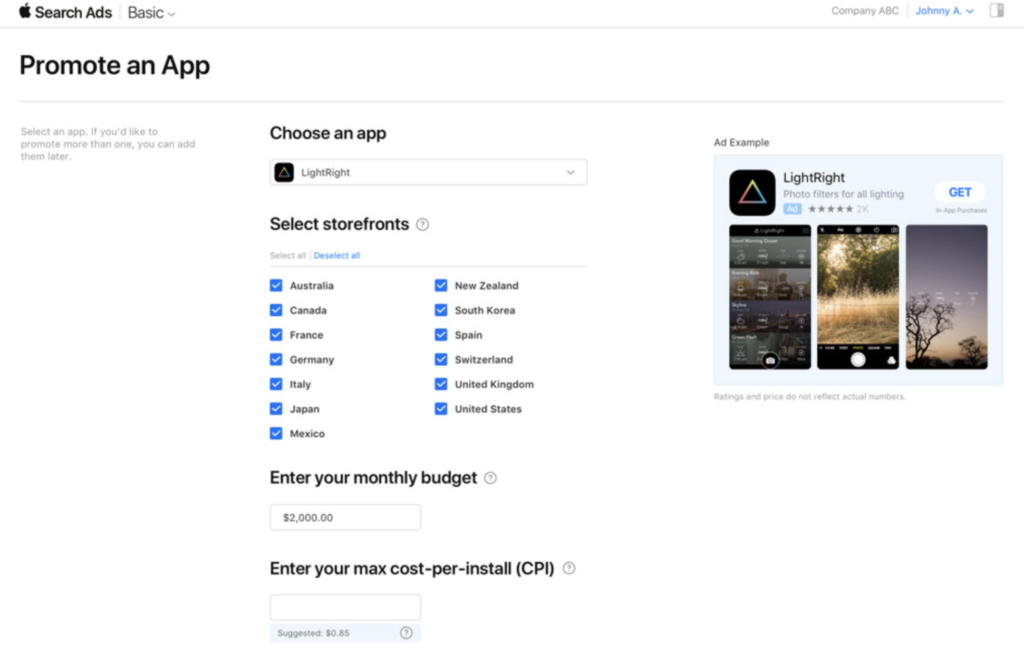 Overall the ASA Basic system is a bit of, let's say, a self driving car. All developers have to do is choose to run a Basic campaign, set a max CPI bid and off the Search Ad will go.

Well that sounds easy enough right?

Apple boasts that their AI will do it all for you. It will find the optimal keywords, choose the optimal keyword match type and return back optimal results. And no you don't have the option to do this all yourself. You're stuck in the passenger seat while Apple takes the wheel and there's absolutely no back-seat driving in this car.

With ASA Basic you can't choose Keywords, define Ad Groups, or use Creative Sets. Apple essentially takes care of all of this for you.

Alright, so what's the problem? Because until now, it sounds like you get to sit back, relax and watch the app installs roll in while Apple does all the heavy lifting. Let me tell you.

This type of ultimate ad automation frequently leads to money being thrown straight out the window. There are always exceptions to the rule and ASA Basic could work well for your app. However a majority of the time, ASA Basic campaigns end up targeting totally irrelevant keywords and thus, a totally irrelevant audience. Furthermore, when this happens to you the only rescue you have is adjusting your bid or shutting the campaign down.

ASA Basic doesn't sound so great anymore, does it?

In addition, there is actually no minimum campaign spend for Basic or Advanced. So if you care about your precious dollars going to good use, I'm strongly nudging you towards Apple Search Ads Advanced.

Also, a quick side note, you won't be able to sign up for Basic Search Ads unless you already have an iOS app available in the US storefront.

Alright now onto Apple Search Ads Advanced.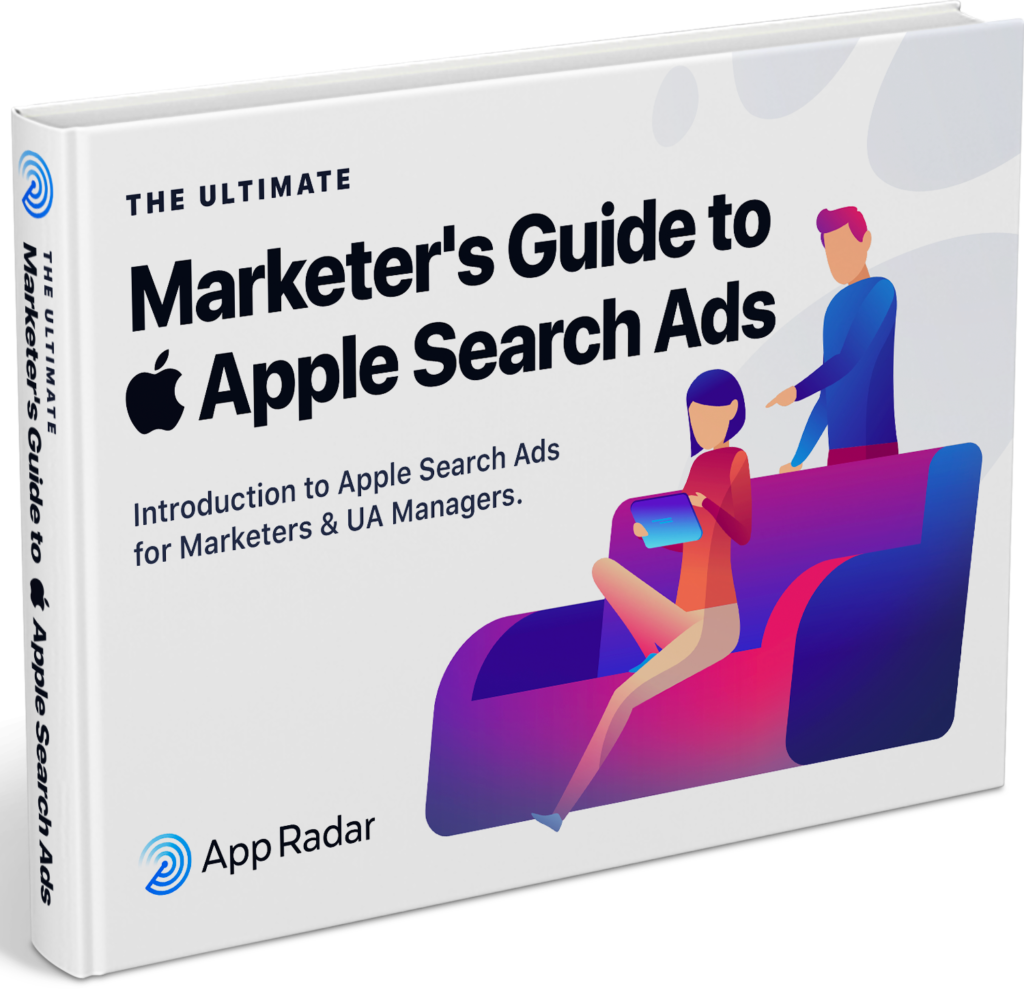 Get our Ultimate Apple Search Ads Guide
Run effective and cost-efficient ASA campaigns.
Increase app visibility and installs today.
Download Ebook
What is Apple Search Ads Advanced?
If you've been executing ads on the App Store since the Search Ads release then you're no stranger to Apple Search Ads Advanced. Apple just gave the original ad channel a name makeover, from Apple Search Ads to Apple Search Ads Advanced, so it doesn't get confused with the new ASA Basic.

I highly recommend always executing an ASA Advanced campaign if you want to see real results. The Advanced channel offers you exponentially more freedom and, even more crucial, the steering wheel to this moving car.

ASA Advanced gives you full control over your App Store ad campaigns. That includes all management as well as reporting aspects. Because of this, you can react faster and be more flexible when its comes to your App Store ads. If you're not seeing the campaign ROAS you want, you have the ability to quickly change keywords, adjust bids and update ad visuals.

With ASA Advanced you'll be able to choose target Keywords, set your Keywords as Broad Match, Exact Match or Search Match, define different Ad Groups and utilize a variety of visuals through Creative Sets. In addition, to having these management tools, you'll also get access to in-depth reporting and to all Apple API. You get to steer your Search Ads campaigns in the direction you want them to be going.
If you need help, Apple is there for you along the way. You can use Search Match to find keywords through Apple AI suggestions. You can also base your bid amounts off of Apple's recommended bid.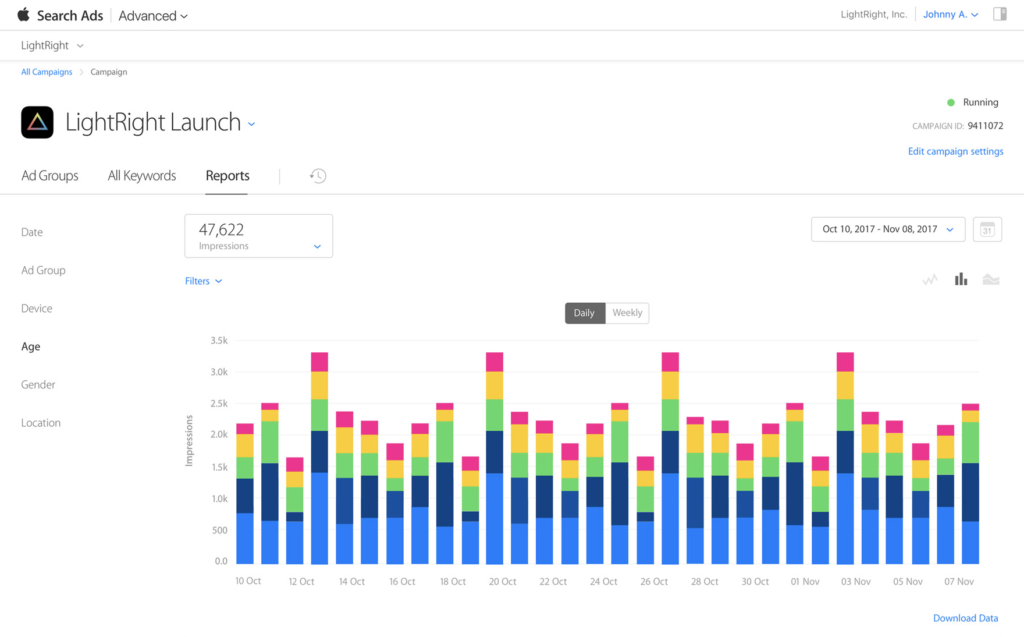 Aside from campaign management capabilities, there is also a pricing difference between Basic and Advanced. Basic runs on a CPI model while Advanced runs on a cost-per-tap (CPT) model. If that sounds unfamiliar to you, it's just Apple's way of saying pay-per-click (PPC). So instead of setting a max CTI you would set a max CPT, which means you're no longer operating on a defaulted CPA goal for your Search Ads.
At first this may seem like a disadvantage. However, a CPT model supplies you with a lot more insights than a CPI model can. By analyzing metrics, such as tap-through-rate (TTR), and source of incoming traffic, you can determine why App Store visitors are clicking through to your product page but not installing. Furthermore, Apple's App Store Search algorithm takes into account TTR when ranking apps. So by pushing tap throughs, you're improving your App Store Optimization (ASO) for organic growth. Anyways, you'll be able to set up custom CPA goals with the widened capabilities of ASA Advanced.
So why else should you choose ASA Advanced over Basic?
For starters, just being able to select your own campaign keywords, makes a world of difference. Running ads on the wrong keywords is detrimental not only to your financial resources but also to your entire User Acquisition (UA) strategy. Bringing in irrelevant users, puts your app at great risk of uninstalls. Then it's a negative feedback loop from there. The more uninstalls you get, the worse your app ranks in the App Store search. At this point you're hurting both your paid UA and organic UA.
Now, I know that ASA Advanced can sound intimidating or tedious. Without prior Search Ads knowledge, the process of setting up an ASA Advanced campaign can become overwhelming. There are many manual steps you have to go through to come out with a well-performing campaign, including keyword research, competitor research, bid watching and more. But not to worry, our expert App Radar app growth team is on your side.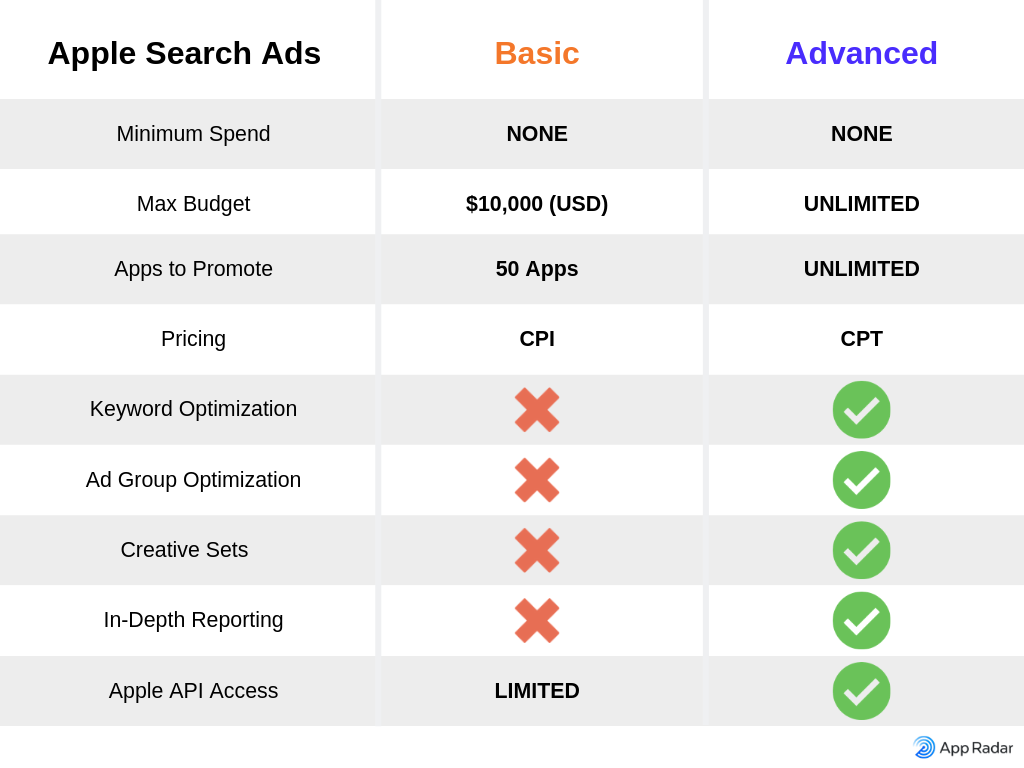 Let us help you take full advantage of Apple Search Ads.
Contact App Radar Experts Now