What You Have to Know About App Title & Description in Google Play Store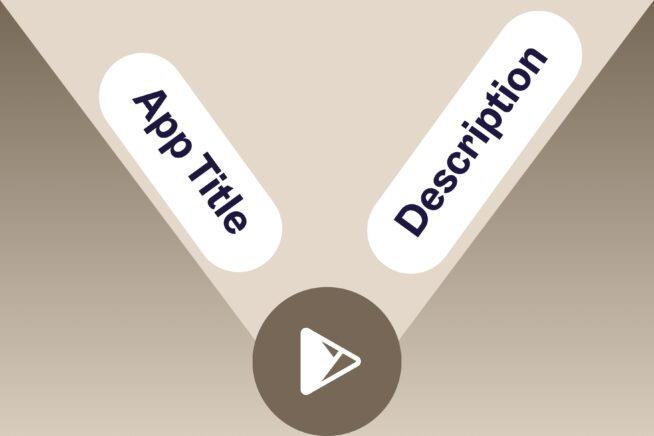 When it comes to selling a mobile app in the Google Play Store, there are many strategies to follow. One you definitely need to know is App Store Optimization (ASO).
What's that? App Store Optimization basically describes the process of improving your app's visibility in mobile app stores. In concrete that means you are trying to improve your app's position in top charts and search result rankings by optimizing certain elements on and off your store listing / app store page. That involves the optimization of your app name, app descriptions, app page visuals and some more.
Since most ASO blogs concentrate on keyword research only, we decided to write this article dealing with further essential subjects influencing app visibility. So, if you are looking for concrete hands-on tips on how to optimize your store listing for Google Play, you're certainly at the right place.
Side-Note: This article gets regularly updated and includes the latest Google Play Store changes.
No time to read the whole article? - Get yourself the free Infographic Guide for writing the perfect App Title and Description in Google Play Store!
How your app is ranked in Google Play Store
Search Queries in Google Play Store are the most common way, how users find relevant android apps. In order to be displayed in a search result, Google needs to consider your app as relevant to a certain user query. When you wish to be displayed in the Top Charts also, you will need some additional tons of downloads. To make all this sorting possible, Google developed an appropriate app ranking algorithm for the Play Store.
Although we do not know 100% of the ranking algorithm, there are some aspects, that definitely play an important role in Google Play Store search rankings.
App Title
App Description
Reviews & Ratings
Installs
App Statistics (installs, uninstalls, long installs, engagement)
Also, according to Ankit Jain, former Head of Search & Discovery for Google Play, the app title is the most important piece of metadata used by Google Play's ranking algorithm. Therefore, app developers and marketers should not underestimate the importance of app titles.

Dive Deeper:
App Screenshots: Creating Android App Screenshots for Google Play
App Icon: Designing Android App Icon for Google Play
Get Your Android App Featured in Google Play: The How To Guide

How to find the perfect App Title
We now know, the title of an app is one of the most important factors in search ranking. Let's consider what you have to keep in mind when you are about to create an app title for your app in the Google Play Store.
The title of your app should be unique and creative, yet clear and short. – Yes, that's a challenge. Since the search ranking algorithm of Google Play Store handles the app title as important metadata, you should make sure, it contains one to three of the most relevant keywords describing your app's purpose or content.
Make sure to stay focused and to not stuff all your keywords into the title. Keep your app name readable for the users. Consider, that long app titles may get truncated on smaller devices. Mind that there is a character limitation for app titles on Google Play Store.
Note: Since 29th of September, 2021 Google Play Store reduced the app title to 30 characters (instead of 50).
While creating your title, try not to think like an app owner but a user. Make sure the title represents the main message and brand name of your app.
Free Infographic Overview: The anatomy of a perfect app title. What you should keep in mind.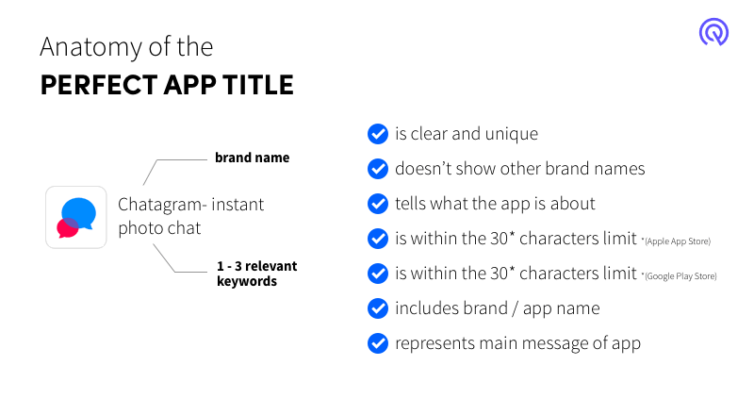 For further app title tips, guidelines and examples visit our free ASO Guide.
How to write the perfect App Description
Before writing an app description, it can be useful to take user's perspective. Think about which aspects you would be interested in if you were a user searching for this kind of app.
In Google Play, the app description is split into two fields:
Short Description, a limited 80 characters preview field and
the Full Description field, giving you space for an up to 4000 characters long app description
The short description field should transport the most relevant message of your app in a nutshell. It should give users a quick impact of what your app is about, without having to click on "read more".
Note: Android users tend to make purchasing decisions very quickly. Make sure, the crucial facts and best arguments about your app are clear and visible above the fold.
Since Google's app store algorithm considers your short description as an important piece of app information, make sure to include your most relevant keywords in there. The short description and first paragraph of the full description have the power to not only influence conversions but keyword rankings.
SEE ALSO: Researching App Keywords
When it comes to writing a full description, make sure to highlight the features and functionality of your app within 3 to 4 concise attention-grabbing paragraphs. Ideally, the full description includes a shortlist of main features so that users can see what makes your app unique just at a glance.
It's also best practice to add your contact or support address for active users at the end of the description. This lets users find all necessary information about your app on one a single store listing.
Free Infographic: The anatomy of a perfect app title. What you should keep in mind.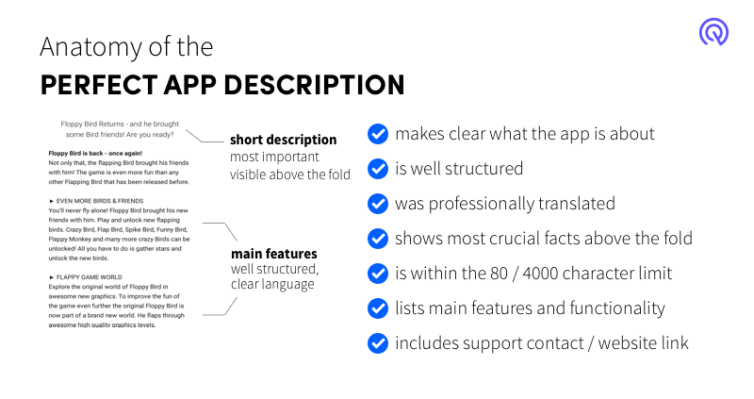 Google Play Store Meta-Data Character Limitation
When publishing an app in Google Play Store, the owner has to provide some specific information about his app. This information fields like app title, description, or update texts (summed up with the term meta-data) have got some character limitation.
As this may cause some confusion and can change quickly, we decided to provide you with a practical overview of character limits for most important metadata fields in the Google Play Console.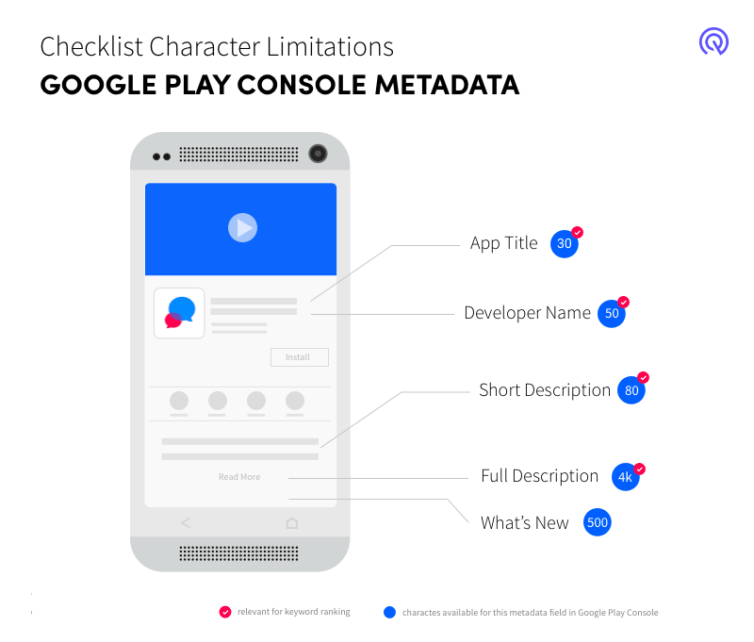 Dive Deeper:
How to Reply to Google Play Reviews
App Title: Writing Android App Titles that Drive Downloads
App Promo Video: How to Create a Great Promo Video for Google Play
How to fast-track App Store Optimization in Google Play Store
We know this is a lot of information and doing ASO regularly for multiple apps is a tricky and complex process. This is why we've developed our unique App Radar App Management & ASO Tool.
App Radar is an online tool that helps app and mobile game developers in making their apps more visible within the app stores. It's not enough to optimize your apps for search. You need to know if your users can actually find your app! This is a job, App Radar can easily do for you.
App Radar serves you with accurate and localized app store ranking data to show you if your app can be found by potential users.
Since App Radar provides you a direct integration into the leading app stores, the tool enables you to achieve the greatest success through ASO as fast as possible.
The best part? The App Radar ASO Tool is totally free.
Grow Your Apps with Less Effort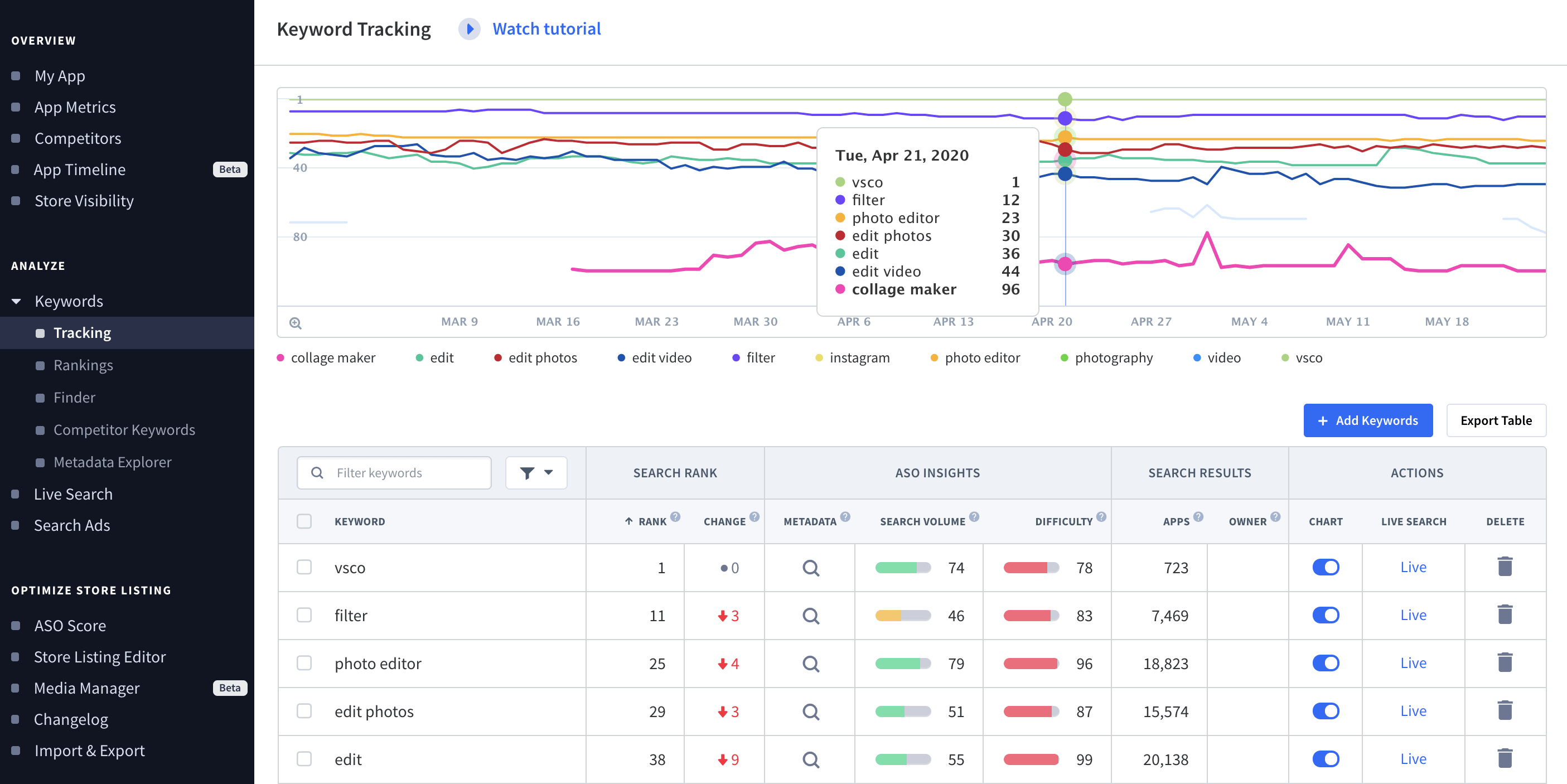 Find new keywords. Optimize all localizations. Spy on competitors. Track ASO changes.
Create a Free Account