Google App Campaigns
How to launch Google App Install Campaigns?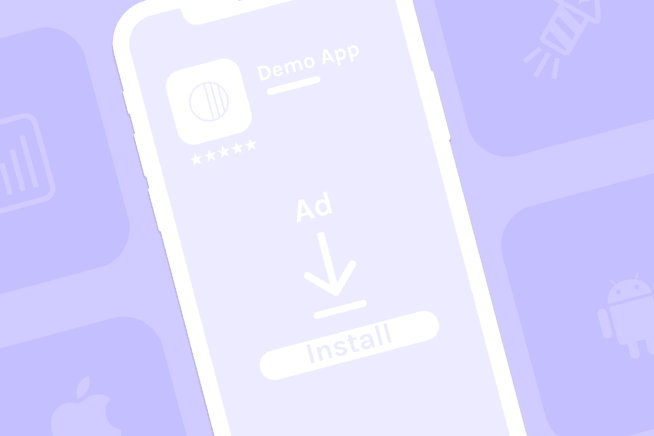 App Install Campaign is one of the three possible campaign types you can run with Google Ads. The name - App Install Campaign, is straightforward enough and focuses on increasing your app installs.
However, not everything is so clear when setting up an install campaign. In this article, we uncover the most important specifications about App Install Campaigns that will help you to avoid wasting money on wrongly set ads. You will learn about bidding strategies, types of ads, and how to create an app install campaign to boost your paid user acquisition.
What are Google app install campaigns?
Google App Install Campaigns enable you to encourage potential users to install your app by running ads on Google-owned channels. If your ads campaign focuses on getting the largest number of new users, then app install ads are right for you.
With Google App Install Ads, you can advertise apps developed for Android and iOS platforms. The ads will be placed around Google's inventory and linked to your app's listing on Google Play or Apple App Store.
Expert tip: Before running ad campaigns, make sure you have a well-optimized app store listing. Learn more about the power of combined ASO & paid UA.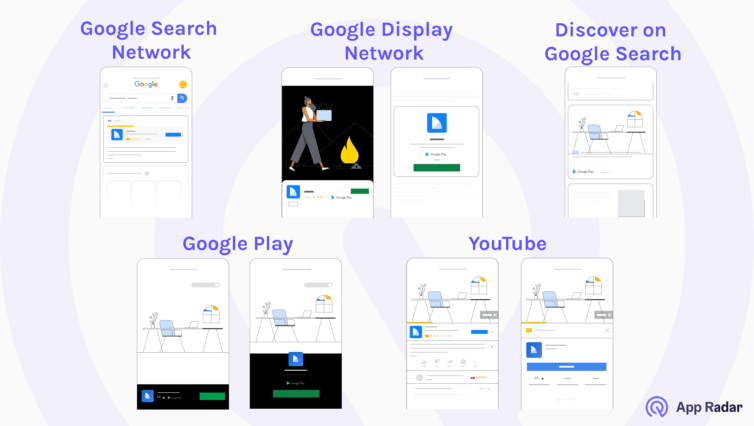 Google automates your targeting and bidding to help you get the best value from each download. Here are three fundamental reasons why you should run a Google app install campaign:
Google automates creating your ads and runs A/B testing automatically.
Google App Install Campaigns are more cost-effective than most other app installs options.
Your ad can be shown in millions of places around the web.
Bidding strategies for Google app install campaigns
When setting up a Google App Install Campaign, your main focus is to increase your app installs. Google App Campaigns have two options for your app install bidding strategies:
Set a target CPI - you can choose how much you're willing to pay for a new user. In other words, you are telling Google how much you would like to spend per app install. It is recommended to set the average daily budget at 50X tCPI. For example, if tCPI is 10€, then the budget should be 500€ per day. Of course, you can play around with the budget but 50X tCPI is considered to be the most winning option.
Maximize conversion campaign - you can rely on Google settings and allow the system to set bids automatically. In other words, Google will define the highest install volume at scale for the given campaign's budget. However, if you have a small budget, maximizing conversion per campaign might not be the best option for you. Google can define the optimal bid per conversion that can be higher than your budget. As a result, you might not be able to get any conversion. It is up to you to choose which bidding strategy to go further with, but keep in mind your campaign budget.
Types of app install ads and where they can appear
One of the biggest advantages of Google Ads is that your ad can appear on different Google-owned channels. In other words, you just need to set up the app install campaign, and then Google will automatically run a test on different channels. Once the algorithm learns where your ad performs better, your ads will appear more often on those specific channels.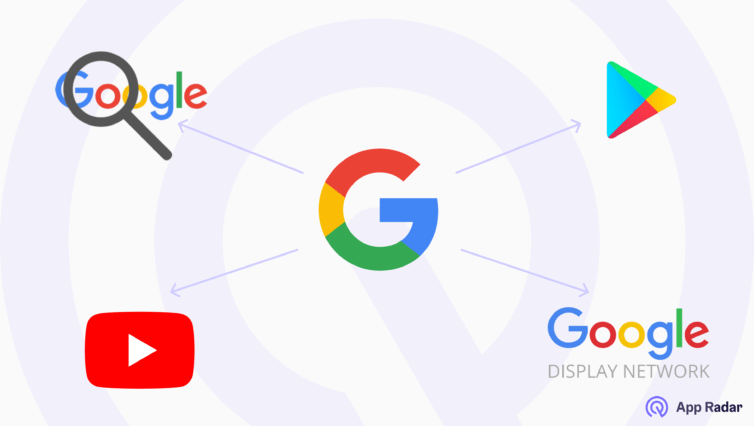 Here is the most important information you need to know about App Install Campaigns on different Google-owned platforms:
Google Search Network: to show your app ad on Search Network, Google's algorithm needs to match search terms to your app's relevant keywords or category. In other words, Google considers a lot of successful keywords from Search Engine and Google Play that led users to download your app in the past. Based on this data, Search Network will show your ad every time the search term meets selected keywords by Google.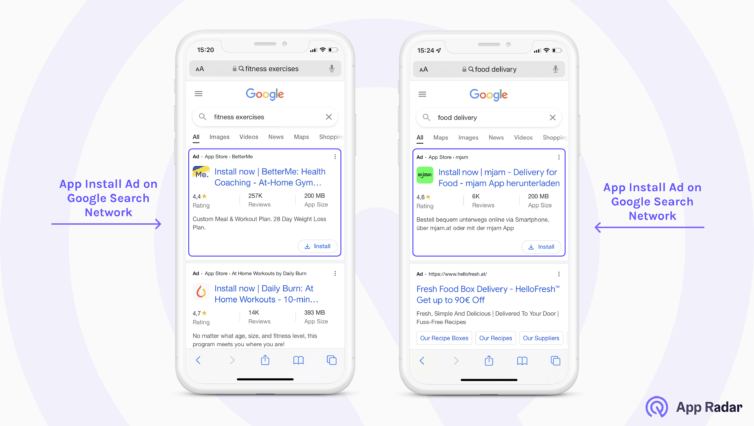 Google Play: the same algorithm applies to showing your app ad on Google Play. However, ads can also appear to people checking your app competitor's listing or just similar apps. It gives you a lot of advantages as a potential user already has a high download intent while browsing the app marketplace.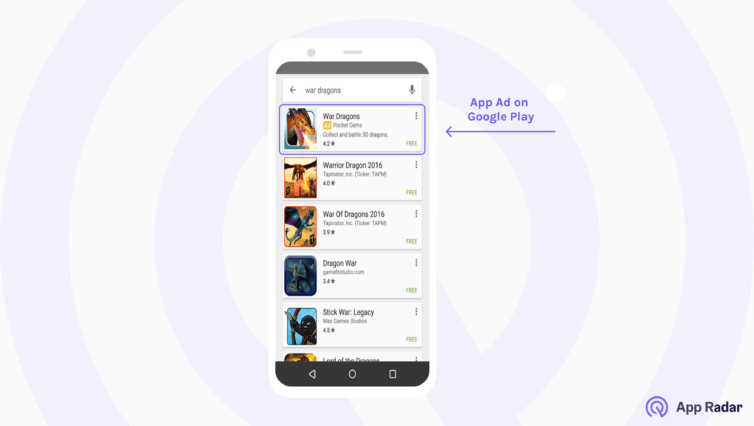 YouTube: your app install ads can also be shown on YouTube. This channel is considered one of the most effective for app install ads. Your ad might be displayed before or during the YouTube video. According to Google, ads can include a video from a YouTube link, text, app icon, and app store text and appear on the YouTube app on Android devices.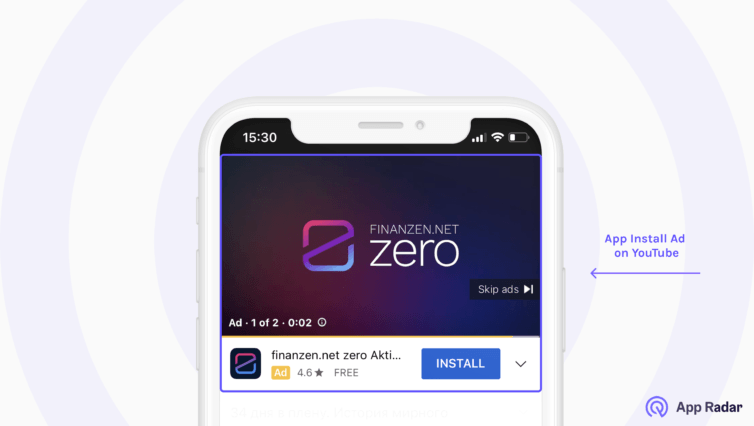 Google Display Network: app installs ads can also appear on more than 2 million websites, videos, and apps in the so-called Google Display Network. An ad can include your app icon, app name, custom text, and a custom image or video and link to a Play store listing, where people can download your app or sign up to be notified when the app is available.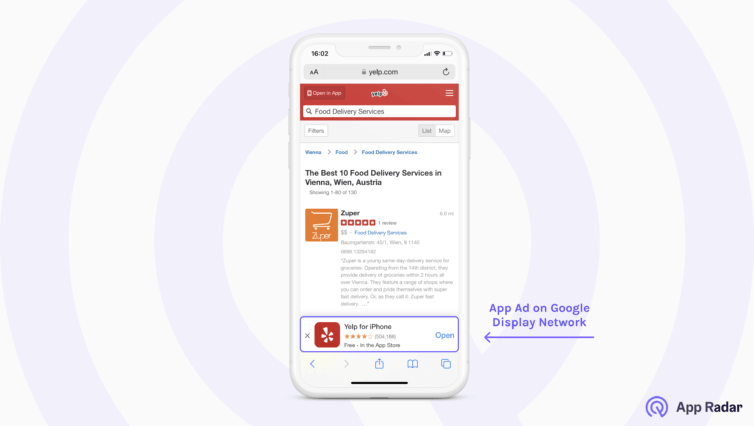 Discover on Google Search: your app installs ads can now appear on Discover on Google Search. This channel is currently available only on Android phones in English.
Requirements for Google App Install Campaigns
One of the main requirements for app install campaigns is providing a set of high-quality creative assets. Keep in mind that Google will automatically mix provided assets to create ads for your app. Here is a summary of creative content that you need to add to your Google App Install Campaign:
Text (header & description) - you need to be sure that the header and description make sense on their own and in combination with each other.
Images - you need to upload at least one landscape and one portrait image. Square format is also allowed but not necessary. Your images should be attractive to your target audience and represent your app branding.
Videos - you need to upload at least one landscape and one portrait video. Square format is also allowed but not necessary. Your uploaded video must be hosted on YouTube.
HTML5 assets - it is not obligatory to upload HTML5 files, only where it's relevant. You can upload landscape and portrait interstitials. Remember that HTML5 assets should be uploaded as .zip files with a maximum size of 1 MB and no more than 40 files.
Also, provide a starting bid and budget for your campaign. You have the option to choose the languages and locations for your ads. However, remember that Google Ads Campaign doesn't translate your ads. It means that you should only target languages that match your ads.
For more information, check the detailed list of Google App Campaign requirements for creative assets.
How to create Google App Install Campaign
To set up a Google App Install Campaign, log in to your Google Account and create a New Campaign by clicking on the "+" icon.
Choose the objective of a campaign by selecting App promotion.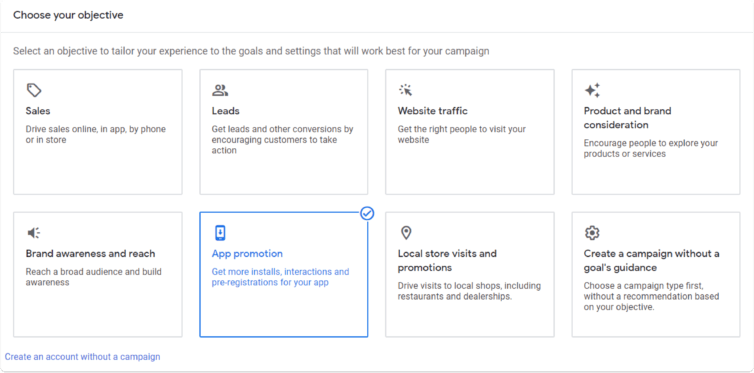 Going down on the page to select a campaign subtype, in this case, you need to select App Installs.

As mentioned above, you can have the possibility to run Google App Campaigns for Android and iOS. So, the next step is to select the mobile app's platform and look up your app. You can search for your app by app name, package name, or publisher. Once you have found your app, you can continue to the next setup page.

Insert the campaign name to differentiate it from other running campaigns in your Google Ads account.

Now you can choose the location where your app will appear. Here you can go into more details with location targeting. There is an option to select a country, city, and a radius for showing your ads. By default, your ads will be shown to people in, regularly in, or who've shown interest in your targeted locations. But you can limit the location type if you go to Location options. You have two more options available here on how to target the selected location:
Presence: People in or regularly in your targeted locations
Search interest: People searching for your targeted locations
Important to highlight that Google Ads only show in countries where your app is available to download.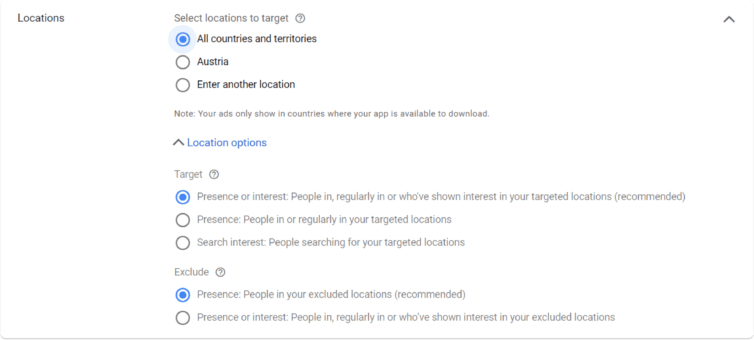 After setting up the targeting location for your ads, select the language your potential users speak. The system will also suggest the language automatically based on your selected location. You can select multiple languages, which might help you reach people who speak more than one language.

And now, finally, you are coming to the budgeting and bidding. Here you will need to set up your average daily budget and choose a bidding strategy. As was mentioned above, you have two options to set up your bids:
Target CPI
Maximize conversion campaign
If you want to go with target CPI, you need to tick 'set a target cost per install,' and you can define the cost per install.
You don't need to tick 'set a target cost per install' for the maximize conversion campaign. Only define an average daily budget, and Google will automatically find an optimal bid.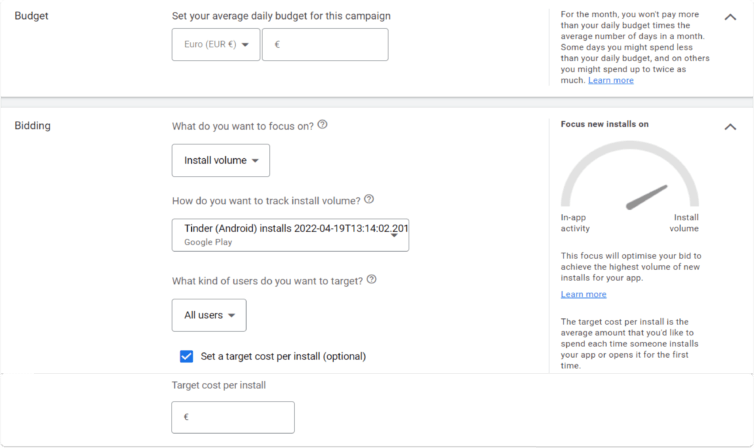 The next step is to set up the campaign timeframe. After setting up the timeframe, you need to save your settings and continue to the next page.
On the next page, you need to name this ad group. We recommend making Ad groups by 'Themes.' For example, you can separate them by different subjects or USPs.
Finally, we come to the creative part of creating an App Install Ad. You need to add your creative assets:
Headlines (up to 5)
Descriptions (up to 5)
Images (up to 20)
Videos (up to 20)
HTML5 (if relevant/ up to 20)
Remember that you need to provide high-quality assets. All other work Google will do automatically to create different variations of ads.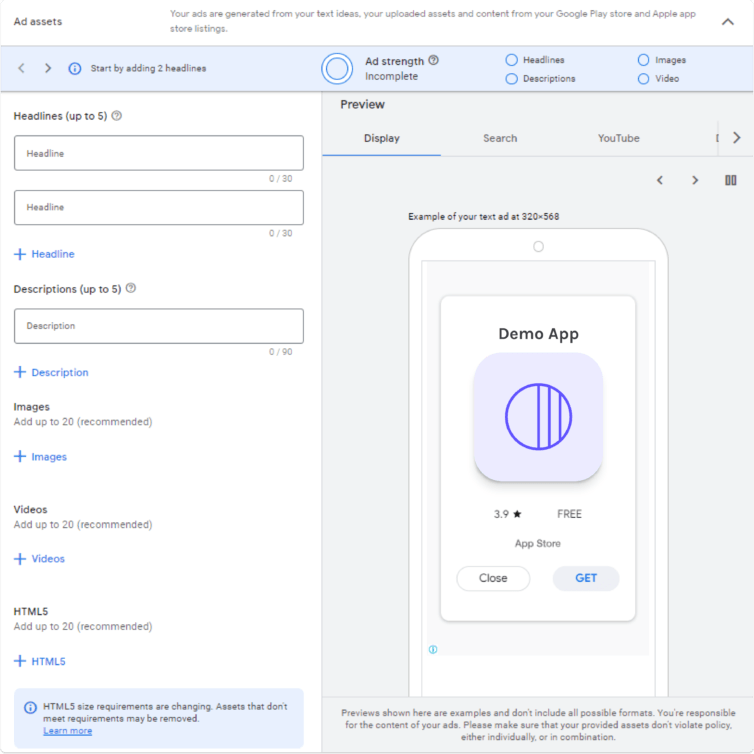 The final step is to set up billing information, and your App Install Campaign is ready to go live.
Sum up - things to remember about app install campaigns
Google App Install Campaigns are one of the most effective ways to increase app user acquisition. Google algorithms learn quite fast and adjust ads according to human search intent.
We recommend considering the following steps before setting up your app install campaign:
Make sure your app store listing is well-optimized. App Store Optimization builds the base for successful paid user acquisition campaigns. Remember, that user will land on your app store listing and if it is not convinced enough, you are risking wasting your money on the ads.
Prepare a set of high-quality creative assets. You need to provide Google with different variations of creatives, so the algorithm will mix it up and find the most winning combinations. If your creative assets are of poor quality or messages are not convincing, you might have trouble with one of the top stages of the funnel.
Mind your campaign budget. Consider carefully with which bidding strategy you would like to go. You have two options: set a target CPI and maximize the conversion campaign. With the first one, it's recommended to have an average daily budget of 50X tCPI. The maximized campaign is a good option for a learning phase when you are unsure how much you should take as target CPI. You control the spending via a daily budget and let Google find a fitting target CPI. So you are not limiting the algorithm and controlling it via daily spending.
Now that you know all the details about Google App Install Campaigns, you can try it yourself. You can connect your Google Ads account to the App Radar tool to easily analyze the performance of your ads.
The final step is to set up billing information, and your App Install Campaign is ready to go live.
Boost your organic & paid mobile user acquisition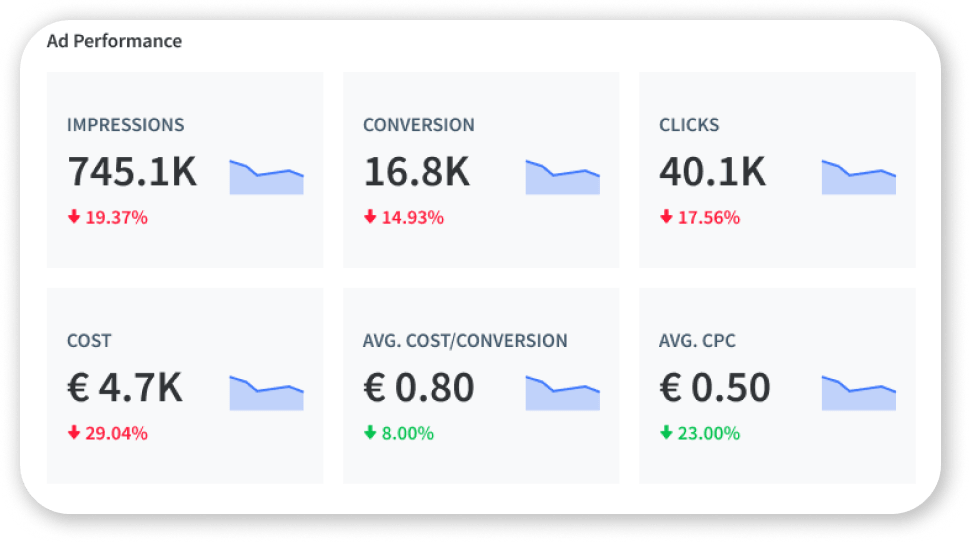 Connect your Google Ads account to App Radar and keep track of your important ad metrics.
Start Free Trial