Google App Campaigns
Complete guide to Google App Campaigns ad formats and assets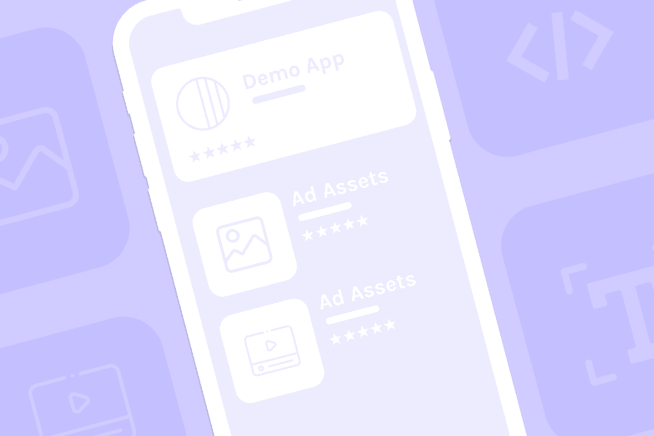 Google App Campaigns run through various channels and show ads that are automatically combined with different creative assets. As an app marketer or developer, you can upload your assets, and Google automatically matches them to create the best-performing ads. Let's dive deeper into the assets' types, requirements, and best practices.
Type of creative assets for Google App Campaigns
To create an ad for your app campaign, you need to provide a set of creative assets. Google will then automatically generate ads based on provided assets. In other words, you only provide elements of the ad, but Google takes care of putting them together in different variations and showing them on various channels.
There are three required creative types that you need to provide:
Text (headline & description)
Images
Videos
You can also add HTML5 assets, although it is not obligatory, only where it's relevant.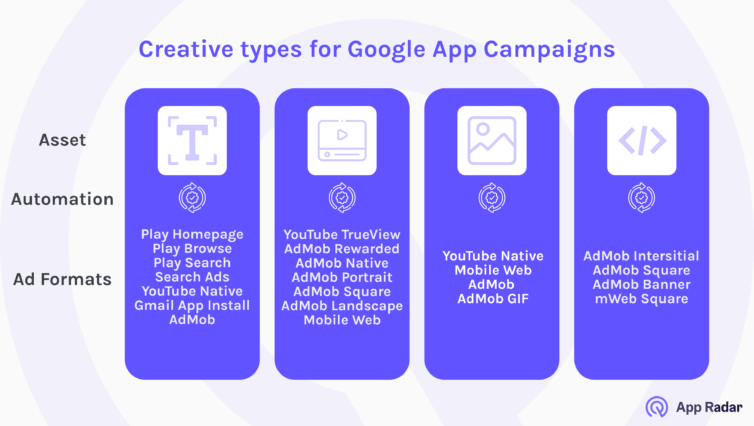 If you don't have videos to add, Google Ads may make a video ad for you using assets from your app store listing. Google can retrieve creative assets from your app listing on Play Store or App Store. According to Google, it ensures that users get a great experience from your ad, no matter when or where they see it. Therefore, always make sure that your app store listing is well-optimized.
Ad asset requirements for Google App Campaigns
Independently of what Google App Campaign you are setting up, you need to provide a set of ad assets that meets Google requirements. Here is the list of detailed creative assets for setting up Google App Campaigns.
Type of asset
Clarification
Quantity
Requirements
Notice
Text
Headline
Up to 5
Max. 30 characters for each
Make sure your heading text has value without description. It should make sense as an independent text and combined with other text (description).
Description
Up to 5
Max. 90 characters for each
Make sure your description text has value without heading. It should make sense as an independent text and combined with other text (heading).
Images
1:1
Up to 20 images in total in different orientations
200 x 200 / 1200 x 1200
Upload images as .jpg or .png with a maximum size of 5MB
1.91:1
At least one
600 x 314 / 1200 x 628
4:5
At least one
320 x 400 / 1200 x 1500
Videos
Square video
Up to 20 videos in total in different orientation
No specific requirements. Keep in mind that the maximum number of videos is 20 in total.
Videos must be hosted on YouTube.
Portrait video
At least one
Landscape video
At least one
HTML5
Landscape interstitial
Up to 20 HTML5 in total in different orientations
480x320
Upload HTML5 as .zip with a maximum size of 1MB and no more than 40 files. To validate your HTML5 assets before uploading, run your .zip file through the HTML5 Validator tool.
Portrait interstitial
320x480
Remember that you can choose the languages and locations for your ads. However, Google Ads Campaign doesn't translate your ads. It means that you should only target languages that match your ads.
Expert Tip: It takes some time to create high-quality assets initially; it might be a pity to waste ads budget on the campaigns with low-quality creatives.
Best practices for Google app campaigns ad assets
The best performing Google App Ads are usually the ones that meet the general ad guidelines. It's not written in stone that your ads will perform well by following the general guideline. However, here are some basic rules that you need to follow to provide high-quality creative assets and increase the chances of getting the attention of your target audience:
Align your creative assets with the app's brand style guide.
Make sure your ads reflect your app's brand voice and style. Headline and description should speak the same way you communicate with your users. You don't want to attract the wrong audience and lose it later.
Getting creative is a part of advertising, but keep in mind that your app brand should be recognizable. Therefore, use your brand color palette or elements of branding.
Align your creative assets with the app campaign goal.
Each app campaign should have a specific goal. Whether you would like to increase app downloads or increase in-app purchases, your creative assets should reflect the purpose of your campaign. For example, if your goal is to increase app downloads and run an app install campaign, it makes sense to have ad headings' Download now' or 'Play now.'
Align your creative assets with the respective ad group's theme.
Ad groups allow the grouping of creative assets by a specific theme. For example, you can group your creatives by a particular app feature, message, or user demographic. It helps differentiate your ad's themes and target a more specific audience. For example, you can upload yoga-themed creatives in one ad group and pilates-themed creatives in another to target different sport-type lovers of your fitness app.
Upload as many creative assets as possible.
Depending on the creative asset, Google allows uploading up to 20 assets. It will enable you to create more ads that resonate with different audiences. However, quality should always be a better priority than quantity.
While uploading your assets to Google App Campaign, look at Ad Strength's prompts. It gives you an overview of your ad strength.

Regularly check your asset performance
Once you upload your ad creatives to your campaign, they will have a 'Learning' status, which means that Google is testing them and mixing them up to create the most winning combinations. After the 'learning' status is over, Google will rank your assets with 'Low,' 'Good,' or 'Best.' You can replace 'low assets' with more similar to the 'best assets.' You can also add more assets that reflect the 'best' practice asset if you still didn't reach the maximum permitted number of assets.
Now let's have a look at each of the assets more carefully.
Recommendations for Google App Campaign text assets
As you already know, Google automatically mixes the assets to create ads. Therefore, all your ad assets should have value by themselves and in combination with other assets. The value creation applies especially to your ad text. Think carefully about your headline and description text, and try to combine different options between themselves. Before uploading text to Google App Campaigns, make sure all text combinations will have a substantial value. Here are some examples of 'good' and 'bad' text assets:
Headline
Description
Combination of headline and description
Good Example
Download Now
Get Exciting Offers for In-Game Purchase
Download Now
Get Exciting Offers for In-Game Purchase
Bad Example
Download Now And Get
Your First Order Free If Your Order in First 7 Days
Download Now
And Get Your First Order Free If Your Order in the First 7 Days
According to Google guidelines, your text assets could be rejected because of the following reasons:
Sensationalism, including excessive exclamation points (for example, "You'll never believe what happens next" )
Emojis
Punctuation or symbols that are not in line with their intended purpose (for example, "@home" to mean "at home")
Improper capitalization (for example, "SALE, S.A.L.E., SaLe")
Improper spacing (for example, "Sell, buy sneakers," "S N E A K E R S")
Improper grammar
Recommendations for Google App Campaign image assets
The main suggestion regarding image assets is to provide high-quality images. In other words, your photos should have high pixel density. It will ensure that images will be rendered properly and displayed correctly on different resolution screens.
Important to highlight that Google Ads will disapprove images if the word "Download" or "Install" is superimposed. Also, Google claims that images should avoid visuals or text that entice the user to click via sensational or outrageous content.
Recommendations for Google App Campaign video assets
Besides the high quality of the videos, you should also pay attention to the app experience. Your videos should grab viewers' attention as soon as possible. Therefore long storytelling is not the best option for ad video. Try to show how your app looks from the user experience perspective. Moreover, test different video lengths between 15-30 seconds and see which ones perform best.
Try to test different video themes, styles, or subjects. You can reach a more specific target audience by theming up your videos. Remember that Google App Campaigns require providing videos that are hosted on YouTube. Therefore, upload your ad videos to YouTube first and add the link in your app campaign settings.
Recommendations for Google App Campaign HTML5 assets
HTML5's assets are more complicated in terms of creation. That's why Google doesn't include this asset as a requirement. However, you can try it out as it will diversify your creative assets and create more opportunities for your ad performance. Moreover, users usually don't expect the ad to be interactive, therefore, provide some short instructions before users can experience an interaction ad.
Since HTML5 is an interactive asset, you need to consider different types of mobile devices when designing interactive experiences for users. Depending on your HTML5 theme, you can include the following mechanics: tap, swipe, drag and drop, pinch to zoom and shake.
Also, the app logo and CTA should be included in HTML5. Google is highly recommended to position both next to each other on the top bar.
Asset reporting for Google App Campaigns
Once you have set up a Google App Campaign, you can track the performance of each creative asset. The navigation menu on the top can access the asset performance report, click All campaigns, and then select App campaigns. Then in the page menu, click Ad groups and choose the ad group you would like to review.

Google rates your asset's performance compared to the other assets of the same type across all your campaigns. Here are the ratings that you can see on your asset reporting dashboard:
"Learning" means the system is still reviewing the asset's performance. In other words, Google didn't have enough traffic to this asset to evaluate its performance. Once the asset gets sufficient traffic, the rating status will be changed.
"Low" means that the asset is one of the lowest-performing relative to other assets of its type. You can replace such assets with new ones.
"Good" means the asset is performing well. Try to identify the patterns in 'good' performing assets and the difference between 'good' and 'best .' Once you see what works the best, you can try to replace 'good' performing assets to improve your overall performance.
"Best" means the asset is one of the best performing relative to other assets of its type. As mentioned before, identify the winning patterns and try to replace lower performance assets with winning designs.
"Unrated" means the system cannot rank performance because of a limited number of assets.
It is recommended to regularly check the ad asset reporting to adjust and improve your ad performance.
Final words
Google App Campaign's ad assets are one of the essential elements of a successful ad campaign. Aim to provide the system with high-quality assets that have value independently and in different combinations. Also, always make sure that your assets meet technical requirements and follow the guidelines provided by Google.
Asset's analyzing is as vital as providing high-quality creatives. It gives you the possibility to adjust low-performing creatives without pausing the campaign. Try to identify why one asset performs better than another, and apply the same pattern to replace the low-performing asset.
Boost your organic & paid mobile user acquisition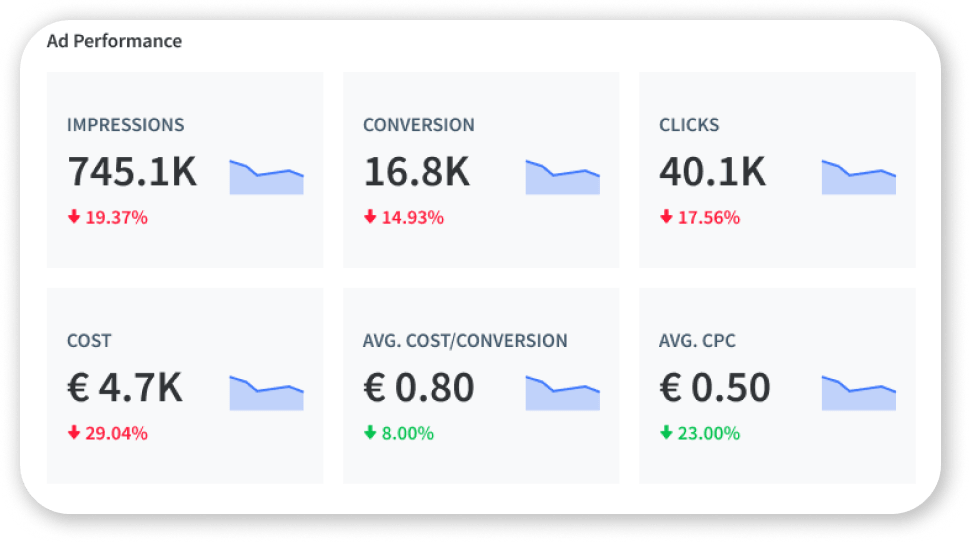 Connect your Google Ads account to App Radar and keep track of your important ad metrics.
Start Free Trial