Also known as: Meta Description, App Store Description, App Store Text, App Store Copy
The app description is part of meta-data field, which you have to fill in as an app owner when launching it in app stores. This meta-data provides users with structured information about your app. An app description thereby is a textual description of an app content and functionality that appears at its store page.Search Queries in Google Play Store are the most common way for users to find relevant Android apps.
In order to properly rank in search results, Google Play Store and Apple App Store (iTunes) have an appropriate app ranking algorithm implemented. The algorithm browses through app meta data such as app description or keyword field.
Importance of App Description in Google Play ASO
Your description is super relevant for Google Play. It is there that Google will find your keywords to index your app.
This does not mean that you need to force your keywords throughout the text. On the contrary, just use keywords naturally. Google's main target is the first few lines. They scan the whole description for keywords, but the ones in the short description and the first third are those considered more relevant.SEE ALSO:What You Have to Know About App Title & Description in Google Play Store

A plus for your description is the possibility of rich formatting. With basic HTML and special characters, you can organize your text in paragraphs and with bullet points in a way that it is easier to read and attractive to the user. In addition, there is the possibility of using emojis, which make your text even more friendly and invitational for your potential user.
Here is an example for a well-structured app description. They used HTML formatting and special characters to format the text for easy reading. Also, the used emojis fit the context of the text and app content.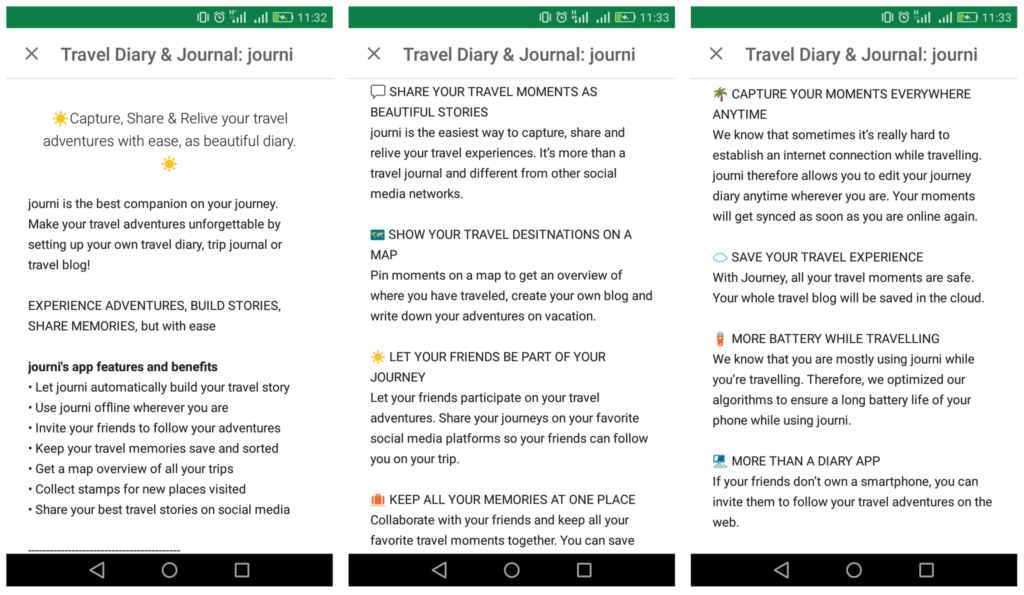 Importance of the App Description in Apple App Store ASO
iOS does not scan your text for keywords, mainly because by the time you post your app, you'll find a field to specify your keywords. This does not mean you should leave your description aside. Your description is an invitation for potential users to install your app.
Tip: Use the first paragraph (shown above the fold) to engage readers leading them to download your app.
Write the text in an easy way. This is not a Phd thesis. In other words, everyone should be able to easily read and understand your description. Make use of bullet points. It is friendly to fast reading. Start with the most important information of your app: the features. Do not forget to show how credible your app is by mentioning about awards and prizes. Social media or support links are also a plus.
When launching an app in App Store, you should keep in mind that the first 2-3 sentences above the fold are the most important part of your app description. This is what users can read without having to tap "…more".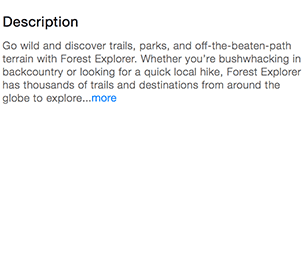 Different types of app descriptions: Short and Long Description
In both major app stores the app description field is limited to 4000 characters. The app description should transport the most relevant message of your app in a nutshell. Even though it is called "extended description", a text around 800 characters will do the job.
Make sure the most important facts about your app are clear and visible above the fold. Therefore, the short description field and first sentence of your description should give the user a quick impact of what your app is about. In some cases, also showing credentials can help to attract new users. Here are some examples.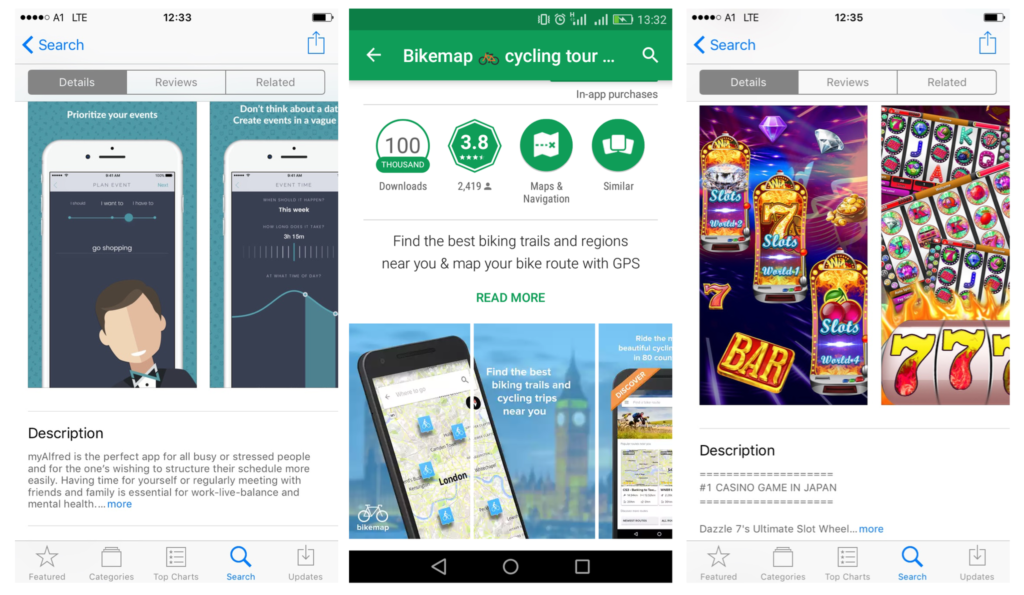 What makes an app description great
App Store Localization
When you do App Store Optimization like a Pro, Localization is one hack, you shouldn't miss out.
Localization means adapting your app and app store page / store listing elements like the app description to different languages and territories.
When you localize your app, you have more chances to be on the top of the rank in several countries. In addition, you are going to find out where your biggest audience is.
Do not forget that localizing your description, does not only mean translating it. It is adapting it to another language and culture. You can add app title, description and screenshots for different languages in App Store Connect (iTunes Connect) / Google Play Developer Console.
Tip: To make things easier, you can use App Radar to have one platform in order to publish in both stores and in several languages.
Good Structure and formatting
Through your description, you are telling a story, you are convincing your potential user. So, you need to build a script of what and how you want to pass this information to the users. Take use of the rich formatting and emojis at Google Play, and make your app friendly to your potential user.
Describe features and benefits
Do not just mention things; rather, explain what your features do; what the award and prizes are; why your client will benefit with your app. You could also mention short reviews that were positive to show credibility.
Include a call to action
Throughout the text, invite the user to download and experience your app. Talk straight with them, not as an order, but as an invitation. You do not need to wait until the end of the text to do that.
What you should avoid in your description
Force keywords in your text: they have to show up naturally. When it does not sound natural, it might compromise the credibility of your app, and the description might look sloppy.
Grammar and spelling mistakes: this can show a lack of care with your own product, and can also pass wrong information to your audience.
Using technical or too sophisticated vocabulary: even though your niche might be specific, remember that people are still different, and that the internet makes you available to everyone.
See also
Grow Your Apps with Less Effort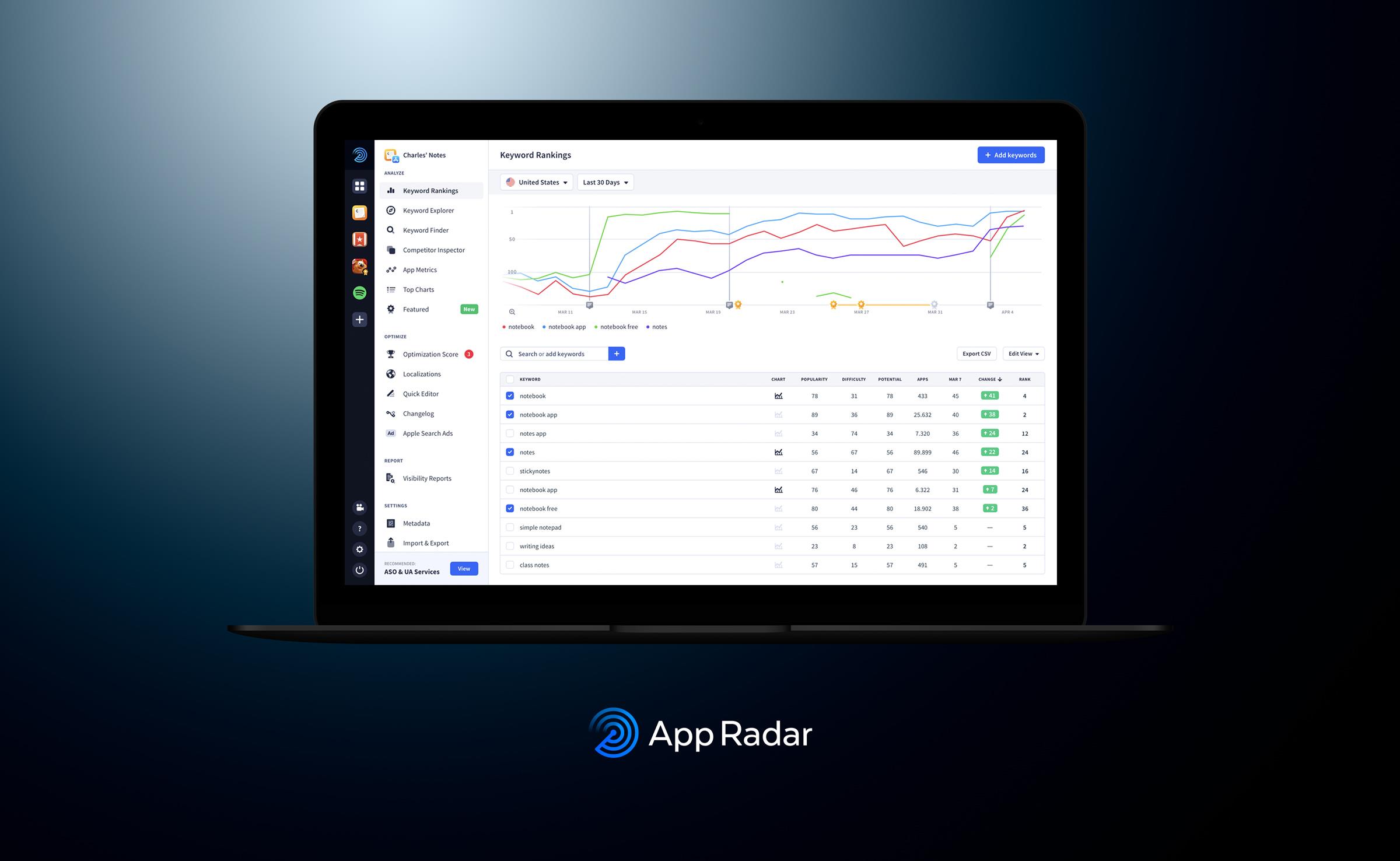 Find new keywords. Optimize all localizations. Spy on competitors. Track ASO changes.
Create a Free Account