How to Localize Your App and Reach a Global Audience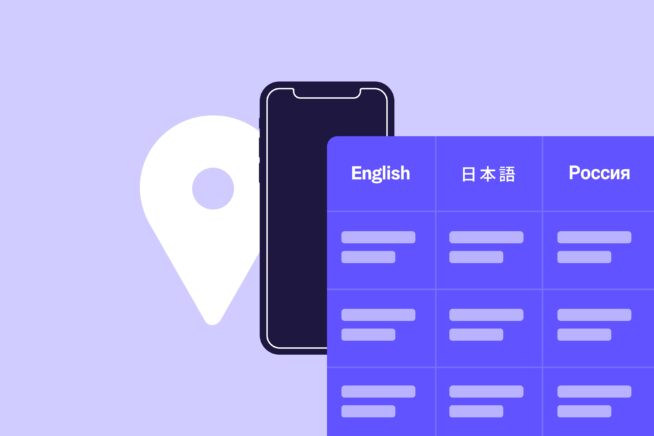 The world is more globally connected than ever before. Technological advances have enabled us to reach people in all corners of the Earth. So why not achieve global reach for your app? The process of expanding your app availability and making it appealing to various geographic audiences is called localization. At first glance, app localization may seem like it only involves translation. However, true localization dives much deeper than that. We're going to take a look at how you can successfully localize your app to reach a global audience.
What is a Locale?
In the mobile app industry, locales are basically the available storefronts that Apple App Store and Google Play Store support. They are a combination of territory and language. To better visualize this, I've attached the App Store locales supported by App Radar.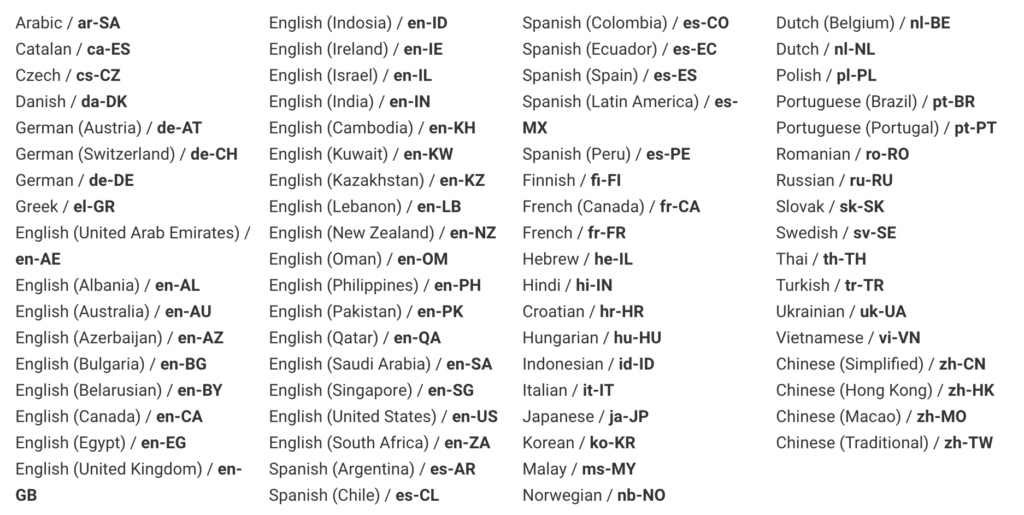 Notice how the locales include both territory and language. English is supported across many regions and this is reflected in the locale choices. One country can also have two different locales because they have more than one main language. Spain has Spanish and Catalan. Canada has English and French.
Why App Localization is Important
App localization is an extremely important factor in app growth. When you want your app to be downloadable worldwide, you'll need to consider localization. Of course, people around the world do not speak the same languages. That's obvious. But did you take a moment to consider that people from different countries and cultures also have different preferences when it comes to tone of voice or imagery?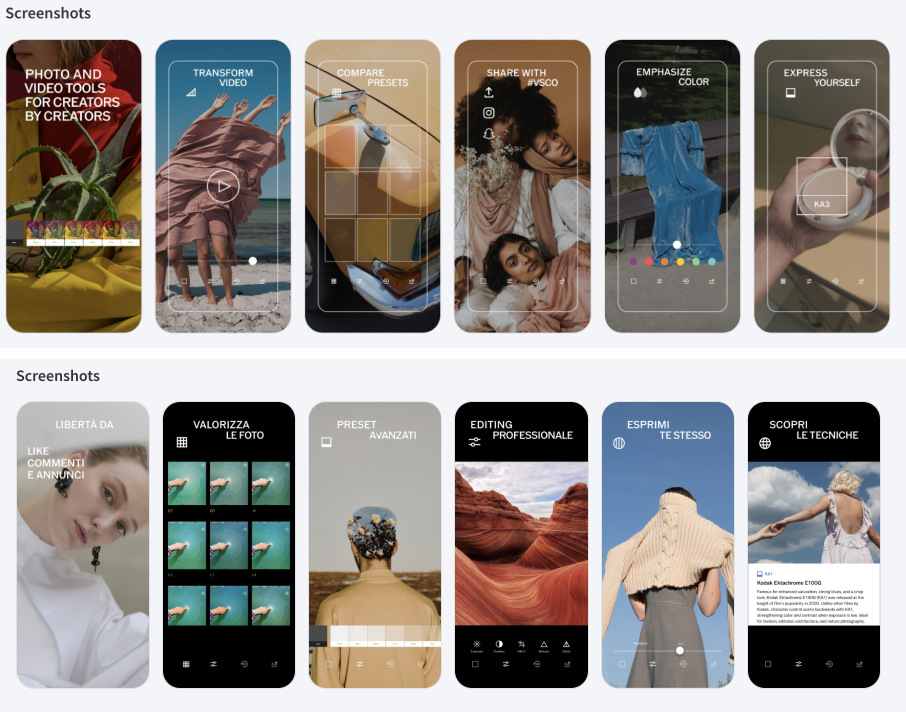 Localization enables you to not only make your app available in different languages. It also allows you to transform your app into a product that will be especially appealing to varying regional or cultural preferences.

When Should You Localize Your App?
App localization is not a simple process and needs to be done correctly in order to truly be a successful venture. When you're first launching your app, don't think too much about localization. That's because you want to test your app in a small market first. This market should always be the country that speaks your native language. For example, an app in French could launch in France, parts of Canada, Switzerland, etc. Once your app gains traction in your initial countries, then you can start planning your global expansion.
The screenshots below could belong to 3 different apps in 3 different countries. But, they're actually all screenshots from the popular photo editing app, Facetune 2. Facetune has made a large effort to design localized screenshots that will appeal to their geo-markets.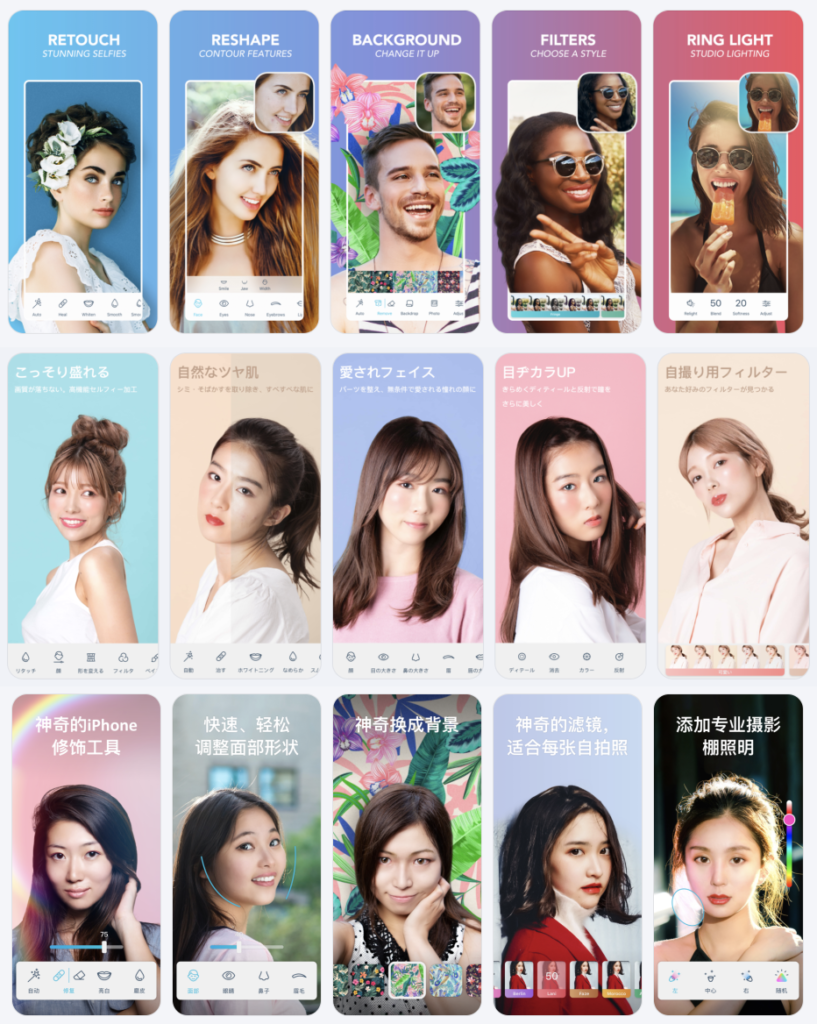 The countries you expand to, in the first round could be the ones that share the most similarities with your primary locale. If I had a German app that is available in Austria, Germany, and Switzerland, I may consider adding Italian for Italy, Spanish for Spain, and French for France next. These countries are geographically close to my primary locales. As a result, cultural norms and preferences may not differ too greatly and I won't have to change so much in my app.
The next step would be to really take your app global. Now you can think of adding countries and languages that aren't so similar to your primary locale. Using my example above, these could be Japanese, Mandarin, Arabic, etc.
How to Localize Your App
Ready to get started with app localization? Let's go through the steps that you need to take to get your app to go global.
Adding Locales for Apple App Store and Google Play Store
First, you need to add the locales you want to expand to. Go to the Store Listing Editor in App Radar. You'll see the locales that your app is already live for. To add a new locale, select the country drop down and scroll to your target market. Click on the "+" button to add the locale to your app.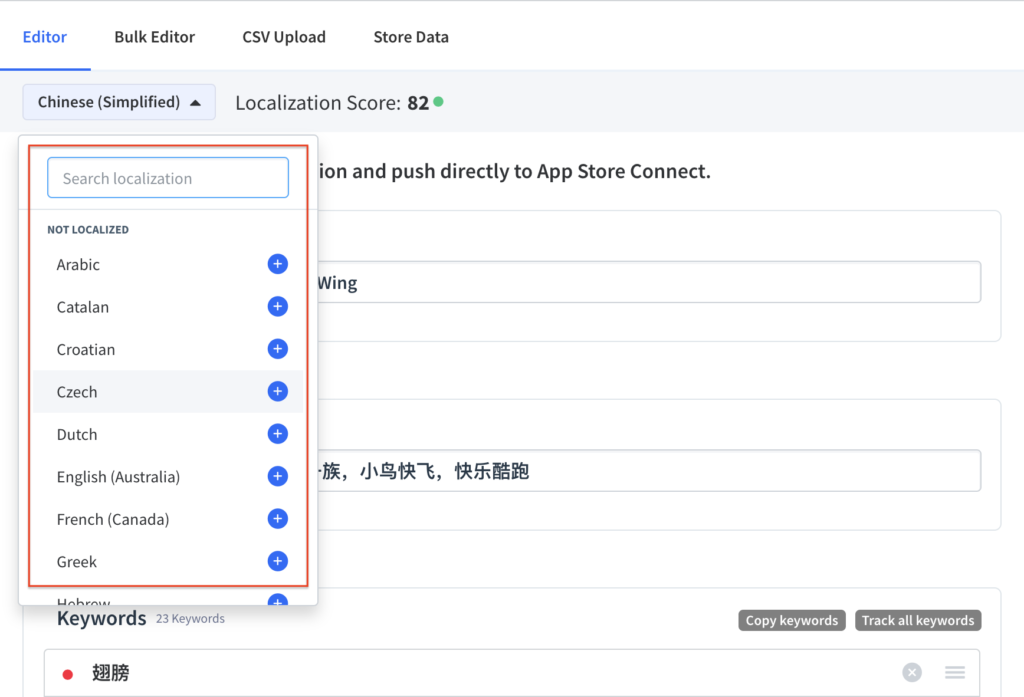 And that's it! Yes it's really that easy when you do it in App Radar. Try it today, create a free account.
Localizing App Information for Different Territories and Languages
Now we're at the hard part. You need to localize your app and app store listing. There are many third-party translators that you can partner with to get your app translated. For the app store listing, you can do the localization right in App Radar.
After you've added the new locale, you'll see that aside from your app name or title, the other metadata fields are empty.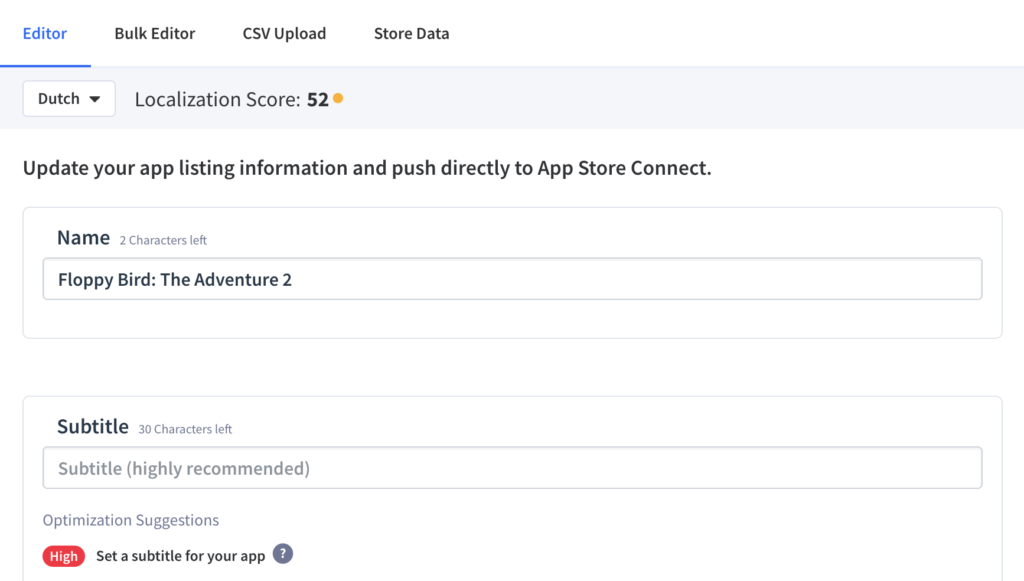 Here is where translations and identifying with regional preferences matter a lot. You'll want to completely translate your app name, subtitle, description, and keywords. Also don't forget your screenshots! The text in your screenshots have to be changed too.
If you don't localize your app information or app screenshots, Apple and Google will use the text and images you have in your primary locale. But, you want to avoid this default setting. That's because people are much more likely to download apps that are presented in their native language.
Finding App Keywords in Multiple Languages
One of the most essential parts of your global app success at this point is keywords. People who speak different languages and are from different countries will not have the same search behavior. They'll use colloquial language when searching in the app store. Make sure you consider regional preferences in language. For example, in the US pants are trousers. While in the UK pants are underwear. These small discrepancies can make a huge impact on your success in the global app stores.
To start, use the app Keyword Tracker and Keyword Finder to find new keywords for your added locales. With App Radar Keyword Auto-Translation button, you don't need to jump to third-party tools to translate keywords from unknown languages. That means translating every single word can be done just in one click. Remember that including relevant keywords in a local language increases not only your presence but also your conversion rates in each country.
Learn more how to do mobile app localization faster with the Keywords Auto-Translation magic button ✨.
You're Done!
Congratulations! You have now successfully added a new locale, localized the app information, and optimized it for local keywords. The next and final step is to publish the changes to App Store Connect and Google Play Console.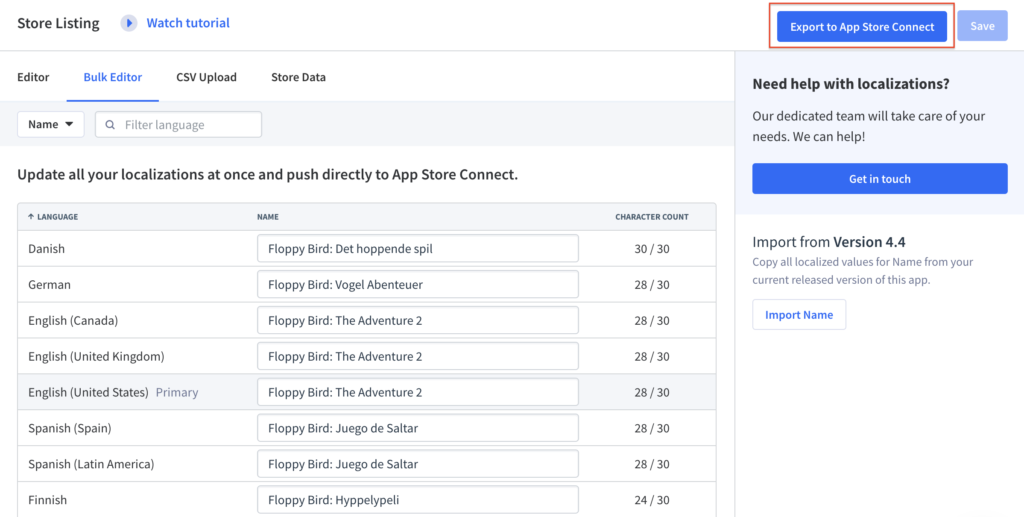 All you have to do in App Radar is press Export to App Store Connect or Export to Google Play Console. Then you can double check all the changes one more time in the respective dashboards and submit it for app review.
Publish Updates to App Store and Google Play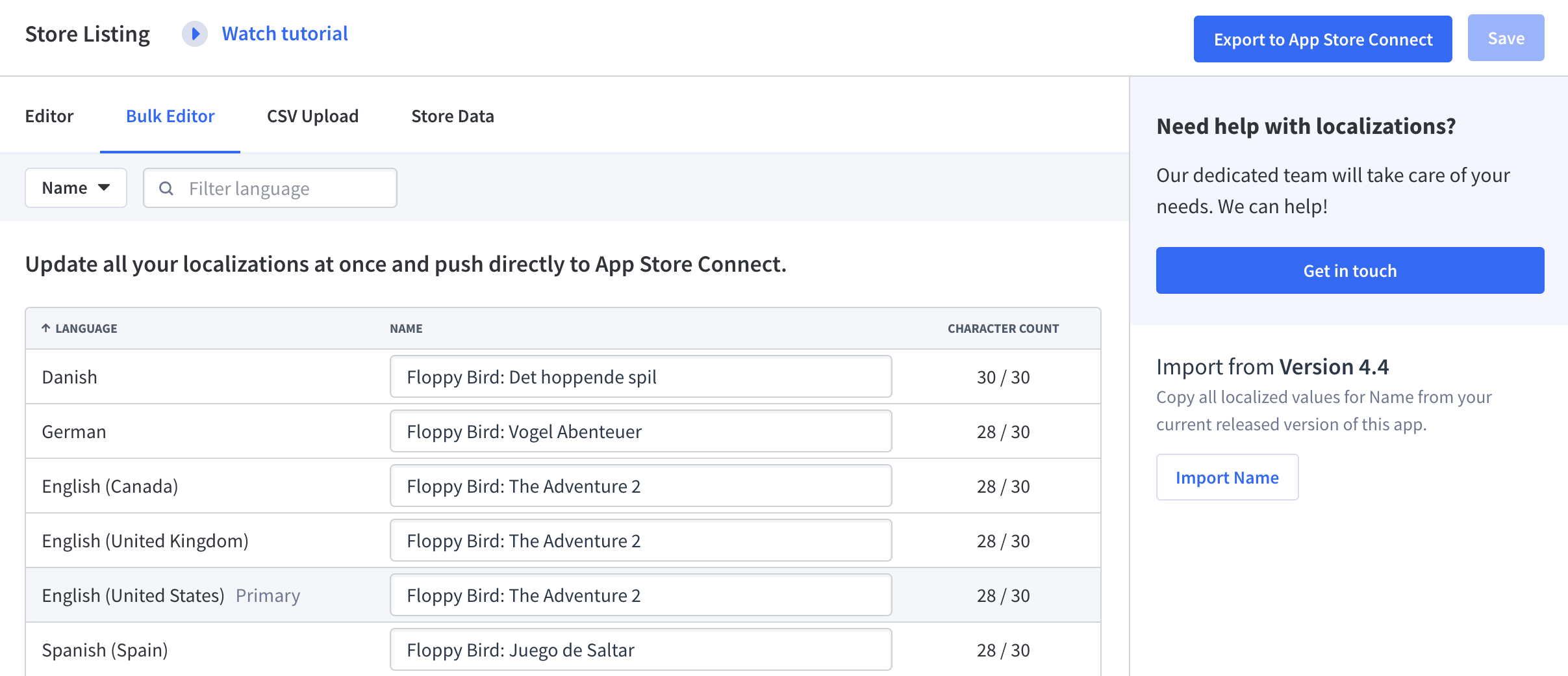 Make changes to your app store listing and localizations. Publish the changes from App Radar directly to App Store Connect and Google Play Console.
Create a Free Account