Grow Mobile User Acquisition with App Radar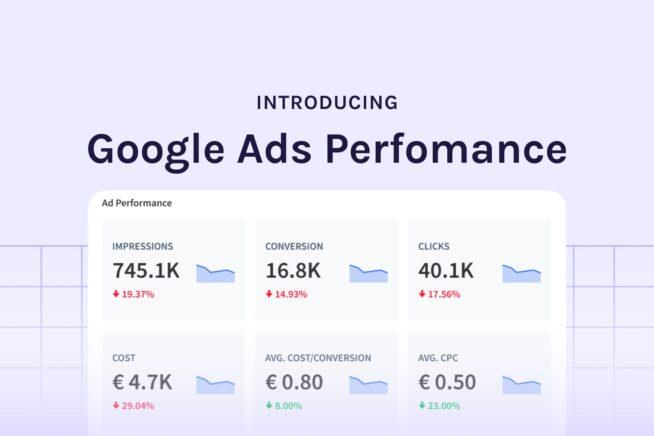 The days of pure organic growth are over. To stay competitive in the extensive app marketing landscape, you need to power up your User Acquisition (UA) strategy. Combining ASO and paid user acquisition is essential for building sustainable growth for your app.
That's why App Radar provides analytics for optimizing your organic and paid user acquisition together!
We know how important Google App Campaigns are for our users as part of their user acquisition strategy. Now you can connect your Google Ads account with App Radar and start improving your overall user acquisition from one place!
This article will cover the most important benefits of a new feature in App Radar and show how you can enhance your visibility across channels.
Why is it essential to combine ASO & Paid UA?
Regardless of paid or organic UA, both have the main goal to drive quality conversions while maintaining a low cost per conversion. So why not combine organic & paid UA and benefit from the synergies?
First, you need a solid ASO foundation to maintain a stream of high-quality users across channels. It is essential as the user will ultimately land in your app store listing. You are literally wasting your money if you haven't invested time in ASO and optimizing your store listing.
Second, paid user acquisition can lead to more organic app installs. Ads will bring new attention to your app store listing. The more installs your app generates, the higher your app will be ranked in the app stores. As a result, it increases visibility across search results and browse sections. Due to increased visibility, more and more users will land in your organic store listing and download your app. Hence the growth loop continues!
Third, a successful strategy is about understanding the correlation between ASO and paid user acquisition efforts. You need to understand how your paid funnel impacts organic growth and vice versa.
Of course, there are many more reasons. But let's jump into how App Radar can help you combine ASO & Google App Campaigns!
Analyze organic & paid UA efforts with App Radar All-in-one App Marketing Tool
You put a lot of effort into optimizing your UA and now want to analyze your results? You'd like to know how much growth your ASO efforts brought? Or was it your paid UA traffic that led to an increase or decrease? It can be challenging to answer all these questions, especially considering many factors that can play a significant role. You might encounter different scenarios, so let's look at each of them separately.
Why did my app installs drop last week? Was it my organic or paid UA traffic?
Seeing a drop in installs might be concerning at first sight. However, the good news is that there is most probably an explanation for every decrease in installs. And for every problem, there is also a solution.
One crucial impact factor you need to consider is paid user acquisition efforts. When you notice a decrease in downloads, you should first check whether you had ads running during that specific time. Ads can bring a significant amount of traffic to your app, and once you stop or reduce them, this might have a substantial effect on your results.
In your App Radar Dashboard, you can check the correlation between organic and paid conversions. Analyze how your paid conversions impact your total growth and understand whether an increase in installs might be due to reduced Google App Campaigns.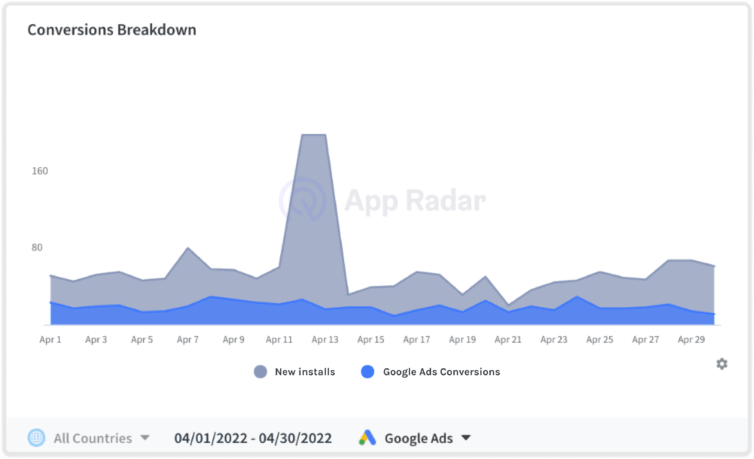 What should you do now? First, try to better picture the situation by looking at the last 30 or 90 days timeframe and understanding how significant the impact was. If pausing your Google App Campaigns greatly decreased your installs, you should consider re-activating the ads.
Why did my installs start increasing? Did some Google App Campaigns work well or did my ASO update make an impact?
First of all, excellent job! Your installs are increasing, and ideally, you'd want this to continue over the next periods. But for that, you need to know what was impacting the increase. Transferring success from one location to another can be tricky if you do not know where the success is coming from.
Luckily, the conversion breakdown in the App Radar Dashboard can help you find the answer to that.
As you can see in the example below, Google App Campaigns started running in mid-March. At the same time, the installs were increasing. Here is the conclusion, your paid UA efforts paid off and also influenced your overall app growth!
What should you do now? If Google Ads conversions are responsible for a good amount of traffic, keep them and regularly take a look at the performance within your App Radar dashboard.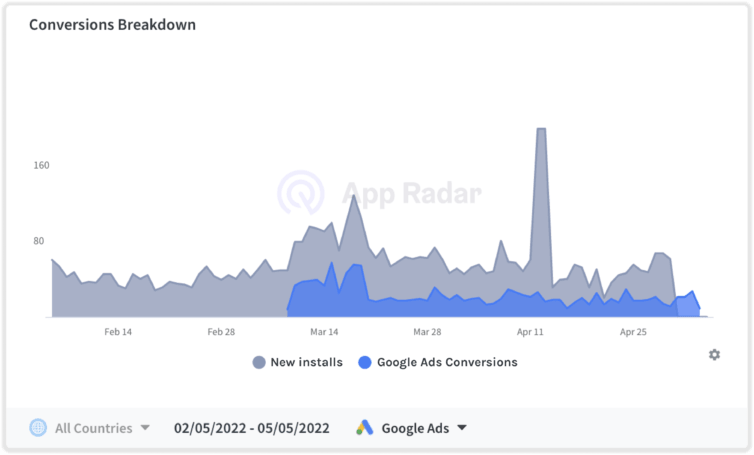 Shortly after, fewer conversions from Google Ads could be generated, resulting in a direct impact on installs. As you can see, your growth is dependent on organic and paid traffic. That's why it's important to understand the correlation between both. Knowing it will help you derive conclusions that will support further growth.
How much money did I spend this month on Google Ads? How many conversions did I get from it?
Now that you know that your Google Ads are impacting your total app growth, it's essential to keep track of your most crucial ad performance KPIs. Spending money on ads is one thing, but checking the output is another.
You might ask yourself, how did my ad impressions, clicks, and conversions perform compared to the previous period? Does the cost per conversion increase or decrease? And that is the right question to ask if you want to optimize your ad and don't waste your ad budget.
Each of these ad metrics sheds light on a different aspect of advertising for your app. You need to know that there isn't that one metric to gauge the efficiency of your ad performance. Rather, their combined forces will support and guide you in the right direction.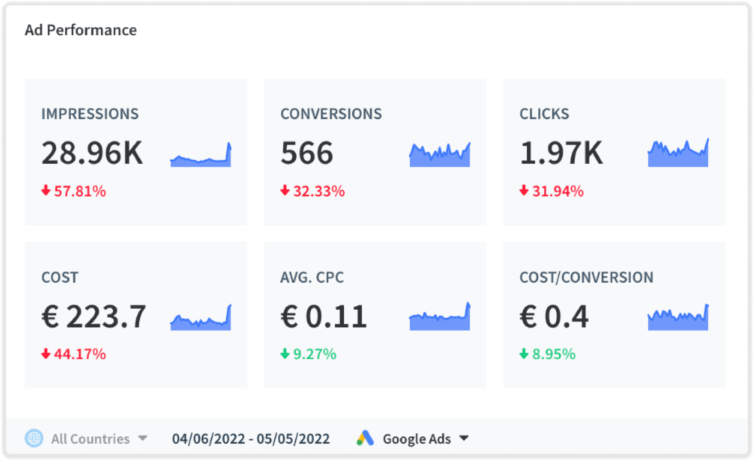 In App Radar's Dashboard, you will have an overview of your ad spend and main KPIs at one glance. That way, you'll be able to analyze organic and paid UA efforts in one place.
What should you do now? If you see a change in impressions, you should check if that correlates with changing costs. The money you spend on ads will significantly influence how often your ads are displayed. If you see a decreasing amount of impressions, it might be due to reduced costs. Hence, if you want to increase the impressions, you might want to look at increasing the budget. It will have an impact on how often your ads will be shown. In addition, bids and your overall ad quality can help drive impressions.
Talking about budget, always remember:
When optimizing for install volume, you should set a daily campaign budget that's at least 50 times your target CPI (cost-per-install) to allow enough conversion data to be collected. So if your tCPI is 10€, then the budget should be 500€ per day.
When focusing on driving selected in-app actions, it's recommended to set a budget that's at least 10 times your target CPA (cost-per-action). So if your tCPA is 80€ then the budget should be 800€ per day.
If you see a change in conversions, you should first check what you set as a campaign goal within your Google Ads Account. That could be installs or a specific in-app activity that you have defined as important for your app business.
Depending on which conversions you are looking at, different measures can be taken.
Let's assume you focus on getting more installs. But you are not receiving the growth that you are expecting. Once more, it's important to look at different metrics in correlation. If you are getting visibility via impressions, but they don't result in installs, your ads might not be relevant or convincing enough for the user. One measure could be to optimize your assets to make them more appealing to your target audience.
Another reason could be that the user lands in your organic store listing but decides not to download an app. Have you put time into optimizing your creatives and metadata? If not, this is the time to do it.
If you are not getting the results you are aiming for, it might also be that the algorithm hasn't had enough time yet to learn. Don't forget to give the algorithm enough time to gather data to be able to optimize ads for the type of users you would like to reach.
Summary
We know how important Google App Campaigns are for our users. That's why you can now connect your Google Ads with App Radar and improve your overall user acquisition from one place:
Get an overview of your most essential ads metrics
Understand the correlation between organic and paid UA
Analyze why your traffic is dropping or increasing
We hope you will enjoy these new features, and we can't wait to get your feedback on them!
Boost your organic & paid mobile user acquisition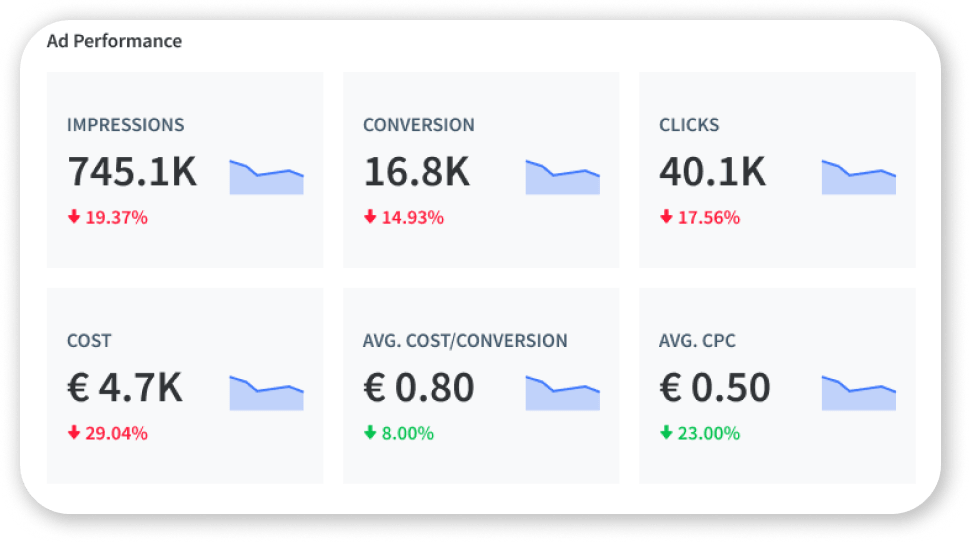 Connect your Google Ads account to App Radar and keep track of your important ad metrics.
Start Free Trial