Are you tired of spending hours trying to craft the perfect ad copy for your mobile app campaigns? App Radar got you covered! We are excited to introduce Ad Copy Generator, the AI-powered feature designed specifically for app performance marketers! You can now save at least half your time writing ad copies for mobile app campaigns and increase your Google & Meta Ads conversion rate.
Let's explore the advantages of Ad Copy Generator through what, why, and how questions.
What is Ad Copy Generator for mobile apps?
App Radar's Ad Copy Generator is a powerful new feature that uses AI to create effective ad copy for mobile app campaigns. By integrating with OpenAI, App Radar can now provide app performance marketers with ready-to-use app ad copies for Google App Campaigns and Meta Ads.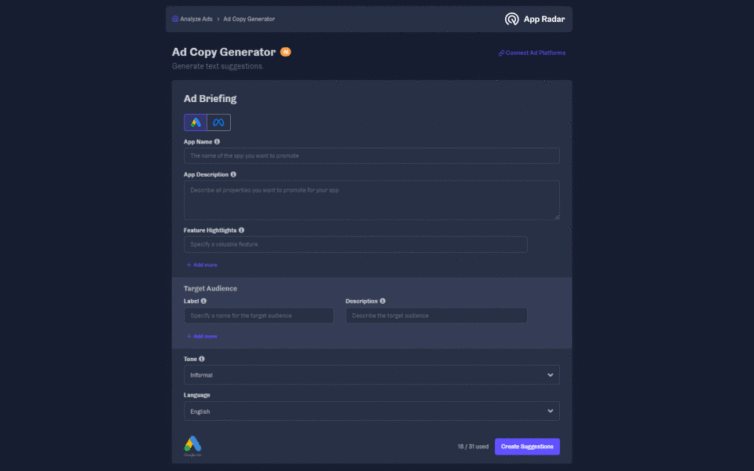 Why use Ad Copy Generator for Google Ads and Meta Ads?
Since the launch of OpenAI ChatGPT last year, there has been a shift in how app marketers work. Initially, people worried that AI would take over their jobs, but things have settled down. However, we should remember that those who don't keep up with new technologies will likely fall behind their more efficient competitors. That's why App Radar is continuously integrating AI into its platform to help app marketers become faster and more productive at their job!
Using an AI-powered Ad Copy Generator for app performance marketing can significantly benefit app businesses in terms of time, cost, and efficiency. In fact, this AI feature cuts the ad copy creation process in half. Just imagine what else you can do with the rest of your time!
Besides saving time and effort on ad copywriting, with App Radar's Ad Copy Generator, you are able to:
Boost ad conversion: you can create effective ad copies optimized for different target audiences and channels (Google Ads and Meta Ads).
Improve ads testing framework: your personal AI writing assistance generates 5 variations of ad headlines and descriptions for each target audience. You can test them all and find the winning ad copy combination.
Stay ahead of the competition: by leveraging Ad Copy Generator, you create better and more effective ad copies that stand out in a crowded market.
Overall, the benefits of using an AI-powered Ad Copy Generator for mobile app marketing are numerous and can help businesses stay competitive in today's ever-evolving digital landscape.
How to use Ad Copy Generator to improve ad performance?
Using the Ad Copy Generator is simple and easy. All you need to do is to provide some information to AI:
Choose the ad channel for which you want to create ad copy: Google App Campaigns or Meta Ads.
Provide your app name and description, so AI can consider it for creating outstanding messages.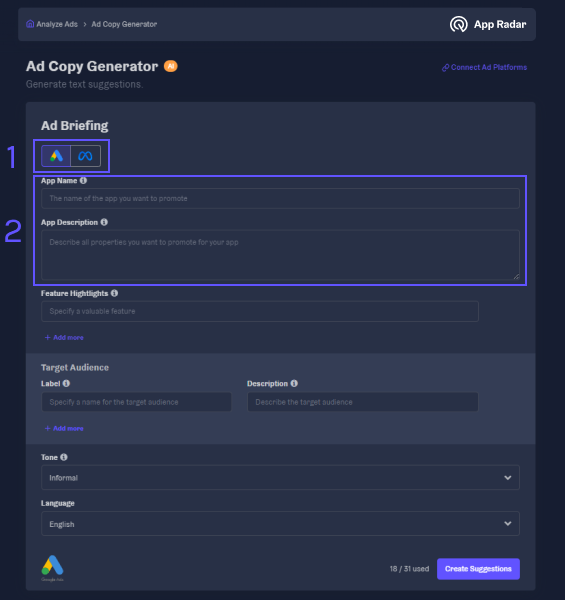 Specify valuable features of your app or provide words and phrases that should be used in ad copies. You can add up to 3 different highlights.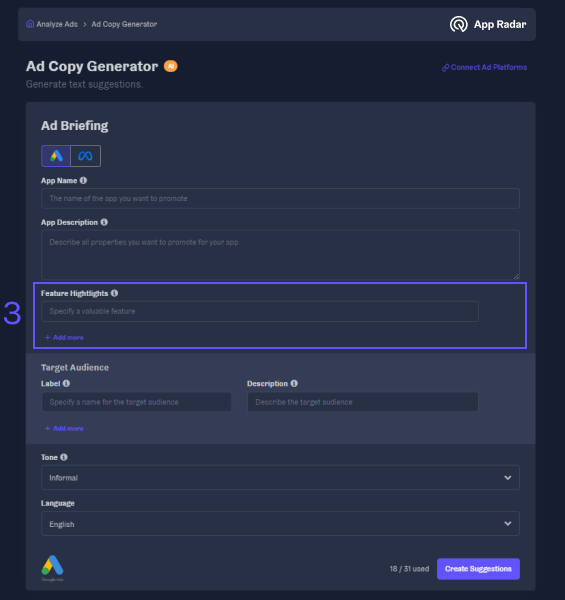 Name and describe your target audience. Note that you can target up to 3 different target audiences. As a result, you can expect to get 5 AI-suggested headlines and descriptions for each of your target audiences.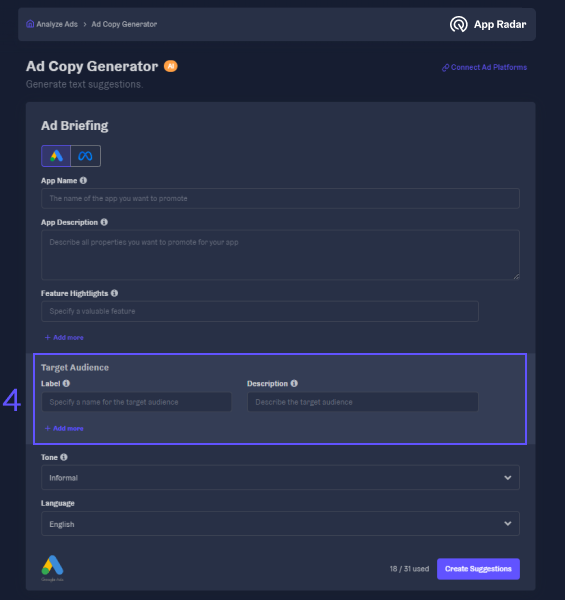 Keep in mind which tone of ad copy you would like to receive, and select for Google App Campaigns either an informal or formal tone. Note that only informal tone is available for Meta Ads as it is known as a best practice to use it in Meta ads. And finally, you can select either English or German language for your mobile ad copies and click 'create a suggestion'.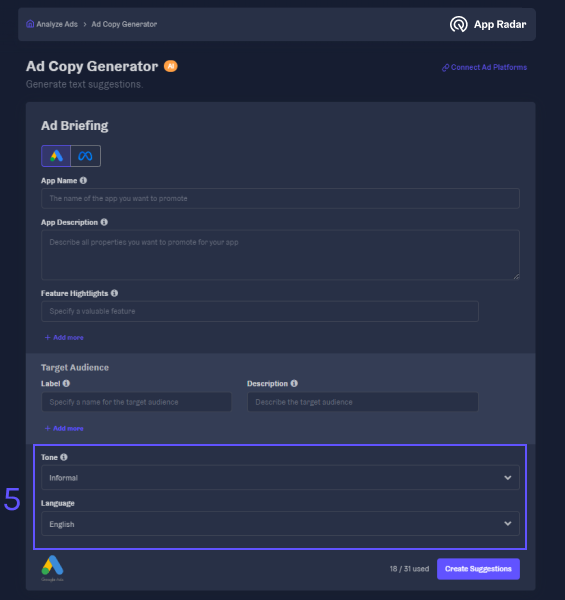 The Ad Copy Generator creates ad headlines and descriptions optimized for Google App Campaigns and Meta Ads with a couple of clicks. As mentioned above, Meta ad copies are automatically created in an informal tone, even using emojis.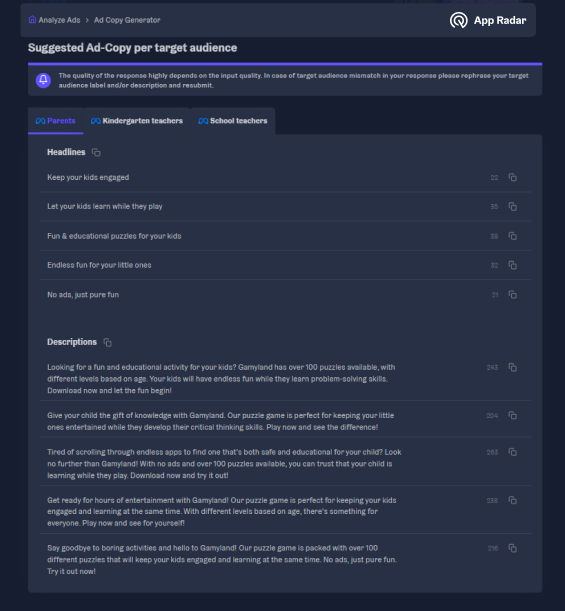 You can use these suggested ad copies as your inspiration, brainstorming, or ready-to-go messages for your app ad campaigns. Moreover, our customers who tested Ad Copy Generator report high satisfaction with the tool. By using AI to automate the ad copy creation process, they were able to increase their productivity and see improvements in their ad performance.
Key takeaways
Effective ad copy is essential for paid user acquisition success in today's competitive mobile app market. However, writing effective ad copy for mobile app campaigns is time-consuming, especially if performance marketers need to test different ad copy variations.
With App Radar's Ad Copy Generator, app performance marketers can save time and improve their ad performance. This feature was developed and tested specifically for ad copies for mobile app campaigns. Try the Ad Copy Generator today and see how your ad campaigns improve.
Use AI-powered Ad Copy Generator to write high-converting ad copy for mobile apps
Ad Copy Generator simplifies the ad creation process, allowing performance marketers to focus on other important tasks.
Create ad copy now