There have been many changes in the Apple App Store during the first half of 2021. As highlighted during WWDC 2021, App Store today sees 600 million weekly users across 175 countries.
Here are the main App Store news and updates so far that can have a major impact on your app store marketing.
App Analytics with new metrics, including app clips
Since February 2021, app analytics in App Store Connect include app clips data. If the user is on your app clip for at least one second, an app clip session is recorded. If the link in the app clip is used to download your app, the resulting app unit is attributed to your app clip as the source.
Later in 2021, app analytics in App Store Connect will include even more new data. You'll have more performance metrics including:
Re-downloads
Total downloads
Proceeds data
Average revenue per paying user
Pre-orders, and updates.
The metrics will be available by territory, device, and source type.
iOS 14.5 and App Tracking Transparency (ATT)
With the iOS 14.5 release, in April, Apple's App Tracking Transparency (ATT) framework requires iOS apps to ask their users for permission to track them. Unless you receive permission from the user to enable tracking, the device's advertising identifier value will be all zeros and you may not track them.
To explain, when the unique device identifier is a zero, it means that you cannot connect data points from your app and a channel (e.g. website) together to get a better understanding of where your users are coming from.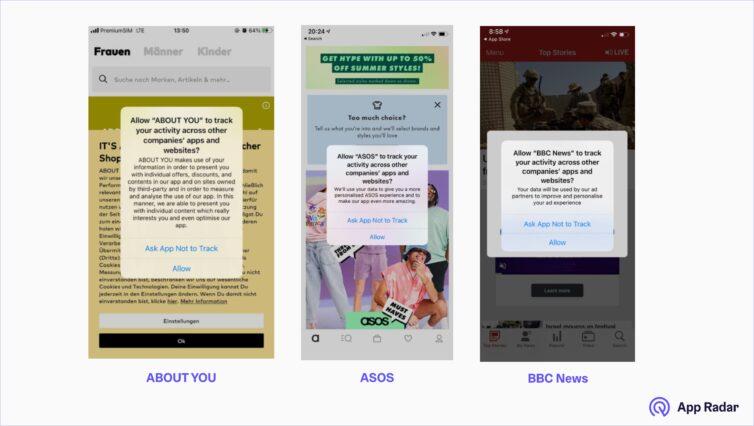 How to get your users to allow you to track them?
According to early data by Flurry Analytics, only around 11% of users are opting in to being tracked after the iOS 14.5 launch. Hence, asking your users to opt into tracking them is a big challenge for most of the app developers, especially as Apple by default has turned off asking your users, so many might even not see your prompt. To get your users to opt-in for your tracking, focus on the following:
Explain the ATT and why you need them to opt-in. Users aren't by default interested in "helping" you, which is why you can't expect them to know what ATT is, why you need it, or how it'd help them.
Highlight what's in it for them. Most likely offering "personalized ads" won't convince your users to allow themselves being tracked.
Keep it short, don't exaggerate or use technical terms that your users won't understand.
Make clear what to do next - include a button saying "Next" or "Continue" to have the user opting in.
If in need of help or inspiration, check out this gallery of live App Tracking Transparency prompt examples.
Search Suggestions - another app discovery method
Also in April, "search suggestions" were introduced as another app discovery method. When users search on the Apple App Store, they now see suggested search terms related to what they're searching. As App Store search is one of the main ways that users discover apps, the developers using Search Suggestions are likely to gain more downloads.
Search Suggestions are currently available in the following countries: Australia, Canada, the United Kingdom, and the United States. Read more here.
Search Tab Campaigns as part of Search Ads Advanced
In May 2021, after launching App Tracking Transparency, Apple added additional advertising opportunities for developers to advertise on the App Store. This means you can have an ad placement in App Store's Search tab with millions of monthly visits. It's a simple way to make users discover your app before they even search for it. These "Search tab campaigns," are available as part of Search Ads Advanced and there's no minimum spend required..
Search tabs are a prominent location, at the top of the suggested apps list. Like ads in App Store search results, ads on the Search tab are automatically created using the assets you've already uploaded to your App Store product page and can run in any eligible country/region. Keywords aren't needed for Search tab campaigns and Creative Sets aren't available.
In-app events will be visible in the App Store directly
During WWDC 2021 in June, it was announced that later in 2021, users can see in-app events already in the App Store. In-app events are events happening within apps. For example, a game competition, a movie premiere, a live streamed experience.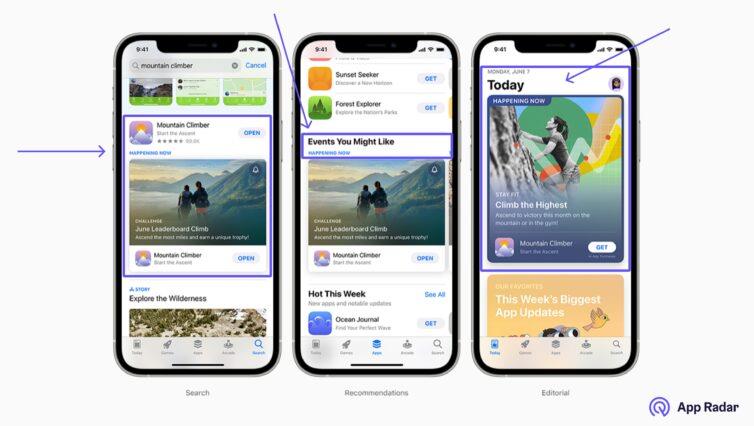 The in-app events will be visible in personalized recommendations, editorial curation on the Today, Games, and Apps tabs, in search results, and on the app's product page.
The App Analytics section will have the data about in-app events as well. You can view impressions, event page views, engagement, conversions and the number of users who opted in to be notified when your event begins.
In-app events are managed in App Store Connect. You need to write the event metadata and select regional availability. Event metadata is used for promoting your in-app event across the App Store. You'll need to choose an event badge that best fits the type of event you're offering.
This could be a:
Challenge (e.g. a fitness challenge in a workout app)
Competition: (a tournament where players battle to win)
Live Event: (a sports match or live-streamed concert)
Major Update: (introducing significant new features, content, or experiences)
New Season: (a new season of a television show)
Premiere: (first-time availability of content or media)
Special Event: (an event featuring a collaboration)
You'll also need to include an event name with 30-characters and a short description with up to 50 characters. This information is on your event card. You can provide more information with up to 120 characters long description which will be displayed on your event details page. Further, you can add an image or 30-second video that represents your in-app event across the App Store.
You can have up to ten approved events in App Store Connect and up to five events may be published on the App Store at a time.