Also known as: App Logo, Launcher Icon, Product Icon, Apple App Store Icon, Play Store Icon
Before you can publish your app, you are required to provide a high-res app icon. It is used in various locations on Google Play Store and Apple App Store and most importantly, represent your app brand. App icons are essential elements in ASO as they communicate the core idea and intent of an app. As a result, the app icon often determines a user's first impression of an app.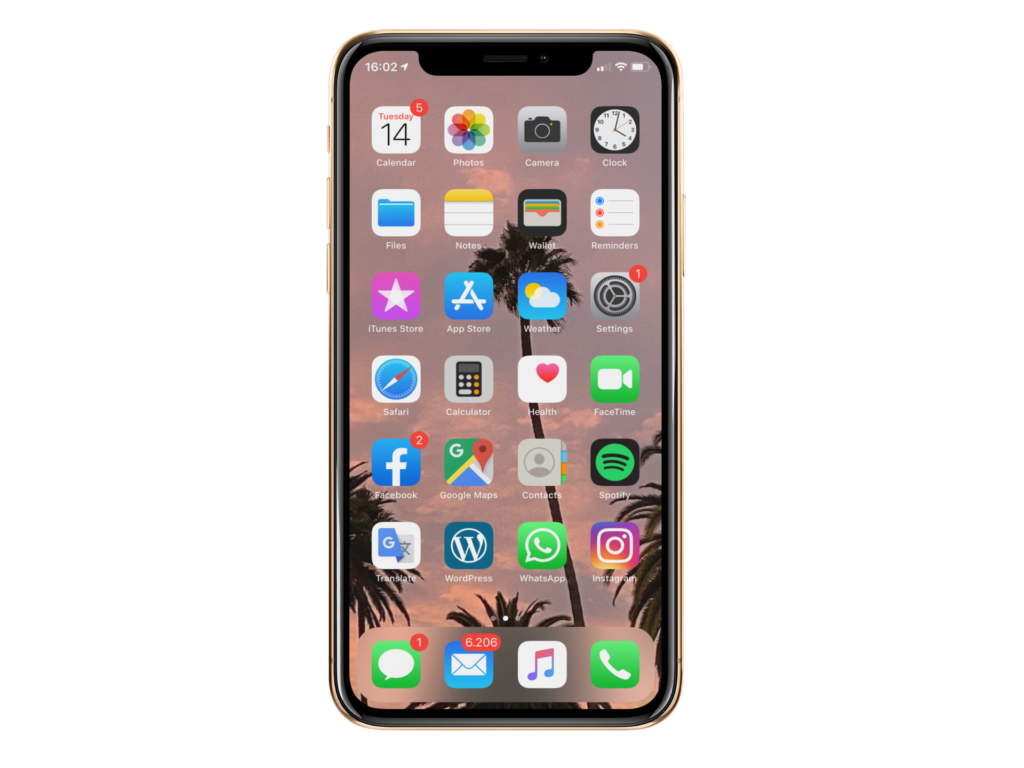 So first of all, an app icon should stand out, however, should fit the app's content. It is recommended a consistent and attractive design for the icon, once it is crucial for app branding.
Requirements & Guidelines for App Icons
To ensure the icon is legible in large as well as in small sizes, widely recognizable symbols should be used. Unnecessary visual details should be avoided. To reach the best results, you should enlist a professional graphic designer.
App Icon Requirements on Apple App Store
Normal App Icon Sizes
Due to varying screen resolutions and sizes of iPhones and iPad, Apple has some strict pixel recommendations for app icons:
iPhone:

180px × 180px (60pt × 60pt @3x)
120px × 120px (60pt × 60pt @2x)

iPad Pro:

167px × 167px (83.5pt × 83.5pt @2x)

iPad, iPad Mini:

152px × 152px (76pt × 76pt @2x)

App Store:

1024px × 1024px (1024pt × 1024pt @1x)

Small App Icon Sizes
Apple also requires that you submit a small icon size. These will be used in the settings menu or the spotlight section. The small icon should look exactly like your normal app icon. It needs to follow the specs below.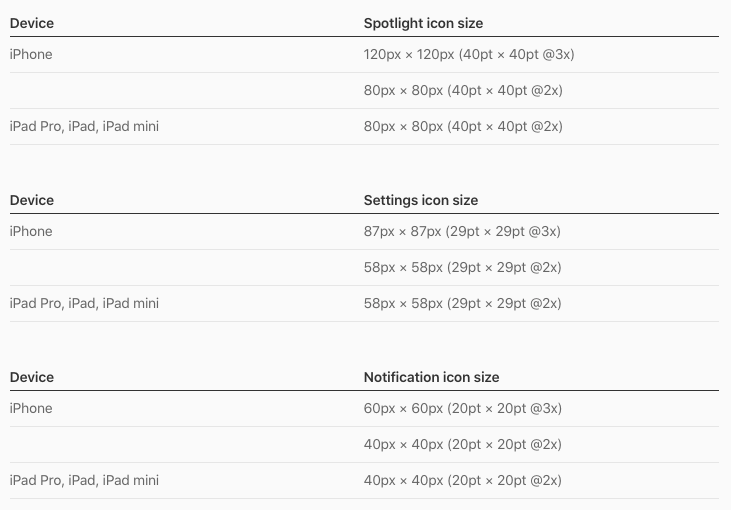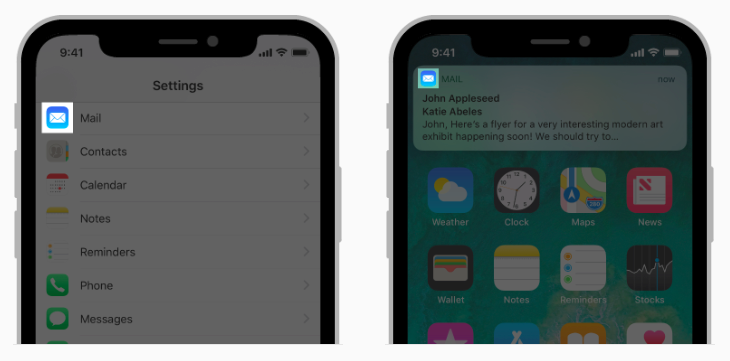 Best Practices for iOS App Icons
Apple suggest that your app icons retain a clean and easy to see design. Make sure you're not putting excessive text in the icon. Tiny text is hard to read and does not look appealing in the App Store. Instead, opt for a design that incorporates shapes and colors. Determine what sort of color scheme best matches your app brand and use that color palette to design your icon.
In addition, you want users to understand what your app is about when they look at the icon. Come up with one that is memorable and that says something about what your app does. You want to make a good first impression. A confusing or unclear app icon will certainly confuse App Store visitors. Whereas a clear, memorable, and understandable one will further convince users to download your app.
Other factors to remember when designing an iOS app icon are:
Keep the background solid. Transparency doesn't work well because you'll lose control over what your app looks like on each individual user's phone.
No photos or screenshots. App icons are too small for people to actually make out intricate details.
Do not round corners. Apple will apply a rounded corners mask for you. So when designing keep your icon's corners square rather than rounded.
App Icon Requirements on Google Play Store
In 2019 Google Play redesigned their app icons. Here is the updated information.
Google Play App Icon Sizes
When designing an icon for your Android app, make sure you follow these guidelines from Google Play.
Final size: 512px x 512px
Format: 32-bit PNG
Color space: sRGB
Max file size: 1024KB
Shape: Full square – Google Play dynamically handles masking. Radius will be equivalent to 20% of icon size.
Shadow: None – Google Play dynamically handles shadows.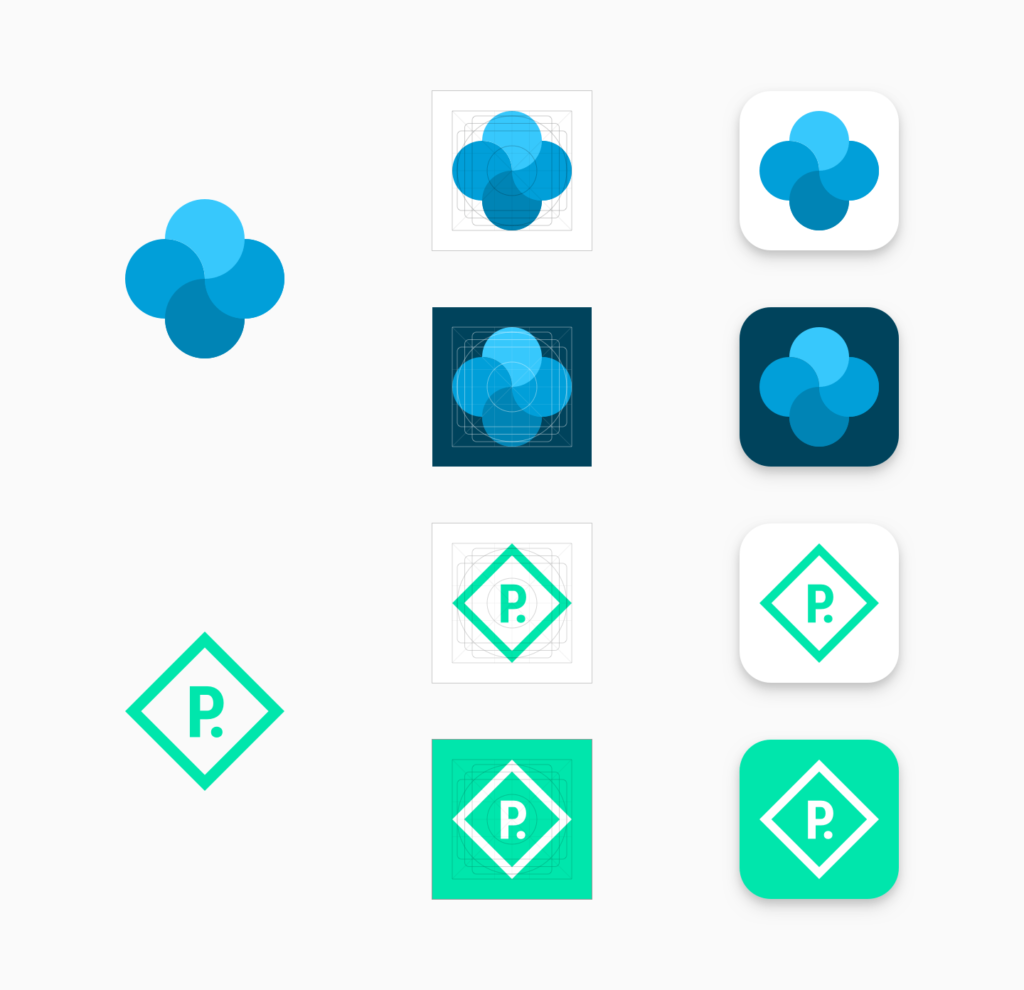 Best practices for Google Play app icons
Similar to Apple, Google likes to see clean and clear app icon designs. Minimalize text unless it's a critical part of your brand's logo. Utilizes shapes, sizes, and colors to create an icon that is eye-catching. You want to stop someone who is scrolling through the Google Play Store. That means their eyes are quickly scanning all of the app icons to find one that appeals to them.
Appealing to your target audience is especially important for app icons. Not only do you want to catch people's attention, you want to catch the attention of the right audience. The right audience is mobile users who will continue to use your app daily or weekly. It's who your app is built for.
Grabbing the attention of the wrong audience can be detrimental as uninstalls lower your app store rank.
Google Play app icon design templates
In order to get you started, Google has provided templates for app icon design. Use these templates to speed up the process of publishing your app. Icons that are not in line with guidelines will likely be rejected.
App Icon Summary
Icons are the visual expression of your app brand. It represents what a user can do with it. An app icon should be simple, bold and friendly, yet stand out against others. In order to have an ingenious and unique app icon, that stand out among others in search results, you should consult a professional designer. If you design your app icon by your own, follow provided guidelines by Apple and Google and ensure your icon reflects your brand and identity.
See also
Further Links
Icon Design Guide by Google
iOS Icon and Image Sizes
No time to create an Awesome Icon yourself?
Get Started