App Marketing • November 12, 2019
How Does Google UAC Work?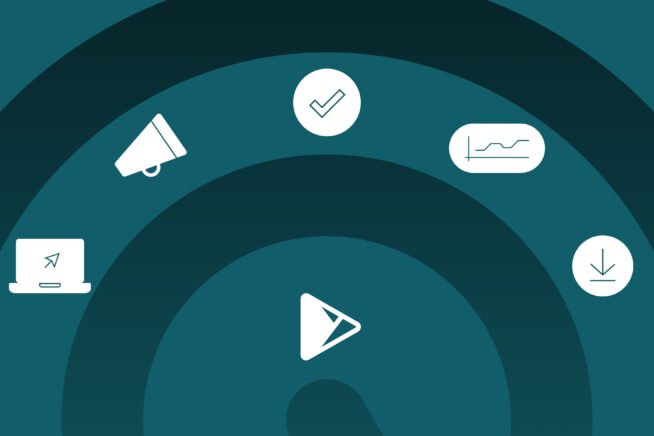 What is Google UAC
Before diving into how it works, we need to define what Google UAC is. First, Google UAC stands for Google Universal App Campaign. It's a powerful advertising tool, used by many in the mobile industry to drive increases in app downloads and revenues.
Google introduced UAC to give app developers, and marketers access to Google's broad reach in the simplest way possible. Before, app developers and marketers had to run individual Google Ads campaigns to reach audiences on different Google-owned channels. These channels include Search, Google Play, YouTube, Discover, and the Google Display Network.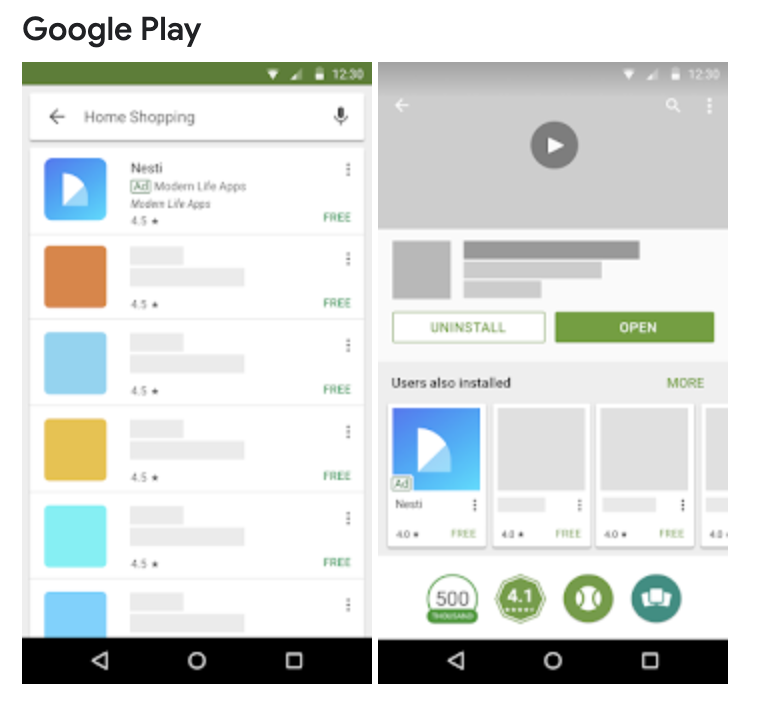 Now, the process is streamlined with Google UAC, and you can run ads on all the channels mentioned above with a few clicks.
Also, unlike regular Google Ads, you do not need to provide excessive text and creative assets. Google UAC reuses much of the text and creative assets you already have in your app listing to promote your app across the different channels. This means you can get started with paid UA faster than you initially thought.
Does it work with both Android and iOS apps and devices?
Yes! Google UAC is completely compatible with Android and iOS apps on your side, and Android and iOS apps on the user's side. However, if you have an iOS app and want to get an extra leg up on the competition, then consider running Google UAC and Apple Search Ads simultaneously to maximize your reach.

Dive Deeper:
Setting Up Google UAC (Universal App Campaigns) for Mobile Apps
Google App Campaign: 7 Best Practices for Maximum Ad Performance
Paid vs. Organic Mobile User Acquisition – A comparison
How to get started with Google UAC
Textual and Visual Ad Elements
There are a few necessary items that need to be taken care of when starting with Google UAC. The first is your ad content. Yes, Google does pull text and images from your app listing, but you do still need to provide foundational ad elements.
This includes at least:
Two headline ideas
One description idea
One landscape image
One portrait video
One landscape video
Dependent on your situation, you may also need to provide HTML5 assets.
In combination with what your app store listing already has, Google will automatically mix and match the textual and visual elements to create relevant ads fit for the layouts and audiences of their various channels. When a particular headline or specific images are performing better than others, Google will prioritize showing these.
Learn more about designing app screenshots that convert here.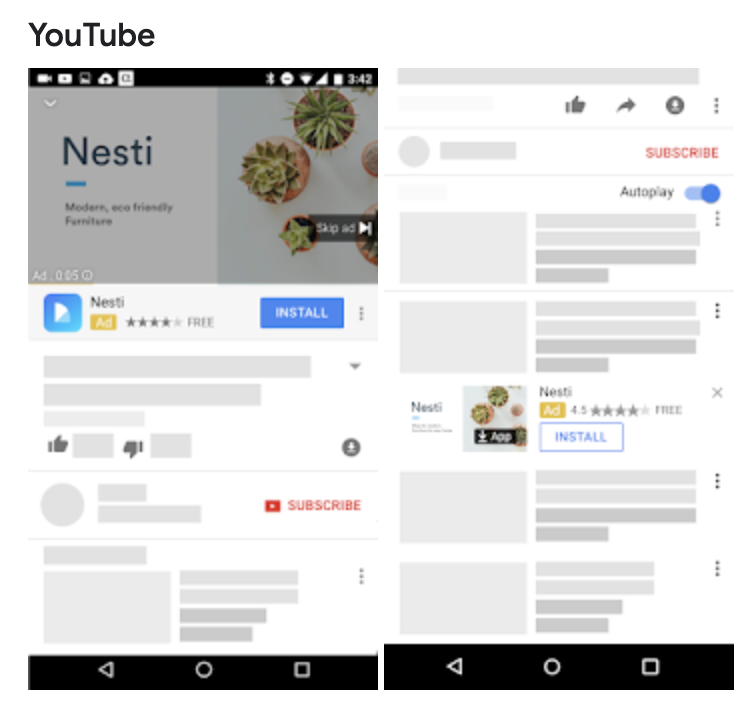 Ad Bids and Budgets
Next, you'll need to set your bid and budget. Google will then automatically adjust your bid to ensure that your ads are being placed on the best ad channels and performing at an optimum level. Therefore, the bid that you set is an average bid. Keep that in mind, when you are figuring out how much you are willing to spend for each new app user.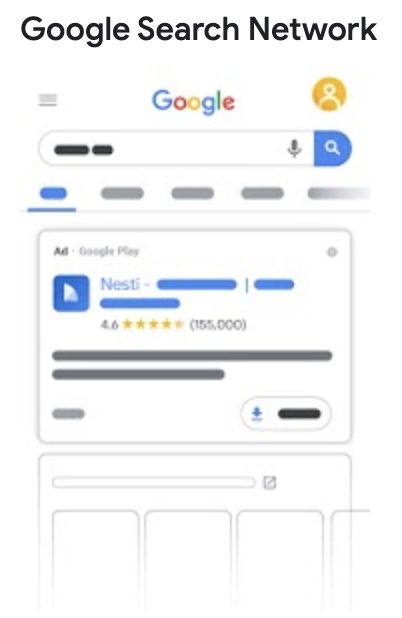 In addition to setting your bid amount, you have to select the locations and languages you want your ad to run for. Google will not translate your ads. So to make sure you get the most out of Google UAC, you should only run ads in locations and languages that your app is available in.
Remember, people are more likely to download an app that is in their native language. To increase your reach, localize your app for more countries and languages.
Learn more about app localization here.
Setting Ad Campaign Goals
There are three main goals that you can set for your Google UAC ads.
Increase App Downloads
You can set your campaigns to optimize for the largest amount of new users. That means that Google will adjust your bids and show ad elements, according to what brings in the most app downloads.
Get Users to Take an In-App Action
To get higher value users, those who are most likely not to churn and become active users, then setting your goal as an in-app action is the way to go. You can tell Google which in-app event you would like it to recognize as your UAC campaign goal by setting. Then Google will adjust your bids and show ad elements, according to what triggers that in-app event.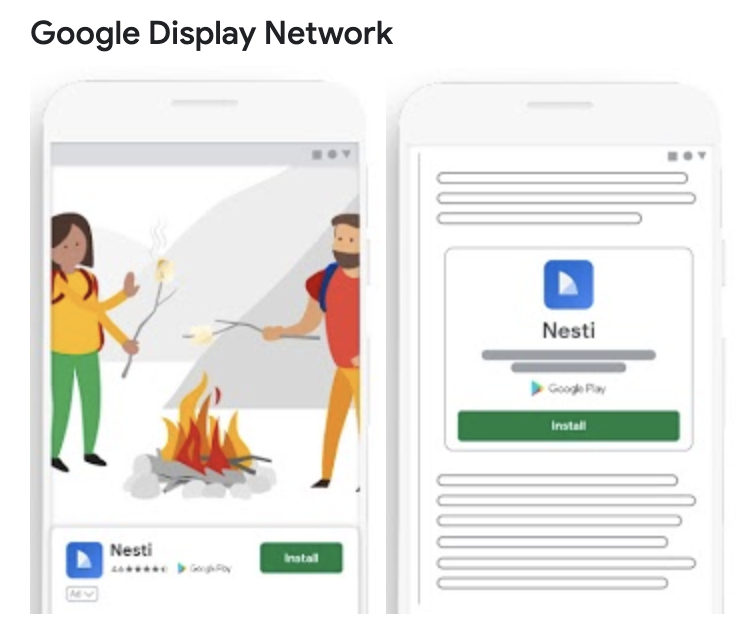 Drive In-App Action Value
For an in-app action value goal, Google will focus on bringing in users that will provide you with the most value over time. That means you want to measure a conversion rate metric such as installs to revenue.
Google states that this type of bid "should be the average conversion value (for example, revenue) you'd like to get for each dollar you spend on ads. This is called the target return-on-ad-spend (Target ROAS). If your goal is to ensure that users spend $0.5 of in-app purchases during the conversion window for every $1 of ads you spend, you'd set a target ROAS of 50%."
Get more details on how to set up a Google UAC campaign
Setting Google UAC Live and Making Sure Your Ads Convert
The final step of launching your ads is setting the campaigns live and also making sure your ads convert. If your ads don't convert, then you've wasted a lot of time and money. There are two reasons why your app store listing is critical at this conversion step.
1. Google UAC uses your app store listing to create ads
Google uses the elements you already have in your app store listing, such as app screenshots, app name, and app icon, in your ads. So your app listing has to be optimized for conversion before any of your paid UA campaigns are set live.
Learn more about how to optimize your app store listing here.
2. People who click on Ads end up on your app listing page
Any potential user that has clicked on an ad will end up on your app listing page or a version of it. So the final step of obtaining that new user is making sure that your app listing is appealing to them and convinces them to hit the download button.

Dive Deeper:
Best Mobile Ad Networks 2019
5 Best Ways to Reach Your Target Audience
Get Your Android App Featured in Google Play: The How To Guide
Summary
So setting up a Google UAC campaign can be simple. But there's much more to it than meets the eye. For example, you still have to consider creating are headlines and creative assets that match an audiences' language and ultimately convert. Also, you'll have to decide which campaign goal you want to set and then chose an average bid to match that goal.
You can jump in and get started with Google UAC here. But, if you're not quite sure where to begin, then our app growth team is here to help. Contact us today!
Looking For More?
App Radar's app growth expert team guarantees results
Contact Us Today