How to do efficient review management for mobile app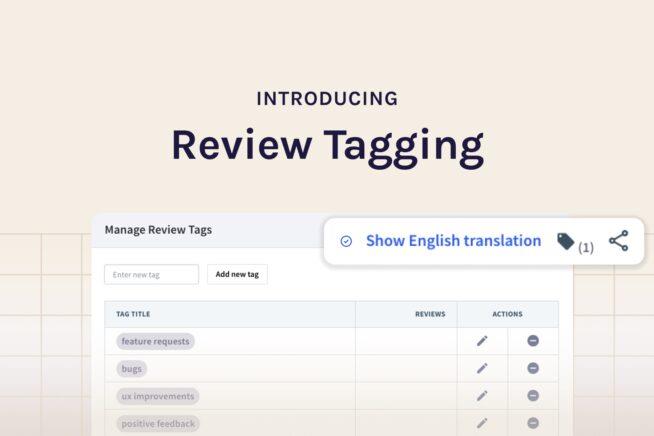 Review management is one of the essential activities for improving your mobile app rating and increasing users' trust.
With our latest release, we introduced review tagging in App Radar. We understand the importance of review management and, even more, how crucial it is to have an efficient process for it.
As you already know, in App Radar you can not only directly reply to users' reviews but also get notified about new app reviews. We have extended our app review features, and you can now use tags to categorize user feedback. It means you can now more easily analyze reviews and react to user feedback and market trends faster.
This article will walk you through the main benefits of App Radar's latest feature addition, review tags. We will show you how to benefit from it to make your review management process more efficient.
How important are app store ratings and reviews?
There's no doubt that ratings and reviews are essential. Your average app's star rating is a crucial metric for users, your product team, and the store's algorithm.
People rely on ratings & reviews as social proof that they are downloading a high-quality app. In other words, it's one of the decision-making factors for app store users: whether they should or should not download an app. Higher ratings will encourage more people to download and use your product, whereas lower ratings will lead to the opposite motivation. Users would unlikely try an app with a lower rating when they need to decide between two otherwise similar products. In addition, negative feedback will also damage your brand reputation.
The same goes for the stores themselves. Google Play and App Store will less likely promote an app with a low star rating simply because they care about showcasing high-quality apps to users. In other words, a low star rating signals to the algorithm that users are not happy with your in-app experience, and as a result, your visibility in the stores will be limited. Low star rating apps will cause fewer chances of getting featured or achieving high keyword rankings.
Google Play additionally offers to filter apps based on a rating of 4.0 and 4.5 stars or higher, respectively, in the search function. It is yet another reason why ratings & review management can have such a considerable impact, as a star rating below 4 could lead to a drastic loss of visibility.
From an app publisher side, the review section is an excellent source of feedback that comes directly from the user base. Analyzing user reviews can uncover important product improvement insights and helps to identify feature requests, bugs, and UX problems.
To sum up, Ratings and Reviews play a crucial role when it comes to succeeding in the Google Play and App Store. They will influence your Conversion Rates as well as your ASO efforts.
How to improve ratings & reviews?
All app marketers and developers aim to get a high star rating in the Google Play and Apple App Store. If your app has a high rating, not only users will be more likely to download the app, but also the app stores will be more likely to favor it and give your app more visibility. But how to get there?
Answer reviews regularly and use templates to save time
Make sure you engage with your users by answering their feedback. It will show that you care about their opinion. In other words, it is your moment to convince them that it might be worth changing the rating to a better one. Remember that users have the option to change their rating, so why not use it to show them it's worth it?
If you are limited in resources, try to focus on the reviews with 1-3 star ratings first. Ideally, you can answer all reviews, including 4 and 5-star reviews, and thereby try to build a loyal community.
When answering reviews, remember to:
Offer solutions for the problems of your user base
Update your review answer once a bug is fixed
Analyze reviews and report them to your product team
Focus on 1-3 star ratings first, ideally, answer all of them
Answer reviews in the local language if possible
Doing this will increase the likelihood that users will change their rating to a better one. Additionally, you will aim for a loyal community, as other users will also see your previous review replies.
It sounds pretty simple, however, review management is a time-consuming task. App Radar is here to help you to boost the efficiency of your review management process by using review templates. You can now select between some predefined templates or create your own review templates. The last one will help you to keep your brand's voice and tone aligned.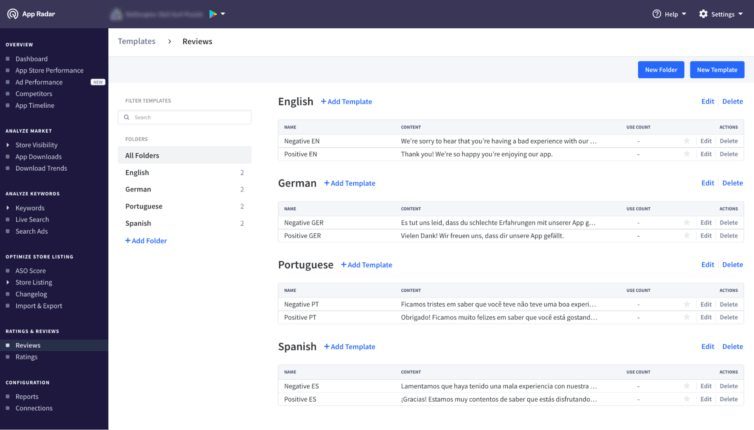 At the same time, localization plays a crucial role in app growth. It is not limited to metadata and creatives but also considers review management. Ideally, you design your review replies to be in the local language as users are more satisfied to receive responses in their mother tongue.
In App Radar, you can create review template folders per language. Additionally, you can translate reviews from any language to English with one click. It makes it easier for community managers to work with reviews across different markets.
Categorize user feedback and report issues on time 
Answering reviews is one part of the review management process, but another important aspect is what you do with all the collected feedback. It can be a challenging task to keep an overview of all the feedback that your app is receiving.
From an app publisher side, the review section is an excellent source of feedback that comes directly from the user base. Analyzing user reviews can uncover important product improvement insights and helps to identify feature requests, bugs, and UX problems.
That's why it is essential to structure your user's feedback analyzes. With App Radar, you can filter your reviews more efficiently to tackle the most critical ones first. Additionally, you can compare how app reviews differ among countries, time periods, and app versions.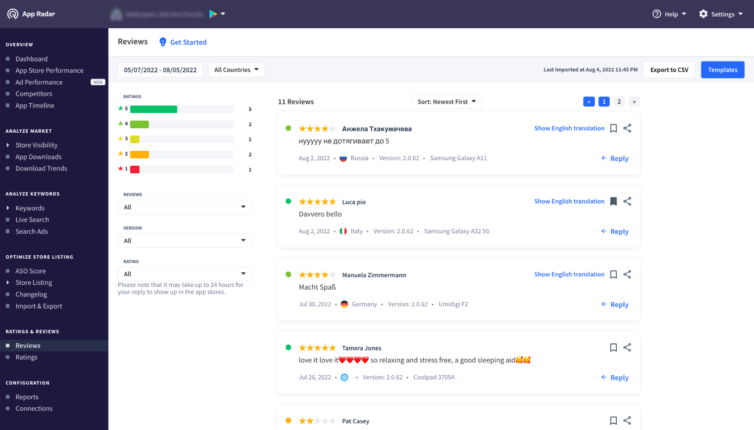 In addition to that, we are happy to announce our brand new review tags functionality.
Now you can create tags for all types of feedback your app receives. The tag functionality will help you categorize all the feedback and structure it in the way it makes the most sense for you, so that you can quickly and faster report it to your team.
Useful tags to get started could be:
Feature Requests
Bugs
UX Improvements
Positive Feedback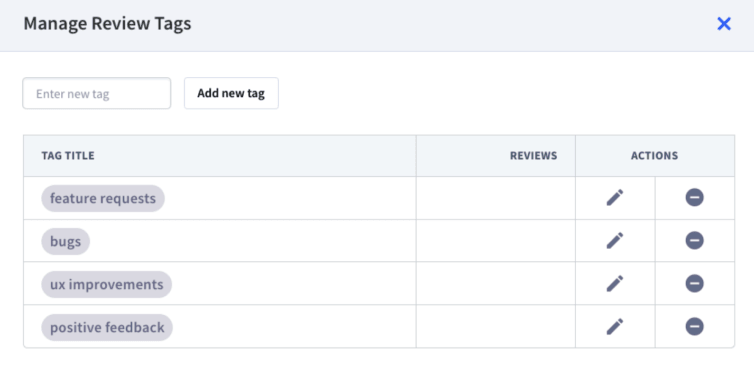 The tags you use can vary depending on your internal processes and set-up. That's why we leave it open to you to name it, and structure it so you can work best with it.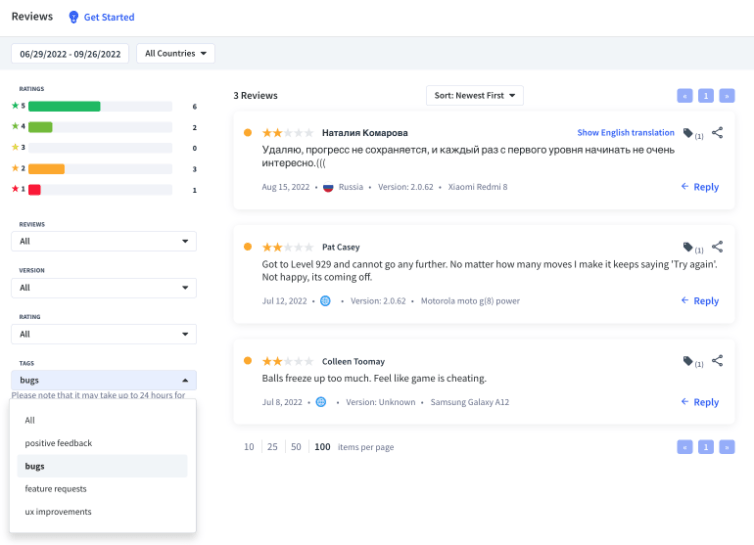 Let's assume you have noticed in your reviews that users ask for a new feature. You tagged all of those requests accordingly, and then once you have released it, you could easily come back to the dedicated tag and see at once glance all the reviews that asked for it. In this case, you will be able to inform your user base fast about the new update.
Besides answering reviews from Google Play and Apple App Store through App Radar directly and getting notified about new reviews, you can now use tags to categorize user feedback. This way, you will be able to:
Structure your app reviews based on the different types of feedback your app is receiving
Report issues on time to your team
Inform your user base about new feature releases and bug fixes faster
Export all reviews as a CSV, including tags, country, rating, and more.
Get notified when you receive new reviews & react to user feedback faster
Once you have created your structure for categorizing your reviews, it will be easier to respond quickly to recent incoming reviews. But how can you easily keep the overview? Well, you are just one click away. Go to reports in App Radar and get notified for every new review you receive.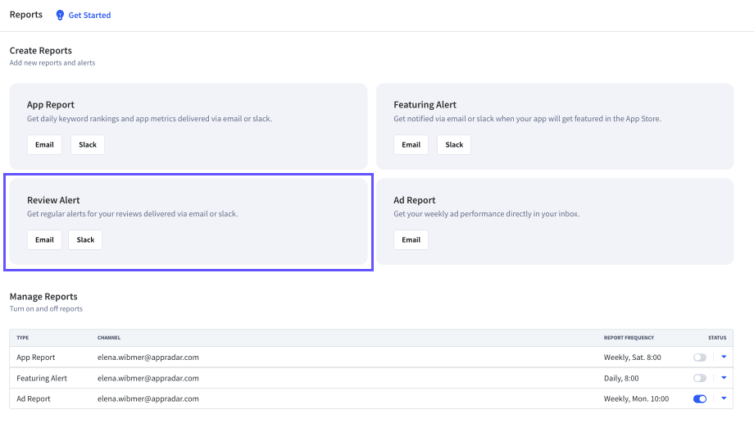 Answer the review directly from your App Radar account and put suitable tag to it. So it will be easier for you to understand which topics have been the most repeated. If an urgent issue pops up, you can share it directly with your team via the sharing functionality.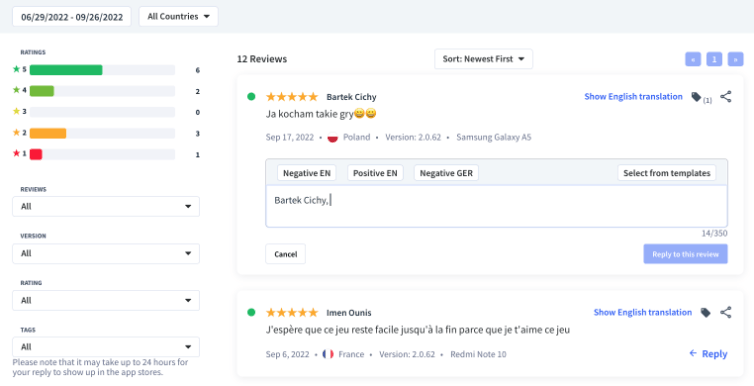 You can also create reports based on those tagged, categorized Reviews and easily export them from App Radar to share with your product team. 
NEW: Analyse Google Play ratings per country
With our latest release, we introduced country-specific ratings for Google Play. In other words, you can now analyze how the average rating of your Google Play App evolves in specific countries over time. Thereby, you will be able to get faster answers to questions such as: 
Which country has the best and worst average star rating? 
Do I get a better average US rating than the UK? 
Which countries should I focus on improving my average star rating? 
As you might know, in the past, Google Play Store showed ratings globally. Now, the average rating for an app gets displayed on a country level. What does this mean from an ASO perspective? It could lead to a drop in ratings for countries that benefited from the average rating across countries. Regarding App Store Optimization, ratings play a significant role in convincing users to download an app. Hence, it's crucial to understand how ratings evolve on a country level and identify the potential for improvement.
Key takeaway
Since our latest release, you have a more efficient way of analyzing reviews that users leave in the app store. Looking to boost your review management process further and improve your app ratings? Look no further, with App Radar, you can:
Answer reviews for Google Play and Apple App Store from one single tool
Improve your review management process by using templates
Categorize user reviews with tags and quickly analyze issues
React to user feedback faster and report issues on time
Work smarter, and faster!
Try out our new review tagging feature at App Radar.
Start a Free 7-days Trial