Apple, as well as app developers, hope that these changes improve the users feeling to get faster and more efficient support. Moreover, Apple strives for improved User Experience in Apple App Store for users as well as developers. Recently, they added Search Ads to improve app store searches by providing the possibility of bidding for keywords in search queries to get your app better found by users, searching for it.
In this article, we show you, how you can use the new comment feature of App Store Connect (iTunes Connect) and how it can help you with your ASO.
How to respond to user reviews in App Store Connect (iTunes Connect)
It was one of the biggest struggles and an often complained issue that there was any way to react on customer app reviews in the Apple App Store ecosystem. A lot of app publishers tried to bypass this lack of functionality by using third-party tools. Some even tried to google the name of the reviewer in the hope of an obvious match, so that they could interact other platforms. This worked out a few times, however often was not worth the effort as the users couldn't be found only by the App Store username.
How to get there
So, the new reply functionality is a long-wished pain killer for many app publishers and developers. It's a relatively simple way to interact with users through App Store comments now. This is where you can find it and how to use it.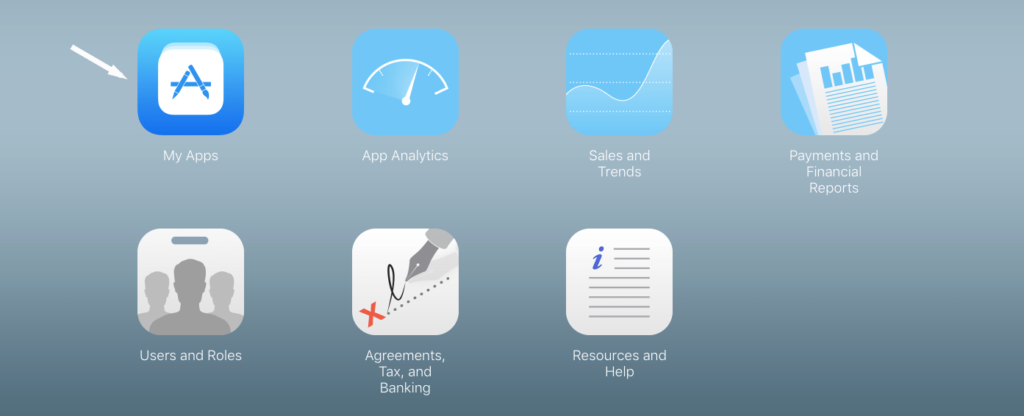 You will find the functionality of replying to customer reviews where you can also find the reviews itself. Therefore, you have to log in to App Store Connect (iTunes Connect) and open the overview of your apps.
If you then click on an app and open the tap "Activity" you will have the possibility to see all ratings and reviews for your app as usual. To respond to user feedback, click on "Reply" next to the comment.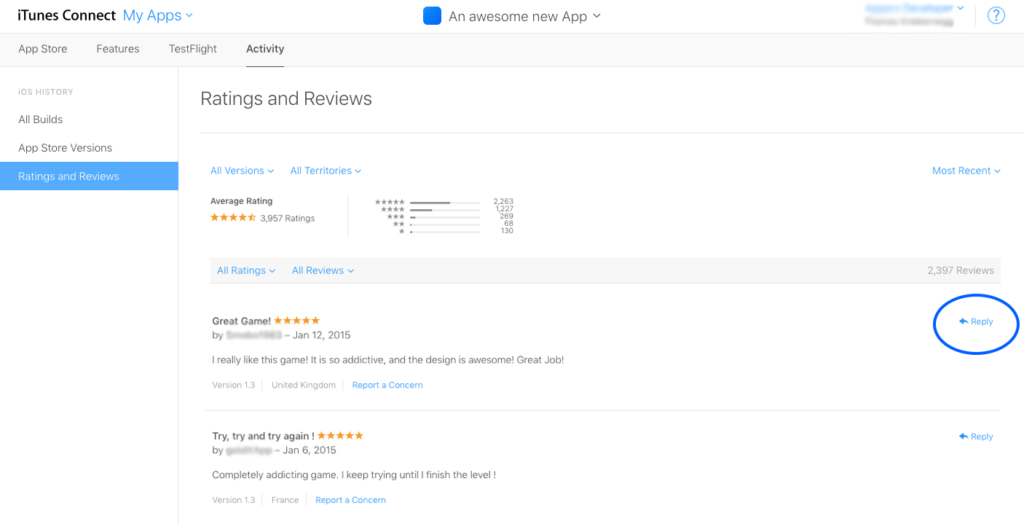 A pop-up window will open to let you draft and send your answer. When you have posted your reply, it will be public on your app page, and the user that wrote the review will be notified about the answer explicitly.
By the way: The same steps appear when you want to edit or delete an already written reply.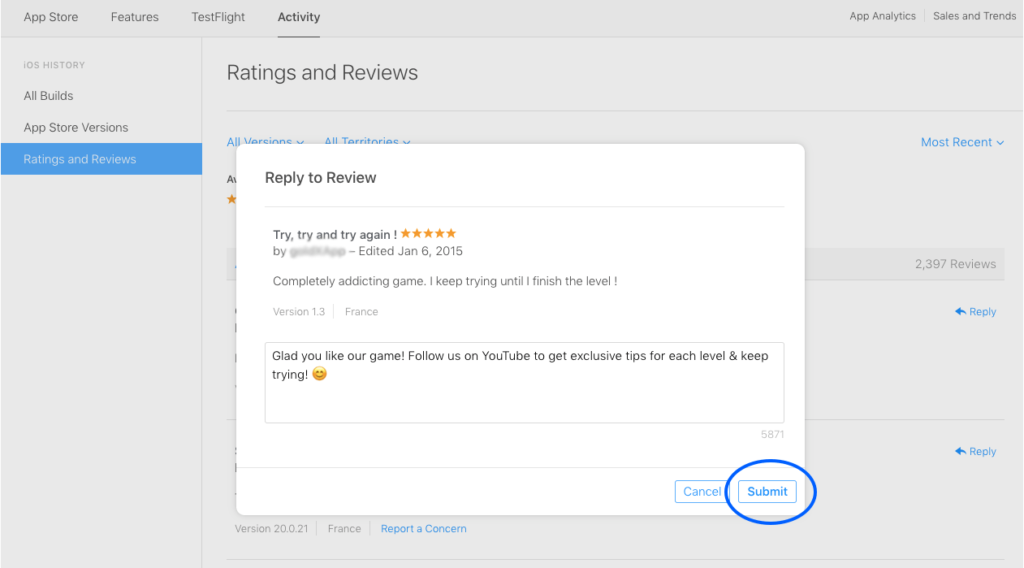 Find out more about Monitoring reviews on the App Store in the iTunes Developer Guide.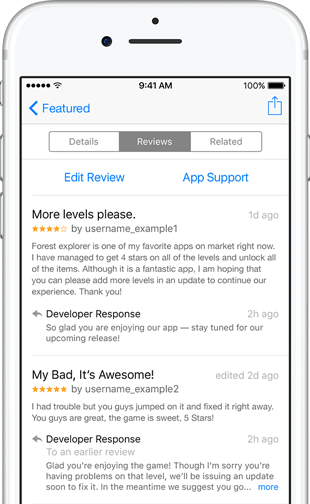 How to write a reply
Here are some specific tips on how to best respond to reviews in the App Store.
Write in an authentic voice
Different people in your company could reply to user reviews if they have the appropriate role (Legal, Admin, App Manager, or Marketer) and access to the app in App Store Connect (iTunes Connect). Each reply, however, should sound authentic, so write in the tone of your brand for a consistent appearance at every channel.
Do not spam or publicize personal information
As all the texts on your app page, every response must follow Apple's Terms and Conditions. So, you should avoid any profanity in replies and copies. Neither you should add promotional or spam content in review replies. Even though the user addresses a particular issue, you must not post personal information of users.
Address the user
Review Replies should be concise and clearly address customer feedback. Honestly, thank users for their feedback and address users by their name. Keep in mind, that even bad feedback is good feedback as you can learn from it. Try to transfer this feeling to your users by answering on positive as well as negative reviews.
Concentrate on the positive things
Writing user feedback replies, you should always transfer a positive vibe. Never attack users even though if the feedback is rude. If there is an unappropriated user review, you can "report a concern" so it could get removed by Apple.
It's your job to defend your app and functionality – but do it in a positive way. When a user complains about a missing feature, you can, for example, point out if there is a workaround or that you are already working on new features.
Which impact user reviews can have on App Store Optimization
It's no secret that high ratings and reviews lead to more downloads. People tend to learn from other users. The opinion of other customers has a much stronger impact on the purchase decision for the average user than any marketing texts. It was shown, that app name, app icon and user ratings are the most important influence factors for potential customers on your app page.
Reviews impact App Store Optimization
Ratings and Reviews also play a huge role in the App Store Algorithm. The more people like and happily use your app, the higher will be your ranking. Reviews and ratings have a great impact on the success of apps. Still, 60% of apps in the App Store do not show a single user rating.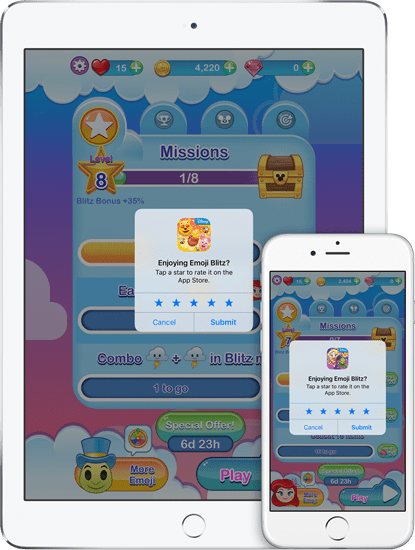 How to get feedback for your app
It's not easy to get ratings and even harder it is to get valuable user reviews. So these are some ways, how you could get more user feedback for your app:
Ask in the app
A way to get more reviews is to ask users for a rating or review directly in the app. This idea is basically nothing new, but since iOS 10.3 the handling could be improved. Using the SKStoreReviewController API, iOS developers can now ask users to review their app, while they're using it. As the user doesn't have to go to the App Store anymore, they might be more likely to submit a review or rating.
Ask in the right moment
As you primarily strive for positive feedback, get the user's attention at a great moment. For example, you could ask your users for a positive review after they reached a new level or achieved a bonus in your app.
Make use of forums
As getting in-app reviews or ratings is difficult for new apps, that still lack in users, you sometimes have to look for alternatives. There are forums where you can promote your app on and ask for feedback. This is not always the best way, you still get some useful feedback about your app from early adopters and interested people.
Use well-dosed prompts
Review prompts are a great way to remind your customers to leave a review. However, it could also backfire when it is too annoying and badly timed. So better dose the use of notification about app reviews.
Get your app ranked #1 in the App Store
Create a free App Radar account