Reply to App Store Reviews with App Radar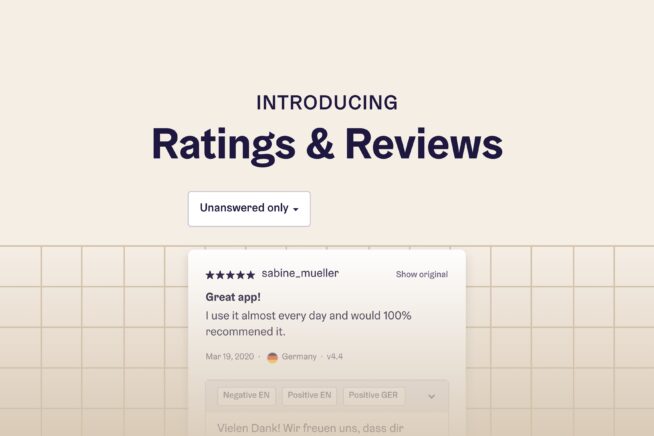 Every app store review you get is valuable. They contain hints to bugs that may need to be fixed, features that you should build in the future, and, most importantly, how your users feel about your app. User sentiment is vital to app success. Because what is an app without its loyal users? And the users who take their time to leave a review for your app want to feel heard! So replying to app store reviews is necessary to keep your users happy.
This fall, our team worked hard to bring a feature that many of you wished for. Starting today, you can use App Radar to reply to your app reviews! But that's not all. You'll also be able to create reply templates and track how your app ratings have evolved.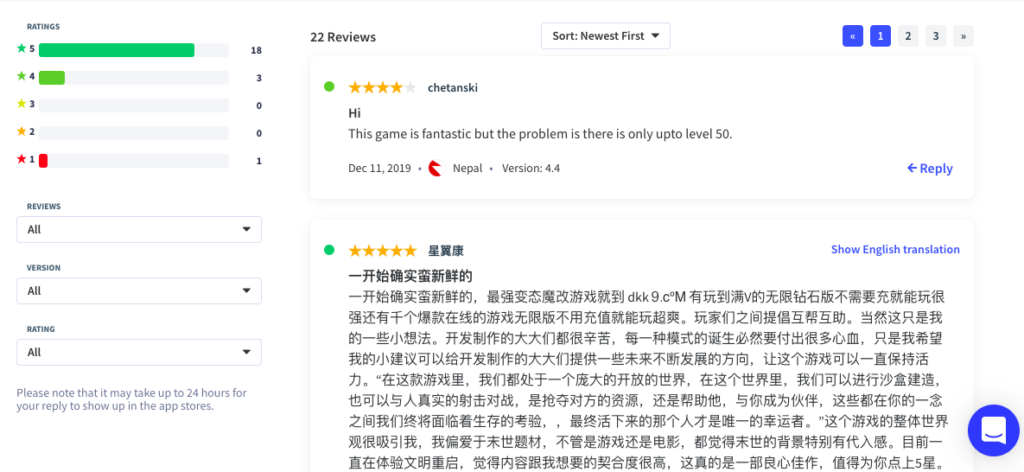 Let's take a closer look at the brand new Ratings & Reviews feature.
We received so much feedback about building a feature that allows your team to reply to reviews directly from App Radar. Reviews will enable you to do just that!
In Reviews, you can see what reviews your app has, filter by unanswered, and then publish your responses straight to Google Play or App Store. No action needed afterward!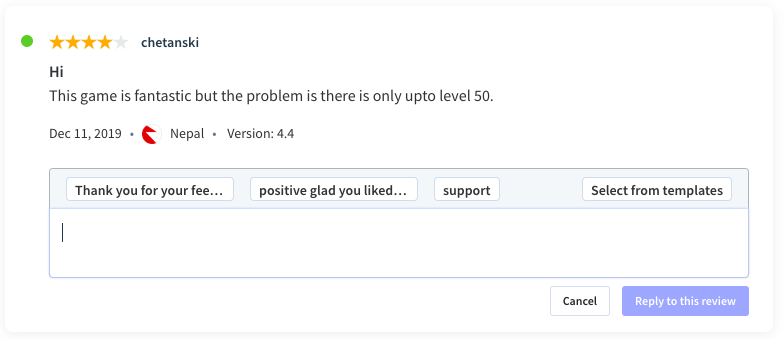 If the review is left in a language that you do not understand, App Radar will give you the option to translate it to English. No more copy and pasting!

You can manually type up all of your responses or use our next handy feature, Templates.
Save Your Most Used Replies as Templates
Templates allow you to utilize instant responses that react to frequent topics, such as a user experiencing bugs or a user enjoying the app.
You can also create your templates and save past replies to use them again. This takes out a lot of the manual work that goes into replying to every app store review. It's especially useful if you're receiving tons of feedback every day.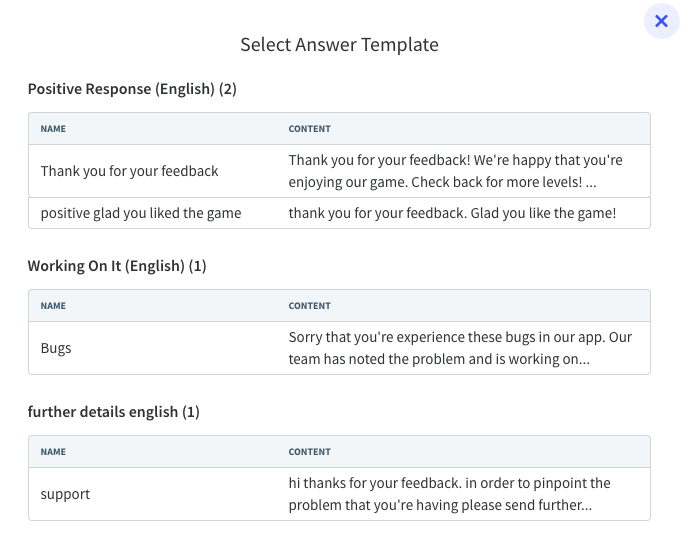 So with Reviews and Templates, you can make sure that your users are always heard and that their feedback is never ignored.
A reply to every review shows users, a dedicated team is behind your app, creating excellent features for them or ready to support them if anything goes wrong. As a result, your current users will become loyal, and app store visitors will become new users.
In addition, users who leave negative reviews usually go back and change their lower ratings. But only after they get a response that the issue is being worked on or has been fixed.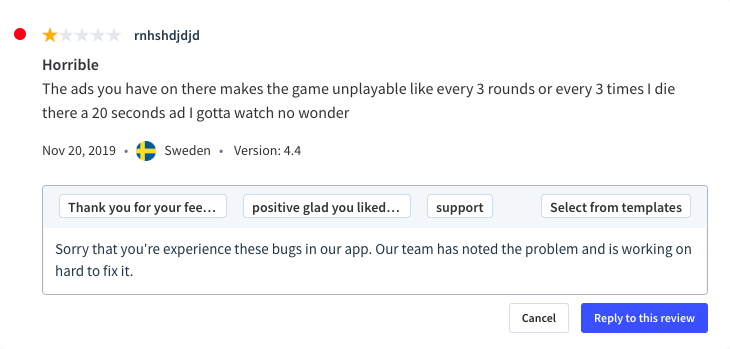 Apps with higher ratings get discovered more frequently in the app stores and also bring in more downloads than apps with lower ratings.
Track How Your Star Ratings has Progressed
That brings us to the 3rd feature in Ratings & Reviews: Ratings.
Naturally, you want to keep track of your app's star ratings. Research shows that the most influential factors when a person decides to download an app are:
People are hesitant to use products with low ratings. They're also reluctant to book a hotel or eat at a restaurant that has low ratings. So it's no surprise that people are also hesitant to download apps with low ratings.
By keeping track of how your star ratings change over time, you can identify actions that you've done, which improve your ratings. These actions can be:
Marketing campaigns
App UX/UI redesign
Updates in your app metadata (app name, subtitle, keywords, description)
Translating your app and app store listing to the country's native language
Changing your app screenshots
Implementing an app preview video
And the list goes on. When you can attribute which changes or campaigns improved your star ratings, you can reproduce and scale the action for further success. Higher ratings mean more happy users!

In the Ratings feature, you can switch the view from Total to New. The New chart shows you the new ratings you received.
This feature is especially useful for when you're executing in-app prompts that ask users to rate your app. If you see a spike in new ratings once you've applied the in-app prompts, that means you're asking your users to leave feedback at the right in-app moment.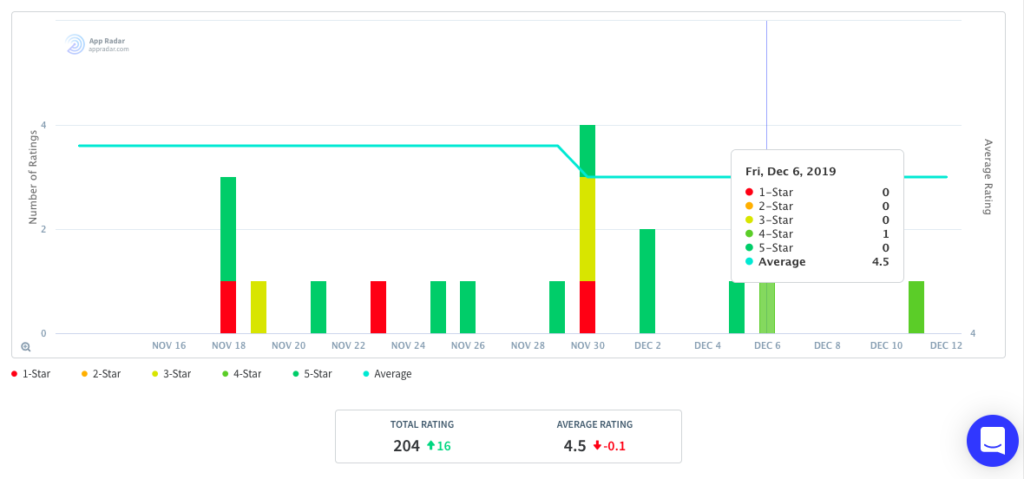 It's important to remember that it's not just about having a high rating. It's also about having a large number of ratings. Being able to pinpoint which kind of feedback prompt works best with your users is a necessary step to getting more ratings!
Never miss an app store review
The 4th feature in the Ratings & Reviews section is Alerts.
You don't want to miss any reviews you get in Google Play or App Store. Missing the review equals missed opportunities. You miss the incredible chance to communicate with your users and find out directly from them what they like or don't like about your app. This communication channel is undoubtedly priceless.
With Alerts, you'll never have to miss an app store review. We'll send you notifications via email or Slack whenever your app gets a new review. That way, you can reply promptly!
Ready to get started?
Our team is excited to see what you do with our new Ratings & Reviews feature set. So stop waiting and get started! If you don't have an App Radar account yet, you can create one here.
Manage, Analyze, and Reply to App Store Reviews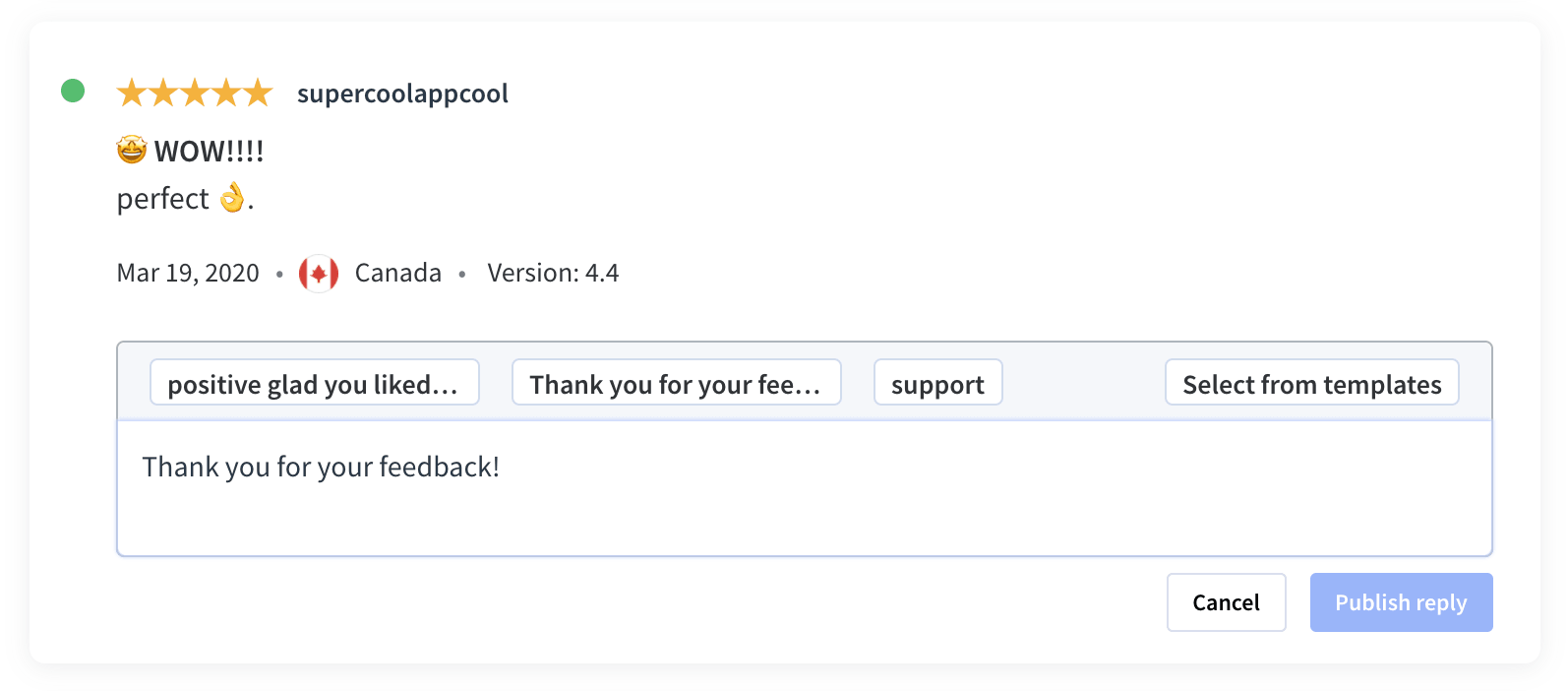 Easily reply to App Store reviews.
Respond even faster with reply templates.
Track how your star ratings changes over time
Create a Free Account