Get Started with ASO in 5 Simple Steps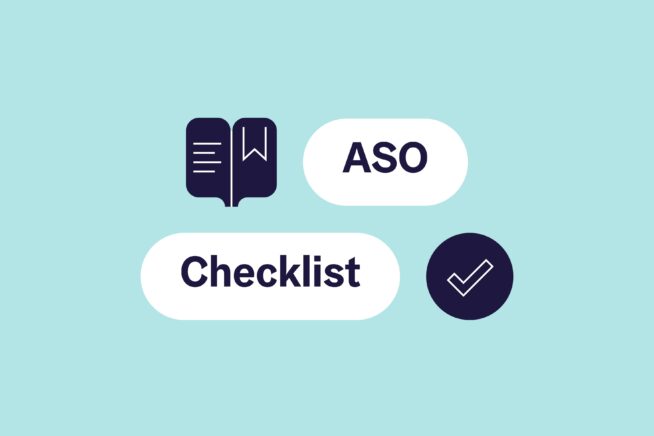 App Store Optimization or ASO is the process of increasing app visibility and boosting user acquisition in the app stores. It is an organic growth strategy that is also a driving force for any paid campaign. Whether you're publishing your first app or your 50th, having a bulletproof App Store Optimization strategy is going to be the key to your success. Today, we're going to walk you through 5 simple steps to get started with App Store Optimization.
1. Analyze the App Market and Determine Your App's USP
The first step in getting started with App Store Optimization is analyzing the app market and determining your app's USP.
Your app's niche or category and its USP (unique selling point) will lead your entire App Marketing and also App Store Optimization strategy. These two aspects help you determine the status of the app market you're entering and your target audience. Thus, they guide the strategy needed for exponential growth.
Nailing Down Your App Category to Analyze the Current Market
Deciding which niche or category our app belongs in is pretty simple. To guide the process, check out ones that are listed on Apple App Store and Google Play.
So how exactly is this going to help you grow your app business? Well you need to know who you're talking to and why they would want to download your app. You also must identify your competitors and the other players in your app's niche, aka the market.
Get Started with ASO by Determining Your App's Unique Selling Point (USP)
Your app's category identifies the users you want to acquire and your app's USP is the reason why users will download and stay active.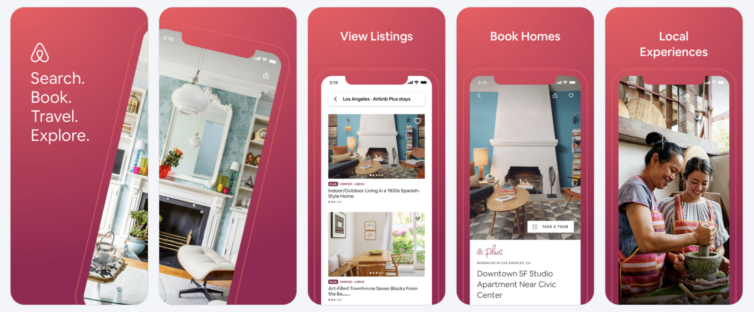 For example, Airbnb is a travel accommodation and experience booking app. They are ranked #3 in the Travel category on the App Store. Their USP is plainly stated in the first screenshot. With this app, users can search, book, travel, and explore. So, Airbnb appeals to people who enjoy traveling and want to really experience the destination that they are going to. Consequently, when it comes to marketing, Airbnb knows they need to target this wanderlust loving audience.
2. How Do You Build an App Keyword Set?
Okay, now you know your target audience. If you need further guidance check out our guide to finding target audience for mobile apps.
The next step in getting started with App Store Optimization is to come up with keyword ideas. Keywords are how users will be able to search for and discover your app in the app stores.
Gather App Keyword Ideas from Friends, Family, and Colleagues
A good jumping off point for app keyword research is simply asking for ideas from your friends, family, and colleagues. This will give you a first impression of what words people are most likely to use when describing your app. Prompt them with some basic questions such as:
How would you describe my app to someone who hasn't used it before?
What problems do my app help you solve?
What are the first 3 words that come to mind when you think about my app?
After you've gathered a good amount of general keyword ideas, you're ready to sign up for an App Store Optimization tool.
3. Sign Up for an App Store Optimization Tool to Get Started with ASO
An App Store Optimization tool is a software or web app that helps you complete app marketing tasks like finding keywords and analyzing competitors. It may sound daunting at first, but App Radar is an App Store Optimization tool that has an easy to use design and comes with tutorials to guide you through the entire App Store Optimization process.
Create a free App Radar account and import the keywords you collected from your friends, family, and colleagues into the Keyword Tracking feature.
Start Growing Your Apps
Track keyword rankings, analyze competitors, reply to ratings and reviews, and more!
Create Free Account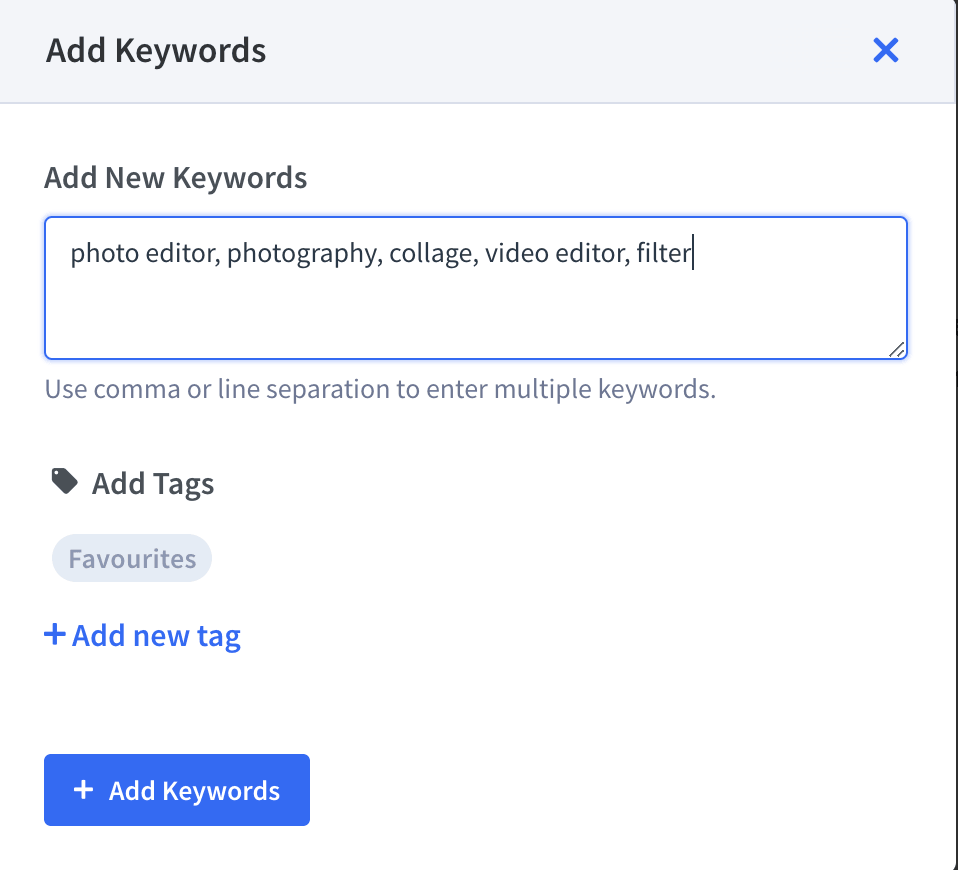 Once you start tracking, pay attention to these 4 values:
Current rank: the position of your app in the search results for that keyword
Search volume: how often the keyword is searched for
Difficulty: how challenging it is to rank for the keyword
Live search: real-time search results for that keyword
First, you want to use Live Search to determine if your current keywords are relevant to your app. When the other apps listed could be your competitors or are in the same niche, then the keyword is relevant.
Next, check the current rank. When the rank is low (>5), you'll want to work to raise it. You can do this by implementing the keyword in a stronger ranking weight field.
Lastly, when the search volume is low (=5), throw out the keyword. This means that no one is searching for this term in the app stores.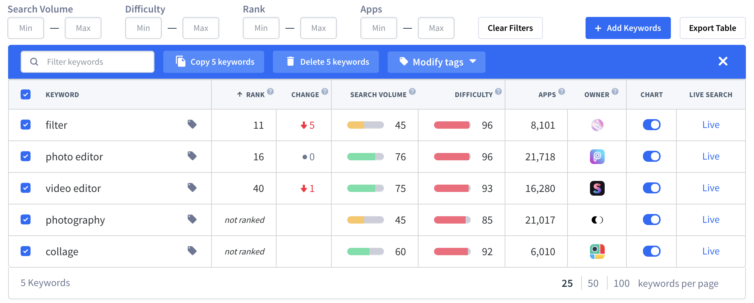 Find More Effective Keywords Using App Radar
You can use App Radar to find additional keywords that will drive app growth.
Discover keywords your app is already ranking for
Get autocomplete keywords from App Store and Google Play
Identify trending keywords on App Store and Google Play
Receive keyword tracking suggestions via AI
Search through App Radar's massive keyword library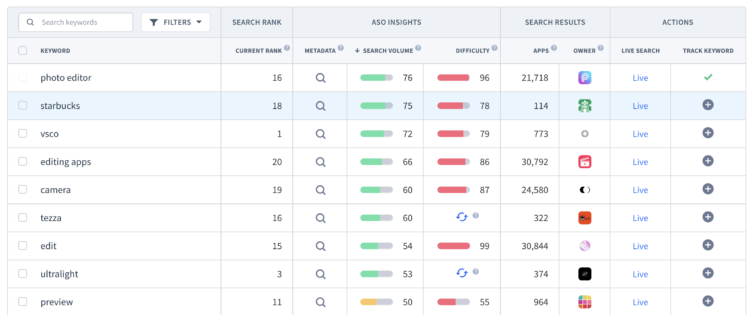 4. Researching Your App Competitors is Important When Getting Started with ASO
The 4th step in getting started with App Store Optimization is to do competitor research and analysis. You need to know who you're up against and what strategies they're using.
You can easily track your competitors on App Radar. If you're not sure who your competitors are, App Radar will give you a few suggestions to start with.
Now you'll be able to see what their app screenshots look like, which keywords they're using and ranking on, if they're running any Apple Search Ads, and more. Use this information to leverage keywords your competitors are using and to build your own app brand that stands out from the crowd.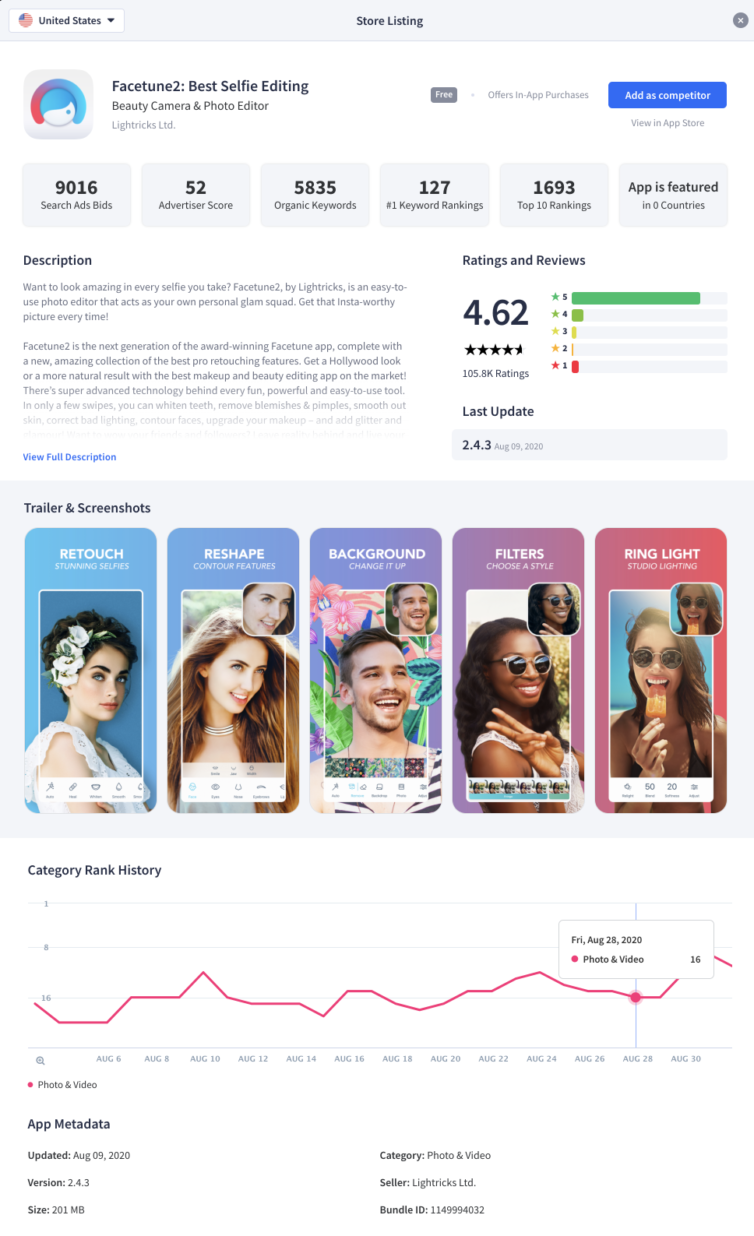 5. Don't Forget About Your App Screenshots, Ratings and Reviews, and UX/UI
Lastly, App Store Optimization is not only about keywords. It also involves ensuring that people download your app once they find it, in other words, Conversion Rate Optimization. This is where building a unique and stand out app brand comes in.
Make sure that your app store listing, app screenshots, ratings and reviews, and overall app ux/ui appeal directly to your target audience. By analyzing your competitors you can see which colors, language, and strategies are commonly used in your app's niche.
Need help nailing down your app's unique brand? Contact our app marketing team and we'll discuss a tailored solution with you!
Get Started with ASO Summary
App Store Optimization is best learned by doing. If you need help, App Radar has many free resources that can guide you. Check out our ASO Academy, where you can learn everything you need to know about App Store Optimization. And be sure not to pass up on our video tutorials, available in your free account. So stop waiting around and losing downloads. Get started with App Store Optimization today!
Get in Touch
Talk with our app growth experts about how you can achieve exponential growth
Learn More