A Full Facebook Marketing Guide for App Marketers and Developers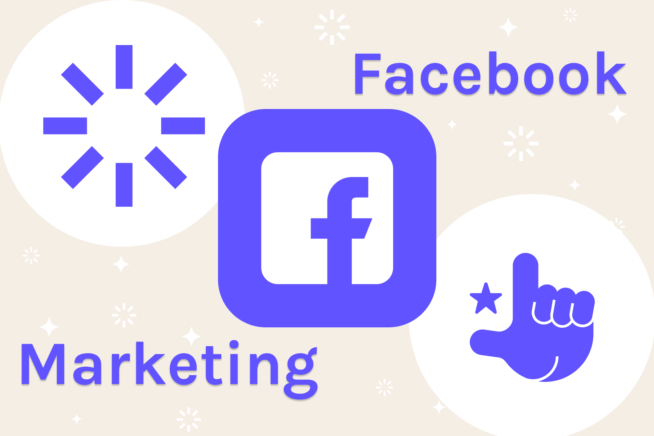 This is a guest post by Christopher Jan Benitez, an independent content marketing writer.
If your business is launching an app to expand your user base and target market, promoting it on Facebook is arguably one of the best ways to do it. This article will explain what Facebook marketing is, why you should consider using it as part of your app promotion strategy, and how you can do it successfully.
Knowing how these pieces fit together should help you decide whether launching a Facebook marketing strategy is the right call for your app.
What Does Facebook Marketing Entail?
In a nutshell, Facebook marketing refers to the process of promoting one's business on the platform. Facebook organic marketing occurs by publishing a post from your business page, which would appear on your followers' news feeds.

The key to increasing your posts' visibility is to generate as many followers as possible and engage with them as much as possible. Facebook's algorithm will pick up your page's activity and help get your posts to appear on your followers' news feed prominently.
If you don't have many followers yet, you can maximize your marketing campaign using Facebook ads, the platform's paid advertising feature.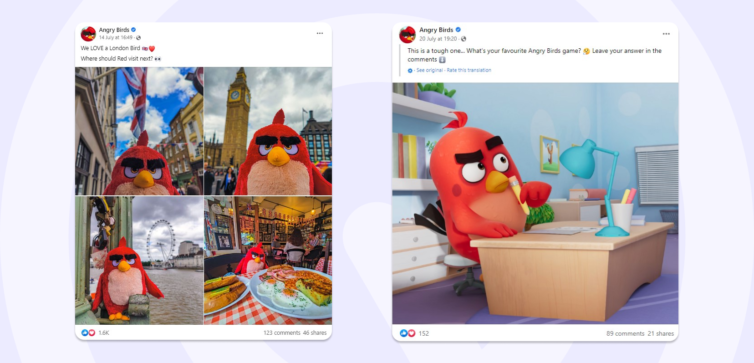 From here, you can get people to see your posts even if they aren't followers of your Business page and commit to your call to action (CTA), whether it's signing up for an account or download your app.
However, unlike growing your followers, you would need to spend money every time you launch an ad campaign. But if done correctly, you can generate profit from each campaign and keep doing it repeatedly.
Why Should You Promote Your App on Facebook?
With 2.89 billion active monthly users, Facebook has the audience and reach that you will need for your marketing campaign. And since you want to generate buzz on your app, promoting it on the most prominent social media marketing platform worldwide is a no-brainer.
Among the different ways to market your business on Facebook, paid ads are one of the most efficient ways. In fact, in 2021 the average cost-per-click (CPC) of Facebook ads was $0.44, 13% more than in 2020.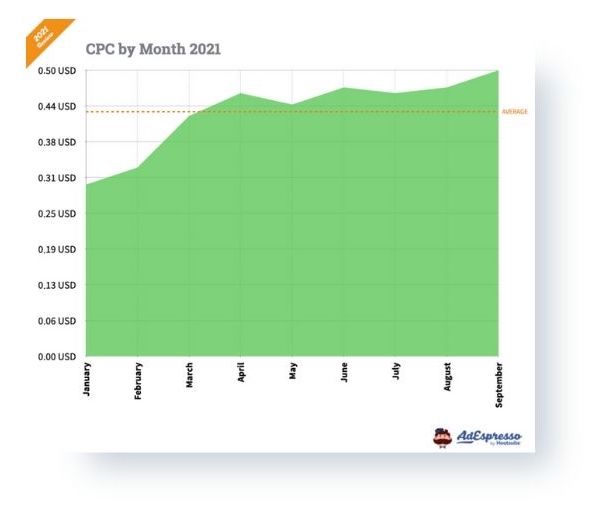 Besides, Facebook ads are expected to reach a 12.2% year-over-year (YoY) growth in revenue in 2022. It means that Facebook ads are here to stay and are getting stronger every year. However, you may still have some convincing to do among your colleagues since you'll need a budget to run paid ads.
Once you agreed on the marketing strategy, it's all a matter of creating laser-focused campaigns that effectively target your prospects with your messaging. Facebook allows you to do that with their ads campaign. By listing the demographics and interests to narrow down your target audience, you can serve your ads to the right people who are most likely to download or purchase your app.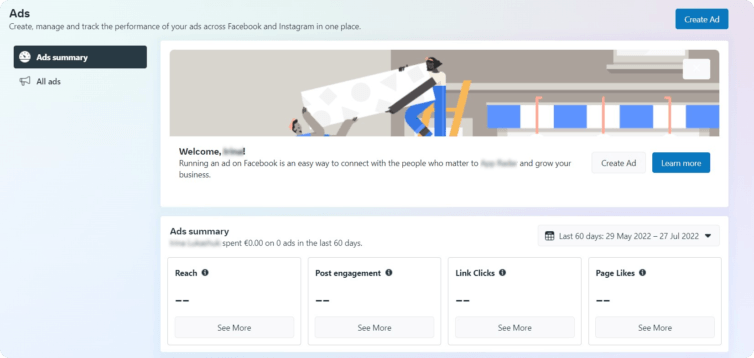 Setting Up Your Facebook Marketing Campaign: Organic vs Paid
As mentioned above, you can go either with an organic strategy or paid marketing campaigns on Facebook. It all depends on your budget, resources and your app marketing goals. Nevertheless, you can always combine both approaches to reach more audiences and increase your app's brand awareness.
Learn more about Paid vs Organic Mobile User Acquisition.
Organic Facebook App Marketing
While this is the ideal way for cash-strapped marketers, it's not the easiest approach, especially if you want to reap the rewards of your marketing efforts now. However, in the long-term, all efforts should pay off.
The main rule in organic Facebook marketing is to find the type of content that your target audience likes. But don't take it straightforward, as almost all people like funny memes of cats. It doesn't mean that your business will benefit from posting such content. Think through the lens of your app content, and post more valuable content for your potential app users.
As Facebook has a lot of direct competitors, the Facebook team improves platform's functionality quite frequently. In other words, it gives a variety of options for organic marketing. You can try out different types of posts and analyze what performs best:
Image posts
Text-based posts with generated colourful backgrounds
Link Posts
Stories (active for 24 hours)
Reels
Videos
Live Videos
Live audio room
Podcasts
Also, find the right time for your posting. Your app might target an audience in a different time zone; therefore, make sure you publish your post once they are active on Facebook.
Learn about the 7 most effective ways to promote your mobile app.
Paid Facebook App Marketing Campaigns
Many brands use Facebook ads to promote apps for different purposes. Facebook campaigns result in greater visibility, more downloads, and higher conversions.
Here is a step-by-step process for launching your app ad campaign on Facebook:
Set up your Facebook Business Manager account correctly.
Create the Facebook Pixel and install it on your app's landing page. The pixel informs you whether your ads are working or not; i.e., it shows activity when the user visits your page from the ad.
Target the right people for your ads using Facebook's audiences feature. From here, determine who you plan on targeting with the different campaigns you may have for your site, whether you're retargeting warm audiences or prospecting for new ones.
Build a Facebook ad campaign from scratch. To do this, determine the ad sets for your target audience by defining your objectives for each, choosing your budget, and identifying the placements of your ads (manual or automatic).
Choose the creatives for your ads and run them for each ad set.
Monitor the results of the ads and optimize them as necessary. Ideally, it would be best if you waited until each reaches 1,000 impressions before doing anything. If the results are promising, continue running the campaign to generate more impressions. If not, either shut it down or try to optimize it with new creative assets and messaging.
To execute your Facebook ad campaign more efficiently, you don't need to have advanced assistance such as an offshore application development team. You can benefit much more from using tools to automate Facebook post promotion, campaign optimization, and more.
Additional Tips for Marketing Your App on Facebook
Create Different Campaigns for the Various Stages in Your Buying Cycle
Your target audience is the best group of people in your Facebook marketing campaign. Since their interests align with what your business offers, the chances of them downloading your app are very high.
However, it would help if you first acknowledged that not all of your prospects are on the same level for your app buying cycle. While some may download it after seeing your ad, others may want to learn more about it first.
Knowing the different stages your target audience are in allows you to create custom campaigns for each one, zeroing in on the concerns they may have about your app.
For example, if you want to provide more context about your business app, you can create an ad campaign promoting a guide on how to use your app. Even better, you can launch a campaign promoting live training on webinar software, so they can learn how to utilize your app in real-time.
These campaigns should cover all bases to help bring your audience down your sales funnel until they are compelled to download your app.
Use Feedback to Improve Your App
Aside from getting users to install your app from your Facebook marketing efforts, don't forget to gather data and insights from users.
The best way to implement this properly would be to find a way for users to report issues, bugs, or anything they encounter that hinders their user experience.
Using in-app feedback tools should help make this process much more efficient for users and developers. However, you can also use your app business page on Facebook to create surveys or polls. So, users can easily communicate their concerns with the developers in a different place and be heard. In this case, community management on your Facebook page should be on a high level to manage negative feedback in the most effective way.
Maximize Your Campaign Results with A/B Testing
Giving up on a losing ad campaign might be wise, but the wiser marketer will always want to put things to the test before calling it quits.
In this case, running an A/B test to see which ad variant works the best will help you either salvage your campaign or put it to rest.
At the same time, consider running tests on your app landing page and see if you can increase conversions. Sometimes, the issues lie not in the campaign, but in the page's ability to turn visitors into leads or customers.
Conclusion
Like any marketing strategy, promoting on Facebook requires diligence, planning, and patience to generate many impressions and conversions.
Testing different approaches with organic and paid strategies will give you many insights into your audience preferences. Take your time to analyze your Facebook marketing efforts and find your target audience's most winning content types and messages.
---
About the author: Christopher Jan Benitez is a freelance writer who specializes in the digital marketing field. His work has been published on well-known SEO and marketing-focused websites.
Connect your Google Ads and Apple Search Ads accounts with App Radar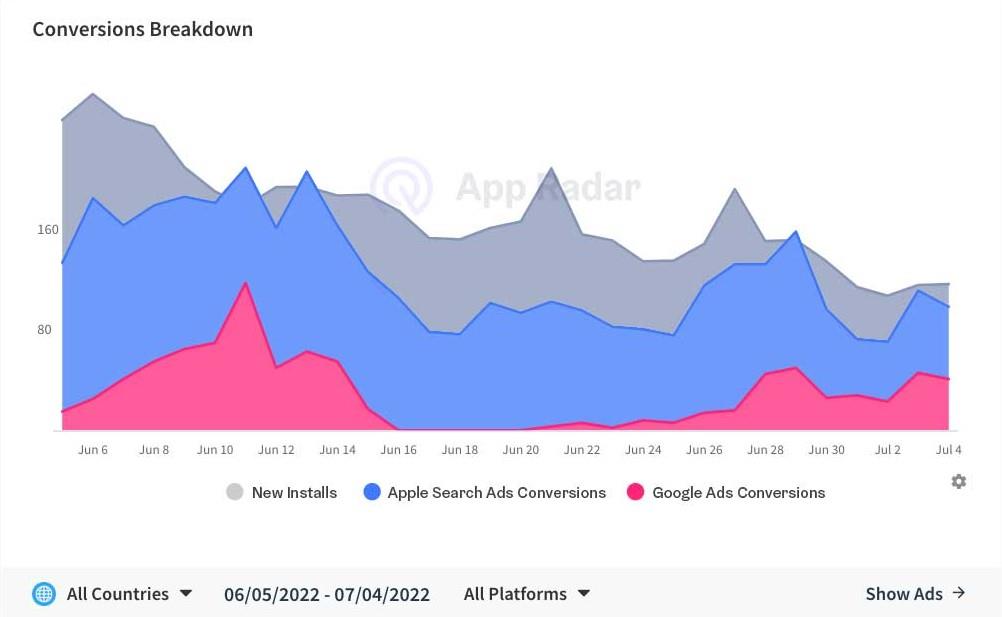 Try it for 7 days for free