A Full Instagram Marketing Guide For App Marketers & Developers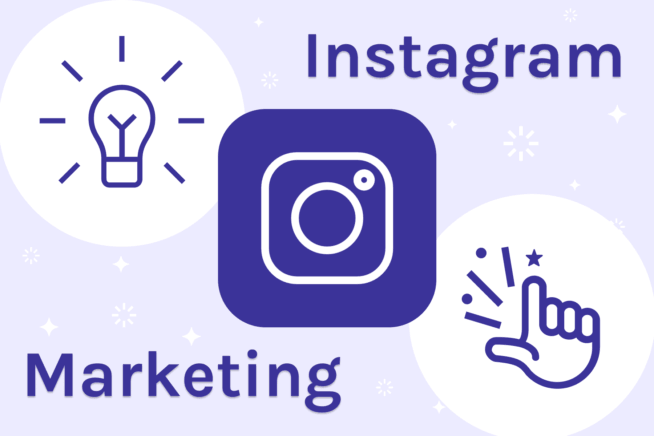 This is a guest post by Darya Jandossova Troncoso, a digital marketing manager from MarketSplash.
Instagram is a global hotspot for online marketing and commerce. Given its ease of use, universal accessibility, and widespread influence, it's no surprise that Instagram is now a fundamental aspect of any successful app marketing campaign.
Of course, with so many app marketers trying to utilize the social media platform, marketing on it has become quite complex.
Yes, the task at hand may be daunting to those unfamiliar with this new form of social promoting, but rest assured, this guide will tell you everything you need to know about Instagram marketing and how you can begin utilizing it today.
Instagram Marketing Intricacies
It's important to understand the subject's intricacies before you can plan out your perfect Instagram app marketing strategy. How exactly does marketing on Instagram work?
Instagram marketing is the advertising technique used to promote a company, brand, or service through the social media platform known as Instagram.
In case you don't know (which we doubt), Instagram is an image-based app where content creators can publicly (or privately) share various forms of user-generated content with their followers.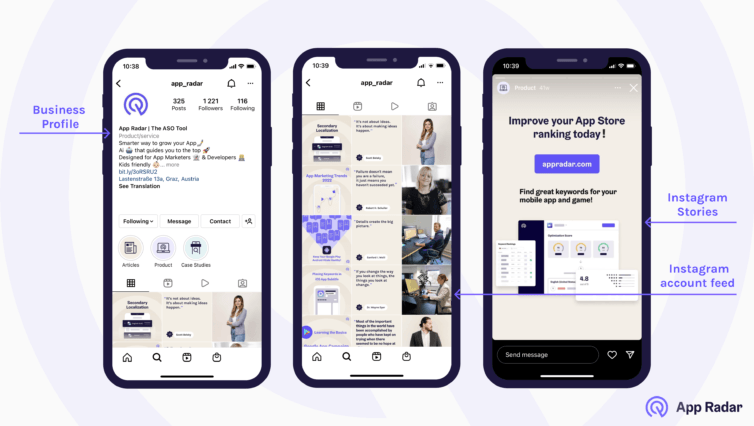 On Instagram, you can have one of two account types: personal or business.
A personal account is a casual Instagram account with all the basic features. This allows users to post, interact, and follow other users.
A business account allows the same functions as a personal account; however, it has more tools for tracking user engagement, analytics, demographics, and more valuable stats. App marketers can use these insights to optimize their advertising efforts.
The type of content used for Instagram marketing varies greatly and depends on what kind of account you're running and on what you're trying to do. Here are the main features an app marketer might include in their strategy:
Instagram Posts: The primary function of Instagram is for users to post content (mainly images) on their accounts. This will show up on their profile's main page and in their followers' feeds.
Instagram Live: It is a live broadcast that can be streamed to a user's account. This is a great way to interact with followers and present material in real-time.
Instagram Stories: Instagram stories are a compilation of pictures or videos that can be posted on a creator's feed and will disappear after 24 hours.
Instagram Reels: Like Instagram Stories, Instagram Reels are usually compilations of short, 10-15 second videos that do not disappear on a creator's account.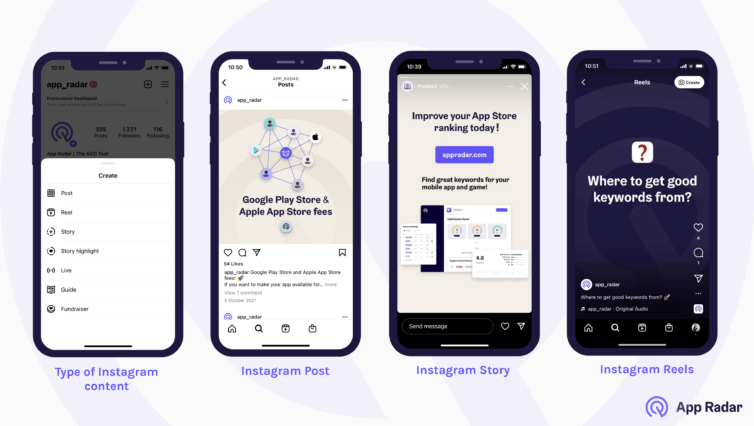 The Instagram Algorithm
One of the most essential aspects for app marketers is the Instagram algorithm.
While this doesn't matter to casual users who want to interact with their friends, the algorithm means everything when trying to get an app brand's name out there.
The Instagram algorithm is a set of directives and rules that dictate how an account and its posts are found.
The algorithm will distribute niche media categories to users based on:
a set of hashtags,
metadata,
key metrics,
user engagement.
This is how certain things go viral on the internet and is essential for brand growth.
Why Is Instagram Marketing Important for App Growth?
According to statistics, roughly 1 billion people use Instagram every month. With such incredible volumes of active users on the app, it has become a staple in the advertisement industry.
The reason it's so prominent to online businesses is most likely because of the audience demographics of the app. With over 60% of the platform's users falling into the age range of 18 - 34 years old, Instagram hosts a majority of one of the largest consuming age groups.
Instagram is particularly effective for app marketers because of the engagement rate. Businesses on Instagram get anywhere from 1.18% engagement up to 3.15%! On the other hand, Facebook is leagues behind at only 0.27%. If you want your app to get noticed, then Instagram is one of the best places to go.
There are many other advantages to advertising your app through Instagram.
First of all, the base cost is free. While money can and is usually diverted into marketing campaigns, for companies with less budget, everything can be done without spending a cent. If you've created an app and need to keep costs down, Instagram is a fantastic option.
This makes it easier to achieve larger business goals without depleting resources. The app's simplicity and accessibility to anyone with a phone make Instagram incredibly effective for marketing campaigns.
Another 2022 report suggests that the average user spends 147 minutes on social networks a day. Assuming a person gets 8 hours of sleep a night, that's almost 12% of a person's waking day.
Since users spend so much of their time on social media, it's the best place to promote a brand and appeal to the ideal customer. With one billion potential users for your app, you can't afford not to utilize Instagram as an opportunity to increase your sales.
How To Set Up A Business Account On Instagram
If you are a newbie to Instagram, then you may be feeling stuck with how to get started. Below are 9 simple steps for setting up your Instagram business account:
Download The App: Go to your app store and install the Instagram app for free.
Sign Up For An Account Using Your Work Email: Hit the signup button on the login page of the app. Use your work email to create your free account.
Enter Your Business Details: Follow the prompt and enter the necessary details such as name, address, and password.
Come Up With A Username: Input your unique username. This is what people will know your account by and allows them to search for your business easily.
Select A Profile Picture: Use your custom brand logo so people can more easily identify your company's account with a profile photo.
Craft A Bio: This should be a short description of what your business does and any other little details you want people to know.
Link To Your Business Page: Add a company site link to your description in the "website" input box.
Switch To A Professional Account: Go to your accounts settings and hit the "Switch to Professional Account" button. Check the box that indicates that you are a business and hit next.
Get Posting: After that, your account is all ready to go. So now it is time to carefully craft and create your first post. Think about your content carefully as you want to send the right message from the start.
12 Tips For Building An Instagram Marketing Strategy For Marketing Your App
Now that you have your business account set up, you're ready to begin posting. Keep in mind these 12 tips for building a stellar Instagram app marketing strategy.
Know App Your Target Audience
The market is oversaturated with advertisements and promotions, so targeting a general audience just won't cut it.
Instead, figure out your customer profile and make content based on who they are. If you post for a specific niche, you're more likely to gain recognition and find a place within that community.
The most significant advantage to marketing towards a niche is that you'll constantly interact with people interested in your app. Who did you design this app for? What demographic will use it the most? Your advertisement strategy should be centered around this ideal app user.
Use An Instagram Influencers To Get The Word Out
Influencers are people who make a living off of social media. These people have large followers and maintain the respect of their audiences through their personalities.
As we mentioned, you can find and utilize these influencers by paying them to promote your brand, which will expand your own following and give your company a good reputation. Micro-influencers might be happy to simply get your app for free, but macro-influencers will likely need to be paid for their work.
This should not be done until you've had a thorough analysis by quality assurance. You don't want the influencers to be the ones to find (and advertise) bugs!
Check Out The Competition
The next thing you should be asking yourself is, "what is my competition doing?". Sure, marching to your own beat is excellent for creating brand uniqueness, but there is some merit to borrowing what's working well with other businesses.
You'll also want to know what you're going up against. If you're a small startup company in a highly competitive market, your chances of success are significantly lower.
If you're appealing to a new industry with virtually no competitors, you're more likely to make it big as you'll set the stage for all of your predecessors.
You can download apps similar to yours and find their strengths and weaknesses. What do customers say in their reviews? How can your app bridge the gap and improve its customer experience? Or simply sign up for App Radar's all-in-one tool and conduct an app competitor analysis in the simplest way.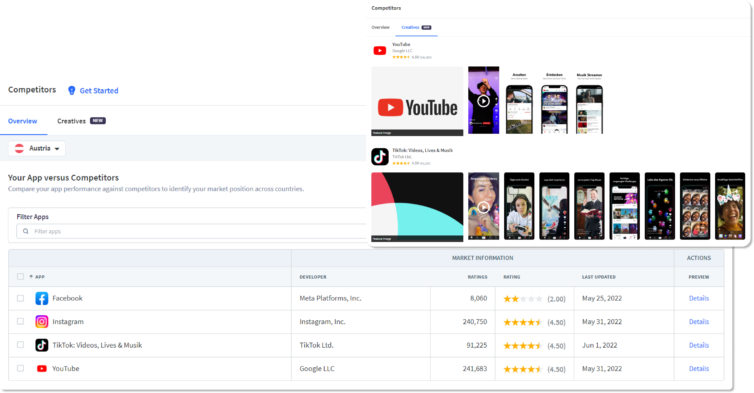 Plan Out An Editorial CalendarFor Your App Instagram Strategy
An editorial calendar is a schedule for when content will be published. This incorporates all of the business's media channels and defines a timeline of posts.
Editorial calendars are vital to a business's social media marketing campaigns. They promote consistency and can indicate a company's progress to its followers. This may be a schedule for updates, patches, and bug fixes for apps specifically.
Consistent updates may also increase engagement amongst followers and show that your app is active.
On Instagram, you should post notifications about important updates, but also reminders of what's new or useful on the app itself. Advertise its best features or top reviews to keep a positive news cycle going.
Curate Effective & Eye-Catching Contentof Your App
Low-effort content and posting just for the sake of posting won't get you as a marketer anywhere. There are plenty of business accounts on Instagram. There will be a LOT of competition. And while your goal may not be as ambitious as standing at the top, it should be to stand out pretty well.
You'll risk falling into obscurity if you don't make psychology-optimized, eye-catching content. Instead, take the time and effort to make the best content you possibly can.
You can use videos and high-quality screenshots of your app itself, but that may only go so far. Instead, consider having influencers and micro-influencers review your app. Not only do they know the ins and outs of creating high-quality content, but you'll also be piggybacking off of their followings and getting additional advertising from their own viewers.
Brand Consistency Is Keyon Instagram
If your posts don't consistently align with your brand's core ideals/message, then you could lose valuable credibility.
When you post on social media, you create a particular image of your app. When you deviate from this image, you fail to meet the expectations you set before.
You'll want to consistently portray your brand to maintain the integrity and your audience. For example, if your app is a new way for people to track their menstrual cycle, you'll want to keep your content woman-focused. However, if your app is a fun fitness tracker, your content should probably revolve around healthy living.
Increase Your App Followers on Instagram
The best way to organically increase your followers is by constantly posting (at least once or twice a day) and using content-related hashtags.
Hashtags allow the Instagram algorithm to distribute your content to users most interested in it. Try to use a mix of trending and obscure hashtags relating to your brand in order to expand your reach. Just make sure that these tags relate to your app in some way. For example, you wouldn't use a tag about productivity if you've crafted a meditation app that focuses on relaxation.

Promote Your AppInstagram Account
It would be best if you were promoting your app everywhere you possibly can to maximize efficiency, and this includes on your Instagram page.
This may be on your other social media accounts, your business site, and even the walls of your company building. The more you get people talking about your app, the more brand awareness you generate. A good way to get people talking about your app is to start an affiliate program where affiliates can expect commission in return for advertising your product and increasing your conversion rate.
Don't Forget A Caption & A Hashtag
This could be tricky depending on what kind of app you've produced. However, it is essential to have relevant hashtags and captions to improve your marketing strategy.
A picture of someone enjoying your app is all well and good, but a caption describing how your app can improve users' lives goes a whole lot further.
Try Out A Tool (Or Two)
There are many paid and free tools for optimizing your Instagram account. Try using some to observe analytics, gain followers, organize schedules, and gain other useful insights.
You can use these tools to schedule your posts for you, allowing you time to focus on your app and your marketing strategy. Plus, the time you receive peak engagement might be the middle of the night for your time zone, so having a tool to post when you're sleeping can keep your presence highlighted on Instagram.
Set Your Instagram KPIs And Goals
The first thing to do is set some goals regarding your app. How many downloads a month are you looking for? How many reviews in the Apple Store or Google Play do you want to get daily?
If you don't make a timeline of landmarks indicating your objectives, you'll never know if your app is making progress.
Key performance indicators, or KPIs, are specific indicators that let you know you're on the right track to completing a goal. You should set your KPIs along with your goals so you can keep track of how well you're doing and know whether or not you need to make changes.
Track Your Instagram Analytics
Going along with the previous tip, you should definitely keep track of your analytics. This includes followers, demographics, engagement, social media metrics, views on different posts, and unique visitors to your account.
Analytics lets you know how well you're progressing and what type of content does best on your account. Let's look at that previous example: an app that tracks a menstrual cycle. You know right off the bat that this app is going to appeal to women, but you may find out other demographics you wouldn't expect.
This might be women of a particular age group or ethnicity, women in certain careers or monetary brackets. Tracking analytics will give you more insight into your potential perfect user.
Final Thoughts
Hopefully, you're convinced that Instagram is one of the most critical parts for app marketers and of your brand's online marketing campaign. You should divert a great deal of effort into it.
With so many people using the app today, there's no other place better to extend your reach. And now, with the techniques listed in this guide, you have all the tools you need to succeed in an ever-changing market.
---
Darya Jandossova Troncoso is a photographer, artist, and writer working on her first novel and managing a digital marketing blog - MarketSplash. In her spare time, she enjoys spending time with her family, cooking, creating art, and learning everything there is to know about digital marketing.