Welcome to App Radar's Keyword Finder 2.0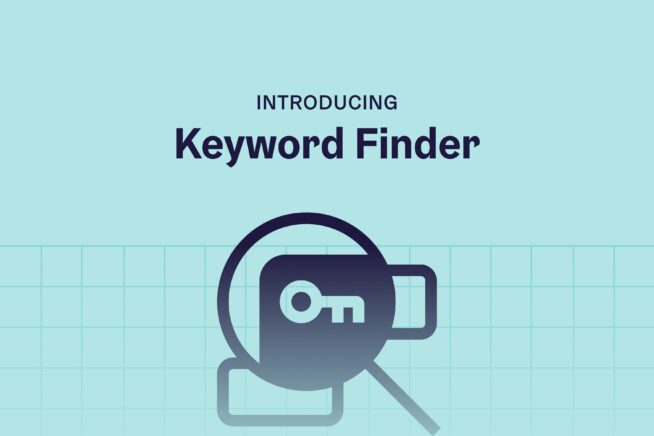 For the past few years, app developers and marketers have been utilizing our powerful keyword finder tools to increase their app store rankings and grow their apps. Today, our team is proud to present the App Radar Keyword Finder 2.0. With this update, you'll be one step ahead of your competitors when it comes to app keyword research and App Store Optimization (ASO).
Why Do You Need to do App Keyword Research
First, I want to cover why you even need to carry out app keyword research.
It all comes down to App Store Optimization or ASO, the process of increasing your visibility in the app stores. A large part of ASO is implementing keywords in your store listing that are relevant to your app and also highly searched by app store visitors. In this way, your app is not only easily found in the app stores but also found by the right users.
Finding the best keywords for your app can be a tedious manual task. We know this from firsthand experiences. Luckily, that's the whole reason we started App Radar! We want to make both finding keywords and implementing them as easy as possible for you.
App Radar's Keyword Finder 1.0
The first version of App Radar's Keyword Finder, one that you may be used to already, allowed you to:
Track your app store rankings
Get AI-recommended keywords
Discover keywords directly from Google Play, and Apple App Store autocompleted search suggestions
Analyze your competitor's top-ranked keywords
See keyword popularity and keyword difficulty
App Radar's Keyword Finder 2.0
Now you'll be able to do all of this and more.
The New Keyword Finder Tab
First, we combined a few keyword features into a single tab to make them more accessible to you. In Analyze → Keywords → Finder you'll have access to:

Autocomplete
The Autocomplete feature is one that current App Radar users are already familiar with. It allows you to pull the autocompleted search suggestions directly from Google Play and Apple App Store. Type in a few letters, a word, or a phrase, and get autocompleted suggestions. You can then track these keywords by adding them to your tracking list.
Autocomplete is beneficial because it shows you further keywords that Google and Apple are associating with your initial search query.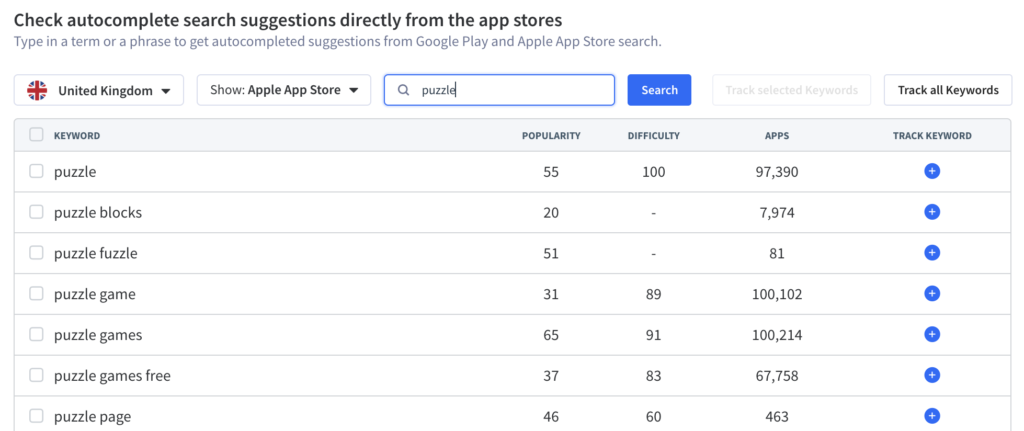 Trends(NEW)
Trends is a newcomer to our Keyword Finder set. It's part of the Keyword Finder 2.0 update.
In the Trends tab, you can see which keywords are trending in the App Store for a specific country.
For example, when you choose the United States, you see that many of the trending keywords are app names such as toon blast, candy crush, and youtube tv.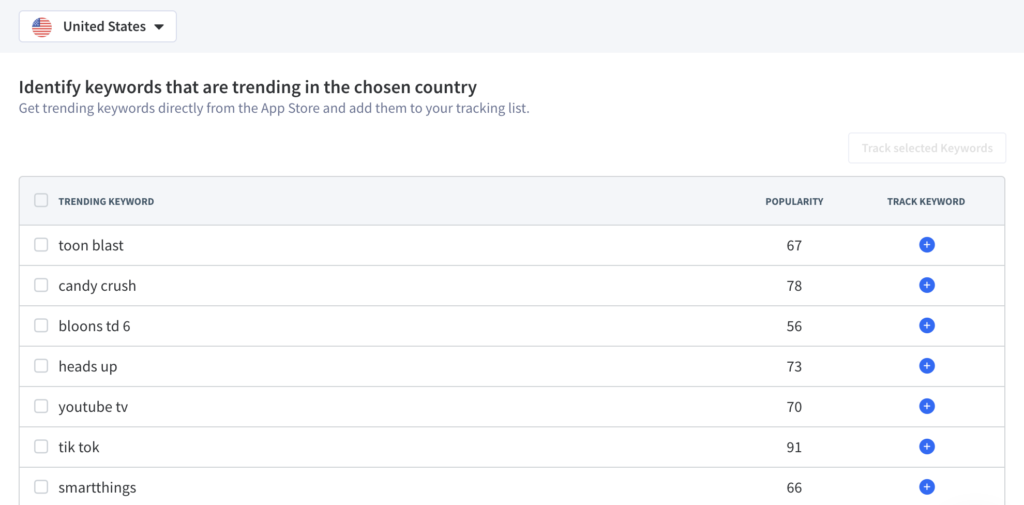 This newest addition to our Keyword Finder set of tools enables you to identify and analyze changing trends within each country. As a result, you'll be able to adjust your app growth strategy quickly.
Tracking Suggestions
Tracking Suggestions is also an existing feature that our team has reorganized into the Finder tab. With Tracking Suggestions, you're able to discover new keywords to track. Our in-house AI system automatically creates these keywords. You can quickly train the AI to give you better suggestions by either rejecting or tracking a keyword.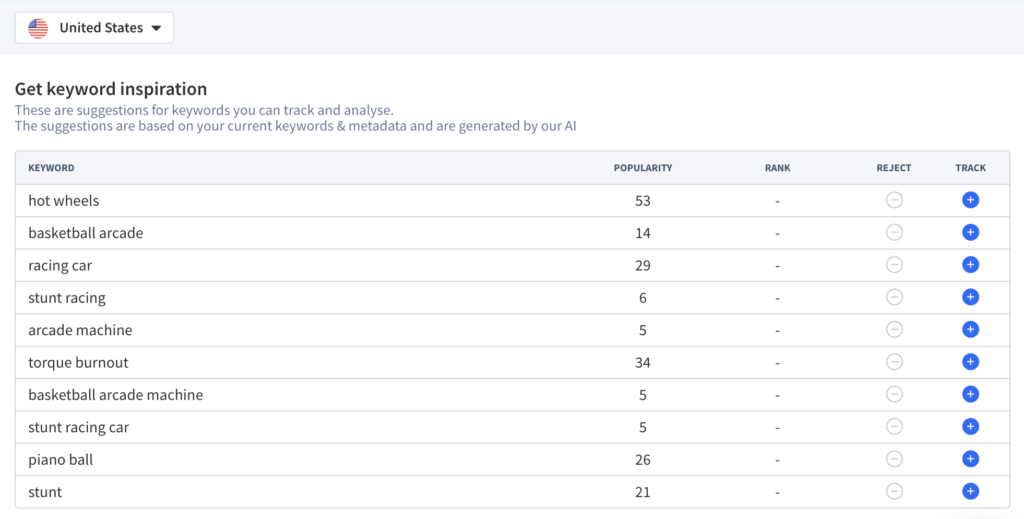 Library(NEW)
You'll find the Library feature in Analyze → Keywords → Library.
This is a big one. We've given you the power to access our entire keyword database. That's more than 10 million keywords. Okay, sounds good. But how does it work?
Searching through our extensive app keyword database is much simpler than it sounds. All you have to do is set the following filters:
App Store Country
Keyword Popularity
Number of Apps Ranking for that Keyword

After you've specified these values, you'll get a list of keywords along with their popularity values and the option to add them to your tracking list.
The Library feature answers critical questions such as:
Which keywords have max popularity of 50 in the US?
Are there any keywords in China that less than 100 apps are ranking for?
How can I find a keyword in the UK that has a popularity of exactly 56?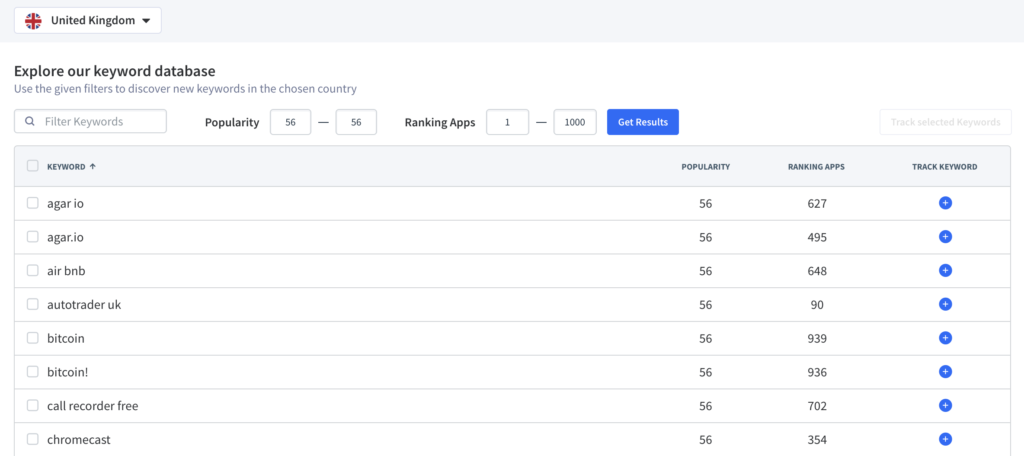 Notice how you can ask entirely open-ended questions and get a precise answer from our database. There are endless possibilities here since you can search through our entire database.
Keyword Finder 2.0 Features Outside of the Keyword Finder Tab
There are few new additions to our Keyword Finder set that live outside of the Keyword Finder tab. These are:
Shared Keywords(NEW)
The Shared Keywords feature lives under Analyze → Competitors → Shared Keywords.
It's a tool that helps you analyze your competitors' ASO and keyword strategy.
So, for example, you want to know which keywords your competitor apps are ranking for that you are not. That way, you can add these keywords to your tracking list and later implement them into your app store listing.
To see these types of keywords, you have to switch the app ranking toggles on or off.
Toggling the "left app ranking" will show keywords your app is ranking for.
Toggling the "right app ranking" will show keywords your competitor is ranking for.
Having both toggles switched on will show you the keywords you and your competitor are simultaneously ranking on.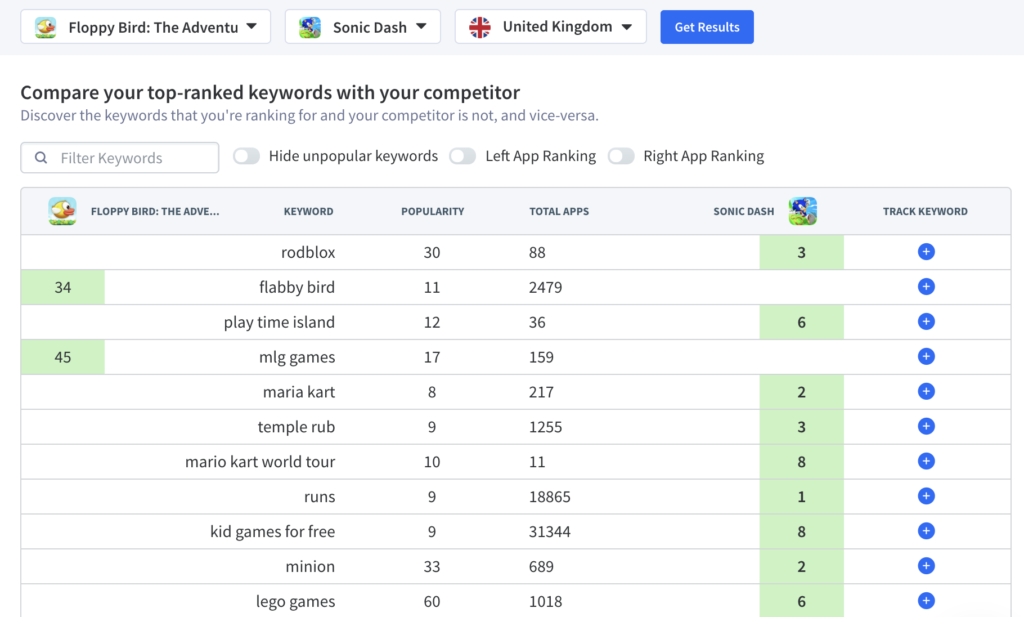 Shared Keywords is hugely advantageous when you are trying to compare your app store rankings to those of your competitors.
You want to identify good keywords that you are ranking for, and your competitors are not yet ranking on to protect these. You don't want your competitors to start showing up in the search results for these keywords or even to begin ranking higher than you. Running Apple Search Ad campaigns as well as updating your keywords frequently will keep you ahead of your competitors.
Discovering keywords that your competitors are ranking for and you are not, gives you the ability to utilize these in your next app update. You can then start ranking on them and be more competitive in your app niche.
Metadata Explorer(NEW)
The last but certainly not least, new addition in our Keyword Finder 2.0 update is the Metadata Explorer feature. This, too, like Shared Keywords, can be found under Analyze → Competitors → Metadata Explorer.
Metadata Explorer shows you the keyword count in your app store listing as well as that of your competitors'. This is useful for both Google Play and the Apple App Store.
In Google Play, you want to repeat your primary keywords 3-5 times. The repetition signals to Google that these words describe what your app is about and what it does. If you have an Android app, you'll want to make sure that your keyword count across all metadata data fields adds up to at least 3.
You can do the same with your competitors' apps to analyze their keyword strategy. When you see that a competitor android app is using specific keywords across their metadata fields three times or more, you know that this is an essential keyword for them.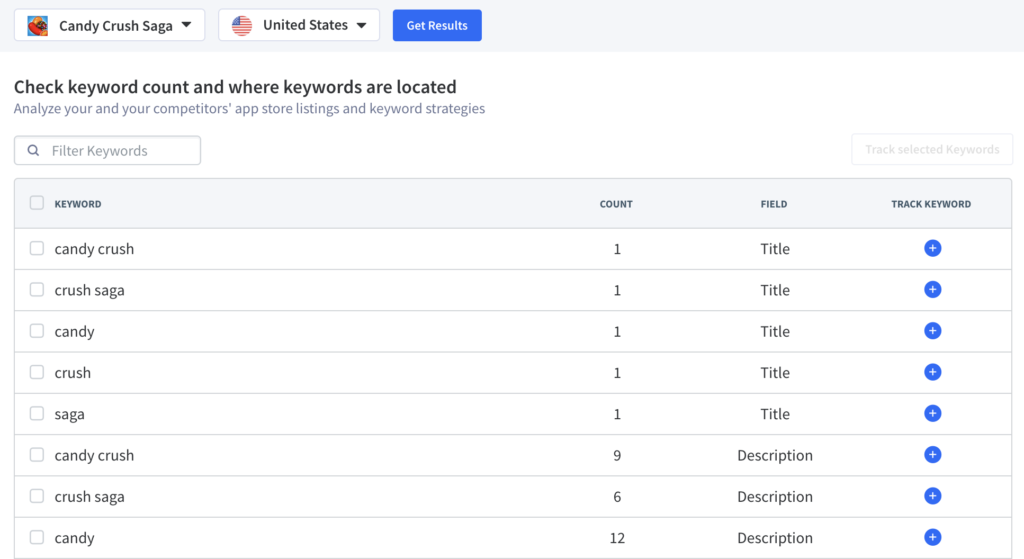 In the Apple App Store, you want to use your keywords only once across all relevant metadata fields: Title, Subtitle, Keywords. Words that you input in the description are not taken into account for App Store Rank.
To uncover your competitor's keyword strategy, take a look at the terms they use in their title. The title has the most weight when it comes to ranking in the Apple App Store. These will be their most important keywords.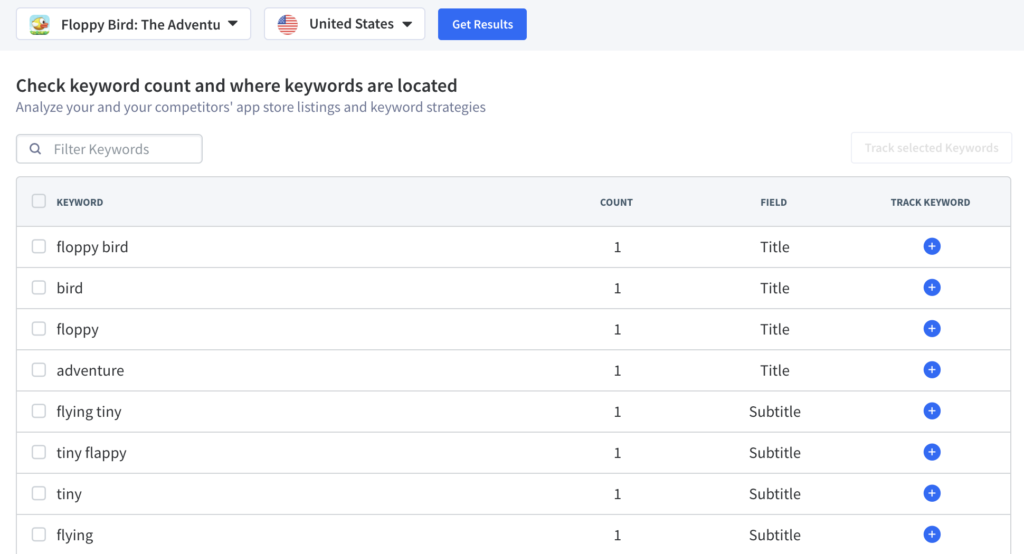 Summary
Our Keyword Finder 2.0 update is an exciting one. There's no doubt about it. We've equipped our already robust App Radar ASO tool with features that will take your ASO and app growth to the next level. To take advantage of these new features, login or create a free account.
Get AI-Recommended App Keywords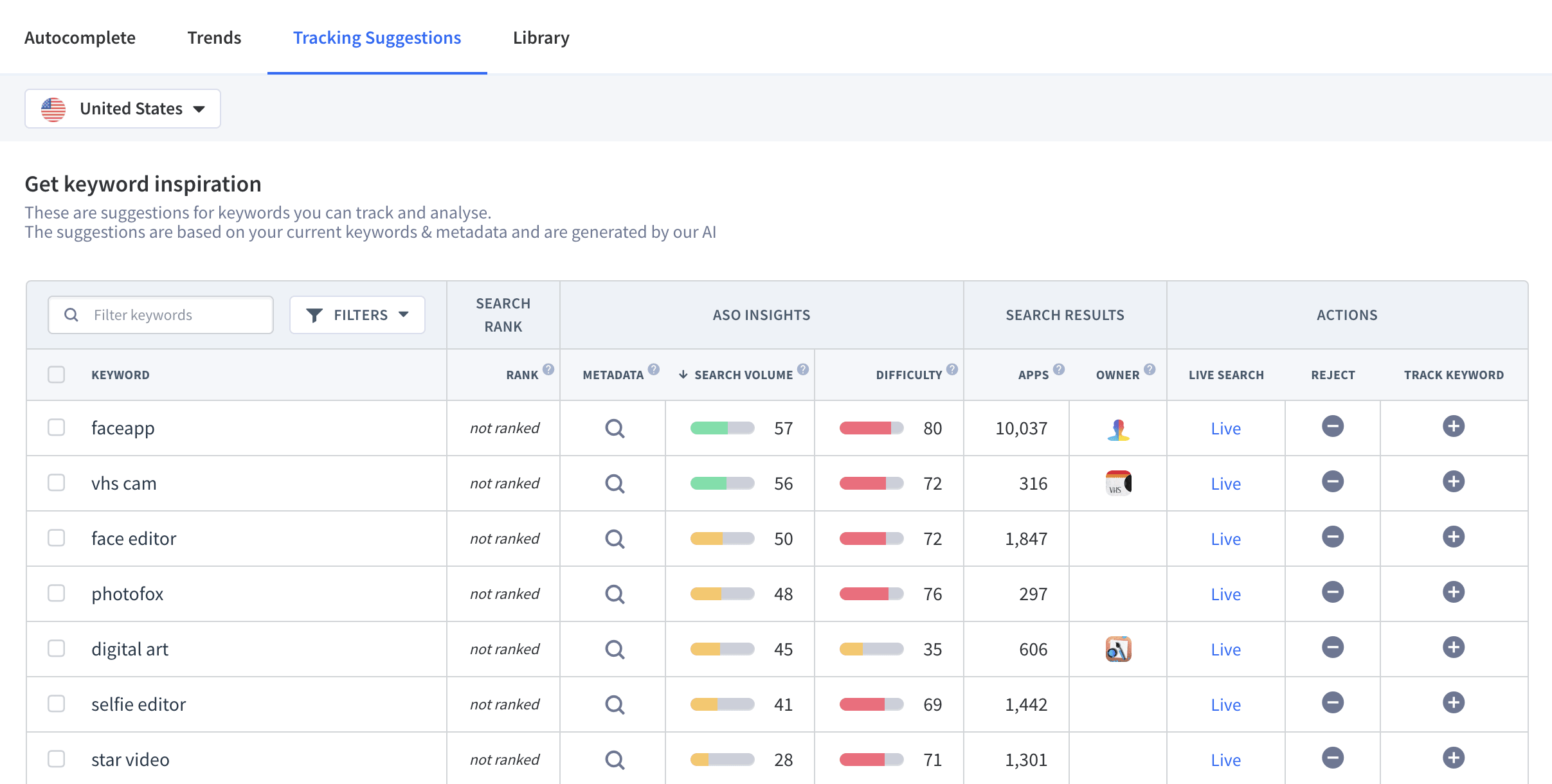 Start for Free