AI Review Summaries: Get user insights about your and your competitor's apps with a few clicks 

Thomas Kriebernegg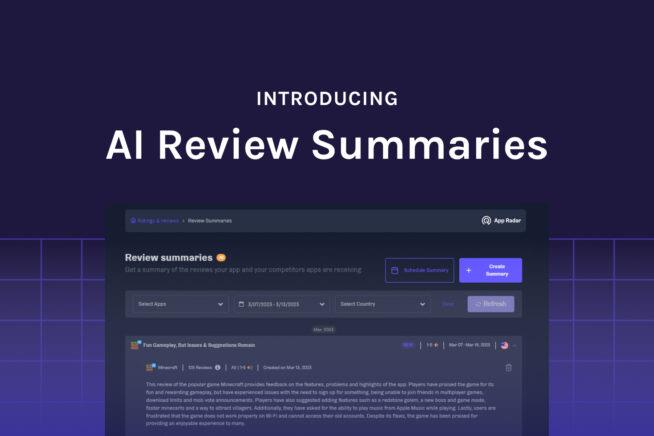 AI technology, such as OpenAI, continues to advance rapidly in its early stages, so it's crucial for mobile marketers and developers to start adopting new technology to their daily work. With App Radar, you can be sure that you will be one of the first to benefit from this technological revolution in your app business work.
The team of App Radar has been carefully considering how to make the Generative AI cutting-edge and wave-making technology to deliver real value for businesses with apps. In other words, how to use this hype for actionable results. And here is our answer.
App Radar is thrilled to introduce a revolutionized way of competitor research - AI Review Summaries, powered by the latest OpenAI technology. This cutting-edge feature is designed to streamline your app and competitor's app research process and deliver faster, more efficient results than ever before.
Let us show you how you can change your app marketing game with App Radar's new AI Review Summaries feature.
What is the AI App Review Summaries Feature?
App marketers and developers spend a lot of time analyzing their apps and competitors apps. App review analysis is one of the most efficient ways to identify weak and strong sides of any app. In fact, there is a lot of important information hidden in reviews written by satisfied and dissatisfied users of apps. However, app review research is very time-consuming and very often a manual process.
Even before the recent GPT models came out, App Radar's team invested substantially in AI to make this process more efficient for our customers. We are excited to unveil our latest release that brings a revolutionary tool for analyzing app competitors - AI Review Summaries. This game-changing feature provides invaluable insights into your and your competitors' performance and helps you stay ahead of the competition.
With the AI App Review Summaries feature, app marketers and developers can quickly get a clear and concise summary of any Google Play and Apple App Store app's reviews in any location. Moreover, the summarization of reviews can also be based on positive, negative, or all reviews for a specific time period. In other words, it allows you to quickly identify areas where your competitors are struggling and capitalize on their weaknesses while also learning from their successes.
How to use AI Review Summaries for your app competitor analysis?
Say goodbye to the hassle of dealing with excel spreadsheets and sifting through countless reviews. All you need to do for app reviews analysis is to set up your filter in the AI App Review Summaries feature with a few clicks:
Select a competitor app for analysis
Select a target country
Choose the data range of analysis (up to 90 days back)
Decide what ratings you want to analyze: only positive, negative, or all ratings
Click 'create a summary'
Moreover, you can schedule your app review analysis for any day you need to do reporting.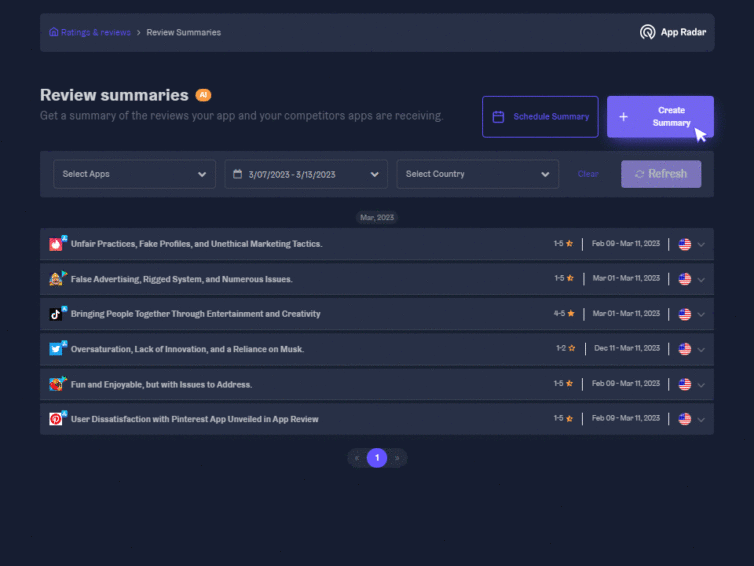 Understand user feedback globally
It's common for marketers to compare different competitors to identify strengths and potentials to stand out. What is even more important is understanding how competitors perform in foreign markets. However, analyzing app reviews in unfamiliar languages is a real struggle for marketers and customer success teams. Therefore, we've added filtering logic to our AI Review Summaries feature, so you can, with one click, create a summary of reviews for a specific country and a particular app. You will get summarized insights in English, which you can easily use to improve your app strategy for specific markets.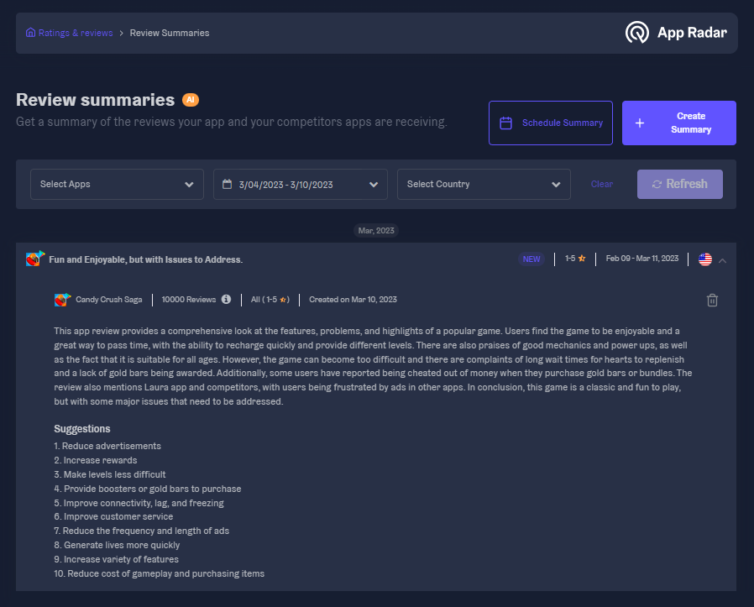 Identify winning features
Unsurprisingly, carefully crafted and implemented features are essential for acquiring and retaining users, especially in this intensely competitive app industry. Nevertheless, it can be a wrong guess to develop a feature that the app audience might not like. By analyzing only positive ratings of a competitor's app, mobile marketers may quickly discover if some features have become popular among users or what characteristics customers don't enjoy. Use these insights to improve your in-app experience or develop similar features for your own app.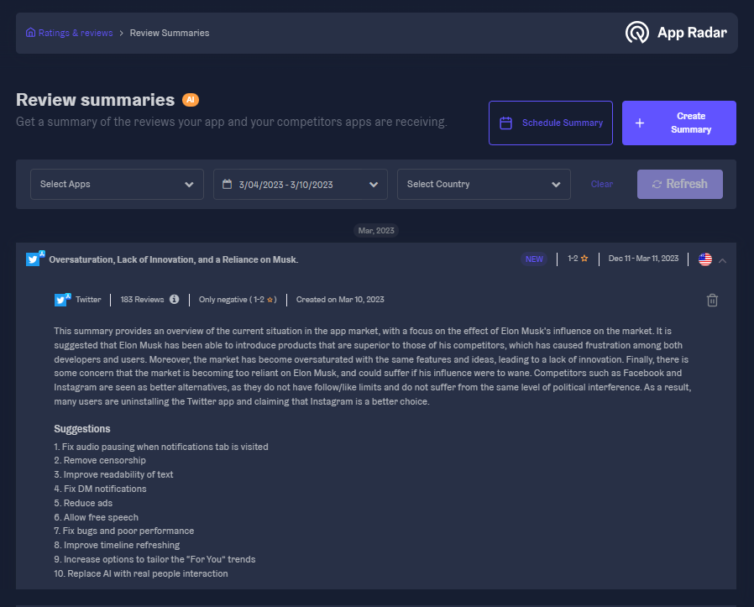 Discover competitor issues
As a mobile marketer, it is essential to pinpoint your competitor's weak spots and convert them into advantages. By selecting low ratings in the Review Summaries report, you will gain an understanding of what customers are disappointed about when using a competitor app. You can then use that information to develop strategies for your own mobile app or game - such as providing better customer service or more competitive pricing plans than those offered by a competitor's app. Moreover, take advantage of these insights and create marketing messages highlighting how your business differs from your competitors.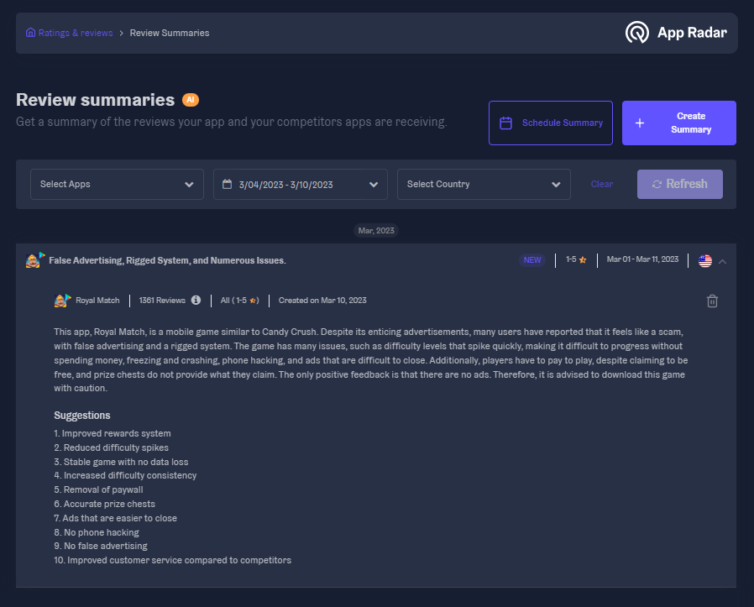 Report insights
The reporting effort required from marketers is often underestimated. With the volume of reviews received by the bigger mobile players in the industry, it is impossible to stay ahead of the game and know what the competition is good at if you don't use advanced technology. With our AI Review Summaries feature, you don't need to read or copy-paste into Excel reviews of all your competitors, as you will have saved summaries in your dashboards which you can easily access and sort any time you need.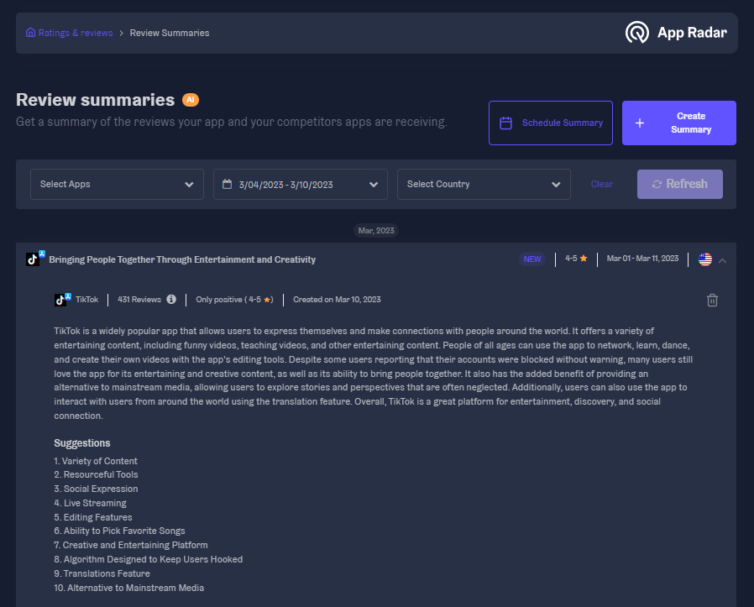 What's the bigger picture for AI involvement in app marketing?
As mentioned above, we're just at the beginning of unlocking the benefits of new technology that OpenAI has made available. Based on what we've learned so far, here's what we believe:
The fast-paced developments in AI are the most disruptive technology to hit the marketing industry in decades. The reaction of our customers to what we've built gives us confidence that the value here is real.
We've long believed that educated usage of big data will eventually be crucial for marketers to succeed in a highly competitive environment; our recent experience with this technology has convinced us this timeline has moved forward.
The current technology constraints are real. The challenge now is for MarTech tools to build a product around the constraints and focus on the marketing teams' actual needs.
The current status is AI-assisted, not AI-generated (yet). App marketers and developers have an important role in handling complex decisions that can be significantly fastened but not eliminated.
As a tech company, we're incredibly excited about how recent AI breakthroughs will elevate marketers. And we are delighted to be the first app marketing tool in the market to bring the real value of AI to our customers.
Don't wait anymore, get insights about your apps and your competitors apps like never before
Let's summarize all the above quickly and efficiently, just like our new AI-powered Review Summaries.
At App Radar, we are confident that 2023 is the start of unlocking the value of AI for the app industry. With our new feature, mobile marketers and developers can now not only save hours for app user feedback & competitor research but also unlock opportunities to grow their apps like never before.
Stay ahead of your competition by leveraging App Radar's powerful technology today! As pioneers in this field, we will continue to keep you updated on all progress made toward unleashing AI's full potential for apps.
Discover What App Users Want 10x faster with AI Review Summaries
Start spying on your competitors' reviews now and take advantage of everything our cutting-edge platform has to offer!
Try it out today