Paid marketing methods, such as search engine ads, are great for boosting app installs. Yet, they are not always the best or most financially friendly choice. If you're starting out, you might not have the funds to support paid ads. Organic app installs, on the other hand, are affordable to produce and pack a punch when it comes to value.
A boost in organic app installs will not only get you more users but also increase your app retention rates and raise your app store rankings. Because I want your app business to succeed, I'm giving you 4 ways to boost your organic app installs. You'll surely want to put these methods to use.
There's nothing to lose and only installs to gain.
1. Asking users for app reviews and ratings will boost organic installs
Reviews are everywhere. Some websites and apps, Tripadvisor and Yelp, for example, exist because of our incessant review and rating culture. Before making purchasing decisions, people search for assurance in other purchasers' reviews. They look for answers to questions like these. Is the product going to come as expected? Is the quality as high as described? They read reviews because they want to know if they're going to be getting their money's worth.
The same goes for mobile apps, even free ones. Why even for free apps? Because people are investing not their money but their time and device storage space installing the app. They don't want to see these investments go to waste.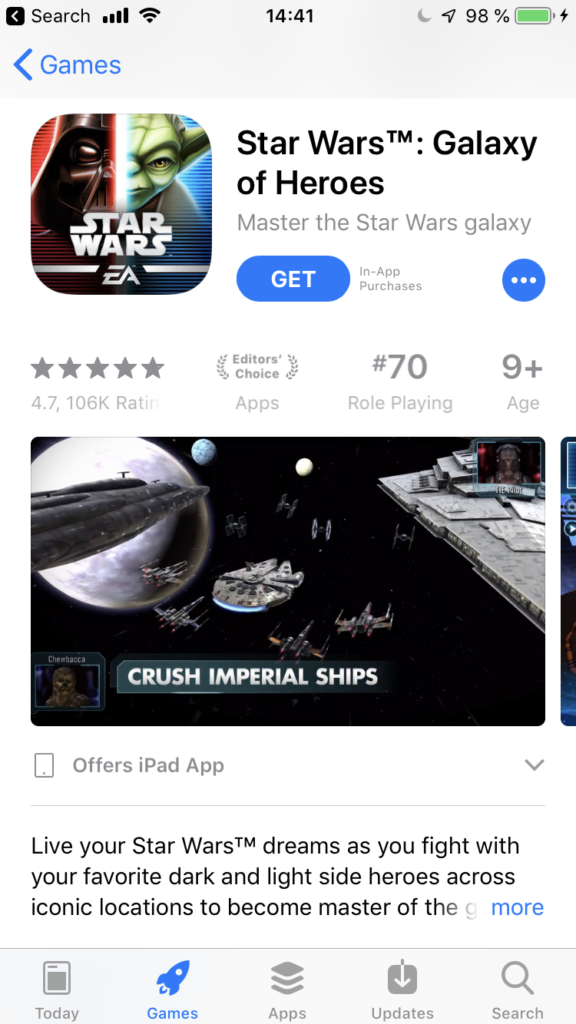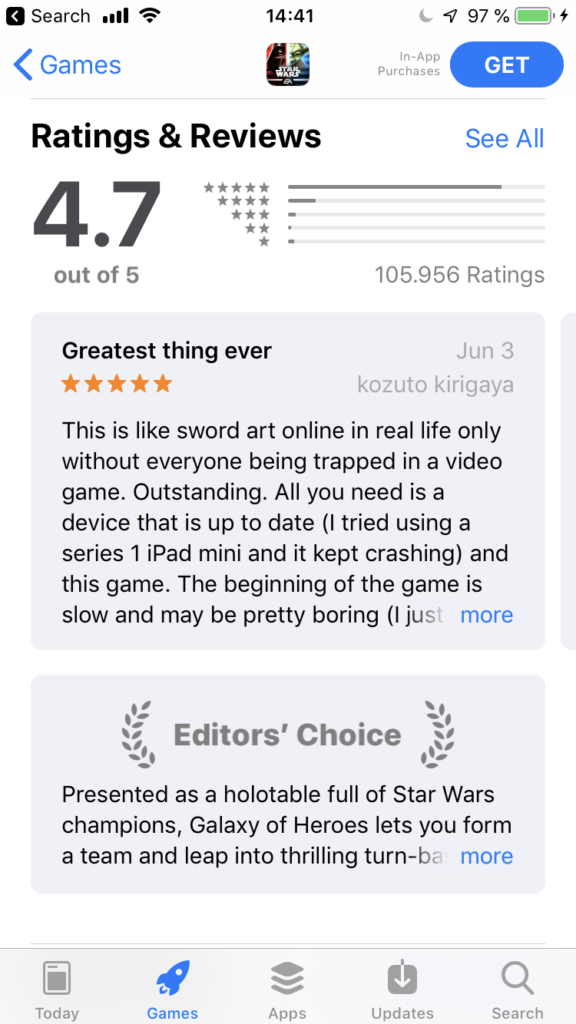 It's more than worthwhile to ask your current app users to leave a review or rating for your app. Timing is important. Prompt users to rate your app when they've reached a high point. For a shopping app that could be after purchase completion. For a game app that could be after a new high score achievement. Your users are more likely to want to leave a review when they're feeling good about your app. And the more positive reviews your app has, the more people will be convinced to install it.
Your users are more likely to want to leave a review when they're feeling good about your app
Reviews are not one-sided. By responding to reviews left on your app, you show both current and potential users that you care about them. It reassures them that you are working to improve the app for them, which in turn creates a loyal user base and higher retention rates.
App reviews and ratings factor largely into your app store optimization and app store ranking. App stores like to push apps that are highly rated and frequently reviewed. Believe me, I got this direct from the source. Apple App Store's developer page states
"You can ask for ratings and respond to reviews to improve your app's discoverability, encourage downloads, and build rapport with people who use your app."

Apple

For iOS products you can easily integrate a "rate this app" prompt by using the SKStoreReviewController API.
Still, you should be cautious of over-asking for reviews and ratings. Users get annoyed when their app experience is constantly interrupted by a pop up asking for their feedback. This can even prompt users to leave a negative review of your app, which you certainly want to avoid. Reviews and ratings are important to app growth but can also be the cause of user frustration, so tread carefully.
2. Can people share your app with all their friends?
Shareability is huge in today's digital ecosystem. Recently, an egg went viral on Instagram. Within a week this egg hit 32 million likes, breaking Kylie Jenner's world record of 18 million likes. Today, about 6 weeks from when it was first laid, the egg sits proudly wielding its world record and now 52.8 million likes.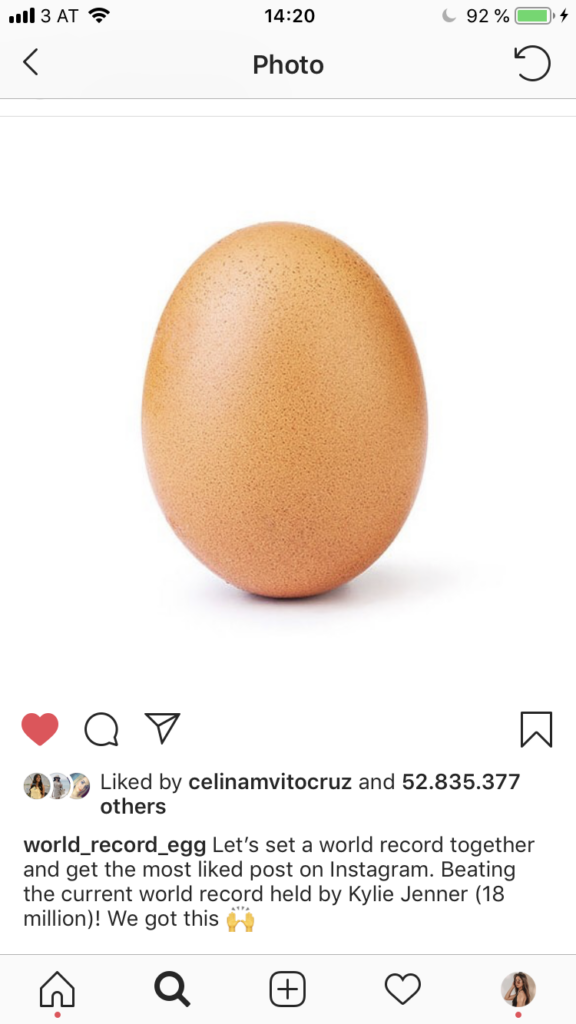 Humans are naturally social beings.
When people discover something that they enjoy, a craving develops telling them to share this wonderful something with other people. The egg preyed on this very social nature. Its caption was a simple one.
"Let's set a world record together and get the most liked post on Instagram. Beating the current world record held by Kylie Jenner (18 million)! We got this ?"

@world_record_egg
The source of its virality? The use of team spirit igniting words "together" and "we" accompanied by unity fostering hashtags #LikeTheEgg #EggSoldiers #EggGang. One egg made more than 52 million instagrammers feel as if they were on one team, moving towards a single goal together. And it was funny. The egg succeeded at pulling the emotional strings that promote a sharing effect.

Sharing works extremely well because people trust their friends' and family's recommendations. As with reviews and ratings, you want to prompt your current users to share your app at a point where they would be feeling great about it. The goal is to find the in-app moments that are just right for pulling on those emotional strings, achieving that sharing effect.
Another effective sharing strategy is to reward your users for their shares or invites.
You've seen this in action before, I'm sure. For every friend that you invite to this platform, you get $25 credit and your friend gets $25 credit. Sharing carried out through a rewarded referral program is a win-win for everyone. Your app gets new users. Current users get a reason to continue using your app. New users get a reason to try out your app. This is exactly how you leverage word of mouth marketing to boost organic installs for your app.
To increase the multiplying effect of shareability, make sure that your users are able to share your app across many social platforms, including social media outlets and messaging apps.
Sharing carried out through a rewarded referral program is a win-win for everyone.
3. Get the media buzzing about your app to get more organic installs
Along with sharing, people like to talk or gossip. Again, humans are naturally social beings. People want to know what's going on in the world, what new products are available, what trends are upcoming. So they read articles, watch the news and listen to podcasts.
To get media to work for you instead of against you, we'll need to step into the shoes of a public relations expert. Public relations encompasses a wide range of strategies but right now we're focusing on what is called a press release.
Press Release
A press release is information about an announcement packaged specifically for media publications. The press release has to be written in an enticing way so that the media sees value in picking the story up. Getting a large and well-known publication, such as HuffPost or Buzzfeed, to post about your mobile app would be a big win. However, to get on this winning podium you'll want to go after some smaller publications first. Here's how that works.
Prepare and Distribute
First, you need to put together an appealing story about your mobile app. Focus on why people would need the mobile app and what makes it exciting at this specific time and in this current environment. Then send the press release out to every relevant publication you can find, from small to large. And follow up. Once the smaller publications start to pick up the story, the medium publications will take notice. Once the medium publications start to pick up the story, the large publications will take notice. Get the pattern?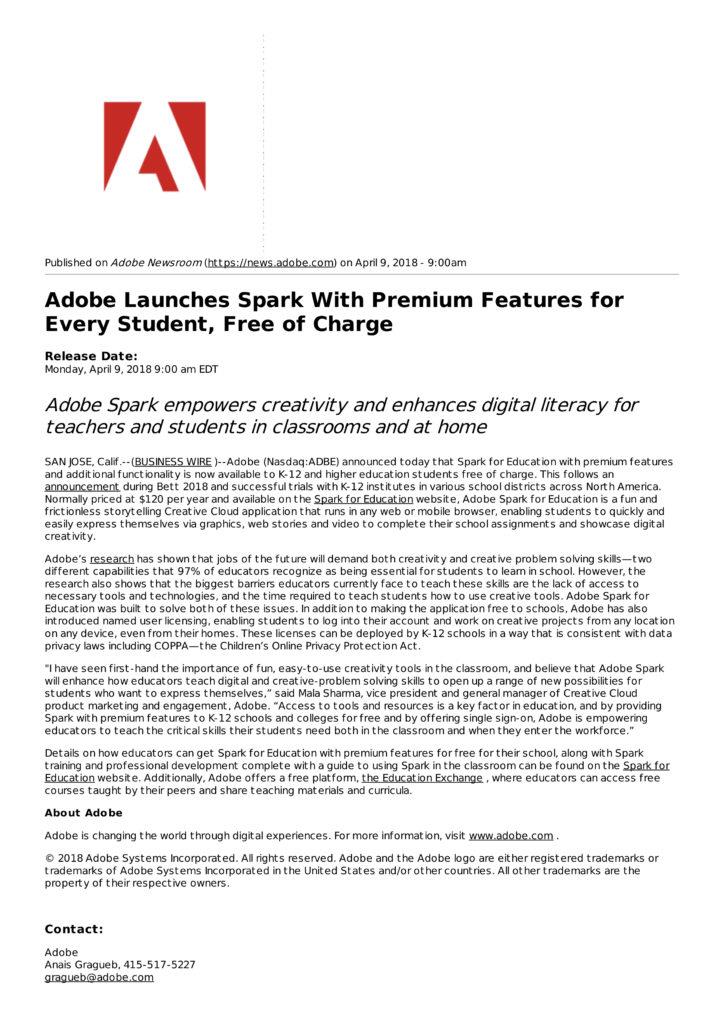 After several publications have published articles about your app, you'll have more leverage when communicating further with other media outlets. You'll have the advantage of telling them it's not only you that thinks your app is great, other people think so too. Be certain to send links and screenshots to support your claims. This establishes trust between you and the media personnel as well as a good reputation for your app.
Getting a large and well-known publication, such as Huffpost or Buzzfeed, to post about your mobile app would be a big win. However, to get on this winning podium you'll want to go after some smaller publications first.
The press release example above, from Adobe, was published on their online newsroom. As your company grows, your public relations strategy needs to grow too. Consider opening an online newsroom on your app's website. This way the general public can get updates on your company and your apps without having to hear it first from the press. A company newsroom also gives the media outlets that you didn't directly contact a chance to pick up a story on your app.

If you're thinking, this all sounds similar to sharing and virality. Then you're thinking exactly right. It is! You're enticing media publications to share your app with their audience and then convincing their audience to share your app with their friends. So, get a loud digital chatter about your app going and you'll see a boost in organic app installs.
4. App Store Optimization, the mecca for boosting organic app installs
And now the big one. I've saved the best for last.
According to Apple, 70% of their App Store visitors use search to find new apps. So App Store Optimization, also known as ASO, is the mecca for boosting organic app installs. ASO is the process of improving app visibility within the app stores. More simply, it's getting your app to rank in the app store search results. Now, why would you want your app to not only rank but to rank high?
That's because people don't usually scroll through all the search results. People want to see relevant results right away. A winning ASO strategy ensures that your app shows up in those first few prized result positions for relevant searches. Keep in mind that having your app rank for the wrong app store keywords is almost as detrimental as not having your app rank at all. People are not going to be interested in your app when it's irrelevant to their search.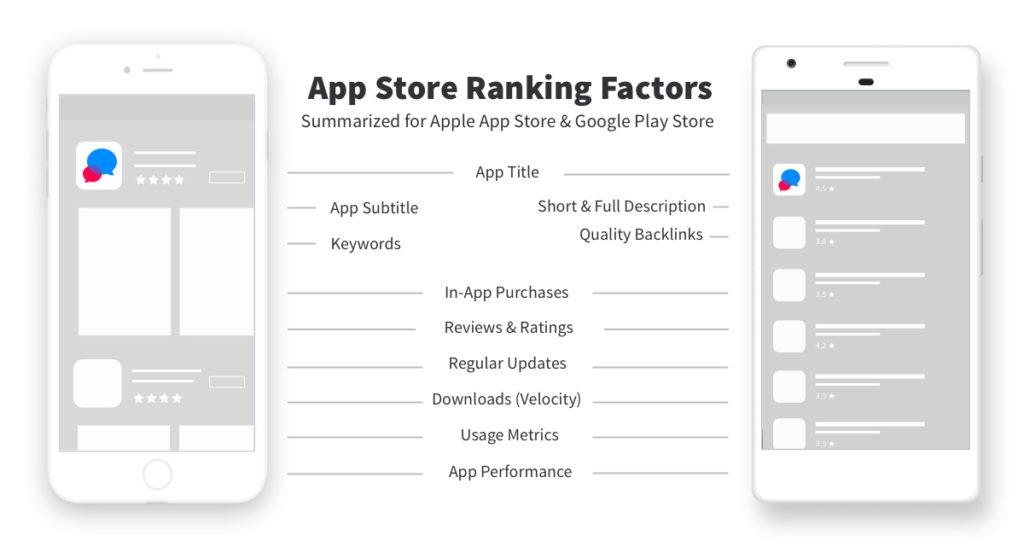 So here are a couple of factors to consider when you're going through your ASO strategy.
ASO depends greatly on keywords.
Utilizing the right keywords makes a world of difference. This is how you get your app found by the right audience. Keywords are app store search terms that people would use to find your app. You want to use a combination of general and specific keywords that are relevant to your app. General keywords help people who are casually browsing find your app. Specific keywords help people who are purposefully searching find your app.
Another big ASO factor is visuals.
Visuals are so important in forming a person's first impression of your app. They need to be eye-catching and able to make your app stand out from the crowd. Your app's icon should be visually appealing and representative of your brand. Your app screenshots should also be well designed to highlight the main features of your app.
Also, adding in an app preview video will further convince app store visitors to organically install your app. The video gives them a quick peek inside what your app, what it can do, and how it will be beneficial to them.
In addition, ASO includes localizations.
That is making your app available in different countries and languages. Do your research to know which countries would be the most beneficial for you to target. Then make sure that you have the relevant keywords in each respective language. Adding localizations for your app automatically widens your app's organic reach.
Adding localizations for your app automatically widens your app's organic reach.
I covered only a few ways to improve your ASO. If you want to dive deep then check out the App Radar ASO Academy, where you'll find an extremely detailed how-to ASO course.
Summary: 4 Ways to Boost Organic App Installs
An app growth strategy without a plan for organic boost is an incomplete one. Organic installs enable your mobile app to benefit from continuous growth, to develop a loyal user base and to increase app retention rates. We've gone over several ways that you can reel in these organic installs.

Asking for reviews and ratings
Encouraging shares and referrals
Creating a media buzz
Improving ASO
Remember, organic boost for app is an ongoing process. The work is never done! You should always be responding to user comments and concerns, releasing new press releases along with those updates, and putting ASO into practice to stay ahead of your competitors.
Need Help Growing Your Apps?
Get in touch with our app marketing growth team to discuss the right solutions for your mobile app business
Contact Us Today