iOS 12: What does it mean for App Developers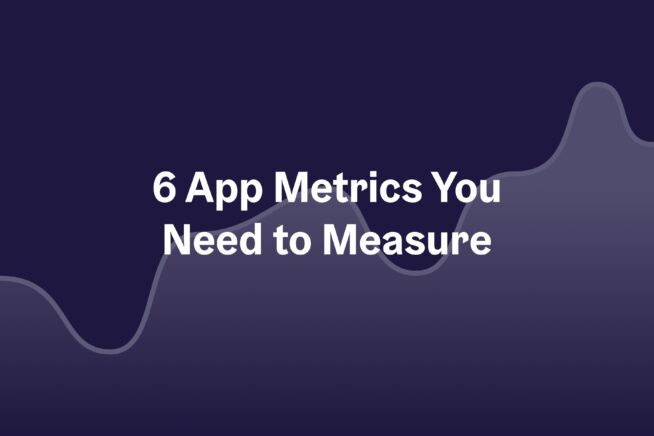 Ladies and gentlemen, iOS 12 is in the area. It's still in beta test, but as usual, in fall the official version should be released. To keep you updated about it, we collected the most essential information which people that work with games or apps must know, such as new technology, new app store algorithm and more. If you are a developer or a marketer, there is a lot to start working on to profit even more with iOS 12. So, let's jump straight into it:
The App Store Revisited
Regarding the App Store, Apple brought some news that is really relevant:
The Algorithm
If once the App Store was impersonal, now this isn't the case anymore. The Today tab still exists, but it's customized based on the last downloads of the user, either for apps or games. Apple's stories, spotlights, apps, and game of the day are still there; the difference is that some of their content will be based on the likes and interests of the user. Besides, the App Store Game section comes with an interesting factor, instead of listing the items in chronological order, it shows first the games which fit the person's taste.
Attention to the Emoji enthusiasts: if you ever had your app refused because of the use of them, this won't be a problem anymore. Apple allowed the use of Emojis in the app description and metadata.
What we pointed out in the last two paragraphs show the importance of a good App Store Optimization strategy. Now you can benefit by using emojis and be friendlier when introducing your product. At the same time, using the right keywords and analyzing your competitors is going to be the key for the success of your game or app. This can be identified by Apple's algorithm, and listed to the right users. With App Radar, you can easily track your competitors, find out each keyword they and you are ranking, and can also analyze your app versions to see the one that had the best performance.
App Store's Sections
There are also some changes in the App Store at iOS 12. The feed won't show the last seven-day content anymore. Now, there is a new section for it called "in case you missed." Last but not least, the "what's new section" of your app page will now be reviewed by Apple requiring that the developer describe what was changed or fixed in the current version. By the way, the app's support and marketing URLs are also going through Apple's review from now on.
Mac App Store
Not just the mobile App Store had changes in its algorithms, but also the Mac one. The store is now organized around the specific things a user does on his device. It also has four more tabs (Create, Work, Play and Develop) with recommendations and tutorials. The new Discover tab is a nice place to have your app or game featured. Apple's editors choose some products to explain what they are about, to show videos and behind the scene interviews about them too.
Another important thing is the pre-order feature, in which the user can order an app before its release. You can make your product available as soon as you send it to Apple's review. Be aware that your app page can be even more inviting because now you can include a subtitle, promotional text, three preview videos per localization, and 10 screenshots. In addition, you can answer the users' review addressed straight to their message.
What about the features?
iOS 12 brings us some new features and developed old ones. Check it out:
Notifications
Now, when a user gets more than one notification of an app, they are grouped. Tap on the lead one to read all the notifications of that app.
Furthermore, Apple released the "deliver quietly" mode, in which the notification goes to the notification center, but without any alert. The person can also customize the notification changing or adding buttons.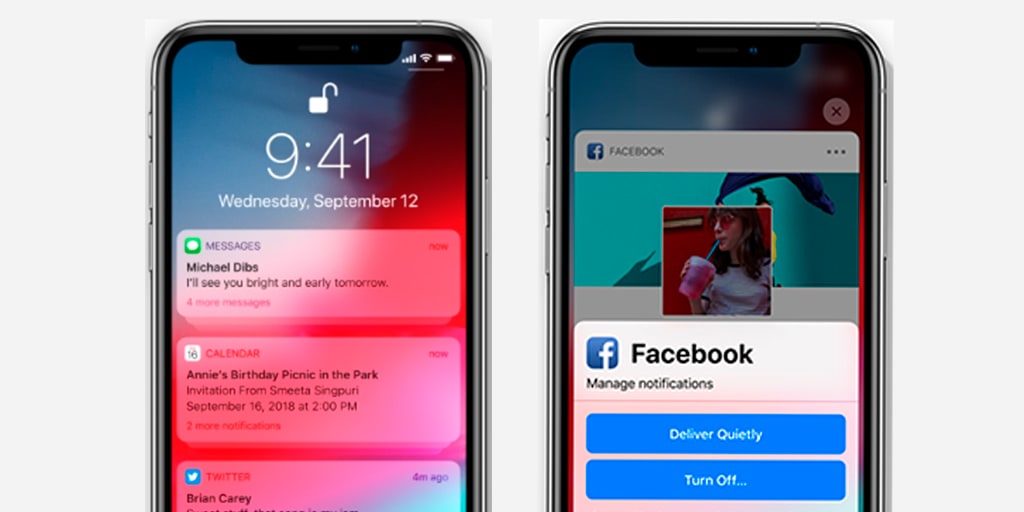 Some other features
The iPad users will now have some gestures of iPhone X, for instance, swipe up on the Dock to get to Home Screen;
Apple allows sticker packs and images from iMessage to be turned into effects;
The Portrait Segmentation API was introduced and now it is possible to separate layers from a photo;
If you are a map app developer, this is extremely important: Car Play will support third-party navigation apps;
Now, for non-subscription apps, you can offer a free trial to a user, so that he can experience it before buying.
Every Developer Must Know
If you are an app or game developer, iOS 12 arrived with a lot of exciting things for you to think about and start working on it.
Siri Shortcut
Siri analyses what the user is doing in your app, to create useful shortcuts, and also to suggest it at the Lock Screen and Spotlight Search. It is also possible for the user to create the shortcut itself by using the Shortcuts app. Apart from that, Siri can now do more than one thing in a single voice command.
A good example is a user who uses a map app every day at 9 AM to check the traffic. Siri will automatically suggest taking a look at the traffic at this time in his Lock Screen so that he can open the app in a few taps. Also, the person can add a voice command to this function, such as, "way to work."
This feature isn't automatic, as soon as it is available, the developer must use Workflow app to activate it. The user can also turn off suggestions for specifics apps.
ARKit 2
Great news, the shared experience is possible with the multiplayer function. When 2 or more persons in different devices are using the same app or playing the same game simultaneously, it's possible to interact with each other. In addition, iOS 12 releases the Persistent Track, where a 3D object introduced to a virtual world stays there. Other plays can interact or observe it. Apart from that, users can easily quit the game and resume it from where they stopped.
Previously, ARKit would detect 2D objects; now it can also do it with 3D objects with different shapes and sizes. Another thing introduced was the Universal Scene Description in which platforms can share AR objects via multiple platforms. Lastly, Measure app allows the user to measure objects automatically or manually.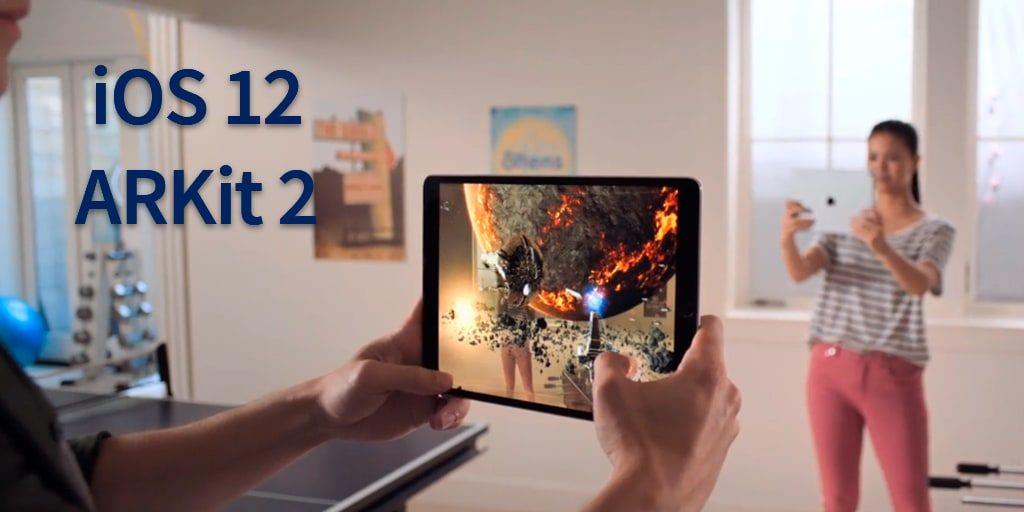 Core ML 2
The integrate machine learning models have now a new version: it works 70% faster; the sizes of models shrunk up to 75%; it supports all level quantization, and models can be updated from cloud services. In addition, there was the release of Create ML, which is a GPU-accelerated tool that facilitates the process of creating and training the developers' learning models. Also, Natural Language Framework was released for dealing with several natural language processing tasks, like tagging parts of speech.
macOS Mojave
Apple released the Dark Mode to help the users focus while working. The idea is to create a distraction-free working environment that is also comfortable to the eyes. So, you must update to Xcode 10GM seed in order to use the latest features of macOS. This way you can be sure your app works well in this new mode. Bear in mind that all apps must support 64-bit.
A few more news
HealthKit: access the Health Records API. Now you can build a health app based on a user's health history.
OpenGL: be aware developers: this should be no longer used! The recommendation now is to use Metal.
Regarding the Security
After what happened with Facebook, Apple was really cautious and released some security features for iOS 12:
Authentication
If your app has the two-authentication factor, the user won't need to memorize the code or copy from the SMS. Now, it appears in the Quick Tap bar. ASWebAuthenticationSession class allows the exchange of passwords between an app and related website which was open in Safari.
Automatic Password
You can now integrate the Password API in order to make users insert their password in one tap. It is also possible to share a password from an iOS device to a nearby Apple product.
Tracking Prevention
Safari blocks ad-trackers and Facebook "like" and "share" buttons.
Furthermore, a website cannot collect data about plugins, configurations or any information that makes possible to track a user's activity.
USB Restricted Mode
When a device is connected to a USB and locked for one hour, the phone is automatically blocked. This is to protect the data from criminals and make it more difficult to crack a phone.
Conclusion
The iOS 12 introduces a lot of new features useful for marketers and developers. It brings many opportunities for apps and games. Since it is in beta test, there may be some new things, but for now, this is already a lot to work on.
An interesting fact is that iOS 12 was developed to be more responsive even in old gadgets. The camera opens faster, keyboard responds faster, and even apps launch faster. The compatible devices for iPhone are from 5s up, and for iPad from mini 2 up.
Looking For More?
App Radar's app growth expert team guarantees results
Contact Us Today