With the tremendous growth in the Chinese app market in the last couple of years, Huawei AppGallery has become one of the leading app stores in Asia. In fact, Huawei controls about 38 percent of the Asian app market, which is an exciting and powerful position. Moreover, Huawei is expanding its reach into the European market, creating competition among global app marketplaces like Google Play Store and Apple App Store.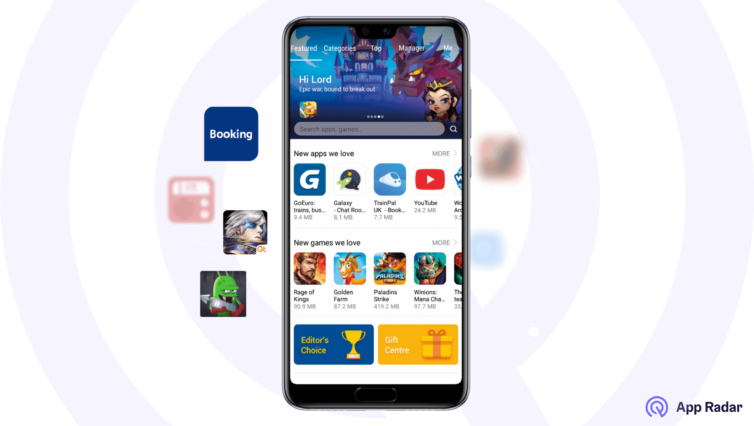 Undoubtedly, an increasing number of app developers want to launch their apps on AppGallery. So, let's look at how Huawei AppGallery works and how to optimize your app for this store to increase downloads and revenue.
The benefits of Huawei AppGallery
There are a few reasons why Huawei App Gallery is a potential platform for app developers and app marketers.
First, AppGallery has enjoyed incredible growth over the past 18 months, surpassing 432 billion app downloads in 2021 and firmly establishing itself in the top 3 app marketplaces globally. Outside of China, the number of apps distributed has also seen a staggering year-on-year increase of 56%.
Second, AppGallery provides services for Huawei device users in more than 170 countries and regions. By March 31, 2022, the number of global MAU for AppGallery exceeded 580 million, and the number of applications that have been distributed in 2021 worldwide exceeded 432 billion.
Third, more than 5.75 million developers worldwide have registered to join Huawei's Developer Alliance, which has led to more than 216,000 apps being integrated with HMS Core globally.
And fourth, Huawei App Gallery offers several ways to promote your apps, such as through App Store Optimization and paid advertising. So if you're looking for a platform to launch your app, Huawei App Gallery is worth considering.
How does Huawei AppGallery differ from other app stores
AppGallery offers a number of powerful features and benefits that set it apart from other app stores. From advanced safety and security measures to highly curated local apps, to exclusive gifts and rewards programs, AppGallery provides exciting ways for developers to engage new audiences on a global scale. Some key features include:
Safety & Security – AppGallery has developed a comprehensive security assurance system consisting of developer real-name authentication, exclusive four-layer malicious App detection, download, installation assurance, and running protection. These measures help developers to create safer apps and provide additional layers of protection for AppGallery users.
Gift Center – AppGallery has a dedicated section within the app where developers can promote exclusive welcome gifts to entice users to try new apps and games.
Rewards for all – AppGallery regularly partners with developers to offer discounts and special rewards. Under the campaign section, users can see a list of local campaigns available in their country, where they can enter special promotions to win prizes or claim points back on their in-app purchases.
Navigating the Huawei AppGallery
Huawei AppGallery has 5 primary tabs: Featured, Categories, Top, Manager, and Me. Let's take a closer look at each one:
Featured is where you'll find the apps and games that AppGallery recommends to its users.
Categories are the section where you can browse for apps by category and subcategory.
Top is where you'll see the top apps and games – similar to the App Store & Google Play Top Charts.
Manager is where you can check for available updates, see what apps are installed, how much space you have left, etc.
Me is where you can access your account settings, view your gifts and prizes, see your purchase history, etc.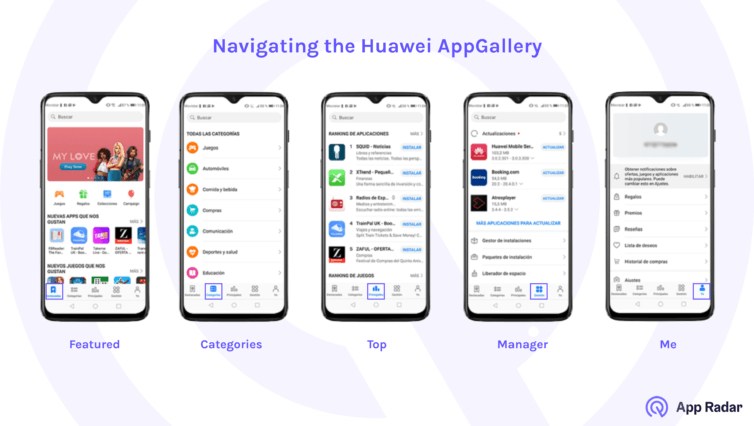 Huawei AppGallery store listing and ranking factors
As all other app stores, Huawei AppGallery has its own rules and requirements. Although app store listing for AppGallery looks similar to other app stores, ranking factors might differ.
App Name
Your app's name is one of the most important ranking factors in AppGallery. This field is indexable by search algorithms in AppGallery. Therefore, it has the most impact on keywords ranking. Think carefully about which keywords you include in your app's name so users can quickly discover it.
According to Huawei AppGallery Guidelines, an app name should be between 3 and 64 characters, and cannot contain special characters (such as "*" and "&") or names of other existing products or brands.

Also, remember that the app name is always visible to users, from searches to recommendations. Therefore, keep this field clear and include the most important keywords to rank for.
A brief introduction in AppGallery store listing
A brief or short introduction is the best way to quickly give your potential users an idea of what your app is all about. By adding your most important keywords, you can ensure that your app will appear in search results.

Keep in mind that this field is where you describe the main features of your app and what benefits it provides to users. Huawei AppGallery allows up to 80 characters to do this. However, for the preview, users can see only about 35 characters. Therefore, include the essential information in the first sentence.
Introduction
The introduction field on AppGallery is the equivalent of the description field on the Apple App Store and Google Play Store. AppGallery lets developers add between 100 and 8,000 characters in this field, which is twice as much as what's allowed on Apple App Store and Google Play Store.

The content should accurately represent the app and not mislead readers. It's also worth noting that the first sentence introducing the app should be at most 60 characters, so make it short and catchy! As it is the most readable part of the introduction. And most importantly, the introduction field is also indexable (the same as in Google Play Store), so remember to include your targeted keywords.
App icon for Huawei AppGallery
The app icon on Huawei AppGallery has the same function as on other app stores. In other words, your app's icon is one of the first things people will see. Make sure it's memorable and easy to recognize. It should also be intuitive so that people can get an idea of what your app is all about by just looking at the icon.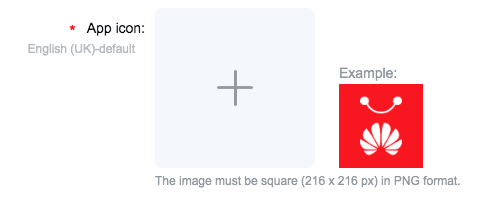 Icons must have a square shape and meet Huawei's requirements:
Resolution: 216 x 216 pixels or 512 x 512 pixels
Format: PNG or WEBP
Size: max. 2 MB (for PNG) or 100 KB (for WEBP)
App Screenshots
Remember that your screenshots are like a guided tour of your app for your users. Therefore, make sure users can clearly see the user interface and how your app looks in action. App screenshots are not indexable for algorithms. However, they play an essential role in decision-making among potential users.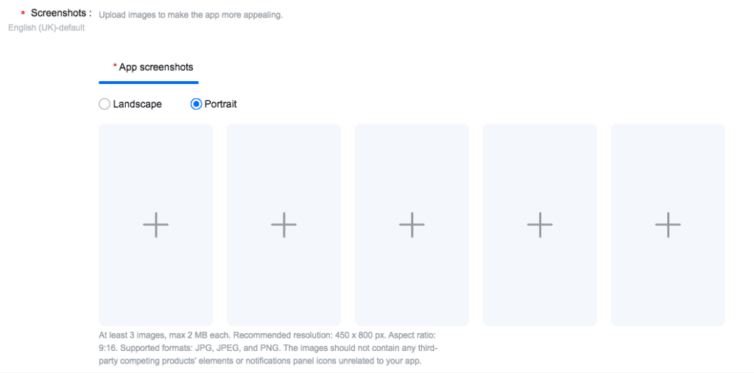 Huawei Guidelines clearly state that AppGallery can accept a minimum of 3 different app screenshots for your app. However, pay attention to Huawei's official requirements and guidelines. Depending on the device specification, it might vary from 3 to 5 minimum number of screenshots. The main requirements are:
A minimum 3 screenshots are allowed
Format: JPG or JPEG;
Recommended resolution:

480 pixels x 800 pixels (vertical)
800 pixels x 480 pixels (horizontal)

Keep images relevant to your brand, and refrain from using pictures of competitors or others unconnected to your app pictures.
Tips: Highlight the key features and functionality of your app in screenshots. Read in more detail about Huawei AppGallery app screenshot requirements and guidelines.
Categorization in Huawei AppGallery
There are two primary categories for apps and games: Apps and Games. Within the Apps category, there are 17 subcategories, and within Games, there are 6 subcategories. All of these categories should be consistent with the actual functions and usage of the app or game.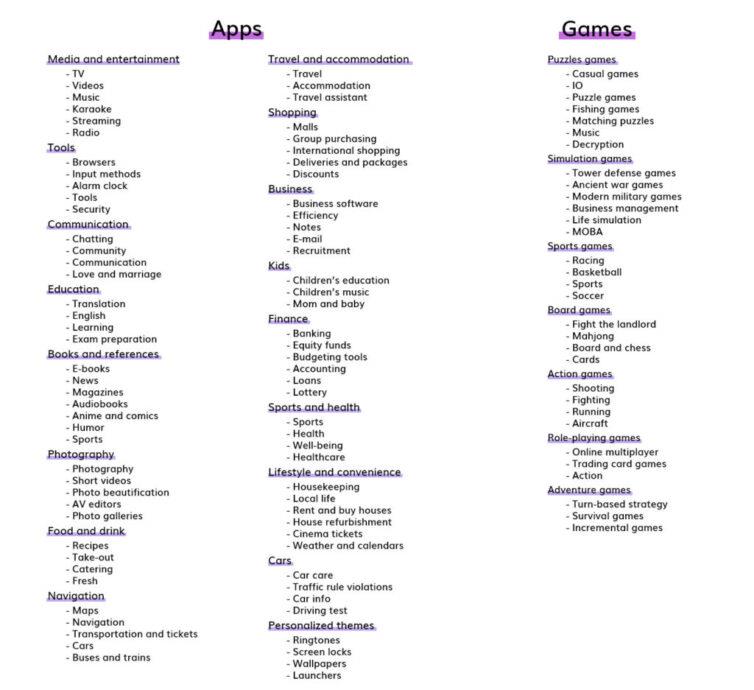 What are New Features in AppGallery
Another ranking-related feature in Huawei AppGallery is the 'New Feature' option. It is similar to the What's New section in Apple App Store and Google Play Store. In other words, after you update your app on AppGallery, you can include up to 1000 characters describing your major apps' improvements in this specific field.

Keep in mind that AppGallery encourages developers to update their apps constantly; therefore, a New feature field can also improve your rankings.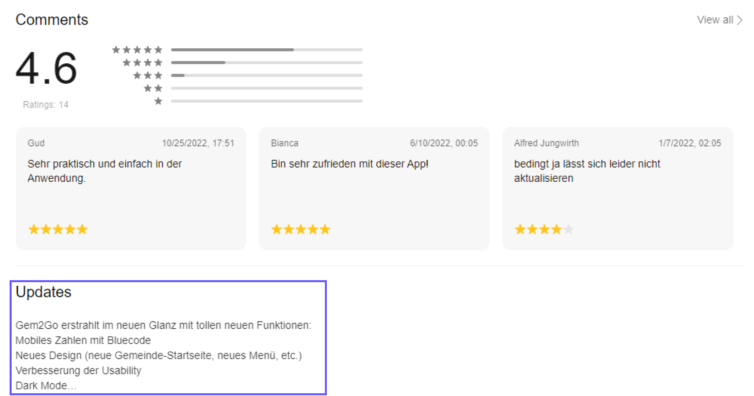 Optional fields
Developers can provide additional content that is not mandatory, such as:
Featured image
Official Website
AppGallery banner
Sum up of Huawei AppGallery metadata requirements
To improve your app visibility and rank on Huawei AppGallery, complete all the required metadata fields. It includes the app name, short description, introduction field, and include app icon and screenshots. Providing as much detail as possible in these fields will help potential users easily find your app.
| | | |
| --- | --- | --- |
| Visual ASO | Text ASO | Content requirements |
| Icon: 216×216, PNG image,square, maximum size: 2MB.Screenshots: 320 to 3840 px, 2:1 aspect ratio. | Title: up to 64 characters. Special characters like "*", "&", "—" are not allowed. | Visuals should display actual app functionality to prevent users from being misled. |
| Huawei recommends portrait and landscape screenshots with a resolution of 480×800 or 800×480. | Short description: up to 80 characters. | Brand mentions in metadata are not allowed. |
| File format: JPG, JPEG, or PNG, size: up to 5MB, number of screenshots: 3 to 8. | Full description: 100 to 8000 characters. | The app title should be unique. |
| | What's New: up to 1000 characters. | Provide moderators with a test account in case of compulsory accounting. |
Source: Huawei AppGallery visual and text requirements.
In addition, avoid using generic or irrelevant keywords, as this could result in your app being penalized by Huawei. With a little effort, you can ensure that your Huawei AppGallery listing is optimized for maximum visibility and traffic.
Key takeaways of ASO for Huawei AppGallery
Huawei AppGallery is a fast-growing app store that already competes with the market leaders like Apple App Store and Google Play Store. More and more developers are publishing their apps in AppGallery, and app marketers are trying out organic and paid user acquisition on the platform. If you're convinced to publish your app on Huawei AppGallery, the next step will be to make sure your app is well-optimized and meets all App Gallery's requirements. Here are some key takeaways to keep in mind:
Ensure that your app's name and introduction are optimized for discoverability;
Include your target keywords to the app name, brief introduction, and introduction, as those fields are indexable by AppGallery's algorithms;
Keep your app updated with fresh content to maintain users' interest. Remember to include your app's improvements in the New Features field;
Highlight your app's functionality and user interface in the app's screenshots.
Following these Huawei requirements can give you a better chance of success in AppGallery.