Today we have our attention pulled in so many directions. On top of that, we've become accustomed to instant gratification. Getting Amazon same-day deliveries, Postmates or Deliverooing sushi straight to your front door, receiving real-time likes on Instagram or LinkedIn, and accessing the world's information with the click of the button. Advancements and innovations of our modern world have made us quite an impatient society. And when you're developing mobile apps, you must keep this in mind. People are not going to put up with apps that are slow or crash frequently. And this is why app performance matters.
Poor App Performance Leads to App Abandonment
Research shows that 53% of mobile users will delete or abandon an app when experiencing problems after just one attempt — consequently, first impressions matter. You've done the hard work and have optimized your app store listing as best as possible. As a result, you were able to convince app store visitors to install your app. It would be a great pity to lose those well earned new users because of a bug. To avoid churn due to malfunctions within the app, always perform usability tests, and continuously debug. The earlier you catch the bugs, the easier they'll be to fix. Also, we all realize that releasing perfectly engineered commercial technology is a bit unrealistic. But, getting close to perfection is possible. Do everything you can to reduce crashes and increase processing speeds, your users will appreciate it.
User's Reviews Highly Influence Your App's Reputation
Further, apps that perform well are more likely to receive good ratings and reviews. Ratings and reviews play a direct role in ASO and CRO. Research from Tune shows that an app's ratings and reviews are the more influential factor when it comes to a person's decision to install an app. People are looking for social proof that shows an app works well, attends to the problems they're trying to solve, and is worth using. Apps that perform well will naturally receive good ratings and reviews. Apps that have below-average performance will be criticized by its users and collect bad reviews.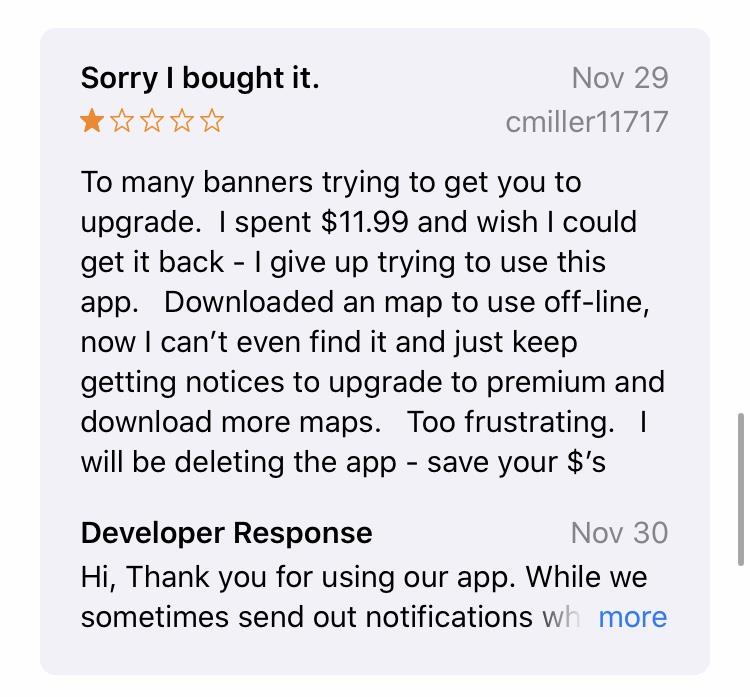 App Performance Affects How People View Your Brand or Company
Additionally, app performance is directly correlated with customer relations and brand reputation. People make judgments about a company based on their satisfaction with that company's products. An app is your product in this case, and you need to make sure that you are fulfilling your users' needs. Users perceive companies as untrustworthy or of lower quality when their apps do not perform well. Having a large number of bugs and crashes only works to tarnish your brand's reputation.
The example below shows a user's dissatisfaction with an app they had to use to navigate through the Disneyworld theme park. Their impression of Disney as a whole brand has now been tainted by this unpleasant experience they had with the app. Even more, the user mentions that the app's poor performance ruined their trip, which is detrimental to Disneyworld's goal to provide their visitors with the best park experience possible.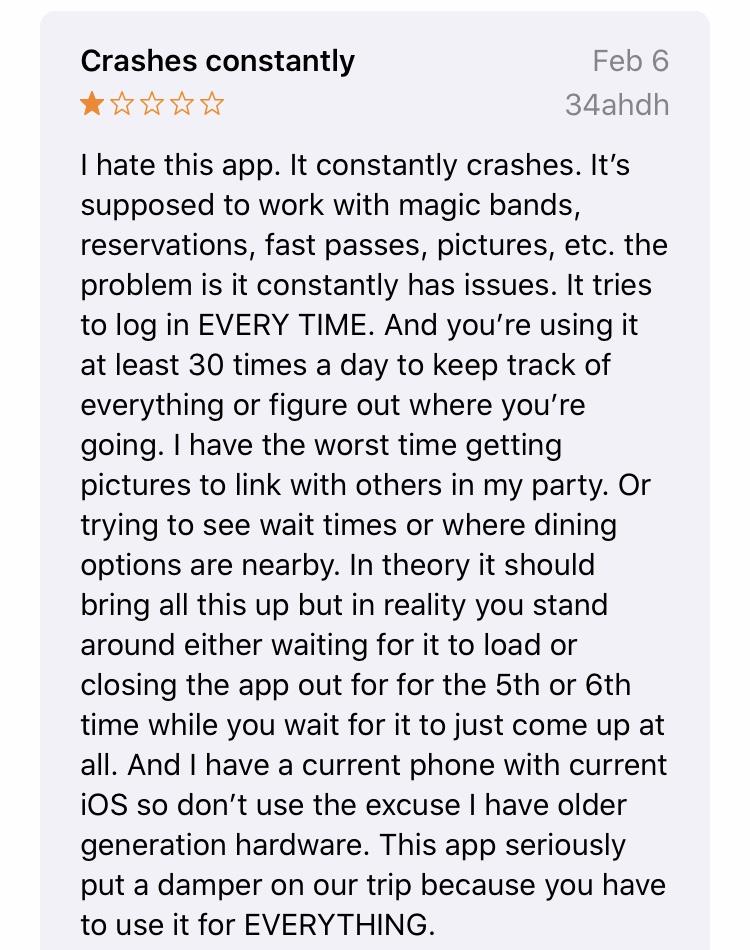 When your app performs well, you also build a precious foundation of trust between your brand and your users. To cultivate a loyal user base, you want to deliver an app experience that is enjoyable, simple, and honest. Honest design includes telling your users precisely what went wrong, for example, when a page doesn't load. It also involves designing transparently, making account settings easy to find or data and privacy policy accessible and understandable. Avoid dark pattern design tactics that aim to trick users. People will catch on to your shady methods and any trust that you've built with your users will gradually disintegrate.
Building Trust with Users of Business and Financial Apps is Essential
Trust is especially crucial in sectors such as business or finance. People are going to want to use a banking app that they can rely on to work each time they use it. That's because they've placed something extremely valuable in the hands of the app, their money. So banking apps have to ensure that every time a person engages with it, it provides a seamless experience. Resultingly, users want to trust the banking app with more of their money.
Create an Engaging Space for Shopping App Users to Cultivate a Good Brand Reputation
The same goes for shopping apps. People are investing their money into your product, so they expect excellent customer service. It should be easy for people to say, return an item, or speak to a customer service representative, directly within your app. Further, shopping apps are about personalization as much as they are about browsing. There is limited screen space on the phone, so browsing for long periods can become tedious for the user. Part of app performance is giving your users a frustration-free experience. Many shopping apps, such as Free People, have a "Picked For You" section to give their customers a personalized list of products. Free People also utilizes a wishlist feature, which allows customers to easily favorite items and come back to them later.
Push notifications can also be used to further engage your users when they are implemented in the right way.
These types of engaging features increase app performance as perceived by the user and keep them coming back.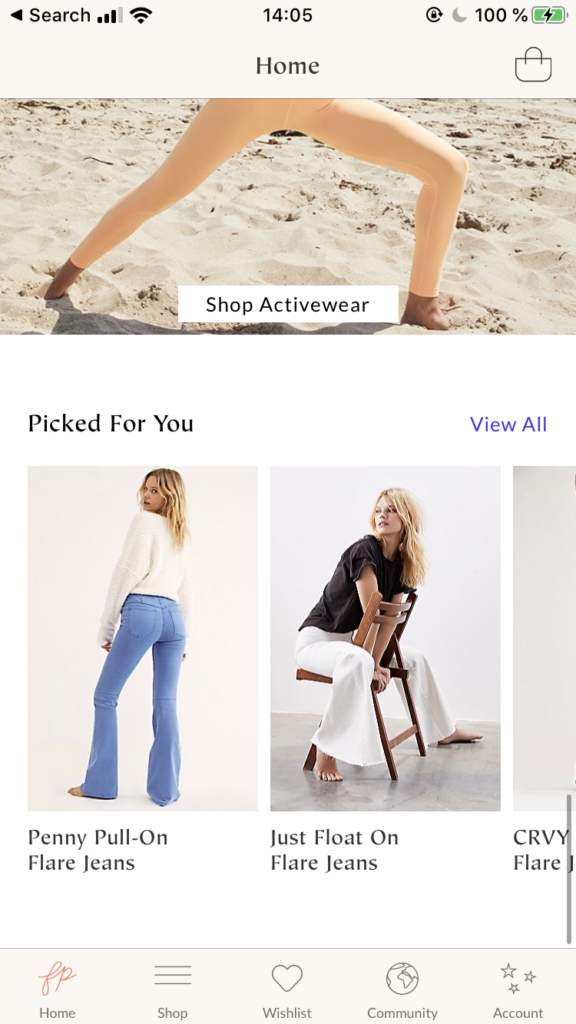 Keeping Mobile Gaming Fun to Avoid Pitfalls and Unwanted Backlash
Let's take a different example. Say you have a hyper-casual game, ones like Candy Crush or Fruit Ninja. The player's goal is to accomplish tasks that allow them to move on to the next level. In the beginning, levels are relatively easy to beat and can be done in a few seconds to a few minutes. As the player moves through your game, each level becomes harder and takes more time to beat. Several layers of app performance that has to work correctly for hyper-casual games to get players to keep playing.
First, their progress has to be saved. It's beyond annoying to come back to a game to find out you have to play the levels you beat all over again.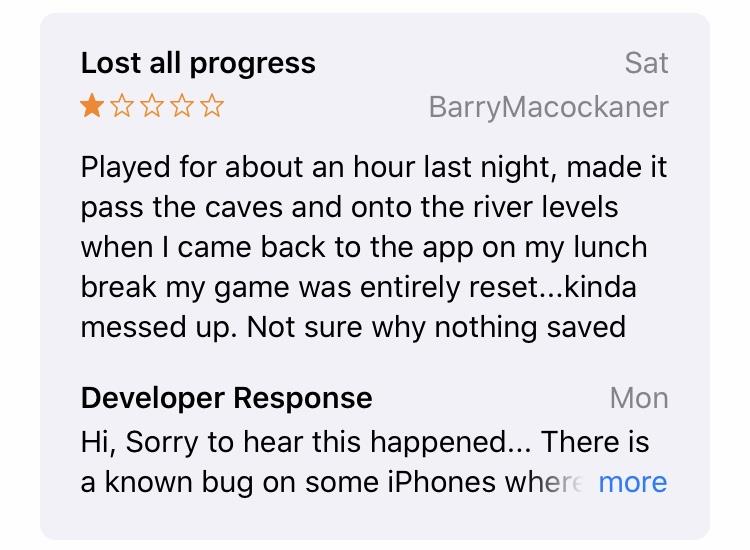 Second, the game has to be challenging but not too difficult. Many games today rely on a time delay model for monetization. Players can wait a few hours to recharge their lives or energy to keep playing, or they can pay upfront for more. Candy Crush uses this model well. However, an example of how this strategy can backfire was seen with the mobile game, Harry Potter: Hogwarts Mystery. Players clamored, and did so loudly, about the crazy wait times and quests that seemed impossible to complete without having to spend a dollar. You bet a lot of potential loyal players became incredibly frustrated, uninstalled the game, and never came back to it again.
when it's already 8pm, there's 9 hours left of the side quest and you have to wait 4 hours to talk to merula 🙃 #HogwartsMystery pic.twitter.com/nothSM4SBE

— penny (@pennyhwood) June 3, 2019
Good App Performance is Crucial to App Growth
Why app performance matters is a question that is inherently easy to answer, think back to any bad experience you've had with a product or service. After that one bad experience, you most likely were wary of returning to that product or service. And even if you do return to it, after a second or third bad experience, I'm pretty positive you'll never trust that company again. They've let you down, time and time again.
The same logic goes for mobile apps. Following unpleasant experiences, users will uninstall the app and probably never return, even if you try to reel them back in. Make your first impression and actually, every single one after that, a good one. As a result, your retention rates will increase, and your users will be happier and more loyal than ever. This is why app performance matters and is 100% crucial to app growth.
Need Help Growing Your Apps?
Get in touch with our growth team to discuss the right solutions for your mobile app business
Contact Us Today