How to monetize a mobile app: Top 4 Monetization Strategies for Free Apps
Wondering to know how free apps can make revenue? This guest post from JatApp gives an overview of the top 4 proven monetization models for free apps, so you can choose the right one for your app.
Do you have doubts about the statement that free apps make money? That might be reasonable because apps with a paid business model are more likely to make money on their users. However, there are tons of ways how you can make money from free apps, too.
As the popularity of mobile apps boomed recently, you can notice how users started to download apps and games. Whether it's connected with the pandemic situation or another case, the tendency is clear. In this article, you will learn about the mobile monetization strategy and how it helps free apps to make money.
How do free apps make money
The idea behind free apps is that users download an app for free and benefit from several features. However, to make the revenue, the developers need to introduce extra-paid features or in-app elements. There is also the possibility to run in-app ads or have a subscription-based model.
In all cases, you can notice a couple of benefits and downsides. Let's consider them together to understand why it's worth developing a free app and choose the right monetization strategy:
The user base of the free apps is much bigger. When a user sees that an app is available for free, it increases the chances of downloads. It's an effective solution because the user expects everything to be free.
Users are more likely to download a free app than a paid one.
The high downloads are not a guarantee for you to make a revenue, you need to have a clear understanding of your target audience and market. For instance, the audiobook app will have different users compared to a mobile game. In this case, the user's solvency is different. Therefore, business models for these free apps should be different.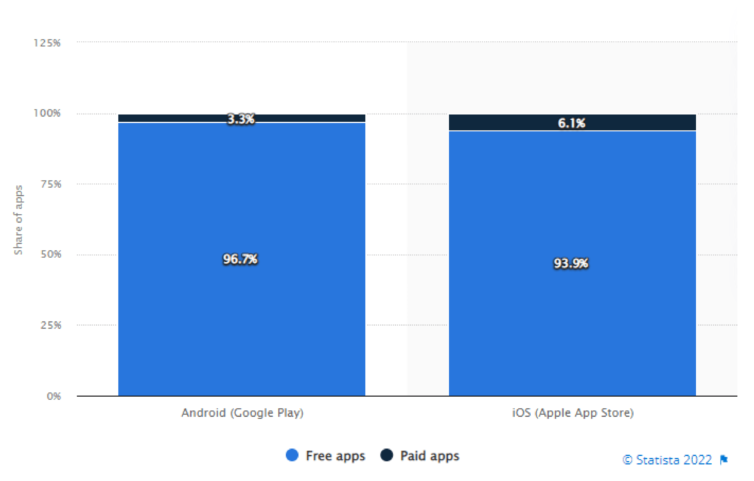 Keep in mind, when you develop an app, your goal is not just to have high downloads rates, but also to make your app profitable. If there are no users, the success of the mobile app is questionable. But if your users are not willing to pay for extra features, you need to rethink your monetization strategy. To make money with free apps, the developers have to create user-oriented strategies based on the app's concept.
Top 4 monetization strategy for free apps
As now you know that users are more likely to download a free app, it is time for you to choose the right app monetization strategy for your free app. Here are 4 proven monetization models that will help you increase app revenue and keep your app free for users.
Freemium business model for free apps
One of the most popular ways to monetize free apps is the freemium business model. Freemium is the monetization model that helps app developers upsell the app by introducing different paid features to the users. When you open the app, you can take advantage of several free options. However, the set of features is bigger, and users are tempted to try more.
This is one of the best options for making money with free apps. You can still attract new users with the help of free features. When you open the app, you choose whether you want to try extra services or not. The opportunity to try a wider set of options is appealing to every client, which makes the sales higher. In most cases, users agree to use the full set of features.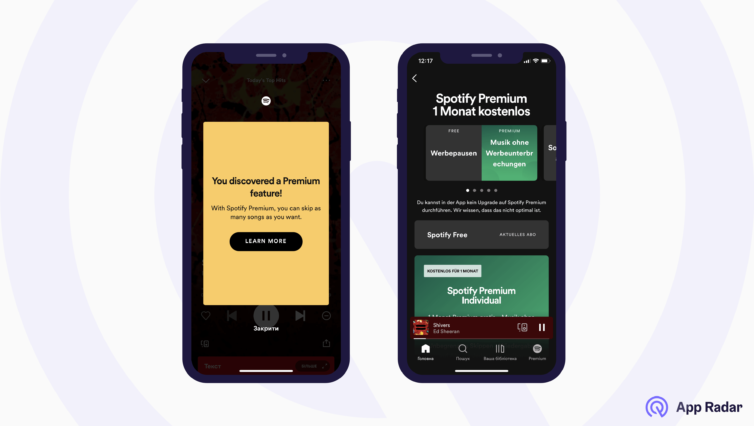 In-App Advertising as a monetization model for free apps
Another proven way of app monetization for free apps is in-app advertising. It works great for the developers as they receive extra profit just from the app use. In other words, users can still use your free app but they will be interrupted with ads. Users are used to the advertised content on different platforms, so it has not as bad effect on the user experience as it was some years ago. Here are 3 common ways how in-app advertising works:
The advertising can be placed on the top or bottom section of the screen. When you play a game or use apps for other purposes, you can notice the ad banners on the screen. These are not highly irritating for the users and can be easily stood by them.
Another way to place an ad in the app is by introducing it in the video. The video ad doesn't usually last for a long time. It will take 10-30 seconds. If you want to get rid of this type of ad, you can pay for the premium version and deal with no advertising while using the app.
You can also notice a relatively new type of ad so-called playable ad. You can play a game while watching the advertisement. It's an interesting way to introduce promotional content for the users.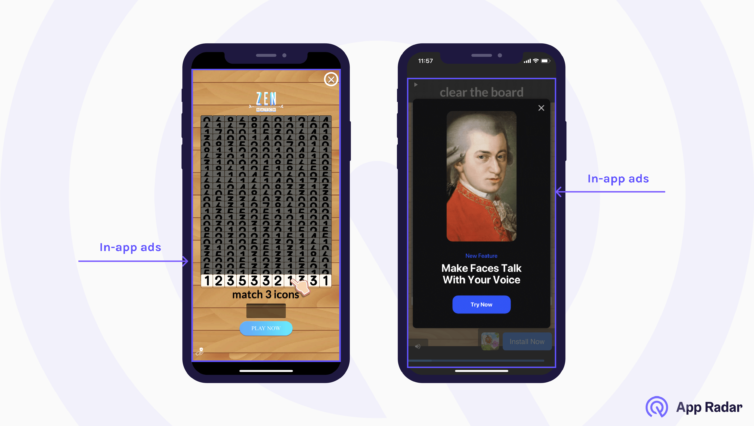 There are also native ads and other types of promotions that users can see online. However, there are 2 options how users can deal with in-app advertising:
Users can accept the advertising and pay no attention to it.
Users can pay for the premium package and forget about the ads forever.
Subscriptions business model for apps
That's another effective app monetization model that lets the app developers earn more on the user experience. This is a very similar model to freemium, but with the subscription model, users know from the beginning that they will be limited in available features. In other words, when users download the app, they have a particular set of options available for the free plan. If users want to upgrade the app, they can purchase a subscription for a paid plan. There are usually different types of tariffs available. When users buy a certain plan, they have a wider set of features ready to use.
Curious to know more about monetization trends? Learn more about Data Monetization in 2022.
In-app purchase (IAP)
Let's pay attention to another method popular among app marketers. The developers may introduce additional purchases that users can potentially buy. This is the choice of the users to decide whether they want to buy extras or not. It will make the user's experience fuller and complete, so in most cases, users agree to pay more for the additional services.
There are 4 types of in-app purchases that you need to know about:
Consumable - users can purchase different types of consumables to progress in a game. For instance, gems, lives, boosts.
Non-consumable - these features are purchased once and cannot expire. These can be brushes or filters in photo apps, cosmetic items in games, etc.
Auto-renewable subscriptions - recurring payment for users' subscriptions will provide ongoing access to premium features, services, and content in their apps. The subscription will be auto-renewed until you cancel it.
Non-renewing subscriptions - users' access to content and services has a limited duration. The subscription doesn't renew automatically. If users want to retain access to the content or services, they need to purchase a new subscription.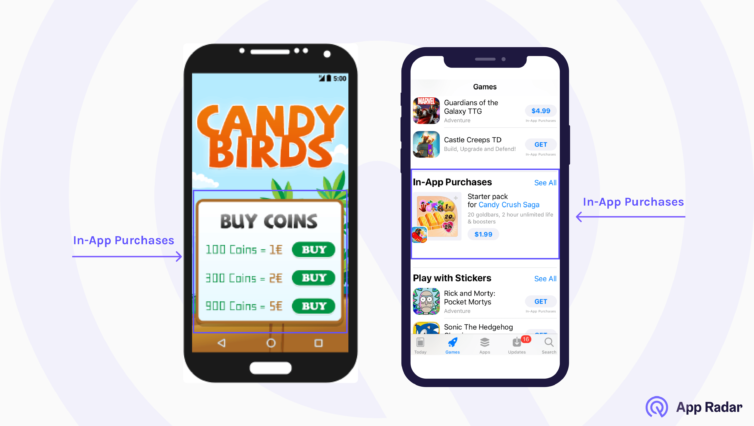 Note: you can combine monetization approaches and use in-app purchases with freemium and subscription models.
Final Words
A free app can bring you even higher revenue than the launch of the paid app. There are tons of ways how you can monetize your free app, but the above-mentioned are the most proven and trustful monetization strategies. Just remember that your monetization model should fit your users. Better use in-app ads if your app's target audience is teens, and use subscription models for users that can afford to pay for app service. Make smart choices based on your app concept to attract the right users for your app!
---
Aston Rhodes is an experienced content creator and marketing expert from JatApp software development. Aston does research and discussion on tech-related topics. She enjoys sharing her experiences with a like-minded audience and writes about software development, digital marketing, business, career, and more.