Data Monetization: An Emerging Trend You Shouldn't Miss in 2022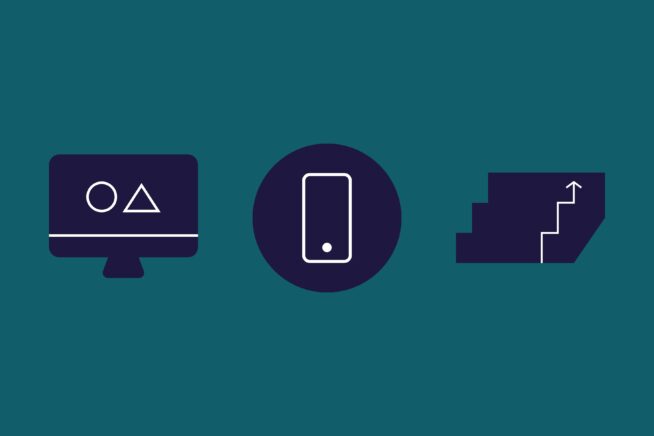 This Guest Post was created by Nina Bohush, the Head of Content for a monetization platform AppGrow. AppGrow has helped successfully monetize over 1250 Android apps. Learn from their experience and how you can monetize your app in this article.
2018 was another big year for the app industry. Mobile apps achieved a greater share of consumers' time and won the competition for their attention leaving the web in the dust. Today users spend around 3 hours per day on mobile apps and this number has reached 5-6 hours in 2020.
Mobile apps transformed people's lives once and for all. We want everything to be delivered fast, downloaded immediately and done within seconds. This is why app development is full of challenges; app developers should always keep up the pace and run ahead of time. However, it also offers many opportunities. Especially for developers building valuable and habit-forming apps.
Customer's in-app spendings were predicted to surpass $76 billion in 2018. This is 20% more than in 2017. Great interest to mobile apps has also drawn budget flows invested in apps by advertisers. Along with increasing of users in-app spendings, advertiser's budgets invested in apps also grew.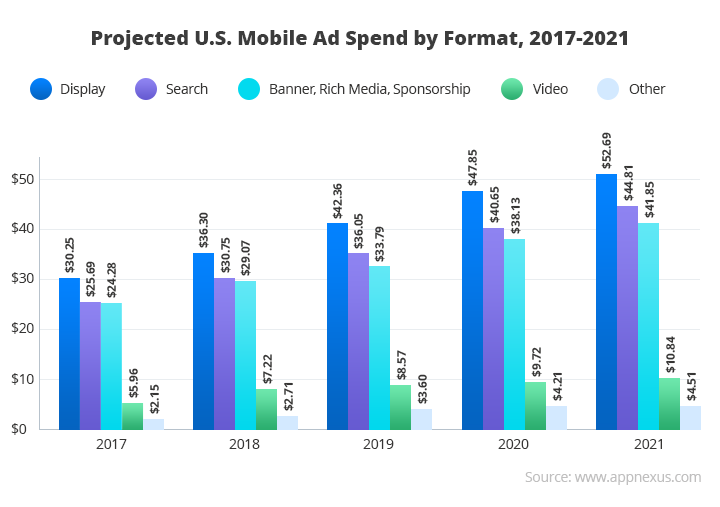 A 2018 overview of the highest revenue-generating apps has shown that mobile games remain the leaders in customers spendings. And giants like Netflix, Tinder, and Spotify still keep their positions high. But don't worry. Since the number of smartphone owners increases every year, there is still room for other apps to get their piece of the pie.
For making the most of your app, you should explore the non-obvious ways to monetize it. Everybody knows about monetization strategies that suggest adding ads, in-app purchases or subscriptions to your app. But what about data monetization?
In 2018 data monetization has become a buzzword of the app industry.
Indeed, there is big money in data, but there are also a lot of pitfalls you should avoid from the very beginning.
By the end of this article, you'll have a clear understanding of what data monetization is, and how you can earn with it.
What Is App Monetization With Data?
In the era of data, information about users can help reveal information that companies may turn into millions of dollars in revenue. This is why a lot of companies are happy to pay for quality non-personal data and improve their products or services for the better. So whether you run a mobile game or utility app - you have all the opportunities to scale up your monthly revenue with data monetization.
App monetization with data is a process that involves the collection and transferring of user's data. This data is anonymous and transferred from apps to data collectors (companies that gather user's data).
Among the basic parameters that data collectors usually look for are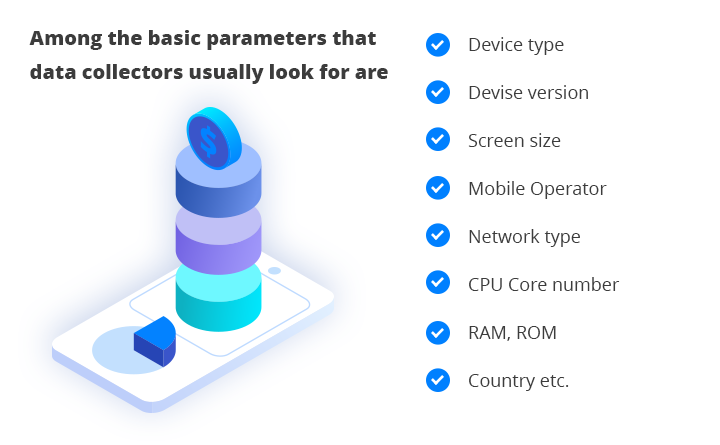 Any personal information about users like the name, age, gender, interests, and income remain anonymous and secured.
Data collectors are usually advertisers, telecom companies, research institutes, marketers etc. They all search for quality users data to understand the behavior of their consumers better. Data monetization is similar to ad mediation to some extent - the more data collectors SDKs you have in your app, the more user's data you'll monetize.
For making your data monetization run smoothly, you can partner with companies that are also known as intermediaries. In fact, you need only one strong intermediary to kickstart effective app monetization with data.
Intermediaries are the companies that are already connected to dozens of data collectors.
By adding their single SDK to your code you'll be able to monetize a higher percentage of user's data and save time on the integrating of various data collecting companies.
Curious to know how free apps can make money? Learn the top 4 proven monetization strategies for free apps.
6 Things To Know Before Implementing Data Monetization
Starting with data monetization is easy. And maintaining it is even easier - after adding a data monetization SDK you won't have to put any time or effort into its work.
However, there is important homework that should be done before getting into data monetization. These 6 tips will help you make your monetization with data work properly.
As the data monetization deals only with anonymous (non-personal identifiable) data, collectors are usually looking to buy it in wholesale. This is why we recommend thinking about data monetization when your app reaches at least 50 000 daily active users. Otherwise, you may appear too small for data collectors or get disappointed with the low revenue you may get with a tiny user base.
When reaching out to a specific data collector, make sure that it has enough demand in your region. Let's assume that 80% of your users are from Thailand. In this case, it is crucial to find a data collector that is interested in the Thai audience.
If you don't want to overload your app with SDKs and still want to continue growing your earnings, think of partnering with intermediaries like AppGrow.
You should ALWAYS ask your users before gathering their data. Make sure the users consent to data collection before the start using your app.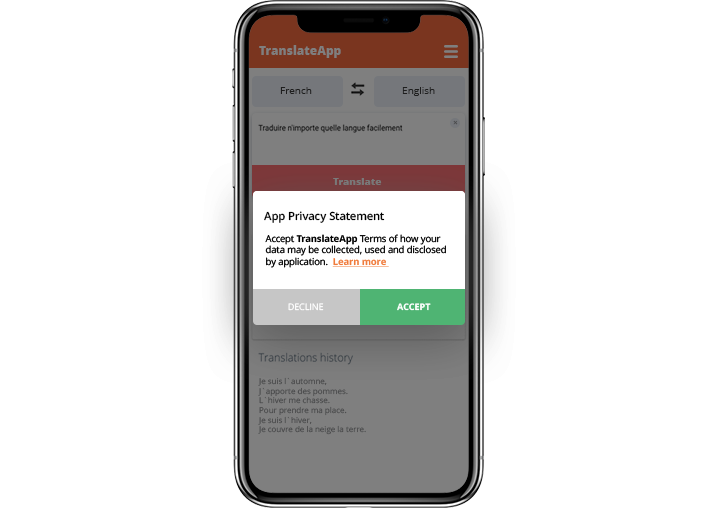 In spite of all the fuss about data collecting, app monetization with data remains safe for users as you, the developer, are the one who controls it. When adding a data monetization SDK to your app, include only those parameters that you want to share (for example, Network Type, Internet Access). The more parameters you open for collecting, the more you will earn.
Make 100% sure that the user's data that you transfer doesn't violate the GDPR policy.
How Does Data Monetization Work?
The entire process of data monetization can be set up within a few hours. The implementation can be divided into three simple stages:
Add permissions to your app code

These permissions will enable data collectors to gather information about your users. Data collectors can only access data specified in the permission code.
Implement a data monetization SDK from your data collector or intermediary SDK to the code.
Get ready with the user's consent and insert it into the code. After downloading the SDK on Android the user's consent will look like this: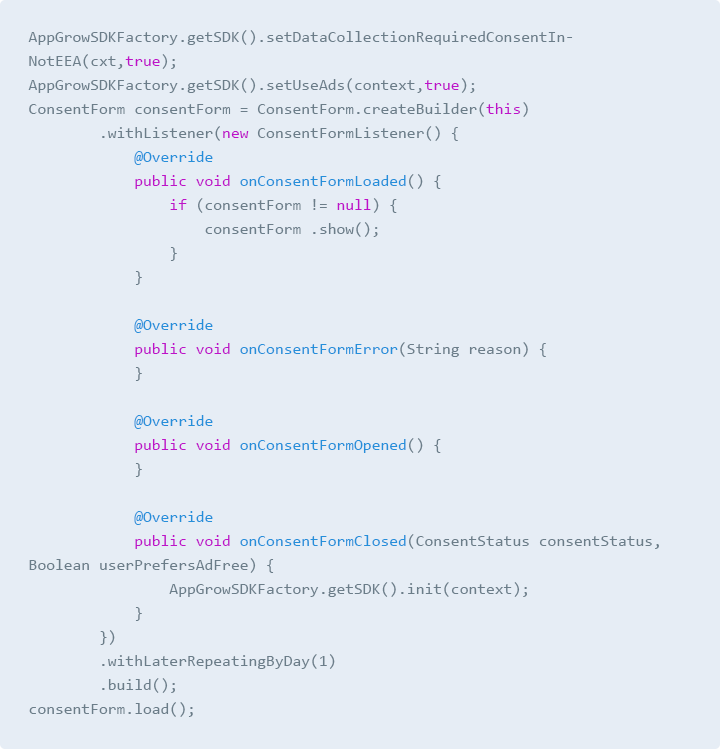 That's it! After you complete implementation, data monetization won't require your attention anymore. As soon as the user agrees to the consent, you'll start earning.
Why Data Monetization Should Be In Your 2022 Monetization Strategy
After understanding what is data monetization and how it works, let's find out why it deserves to be in your 2022 monetization strategy. Here is a list of advantages data monetization has compared to other monetization options:
Data monetization starts driving revenue right after the implementation.
You get paid for the same users over and over again.
Unlike in-app ads, data monetization doesn't affect the UX. It takes place in the background of the app, so the app keeps working smoothly.
Data monetization is suited for any category of mobile apps.
It has one of the highest CPMs in the industry. As the competition in quality data is not as big as in advertising, CPMs are higher.
It doesn't consume the memory or battery of the user's device.
The data monetization SDK doesn't compete with other SDKs. Hence, you can add it to your code along with other SDKs and turn it into an additional revenue flow.
By harnessing data monetization, you can focus on your work while earning money with your app.
The number of apps goes up every month and so do the new opportunities for growing in-app revenue.
For earning more with your app, you should go beyond standard strategies of app monetization. One of the non-obvious ways to monetize mobile apps is data monetization. In 2020 data monetization has proved to be a sustainable revenue-driver for both Android and iOS apps and is expected to entrench itself as a monetization trend in 2022. Stay tuned for industry updates and be the first to test-drive new options for your app monetization!
Check out how much you can earn with data monetization today with AppGrow revenue calculator.