case study
SuperRTL - How we scaled and decreased acquisition costs using Custom Product Pages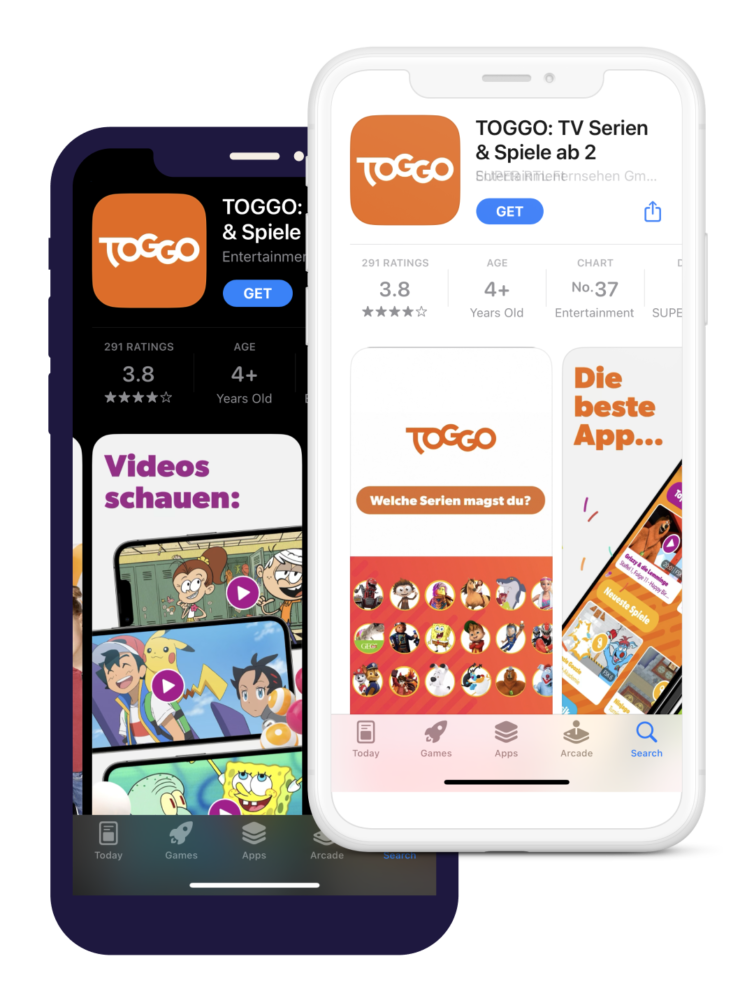 SuperRTL is a prominent German television network that boasts an app called TOGGO. The app provides various TV shows and movies catering to children and teenagers and is available on Apple App Store and Google Play Store. TOGGO offers over 150 series with complete episodes and numerous entertaining games suitable for kids aged two to twelve.
Available budget isn't the key factor for ads performance
SuperRTL and its mobile app TOGGO are well-known across Germany. As a result, there were no issues in expanding the budget and gaining high impression shares on many brand-related keywords, as well as keywords related to some of their exclusive content while monitoring cannibalism.
However, other challenges appeared when we wanted to push some Generic keywords related to partner networks like Nickelodeon. All the key metrics were going up when we tried to scale user acquisition. In other words, the expanded budget helped increase impressions, but product page optimization was needed to increase conversion.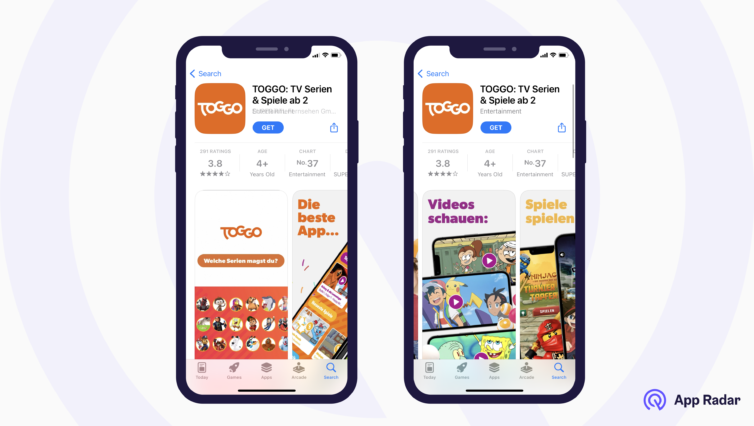 How we scaled and decreased acquisition costs
Apple Search Ads
Custom Product Pages
The collaboration between SuperRTL and App Radar's app marketing agency started in early 2022. Working closely with the client, our agency established the goals to effectively manage acquisition expenses while maintaining profitability and securing scalability for future growth.
We started with identifying the problems in generic keywords and creating the strategy.
Problems with Generic Keywords and how to tackle it
While analyzing the performance of the TOGGO app, our app marketing experts identified the most crucial problem - low TTR* (tap-through rate).
*The tap-through rate (TTR) is the number of times your ad was tapped by customers divided by the total impressions your ad received. TTR is an essential metric when it comes to advertising creatives in Apple Search Ads or on any other platform.
After diving deeper into the metrics, we identified that Conversion Rate was healthy. However, the challenge was to catch the attention of high search intent users.
Our experienced team decided to battle this challenge with new Custom Product Pages (CPP) on Apple App Store. More specifically, the strategy focused on the TV shows and movies produced by TOGGO's partner networks like Nickelodeon and was available in the app.
What are CPPs and how can they be used to improve Apple Search Ads performance
In a nutshell, CPPs allow advertisers to create alternative versions of the App Store product page to showcase something different from your usual product page.
Each custom product page can include screenshots, promotional text, and app previews that are different from those on your default product page.
All the mentioned functions help advertisers better tailor the ad content to the users and, therefore, better answer their Search Intent.
Search intent is the essential factor to consider in Apple Search Ads. CPPs are a way to customize and improve a user's search journey with content that directly relates to and engages users.
For the technical implementation of the CPPs, you can read our article or follow these ASA guides to understand the process better.
The process behind creating CPPs
In SuperRTL's case, App Radar's team used the CPPs to match TOGGO's ad content to user search intent. We knew that keywords related to Nickelodeon, or Nickelodeon's original characters, TV shows, and movies were important. After deep research on keyword search volume and advertising performances, it was clear that those keywords had the best potential. However, the TTR wasn't good enough with TOGGO's initial product page.
After briefing the client about CPPs and our strategy to increase their key metrics on some of their most important keywords, we ended up with this Custom Product Page that features all the famous characters from Nickelodeon and direct messaging to potential users.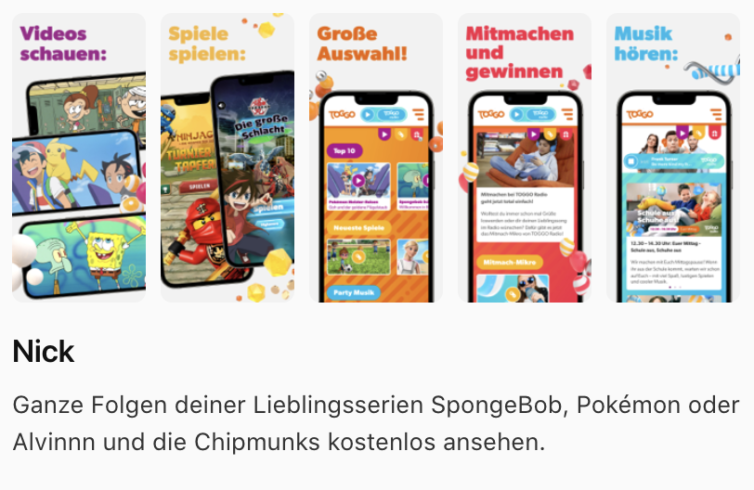 Scaling user acquisition with Custom Product Pages and 50% increase in TTR
From the first day of implementing CPP into the ad strategy, we managed to improve our results drastically for Nickelodeon-related keywords. Our TTR increased by more than 50%, decreasing our cost per install and allowing us to push these keywords further.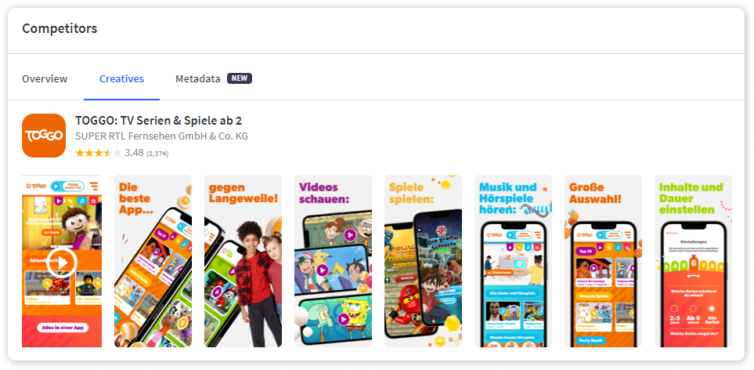 As soon as we saw the potential with these keywords, paired with a new and custom-tailored CPP, we put our efforts into pushing Nickelodeon-related search terms. Effectively guaranteeing a large majority of impression share for the client.
Not only did the CPP improve the performance on the account level, but it also helped TOGGO to scale the Non-Brand Campaigns. Since the costs were decreasing, our team aggressively pushed our keyword bids and generated a high volume of app acquisitions.
For us, the most important aspect of our partnership with App Radar was the continuous exchange of ideas and the willingness to experiment with potentially good research results and findings, even if initial attempts were not successful. We appreciate App Radar's commitment to driving success and look forward to continuing our successful partnership.
Remember, CPPs are a game-changer but aren't the solution to all mobile issues. If your app offers specific features or content, you need to analyze the search volume, look at your key metrics, and understand the user journey from the very first impression to the download and/or in-app purchase. You might have some untapped potential waiting to be unlocked.