case study
Boosting Cronometer's app rankings: achieving a 41% ranking improvement and securing a spot in the Top 100
Cronometer is a popular health and nutrition tracking app that has gained much attention in recent years. Launched initially as a web-based nutrition platform in 2011, the introduction of iOS and Android apps in 2016 quickly led to a surge in mobile traffic, with approximately 70% of users now accessing the app via mobile devices, while the remaining 30% utilize the web interface.
The app offers a comprehensive range of features that allow users to log their daily food intake, exercise routines, and biometric data such as weight, blood pressure, and glucose levels. With its intuitive and user-friendly interface, Cronometer has become a go-to resource for anyone looking to stay on top of their health goals.
Cronometer is also known for being the most accurate and comprehensive nutrition tracker on the market. Unlike other apps, Cronometer's nutritional data is curated from verified, lab-analyzed sources and user submissions are checked by their staff before being added to the database.
Breaking through the highly competitive Health & Fitness app market
Cronometer's main challenge was to improve its rankings in a highly competitive category. It's important to note that the competition in this category is fierce, and there are already several well-known competitors with new ones popping up every year. Cronometer has gained traction in its primary market of the United States, but in other locals, ranking and awareness of the app were minimal. Improving ranking across multiple markets was another goal the company aimed to achieve.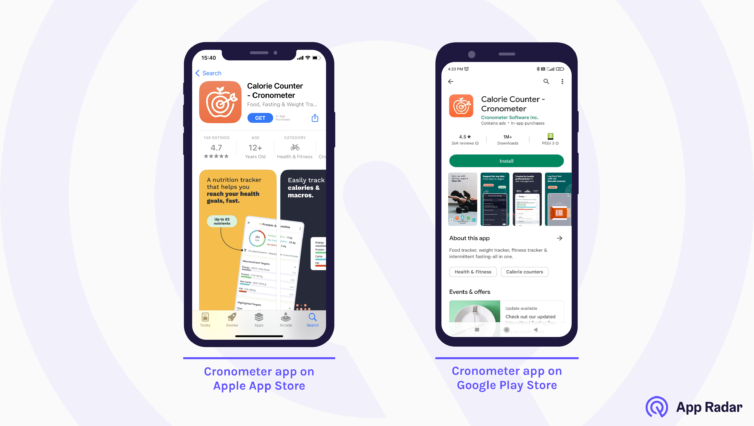 In addition to this, Cronometer's team was aiming to understand and learn the best practices of ASO. We made it our mission to secure a spot for Cronometer in the top 100 of the Health & Fitness category on both the iOS App Store and Google Play Store by the end of 2022.
Driving growth with effective App Store Optimization strategy
App Radar started working with Cronometer by creating a strong ASO strategy that followed the best methods and utilized iterative testing methodologies to optimize an app.
Our team of app marketing experts has developed a winning strategy that involved:
mapping out a plan to A/B test different variations of screenshots,
improving accuracy with keyword optimizations,
expanding localizations beyond the US,
monitoring important ranking factors such as reviews and crash rates by using App Radar's app growth platform.
All these key elements positively contributed to the Cronometer's success and helped the app to rank higher in the Health & Fitness category on app stores.
A/B testing as essentials
The first key element in our ASO strategy was conducting A/B tests to determine which screenshots worked best for the app. Together, we tested different variations of screenshots to see which ones had the highest click-through rates and which descriptions resulted in the most installs.
Keyword optimization
Keyword optimization played a crucial role in Cronometer's ASO strategy. App Radar's team identified the most relevant and high-traffic keywords that users searched for and integrated them into the app's metadata. As a result, it helped Cronometer show up higher in search results and attract more organic installs.
App store localization
The third crucial element of our strategy was localization. Cronometer and App Radar expanded the app's reach by localizing it for different markets (e.g., by adding German, French, Hindi, and Spanish localizations). We identified the top-performing markets and helped translate and optimize the app's metadata into the local language. It helped Cronometer to rank higher in those markets and attract more installs.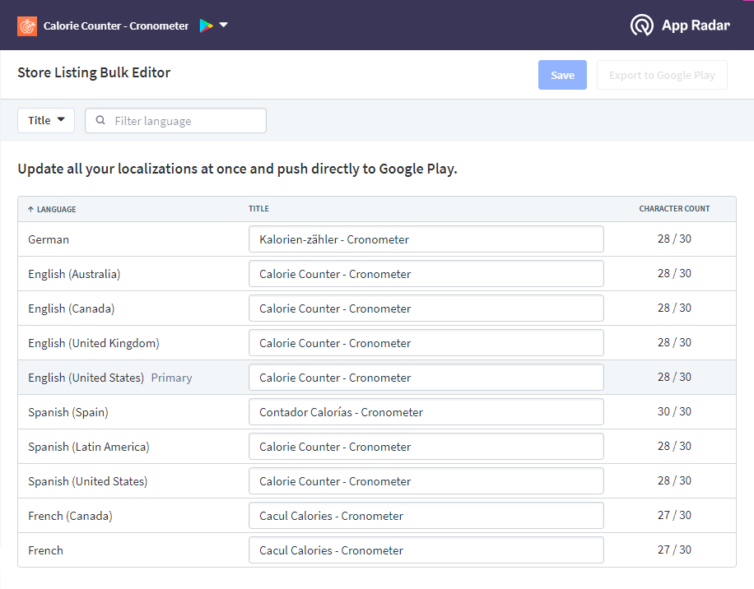 Monitoring and optimizing
One of the most important part of any app marketing strategy is monitoring the performance and optimizing app in time. Thanks to App Radar's app growth platform, we were able to monitor important ranking factors such as reviews (now also via the AI Review Summary feature) and crash rates. Our team used this data to optimize the app's metadata and improve its overall user experience.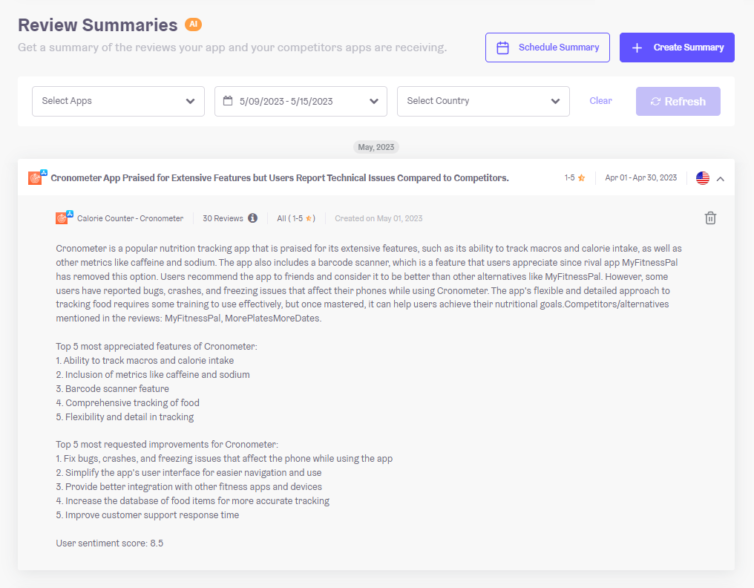 Beyond expectations: 41% improvement in rankings and entering the top 100 category apps
Cronometer's partnership with App Radar has significantly improved its app's ranking, installs, and store views/impressions. Since the partnership began in June 2022, the app has seen the following results.
Apple App Store results
41%
improvement in ranking
30%
increase in impressions
*Before the partnership, Cronometer's average rank on the iOS App Store was 145, with 671,633 installs and 4.5 million impressions. After the partnership, the app's average rank improved to 96, with 816,768 installs and 6.1 million impressions.
Google Play Store results
11%
increase in store views
By developing a robust ASO strategy and using App Radar's app growth platform to monitor and optimize the app's performance, Cronometer has seen significant improvements in such vital metrics as average ranking, installs, and overall store views/impressions. The partnership has helped Cronometer understand and learn best practices with ASO, resulting in the app consistently ranking in the top 100 of the Health & Fitness category on both the iOS App Store and Google Play Store. Cronometer's partnership with App Radar has proven to be a great example of how collaboration and using the right tools can lead to success in a highly competitive app market.
The App Radar team's knowledge and experience has been fundamental in helping our team strategize, plan and execute our ASO strategy. The partnership has ensured we are following best practices and optimizing our App Stores as effectively as possible.