case study
ProCamera - How we achieved +25% revenue increase for a paid camera app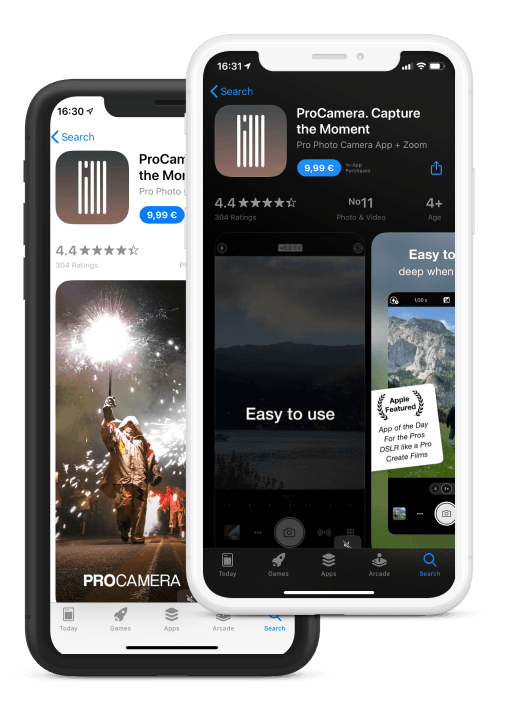 Small team looking for a reliable ASO partner
ProCamera is a paid camera app available only for iOS. It competes with several other competitors and positions itself as the highest quality photo app for iPhones.
Cocologics, the company behind ProCamera, was searching for a reliable ASO partner to support their app store optimization and advertising activities to increase efficiency and performance. To best meet the needs of Cocologics, the partnership with App Radar included Full-Service ASO and ASA, app marketing consultation as well as taking over localization of the app store descriptions (15+ countries).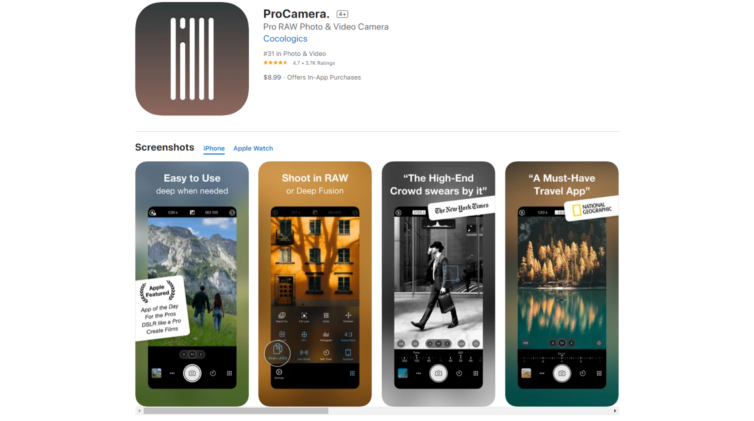 In today's AppStore market, it is more important than ever to spend advertising money as effectively as possible. It can be a full-time job to care for an app's ASO and ASA campaigns, especially when wanting to stay on top of best practices and newest trends.
Time is money: outsourcing ASO & ASA led to 90% of timesavings
Due to travel restrictions from COVID-19 crisis, growing was challenging for a photo-app like ProCamera. Therefore, our main goal in the beginning, was not to lose ground.
As part of the Full-Service ASO and ASA partnership, our senior app store marketing experts prepared monthly ASO updates for ProCamera app store listing and continuously optimized it to increase keyword rankings & organic downloads. For app store advertising, the campaigns were regularly managed and optimized by our team as well.
The unique combination of an ASO-tool and our team as a Service partner allowed us to directly push metadata changes live without any workload for ProCamera.
Communication, Quality, Flexibility
The key to a successful outsourcing relationship is to have regular communication and trust in high-quality service. To ensure that, we set up a shared Slack channel and monthly consulting meetings for quick and flexible conversations.
Additionally, as Cocologics has more than just one app, it was also important to be flexible and switch between localizations and apps as needed.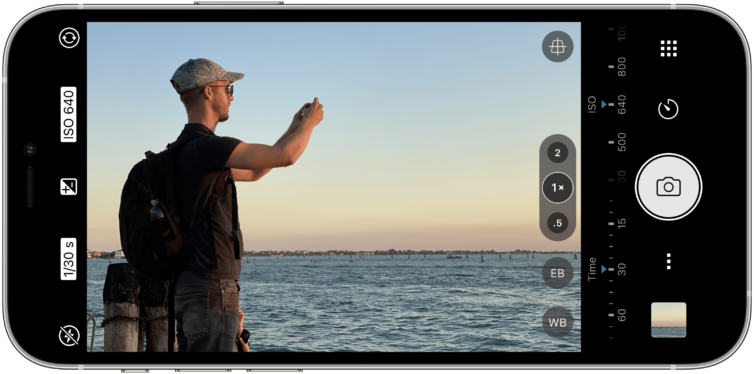 It has freed up a lot of capacity for us when we handed this important task to App Radar. App Radars' team of professionals is very skilled and experienced. They handle requests promptly and have helped us increase conversion rates and App Store visibility and ranking. Highly recommended!
Performance, Performance, Performance
Despite the challenging circumstances and the photo app being quite affected by COVID-19, we were able to see positive results already with our first update. ProCamera downloads increased by 4% and there was a significant increase in the top 10 keyword rankings (+200% after 6 months).
Also, our native ASO localizations showed positive results in April as the conversion rate from store view to install went up by 28%. Together with our ASA efforts, this led to a total increase of 36% on organic installs in April and May, compared to previous months.
After the peak of the crisis had passed, we focused together with Cocologics on finding the right pricing point for the app,as part of our full-service. The results were satisfying: from June to September, we saw a 25.8% growth in the app revenue.
+200%
more keywords in top 10 rankings
+23.5%
increase for average revenue per user (ARPU)
+36%
increase in organic installs
The results were achieved thanks to the following App Radar app store marketing services:
Full-Service ASO
Full-Service ASA
App marketing consultation
Global take over of app store descriptions (15+ countries)