Ratings & Reviews Management that Strengthens Your App Brand
Analyze, manage, and reply to Google Play and Apple App Store ratings and reviews. Gain insights for bug fixes and feature requests while improving ratings.
Build a Strong App Brand by Replying to Reviews
Ratings and reviews heavily influence mobile users' decision to download an app. A majority of app store visitors read at least 1 review before they make the final decision. Reviews also provide you with valuable insight. By reading through your app reviews, you'll find bugs that need to be fixed, as well as new features your users want. Get to the success you deserve. App Radar enables you to consistently improve ratings and efficiently reply to app store reviews.  
Generate trust and gain more user by reply to reviews
Convince app store visitors to trust and download your app. Cultivate a loyal user base. Get ideas for new features directly from your users.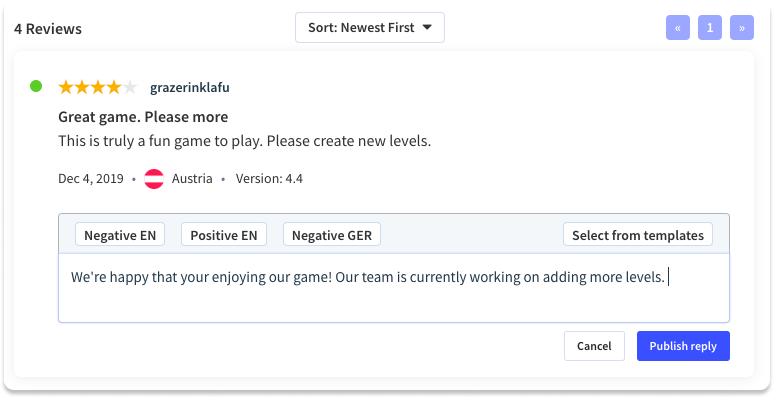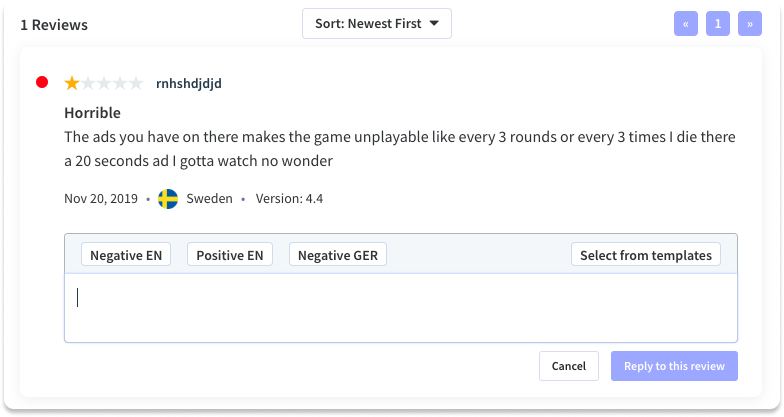 Quickly identify bugs that your users are experiencing
Users abandon buggy apps. Analyze your app store reviews to find and fix problems promptly.
Be certain that you have responded to every app store review
Never miss a chance to reply by filtering for unanswered reviews. Replies are instantly published to Google Play and App Store.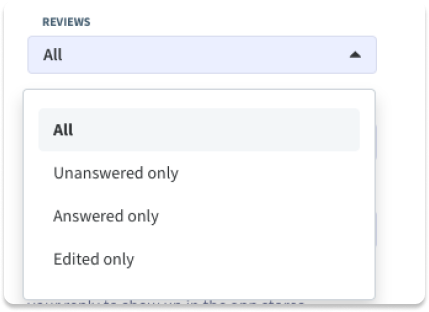 The Importance of Replying to App Reviews

Everyone wants to be heard. Make sure that your users feel listened to by replying to all of their app store reviews.

Identify bug fixes and feature requests to extract real value from user feedback.

Inform unhappy reviewers that you've improved your app and turn their negative rating into a positive one.
Increase Productivity with Reply Templates
Start with sample template
App Radar comes ready with sample reply templates that you can use for typical app review topics. Take the stress out of responding.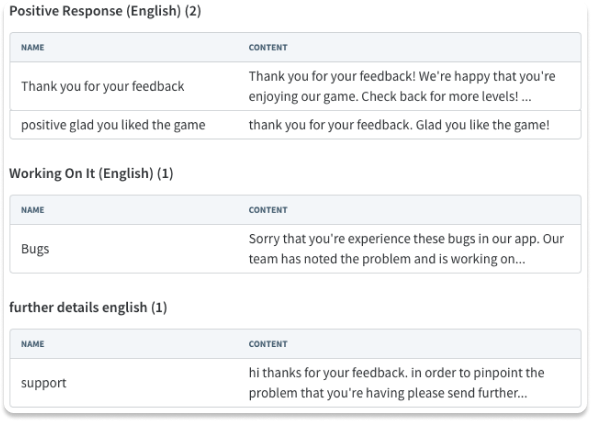 Create your own
Keep true to your app brand and create templates that reflect your brand's voice and style.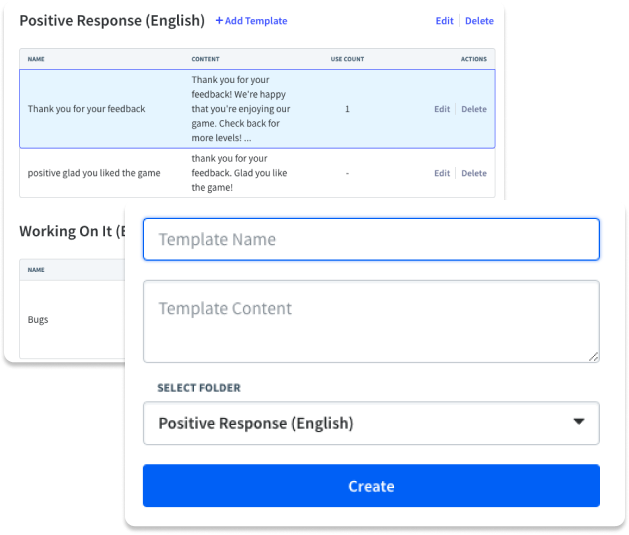 Save past replies
Stop rewriting the same replies over and over again. Save frequently use responses and get back to productivity.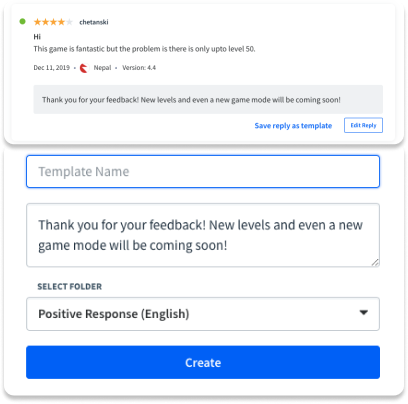 Visualize how your star ratings have changed over time 
People are more likely to download apps with higher star ratings. Follow how your ratings evolve to ensure you're moving in the right direction.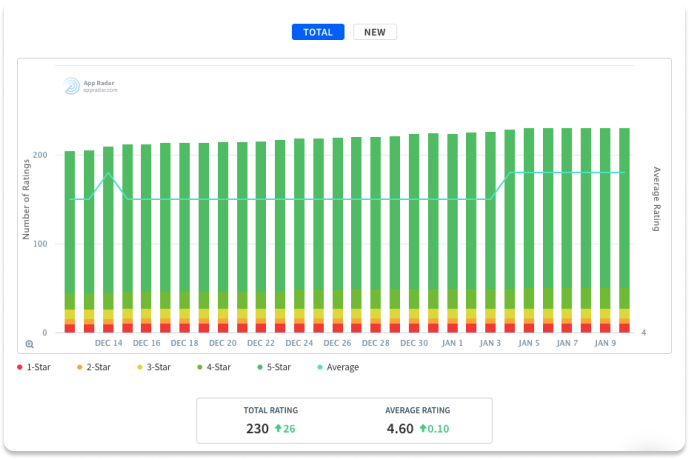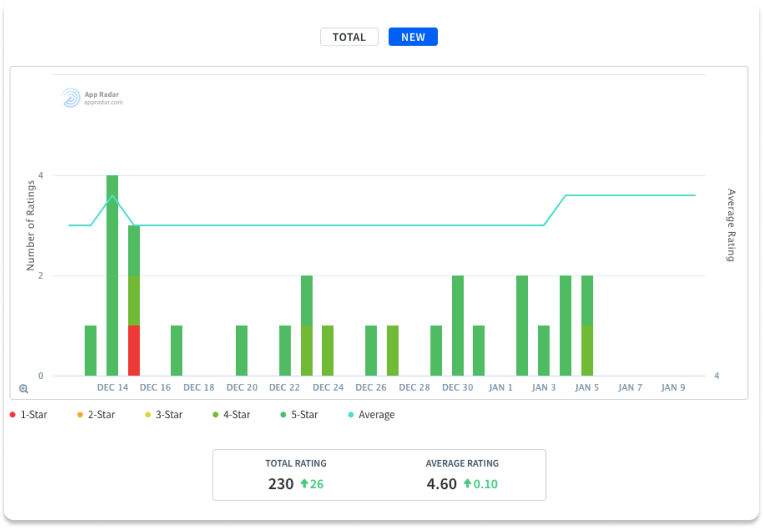 A quick way to view how many app ratings you received each day. Increases in daily ratings means your review prompts are working well. More positive ratings show that your users are enjoying the new update.
Stay on Top of New App Reviews
Never miss the chance to talk with your users.
Receive alerts in your email inbox when your app gets a new review.
How You Benefit From App Radar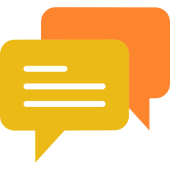 Take the manual work out of replying to app store reviews. Use templates and publish replies directly to Google Play and App Store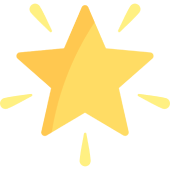 See when you get new ratings. Pinpoint any marketing campaigns or app updates that positively impacted your app star ratings.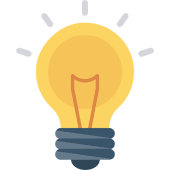 Increase user engagement by talking with your users. Get ideas for new features from your users and build an app that they'll love.
For everyone who's getting started with App Store Optimization
For startups and growing companies looking to acquire more users
For scaling businesses who want to further accelerate app growth
More on Ratings and Reviews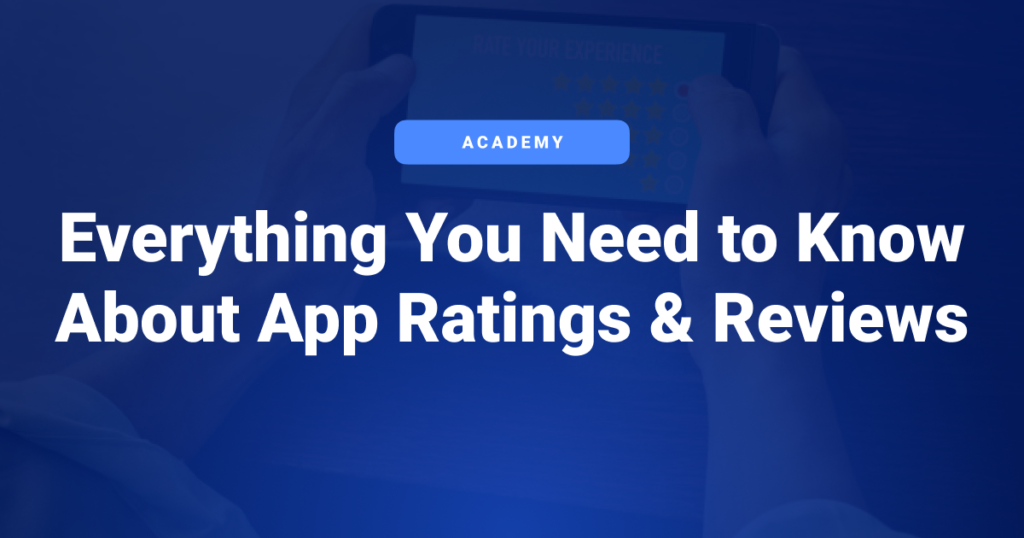 Academy
App ratings and reviews are vital to your app's success in the Google Play and App Store. People depend on ratings and reviews to inform them about whether they should or should not download an app. To make sure you're on the right path with your app growth, we've prepared a thorough guide to App Store and Google Play ratings and reviews. Read on to find out how you can leverage your app reviews for accelerated app growth.
Read More »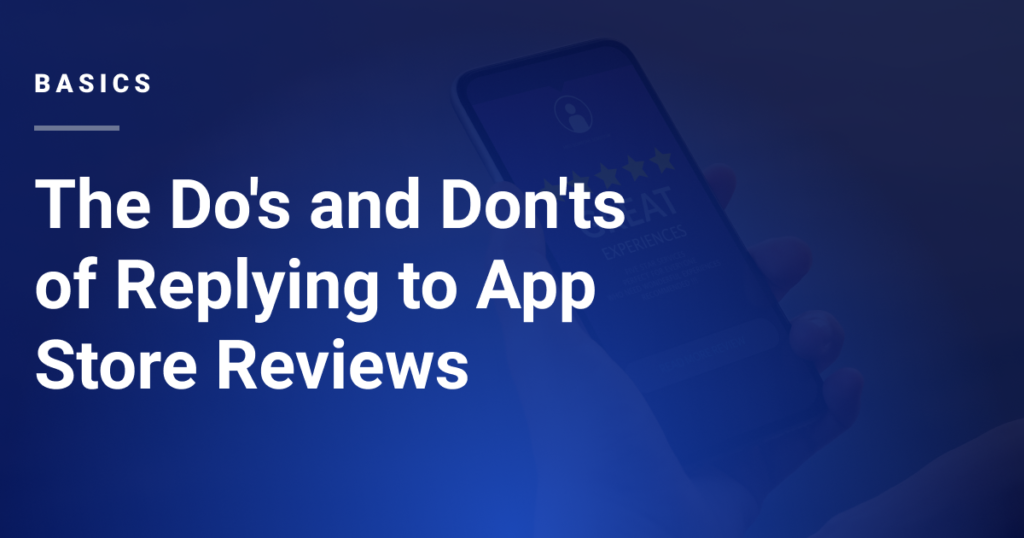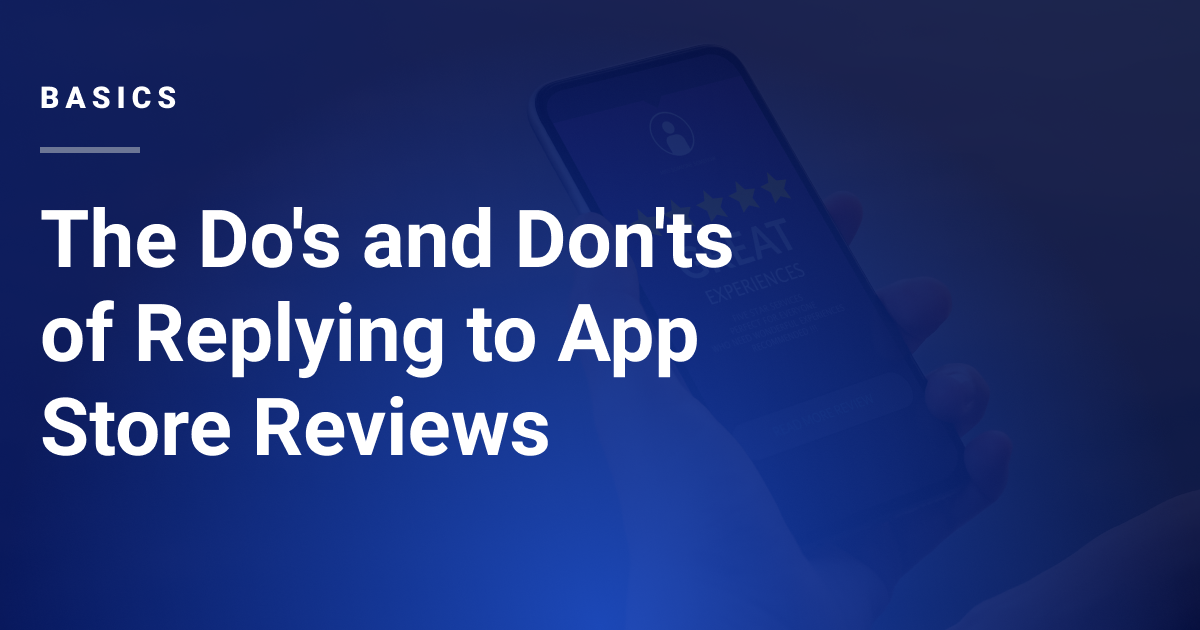 Blog
We've established that replying to app user reviews is necessary when aiming to be on top of the app industry. Now let's talk about what the do's and don'ts of replying to app user reviews are.
Read More »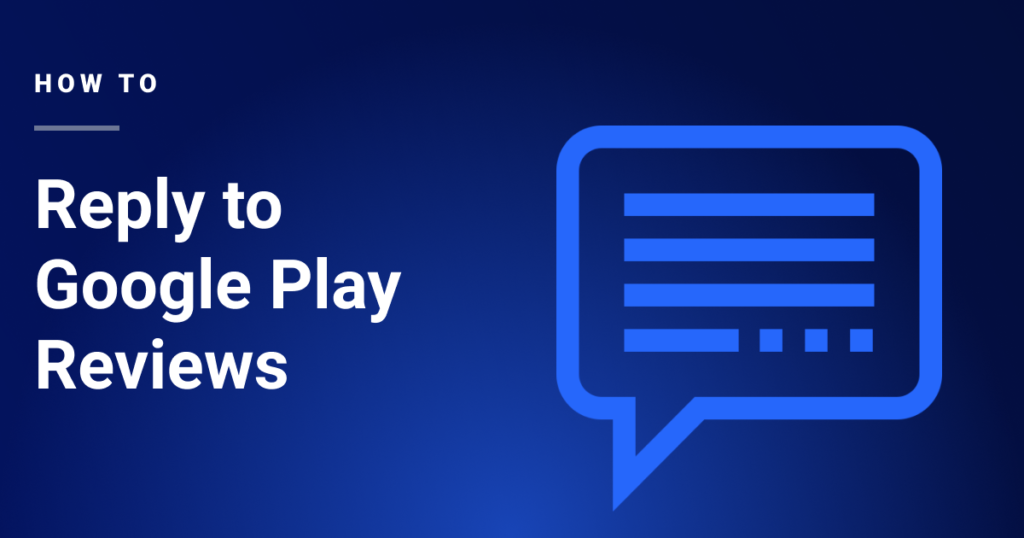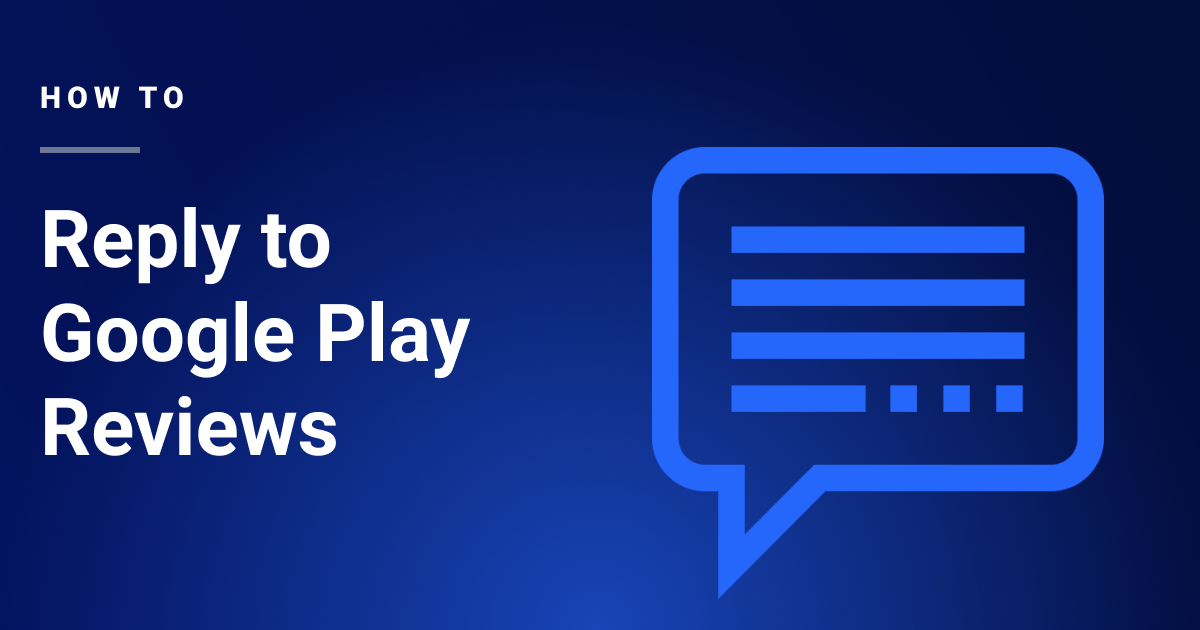 Blog
Google Play app ratings and user reviews affect how Android users see your app. By looking through your app's ratings and reviews, a person can determine whether 1. Your app works well, and 2. your app solves their problem. From there, a person will decide if they want to download your app. Of course, you want to do everything you can to convince them that your app is worth their time. Replying to Google Play reviews pushes you closer to that goal.
Read More »