Our gaming-focused client, Wargaming, was founded in 1998 and has been releasing free-to-play battle and strategy-based games since 2009. They are a gaming powerhouse, well-known in the industry. Their mobile gaming portfolio, which includes World of Tanks Blitz and World of Warships Blitz, has seen global success. However, Wargaming is not settling, and neither are we.
The Issue: World of Warships Blitz Needed More Exposure in Main Locales for iOS and Google Play
World of Warships Blitz is one of Wargaming's free-to-play action mobile games that already experienced considerable success in several localizations, including highly competitive English (US). However, the game was looking to grow its exposure and brand awareness in many other competitive locals such as Spain, Russia, Korea, and Japan.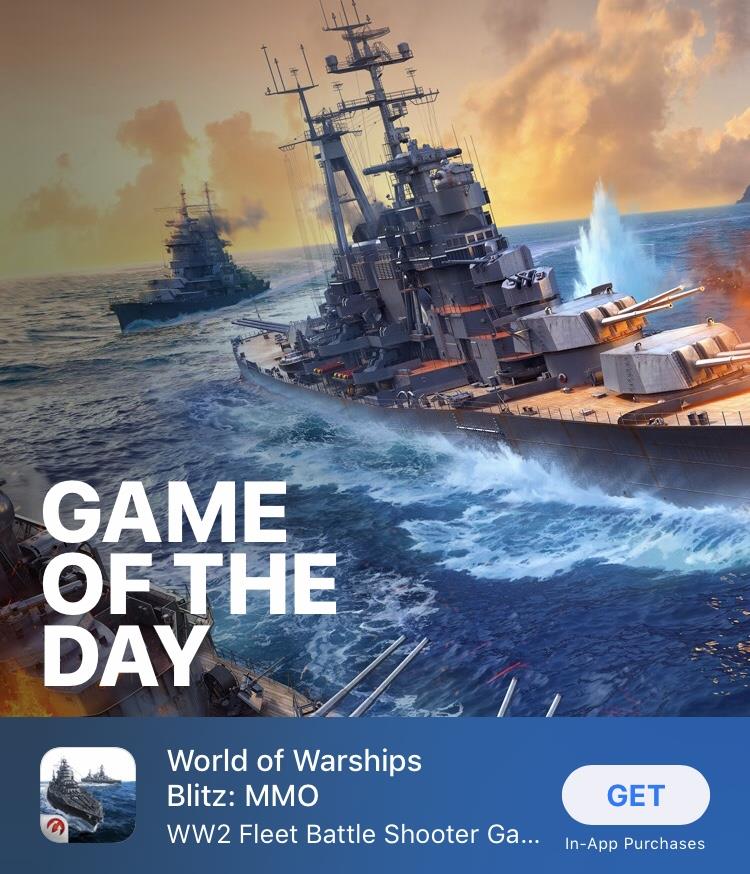 Wargaming had previously translated only some of their app metadata for the different locale's native languages. As a result, not every app store listing was localized entirely. Our data shows that the more localized an app listing is, the more likely visitors from the respective country will install the app.
Furthermore, they have an extensive portfolio to work with and was looking for an app growth team to assist them with localizations they have entered but were still unfamiliar with.
There were 12 localizations in total that Wargaming handed to us for optimization:
French
Italian
Korean
Portuguese (Brazil)
Russian
Spanish (Spain)
Turkish
Chinese (Traditional)
Chinese (Simplified)
German
Japanese
English (US)
The Solution: Total Localization of World of Warships Blitz for each Country
Our app growth service team utilizes a combination of AI-powered tools and in-house knowledge in order to identify problems and provide customized solutions. We work with data instead of making wild guesses. The accuracy of our data-based approach saves our client's time and helps everyone involved to avoid growing an endless cycle of trial and error.
We tackled app growth for World of Warships Blitz across their 12 different localizations for iOS and Google Play.
Utilizing a targeted App Store Optimization (ASO) strategy for each locale, we identified high opportunity keywords in the specified country's native language.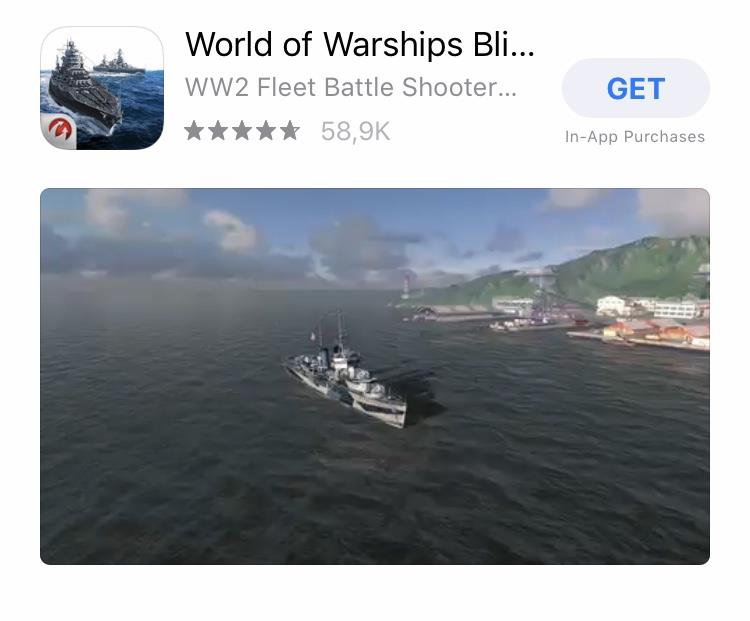 World of Warships Blitz had already been ranking for a few significant keywords in each locale. Our goal was to increase their rank to top 10 for more than a few keywords. Because the game had previous rank power, we were able to implement high popularity and also high difficulty keywords right away. The more relevant keywords an app ranks for, the easier it is for the app to rank for other more searched for keywords.
The Results: World of Warships Blitz gained a 35% average increase in App Store and Google Play Impressions
App Growth Results for World of Warships on iOS
We saw an average 35% increase for all locales World of Warships Blitz localized for in the App Store. This includes competitive locales such as Korea, Russia, and Japan.
For some locales, the results were extraordinary: Up to 90% more app impressions.
There were several other competitive locales that saw exponential improvement. World of Warships increased their App Store impressions for Spain (Spanish) by a whopping 73%. The game got an even crazier 91% increase in App Store impressions for Turkey (Turkish).
In each locale's metadata, we left the App Name as is to protect the established brand of World of Warships. We then implemented translated high popularity keywords and keyword combinations for the Subtitle and Keyword Field.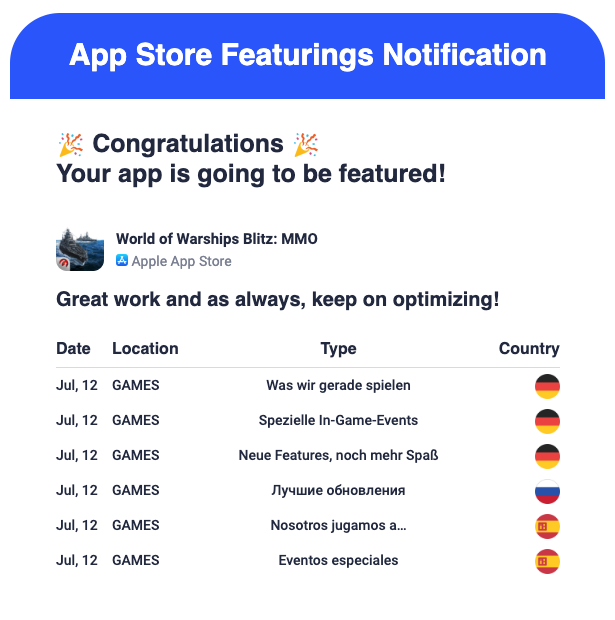 In addition, during this period and shortly after World of Warships Blitz got featured in the Apple App Store. They were able to prepare for being featured by the Featuring Alert capabilities in our ASO Tool. We notify you before your app is going to be featured and tell you in which section and for what countries the feature will live for.
App Growth Results for World of Warships on Google Play
The improvement for Google Play locales mirrored the success we had with App Store. There was an average 35% increase in app impressions across all Google Play locales.
Similar to our ASO strategy for the App Store listing, we kept the App Name relatively unchanged to protect the brand name. Then we implemented keywords in the locale's native language in the Short Description and Description. After the ASO update, we saw that World of Warships Blitz was now ranking in the top 10 for several keywords that we newly implemented for many locales.
Future App Growth Goals
We will continue working with Wargaming to improve their brand presence, visibility, and app installs for all of their localizations. As ASO is a continuous process, there is always more to be done. We will be able to once again, cycle out lower popularity keywords and input high popularity ones to guarantee more app store visitors see the app.
Need Help Growing Your Apps?
Get in touch with our growth team to discuss the right solutions for your mobile app business
Contact Us Today