case study
eSound - how to boost app store installs in the German market with excellent user acquisition strategy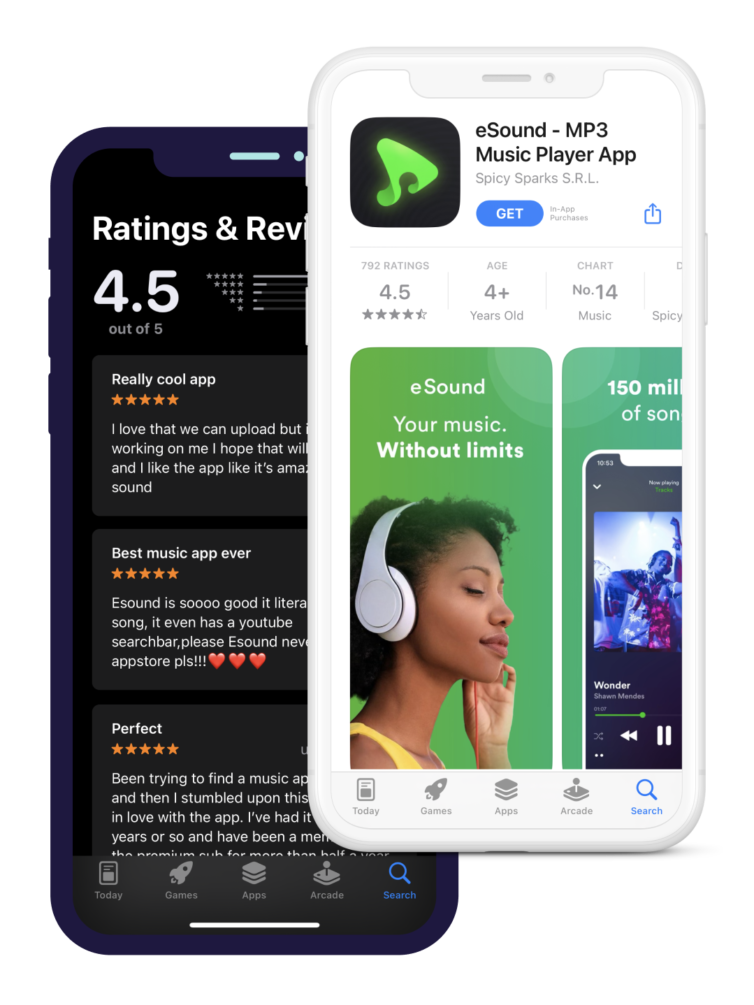 eSound is a music streaming service developed by Spicy Sparks studio. eSound is used by millions of users daily and can be accessed via mobile app, desktop, watch, and web. Spicy Sparks has gone above and beyond to cover every little detail - a seamless user experience and dozens of unique features that set eSound apart from the rest.
Leveling up user acquisition in key markets
Although the eSound mobile app was available in many markets and had many organic installs, Spicy Sparks was looking for a partner to boost their ASO and level up user acquisition.
In order to let eSound gain traction in some key markets with high-paying users and further increase organic growth, App Radar's team was tasked with optimizing current app performance and improving organic channel metrics.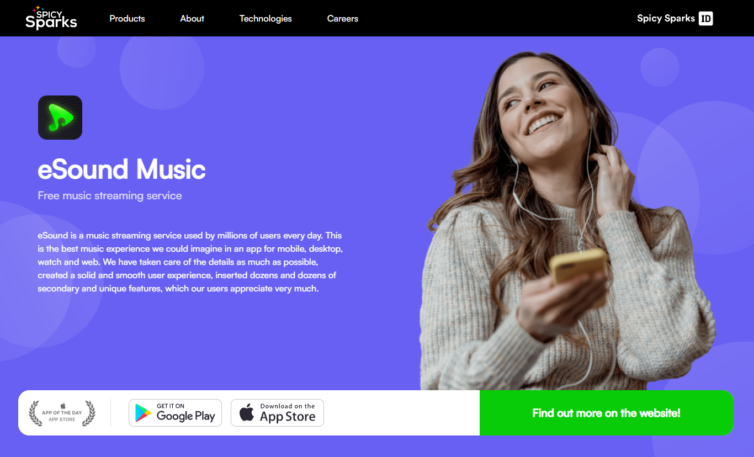 With eSound we were looking for a partner which could help us with our ASO and UA efforts, in order to let eSound gain traction on some specific key markets where we could acquire more users in a profitable way and further increase our organic growth.
Overcome competitors with 5 steps mobile user acquisition strategy
When we started our partnership between Spicy Sparks and App Radar's agency, we knew we would need to compete with apps like Spotify, SoundCloud, and Apple Music. It was a challenge that we were excited to take!
App Radar's team proposed a user acquisition strategy that consisted of 5 crucial steps. Let's take a look at each of them.
Keyword strategy
Bidding on high-frequency keywords wouldn't be an option for our client, as it was objectively clear the competitors have substantial advertising budgets. Considering the fact that the main ranking factor for apps is the overall number of installs (regardless of the channel through which these installs were received), our team of app marketing experts decided to focus on mid-frequency keywords for the eSound user acquisition strategy.
Analyzing current markets
In order to select the most promising market and start implementing the ASO strategy, we needed to analyze various locals and countries. The key analysis element was indexing the keywords in which eSound is presented.
We concluded that Germany would be the most promising country to start with. Even though eSound metadata wasn't well optimized for this local, the app had a sufficient number of installs already coming from there.
Optimization process
After agreeing with the client on the country, our team started the German market's optimization process, which required some extra steps.
First, we did competitor research to understand their weaknesses and strengths. We tried to identify the main elements of their strategies, such as:
keyword rankings,
metadata,
traffic volume,
average rating and reviews.
Knowing where competitors put the most effort helped us to optimize the user acquisition strategy for eSound.
As the next step, we started collecting the semantic core. To begin with, we analyzed all keywords the app was already indexed for to find those that could be improved in terms of rankings. Also, App Radar's experts have added keywords to the tracking list that are most relevant to eSound app. Moving forward, we prioritized keywords by popularity, difficulty, and competition to choose the most suitable ones for optimization.
After defining all crucial keywords, we went to the next stage of editing text elements in eSound metadata. We created new versions of metadata for the Apple App Store and Google Play Store that were pushed and updated on both stores. In other words, the process of re-indexing the app by algorithms began.
Paid user acquisition
In parallel with all the above-mentioned organic efforts, our paid UA experts prepared ad campaigns for eSound. After the launch of paid campaigns, we also recognized a positive effect on overall install results. Moreover, paid campaigns also helped boost organic acquisition, positively influencing ad traffic, average rating & reviews, and internal metrics (crashes, ANR, retention rate, CR, etc.).
A/B testing
At App Radar, we believe that creative ideas and hypotheses must be tested to make data-driven app marketing decisions. Therefore, A/B testing of creatives was also an essential part of eSound user acquisition strategy.
Our team developed hypotheses for eSound screenshots that could improve conversion rates. As a result, we created a testing framework that consists of 6 rounds and defined the most convertible variations.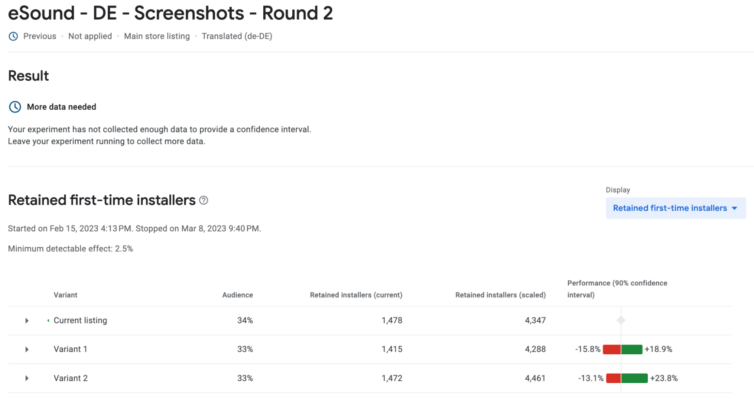 +80% increased store visitors as a result of app marketing strategy 
Once we optimized the metadata for the German market and gave some time for app stores to re-index the eSound app, we could already see the excellent results of our strategy.
Google Play Store results
+80%
increase in store listing visitors from Search channels
+18.5%
increase in app installs
+19.47%
boost in installs from long-tail keywords
As you can see below, store listing visitors from the Search channel have increased by +80% and installs by +18,5%. It comes as a result of optimizing metadata with relevant keywords. For example, we could see the improvements in installs from the "esound" keyword (+2.07%) and many other long-tail keywords (+19.47%). On top of that, an increase in Top 10 keyword rankings also influenced the search installs.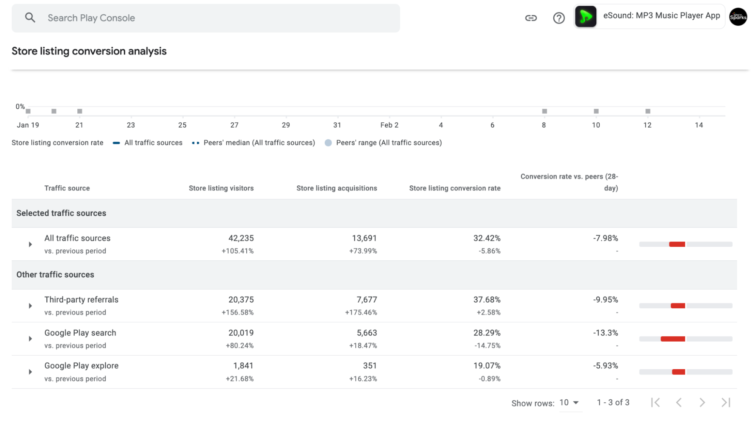 You can see from this graph that the outcome of the metadata update is visible in keywords ranking (data includes only keywords with Search Volume >6).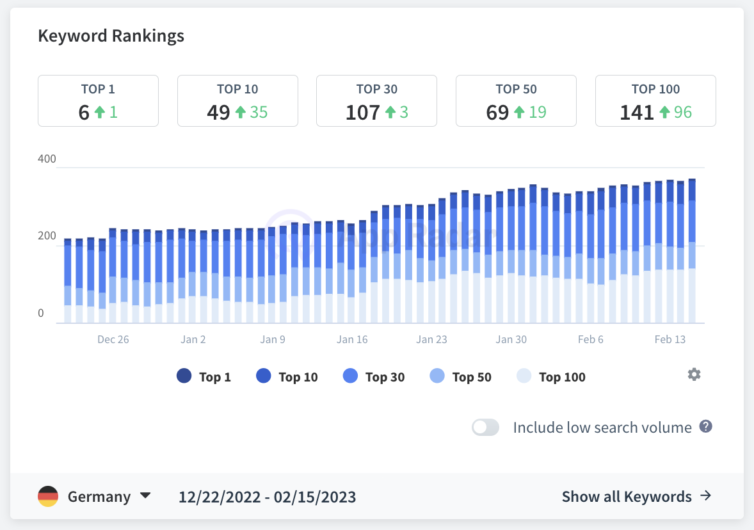 Apple App Store results
Installs from the Search channel have increased by +7,3% because of Top 10 keyword rankings improvements.
Before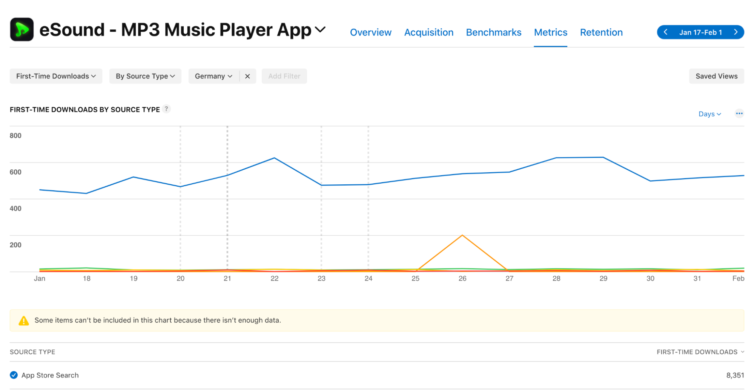 After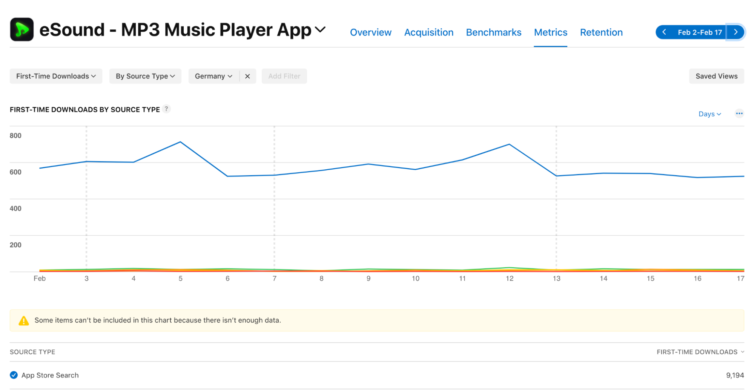 This graph shows the update result regarding keywords ranking (data includes only keywords with Search Volume >6). In this case, it's not essential that we see a decrease in the Top 30 and Top 50 groups cause apps ranking so low don't receive any impressions and installs. The highest visibility goes to the Top 10 keywords.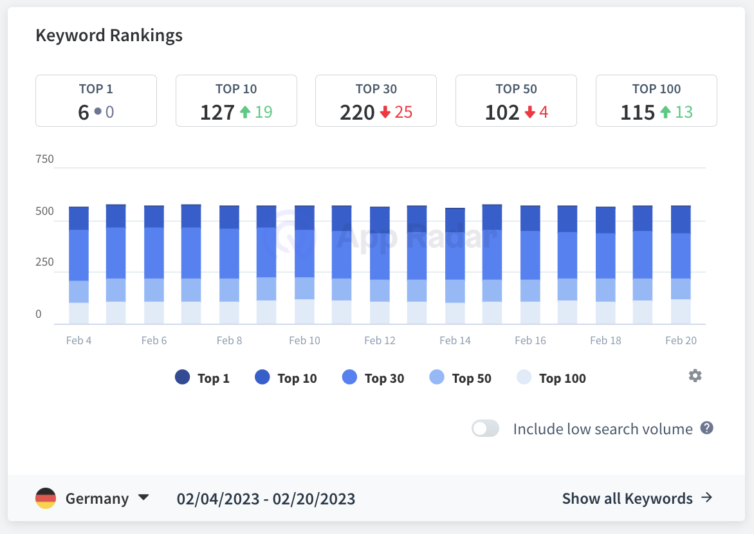 App Radar helped us so much in getting up to speed with our mobile app marketing efforts: attribution, paid channels and ASO. They suggested us the markets where there was more possibility to growth and implemented a full strategy to help us getting results. With the workshops, presentations, and hands-on advice we could get from App Radar, we also learned a lot and could optimize further titles ourselves. This led to additional growth for other apps and games!