Before releasing your mobile app or starting your App Store Optimization strategy, it is crucial to understand the mobile industry. Competitor analysis is a must, but understanding the whole app market will help you plan your next steps.
App Radar understands that to bring your app to the next level, you'll need as much data as possible to succeed. We are still talking about a market where 3000 apps are uploaded to the app stores daily. With this in mind, we have just released our App Downloads and Download Trends features.
Getting App Market Insights with Download Trends
The 250 most downloaded apps worldwide
One of the best ways to start your competitor analysis is by analyzing the app market. Who is on top? Which are the most downloaded apps in your category? When we analyze the "Music & Audio" category from March 1st until March 15th, here are the winners: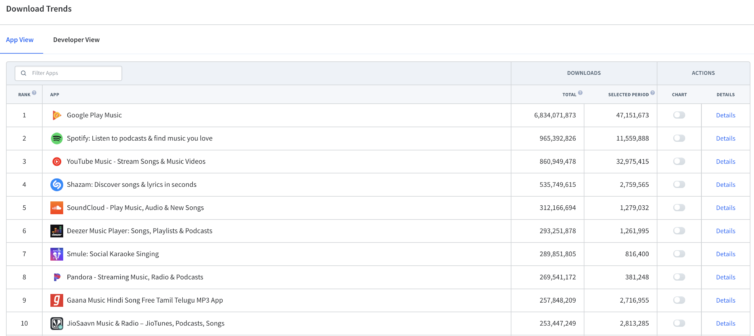 This shows that the app market for this category is tough for newcomers. You can also see how Spotify, in theory, is more successful than YouTube Music in terms of total downloads. However, when you look at this specific time frame, YouTube Music had almost 3 times more installs than Spotify. This means that Spotify got a strong new competitor, and they have to watch out not to lose users to YouTube Music.

Dive Deeper: 5 tips for competitor analysis
The 250 most successful developers worldwide
One thing is certain, the app market is crowded with apps, but it's a must to understand who is behind the most downloaded apps. Usually, trending apps come from successful developers, and it's super important to know who are these developers, in order to prepare yourself for the competition.
When we look for the most downloaded app for strategy games, we see Clash of Clans. But who is behind it? Is this their only app? Let's find out.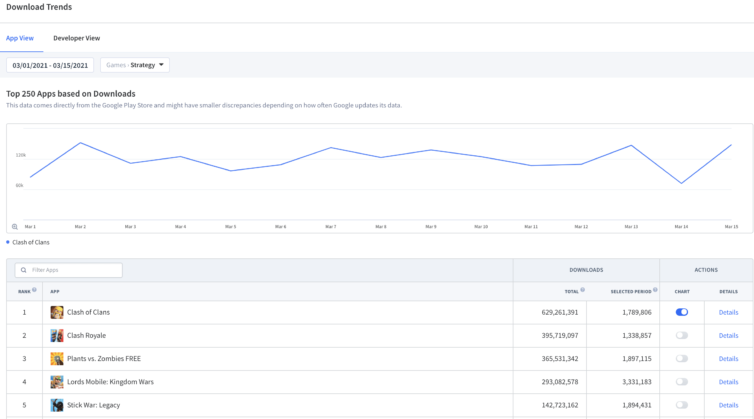 If you don't know who developed Clash of Clans, no problem, you can check out on the Details column.
When we look for the most downloaded developer for Strategy games, we find out that Supercell is indeed the number one.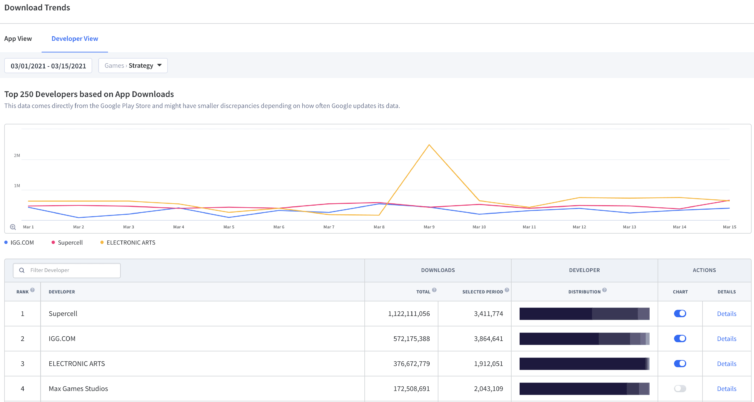 Clash of Clans has a 56.07% share of Supercell's total number of downloads. And if we see their portfolio, the second most downloaded app is Clash Royale that we also saw at the top ranking strategy games.
It's interesting to see that Supercell has 7 apps available in the Google Play Store, and not all of them are strategy games. But still, these are the games that take Supercell to the top.
Another interesting point is that we saw that Supercell had the top 2 most downloaded apps for strategy games, and Plant vs. Zombies FREE, by Eletronic Arts, was the top 3rd. However, Electronic Arts isn't the second most downloaded developer in this category, they are still behind IGG.COM. What is the reason for that? When we see the whole portfolio of apps, we reached the conclusion that Electronic Arts only has Plant vs. Zombies FREE as a strategy game, while, IGG.COM has many more.
Based on the ELECTRONIC ARTS' portfolio, when we move over to Simulation Games, guess who is the developer with the highest number of downloads?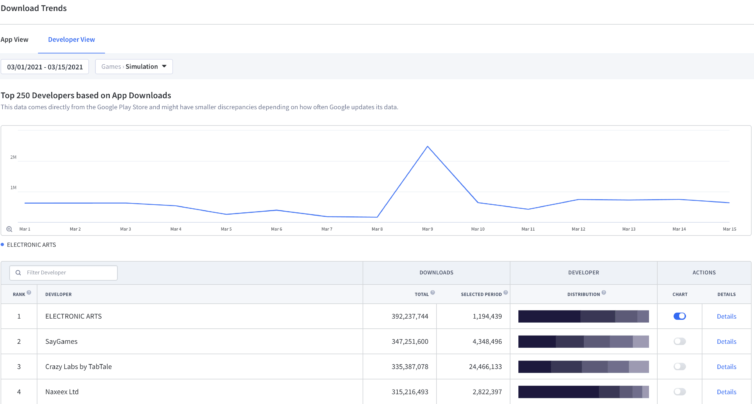 Understanding the App Market with App Downloads
App Analysis
When using the App Downloads, you will be able to see the total and daily download number of any app in the Google Play Store. You type the app's name, add it, and then you will see it on the table. From there, you can add it to the chart and visualize the download history of that app.
When we look at Spotify, we can see that during February 15th and 21st, it was downloaded 4,604,985 times. If you move over to the daily chart, you can see which day was the download peak and if the growth was linear. If you have a music app, that's great to understand which days are potentially good days for apps like yours or how strong your competitor's presence is in the app market. When looking at our example, we can see that Monday was the strongest day for the app, while Thursday was the weakest.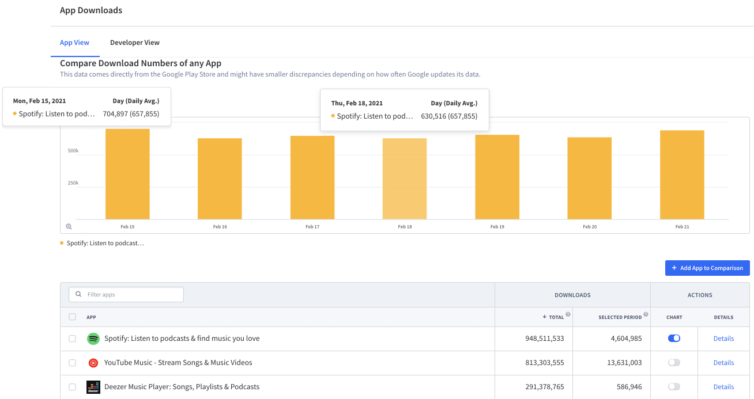 If we compare it with another music app, like Deezer, we see that Monday was also the strongest day for downloads. This is a great way to get insights into the app market and your app's category.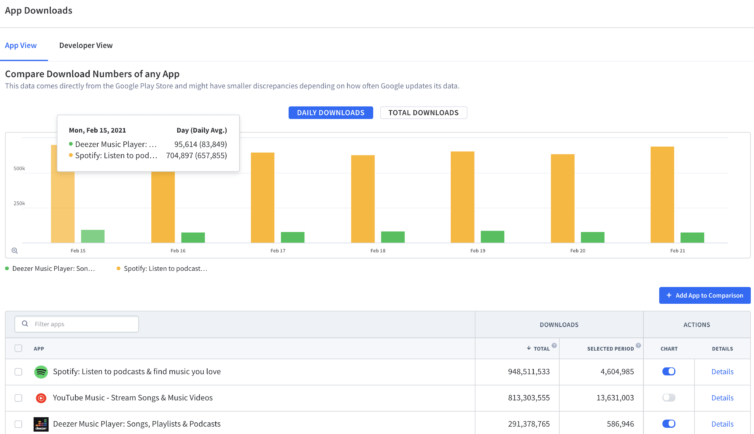 App Developer Analysis
When analyzing your app category, it's also important to know who are the companies behind the successful apps. What can you learn from them? If your competitor's app is part of a developer group, you should definitely understand how big are their other apps and how their growth process is developing. For example, when we look for Google LLC, we can see the downloads of all the apps Google has developed. Then, we can know that during the selected period, Google's strongest app was Google Play Services, while the weakest was Google News.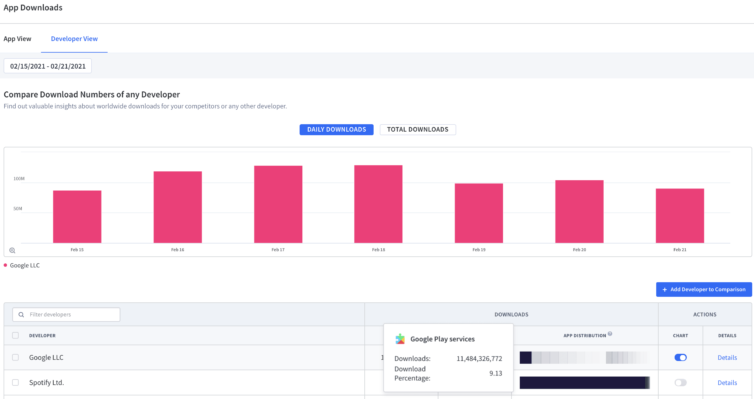 If you want to understand why Google News seems to be decreasing in popularity, you can go back to the app downloads view and see the app growth specifically for that app.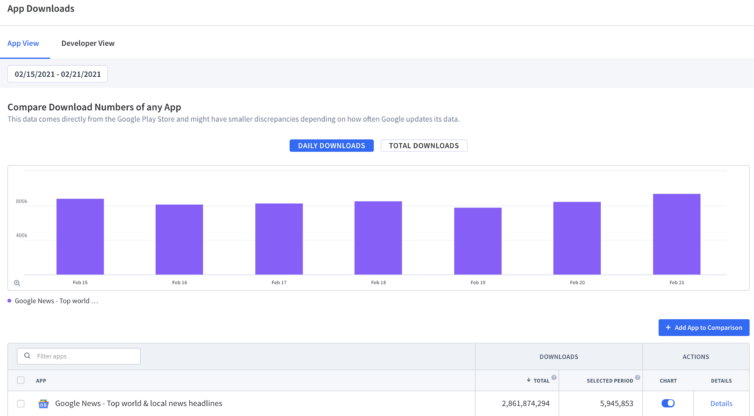 In fact, the app downloads aren't decreasing; it shows stable growth. But when we move over to the Top Charts feature, we can see that Google News is in the top charts for the "News & Magazines" Category, but in position number 26. While YouTube, which we saw in the Developer View is one of their strongest apps, is in the top charts for the "Video Players & Editors" in position number 7. Then, we can understand that there is room for improvement on their news app, maybe even to get a better ranking position on top charts.
The Developer View is also essential for Google Play Store. Google's algorithm takes into consideration the developer's name, meaning your app can be found on a search based on it. Besides that, the developer's history is also relevant, so if you have many downloads or a lot of positive reviews as a developer, this will be good for your apps rankings.
Dive Deeper: How to easily analyse effectiveness of your ASO strategy
Let's get started with your app market analysis
You can always analyze the app market, your app and compare it with other competitors out there. Both features are great to gain insights into the app industry, download numbers of your app, your competitor's app, or any other app you want to analyze. This way, you are constantly updated with the app scene and the download history for any app. You can try both features on our 7-day free trial for the Expert plan. Just sign up and start analyzing the app market.