In App Radar, you can work on your app store listing information and push the changes directly to App Store Connect and Google Play. In just one tool, you are able to check your keyword rankings, find new keywords for your app, implement them to your metadata, and push changes directly to the app stores.
To make your life even easier, our Store Listing Editor, a feature where you can edit your metadata for several localizations, has a new interface that allows you to update your app store listing efficiently. How?
The Store Listing Editor now comes together with other features in a split-screen format. This allows you to save time during your updates and easily understand the changes you are making to your new metadata. Here are the features that are combined with the Store Listing Editor:
Work together with the Store Listing Editor and Keywords Tracking. This facilitates choosing the keywords you want to add to or remove from your store listing. At the same time, you are making changes to your metadata; you can check which keywords you are tracking for that locale, followed by their search volume and difficulty value.
Google Play special! Compare the keyword count and density from your drafted version with your live one.
Preview how your changes will look like in the app stores before setting your changes live.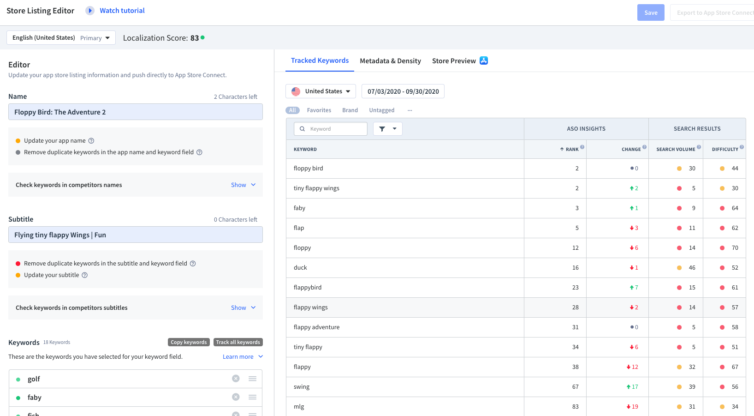 When you open the Store Listing Editor to work on one of your localizations, you automatically see a split-screen. On one side, you have the Editor, and on the other, you can move around three tabs: Tracked Keywords, Metadata & Density, and Store View. Below we're giving you an overview of how you can work always combining two features.
Store Listing Editor & Tracked Keywords
At the same time, you are making changes to your App Name or Keyword Field; you can see the keywords you are tracking for that locale. While you decide which keywords to remove or add to your metadata, you can check your tracking list and see for each keyword its search volume, its difficulty value, and your app ranking position.
Here is a good example. In the image below, we can see that we are using the keyword "Duck" in the Keywords field. When we have a closer look at our tracked keywords, we realize that our app is already ranking for this keyword, and the search volume and the difficulty value are quite good. On the other hand, we see that our ranking position for "duck" has dropped. So, now it's time to take action.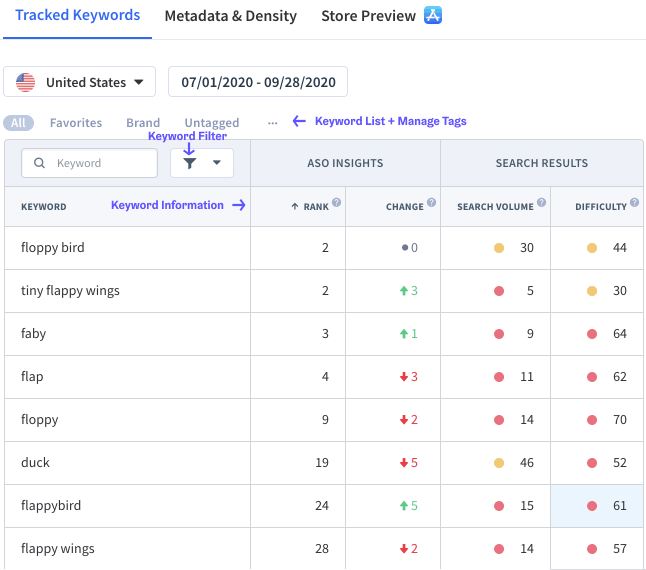 But how? The best option is to move this keyword to the App Name or Subtitle because both have high relevance to the App Store algorithm. Hence, this can help us boost our ranking for the keyword "duck." Okay, but where should we add it since our App Name and Subtitle have no characters left? When we analyze our App Name, we see that "adventure" is a keyword that isn't bringing us any traffic because we are not ranking for it, and the difficulty value is very high.
Bingo! Let's remove "adventure" from our metadata, move "duck" to our App Name, and check our keyword list to use the space we have left in our Keywords Field. We got all the information needed for making these changes at once without leaving this page. Awesome, right?
Store Listing Editor & Metadata & Density
This is a special feature for Google Play apps. We know that it is essential for Google Play to repeat keywords throughout your metadata, yet without exaggerating. Now, in App Radar, while you are working on your app's new version, you just need to press "Save" to be able to compare the metadata that you have live in the app stores with the version you are currently working on. You can see in which field you are using a specific keyword, how many times you are using it, and what is the keyword density for that field.

That's an easy way to compare your new keyword strategy with your previous one, as well as to check if a keyword should be repeated more times, and which keywords are being used too often.
Store Listing Editor & Store View
Everything looks beautiful in our minds, but how does it look in the app stores? When you have the Editor, and the Store View opened together, you can see in real-time how the changes that you are making to your metadata will look like in the app stores. Literally, in real-time, you type a word, and you can already see it in your app detail view.

It's time for your next app update
After changing your metadata, you just need to press "Push to App Store Connect/Google Play." Making a store listing update was never that easy! This is a feature of our Advanced plan, so if you don't have an App Radar account yet, make sure to start the 7-day free trial to check out our Store Listing Editor!
Learn in detail how the Store Listing Editor works.